How to Prevent Sibling Jealousy When Bringing New Baby Home
Post may include affiliate links. We may earn a fee if you use them at no cost to you. Disclosure.
Struggling with sibling jealousy? This post will give you the #1 way to prevent jealousy between siblings (or resentment) – especially between an older child or children and a new baby! PLUS, it includes something to avoid at all costs!
Are you possibly pregnant with baby number 2? Or 3? (Or more?)…and wondering how you'll introduce the baby to its older siblings? Maybe you already have multiple kids and you're wondering how to improve their relationship.
Some Background
When I was pregnant with baby #2, I worried about sibling jealousy and how they'd get along all the time. I was so close with my first. He and I cuddled all the time and we had a great bond. I was so afraid that he'd feel left out once his brother came home.
I obviously wouldn't be able to spend as much time with him anymore. Plus, I planned to exclusively nurse the baby for as long as I could and I knew that would eat into my time with my oldest.
You probably got (or are getting) loads of unsolicited, and sometimes wacky, advice from people while pregnant. I did too! But one piece of unsolicited advice turned out to be the answer to one of my biggest questions!
That question was…How could I keep my first son from being jealous of the baby (who would be taking attention away from him) and preserve our strong bond?
The SOLUTION
It turned out that the answer is so simple and it worked so well for me! I hope it will work for you too.
The answer is…

Sounds easy to do, right? It is!
You might be doing it to a degree, but do it more… do it often… do it every single day.
Your baby will love the interaction and hearing your voice.
The older sibling will be so proud and feel so special. The older sibling will also feel part of what's going on between you and the baby.
I feel like I spent every waking (and some non-waking) moments breastfeeding my second. It was so hard to spend time with my older son while trying to figure out the whole breastfeeding thing …so I followed this advice as much as I could while nursing. Read what it is like "Breastfeeding a Baby With a Toddler in the House" by What To Expect.
I could see my older son grinning while I did this and to this day, you can easily see the love in his eyes when he looks at his younger brother and vice versa.
There isn't an ounce of jealousy between the younger brother (who to this day takes up more of my attention) and his older brother.
The oldest is PROUD to be an older brother and wants to teach his little brother everything he knows! I don't see even a hint of jealousy – which is such a relief!
How About When Siblings Get Older?
When your kids get older (mine are now 2 and 6), you should continue to do this. Only make sure you do it both ways. Tell your youngest about how amazing his older sibling is, and tell the oldest how amazing the younger one is.
I like to tell my kids just how lucky they are to have each other too. This may feel awkward at first but be genuine and you'll find it becomes a habit!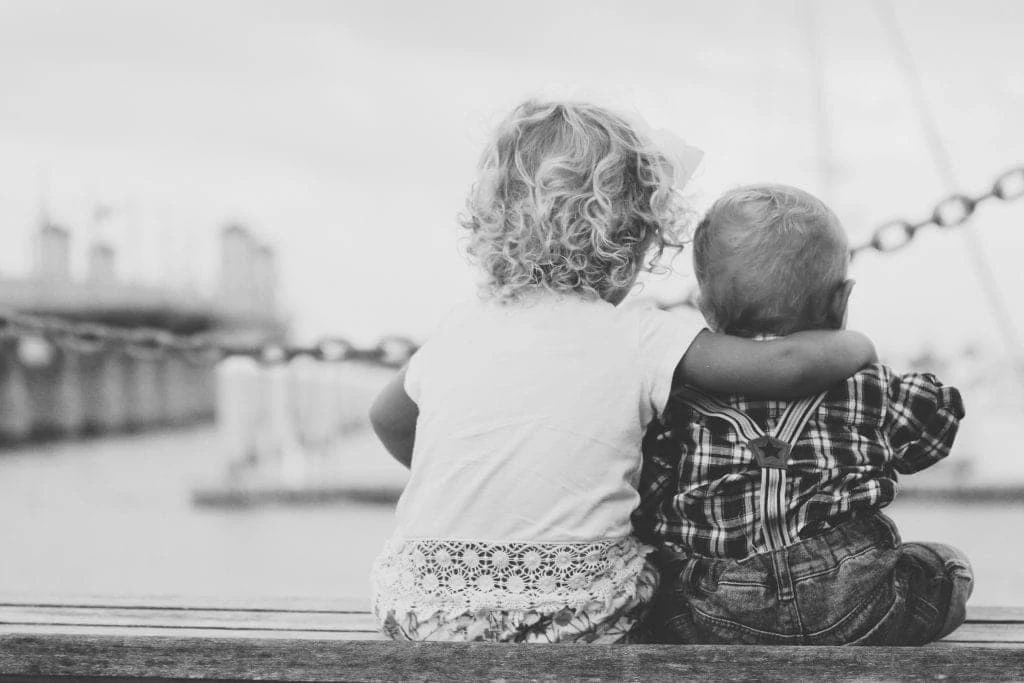 What To Avoid
Now here's something to be REALLY careful about… NEVER PIN THEM AGAINST EACH OTHER. Some parents don't even know they are doing it, but here's an example…
Say the oldest gets punished and he's not allowed to go out with his friends or do some activity on the weekend. That doesn't mean the younger sibling can't do those things, right? Right!
Just be careful to not flaunt the fun you and the other sibling are having. That will just make the sibling that was punished resent his or her sibling.
It's small, and may seem minor, but if these types of things happen often if we're not careful. The temporary resentment can foster…To the best of your ability, try to avoid situations that will make one jealous or resent the other.
** Okay, I'm off my soapbox **
I really think this advice worked and I hope it will work for you too!
I'd love to hear from you! Do you have any other ways to prevent jealousy between an older brother and a new baby?
Like this post? You might also like my post on 11 Ways to Make Your Mornings Easier (especially if you have kids)!