The 20 Things You Actually Need In Your Hospital Bag
Post may include affiliate links. We may earn a fee if you use them at no cost to you. Disclosure.
As a mom of two and a mom blogger, I spend a lot of time in mom groups online. At least once a week, I see a mom innocently ask "What should I pack in my hospital bag?" I'm always surprised by the wide range of items that are recommended in these posts and I always wonder whether the moms recommending the items actually NEEDED at the hospital. To make matters more complicated, there are SO many "Hospital Bag" (or even "Hospital Suitcase"!!) posts out there that are outdated and excessive.
Well… I'd like to share a little secret with you.
You REALLY don't need much in your hospital bag!
I'm a minimalist at heart. With 2 kids, 2 dogs, and a husband, that can sometimes make it tough for me to stick to my minimalist ways. I have to admit that I fell into the "Hospital Bag Trap" myself. Personally, I think this trap stems from the fact that when we are pregnant, we are juggling so much (physically and emotionally) and we want everything to go perfectly. We're also a little nervous about how things will go and don't always know what to expect. The last thing we'd want is to get to the hospital on our baby's birth day and realize that we've forgotten something at home! Ugh! Can you imagine? So we try to plan and pack everything we could possibly need!
Here's the thing… Most hospitals in the United States today provide much of what we would need.
I hope by the end of this post, you will join me in picking a Minimalist-Hospital-Bag over the Everything-But-The-Kitchen-Sink-Hospital-Bag. After all, once your bundle of joy is born, you aren't going to care about any of that stuff! You're going to be so mesmerized by your little baby that you'll wonder why you cluttered your already small maternity room with that stuff anyway! Plus it's just more things to carry out of the hospital!
Note: You'll need to add some additional items if you plan on having a natural birth. a water birth, etc. If you plan to go that route, please adapt this list with the help of your doctor or midwife.
Okay so let's get started…
Quick Links to Information in this Post
First, Contact Your Hospital
Before you can figure out what you really need to bring with you, you need to find out what your hospital provides! I had my two boys in two different hospitals and each provided different things. There was definitely some overlap though. After speaking with other moms, this seems pretty typical.
Most Hospital Provides…
✓ Pads and Mesh Underwear
✓ Ice pack-pads (though you won't use these immediately)
✓ Diapers & Wipes
✓ Breast pump (if you need it)
✓ Lanolin (or some form of nipple cream)
Contact your hospital before packing your hospital bag to find out what they provide. In fact, many will provide this list during your tour.
Then, Download My Checklist
Click here to get a printable copy of the checklist (with space for custom additions).
Why do you need to save a copy? Here's a few reasons…
You may not be ready to pack your bag just yet. You can print it out and keep it handy for when you are.
It may be super hectic when you DO decide to pack… being able to add notes to the checklist and cross off items in the bag is a HUGE plus!
You might need your husband/partner to pack it for you! Hand them the check list and rest assured they will pack what you need.
BONUS: In addition to the checklist, you'll get access to my Resource Library with Mommy Efficiency Tools to help you after baby is born!
What You will Need and Why
So what do you really need?
For Labor:
☐ Socks – You may already be wearing a pair the day of, but if you have a long labor you will be happy to have a second pair.
☐ A phone charger – Chances are you will be spending time on your phone during the "waiting" periods or using it as a distraction. Or you might be playing music from it. Not to mention, you will likely take pictures with it after the baby is born. So definitely have a charger with a long cord handy.
It's nice to have an extra charger that you can leave in your bag while you wait for your little arrival. Last time I waited until the last minute to grab my charger and throw it in my bag and I won't be doing that with baby #3! Universal charging cables like this are awesome for many uses including your hospital stay because you won't need to remember multiple cables! Click here to buy one for about $10!
You will still something to plug the USB into the wall and a little "brick" like this is great because it will hold your USB charger and a regular plug but it's still tiny! Click here to buy yours for less than $10!
I don't know about you but the peace of mind of knowing I'll have a phone to play with during labor AND still have charge to take a million photos after the baby is born is worth the $20 combined!
☐ A few healthy snack bars – You and your partner can usually get whatever you need from the cafeteria or the maternity ward fridge BUT if your baby decides to make an appearance after the cafeteria closes, you could be out of luck for a few hours! This happened to me with my first son after 16+ hours of labor and I was NOT happy about it! So be prepared!
☐ Your Birth Plan (Optional) – I don't want to get into Birth Plans here but I do want to say… be prepared to deviate from this plan if needed! At the end of the day, your health and your baby's health is the most important thing. For me… the birth plan was more a way for me to communicate to my husband what my preferences were so that he could speak up for me if I couldn't.
If you plan on nursing, then lactation cookies are a great option and I have an amazing lactation cookie recipe! You can make a batch ahead of time and either throw them in your bag on the way out the door, or ask a friend to bring them to you at the hospital when you need them! Click here for the recipe!
For a shelf stable option that you can leave in your bag for a few weeks, try this
! They cost about $25 and will at least get your started until you can make a batch of your own!
☐ A Tablet (Optional) – This one is optional because you can use your phone BUT if you want to watch a movie comfortably with your partner, a tablet is handy.
Though not technically part of your dedicated hospital bag, you need to also make sure that you have your wallet with your ID and insurance card.
For Your Hospital Stay:
This is usually where the typical hospital bag/suitcase checklists seem to go a bit out of control. The truth is that your hospital will likely have most of what you need.
☐ Loose pants – Draw string or sweat pants are perfect. After giving birth you likely won't want anything form fitting and you won't want to even try to squeeze into your pre-pregnancy clothes. So a pair or two of dark loose pants are perfect for those times you want to wear pants.
☐ A loose shirt or two – You really won't want anything form fitting (I said that before right?) Plus if you are going to breastfeed, you will probably want a shirt that opens in the front so that you can open it to nurse. (Especially if this is your first time nursing!)
☐ Underwear – Preferably the maternity underwear you've been wearing. Again… you won't want anything tight!
☐ Socks – You'll want a few more pairs of socks to walk around in.
☐ 1-2 changes of clothes for your partner (to include socks and undergarments)
☐ Pajamas for your spouse
☐ Tooth brushes and toothpaste for you and/or your spouse – Some hospitals will provide these but you may still want your own (and they don't take up that much space!)
☐ A hair brush and hair elastic – Let's face it… you're going to probably want to pull your hair back.
☐ Cheap flip flops – For showering.
☐ Glasses – For you and your partner if either of you wears them.
☐ 1-2 baby outfits – At least one for your baby to wear home and maybe a second for newborn portraits if you are going to have them taken at the hospital.
☐ A pre-installed car seat – Don't wait until the last minute to install it (especially if this is your first time installing a car seat)!
☐ A coat and blanket for your baby – Babies need more layers than you do so be sure to come prepared with a little coat or light sweater and blanket. The nurses will help you decide if it's needed, but you'll want it on hand just in case.
☐ A picture of your older child(ren) – If you have older kids that will be coming to visit, they will love to see that you've included them even when they aren't there. (This is along the same theme as my other post about "How To Prevent Jealousy Between Siblings!")
☐ A soft nursing bra (Optional) – If you plan on nursing, I recommend getting a very simple wire-free one. Personally, I love nursing tank tops like this one because I spent most of my time in them! After all, once the baby is born it's easier to wear a shirt and bra in one! (Just being honest!)
These are great, inexpensive, and you can buy them at Amazon!
☐ Cord Blood Banking Box/Materials (Optional) – If you're planning to bank your little one's cord blood, this is a MUST! Make sure it's IN your bag, or right next to it so that you don't forget it at home.
Some things I DON'T think you will need/end up using…
It can be so tempting to bring tons of random stuff to the hospital that you "might" need. Here's the reality… Your partner or family member could likely bring you whatever you need if you truly need something you don't have. Also, your priorities will change when your baby is born and you will likely find that you didn't need half of what you brought.
☒ A bathrobe – Many hospital bag checklists include bathrobes. Yes, you'll want to shower, but you really won't need a bathrobe. You will probably shower and get dressed and get back in bed right away!
☒ Makeup – You likely won't end up using anything more than what you have in your handbag. You aren't going to put on a full face of makeup. Really even if you usually wear makeup daily. Ask any other mom…
☒ A pillow – Sure, your pillow is special, smells just right, and is more comfy than the hospital ones but… Hospitals can be gross! Do you really want to bring your pillow to the hospital and then put it back on your bed? Leave it at home and ask a nurse for a few extra pillows!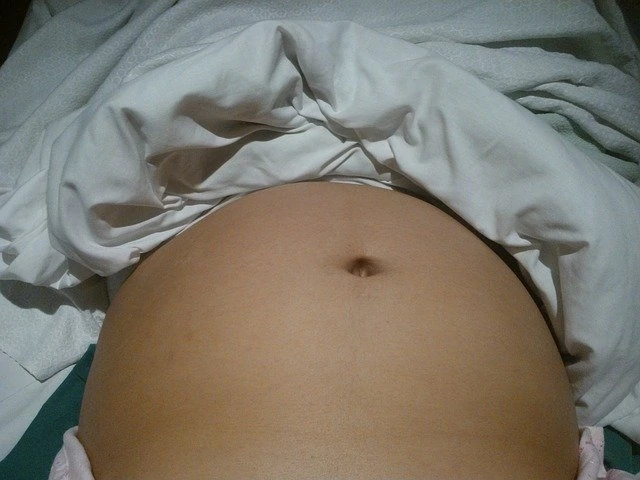 ☒ Diapers – The hospital will have tons of these! You really don't need to bring your own. You may even have a brand preference but here is the reality… your baby will be the one to decide which brand they like. You also can't know which one will work best for them (if they are sensitive) before they are born so the hospital's brand is as good as any! If your baby has a bad reaction to the diapers the hospital provides, they will provide alternatives!
☒ Breast pump – Unless you are planning to exclusively pump or your baby is in the NICU, chances are you won't be pumping while in the hospital. If you do need to pump though, they will provide you with everything you need!
BONUS TIP: Put your stuff for "Labor" in a section of your bag or in a separate bag from your post-labor stuff. This way, you (or more likely, your partner) don't need to rummage through everything during labor.
I hope this post helps you avoid some pitfalls I, and others, have fallen into! You REALLY don't need to bring that much with you – especially thanks to smart phones and tablets! With these, you no longer need to worry about bringing magazines, books, movies, etc. and that really helps!
Have you given birth before? What item could you NOT live without while at the hospital? What items did you bring that weren't needed?
Pregnant? What item do you absolutely have to bring that isn't on this list?
Are you expecting baby number 2, 3 or more? If so, you might like my post titled "The Best Way To Prevent Jealousy Between Siblings When Bringing Baby Home"