Using Photos With Your Cricut – Easiest Way To Convert PNG to SVG and Cut Files For Free (JPGs too!)
Post may include affiliate links. We may earn a fee if you use them at no cost to you. Disclosure.
LEARN HOW TO TURN ANY PHOTO OF YOUR LOVED ONE, PET, OR ANYTHING ELSE INTO A CUT FILE YOU CAN USE IN CRICUT DESIGN SPACE
So you want to make a project with a photo you've got but you're not sure where to start? Maybe you've even uploaded the photo you want to use into Design Space and found that it won't "upload right" and that you can't really use it the way you'd like.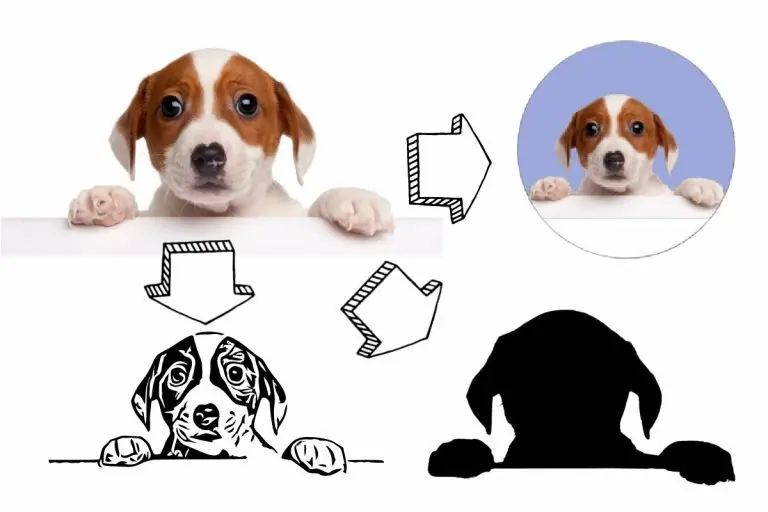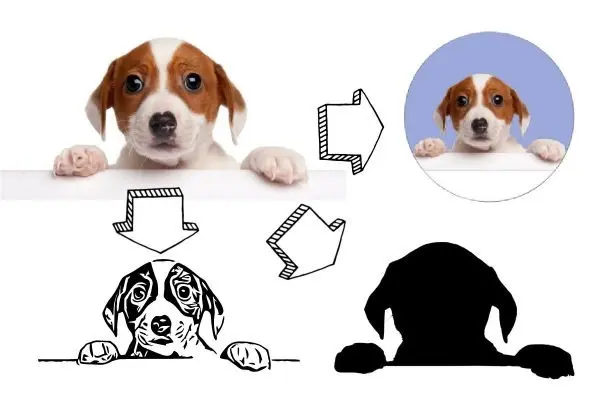 Well… this is because Cricut Design Space really needs you to turn your photo into an SVG so that it can read it right and cut the image out the way you'd like. Simply put, a PNG or JPG file isn't fully compatible with your Cricut Machine. I have a FAQ at the bottom of this post with more info about why, but for now, I'd rather get to the point and show you how to convert your PNG to a SVG or cut file so you can use it right away (and this same process will work for a JPG too!).
Quick Links to Information in this Post
Three Ways To Use Photos With Your Cricut
Let's start with the different ways that you could convert a PNG or JPG to SVG so you can cut it with your Cricut Machine.
We're going to work with this image of a puppy and convert it to a cutable file in 3 ways: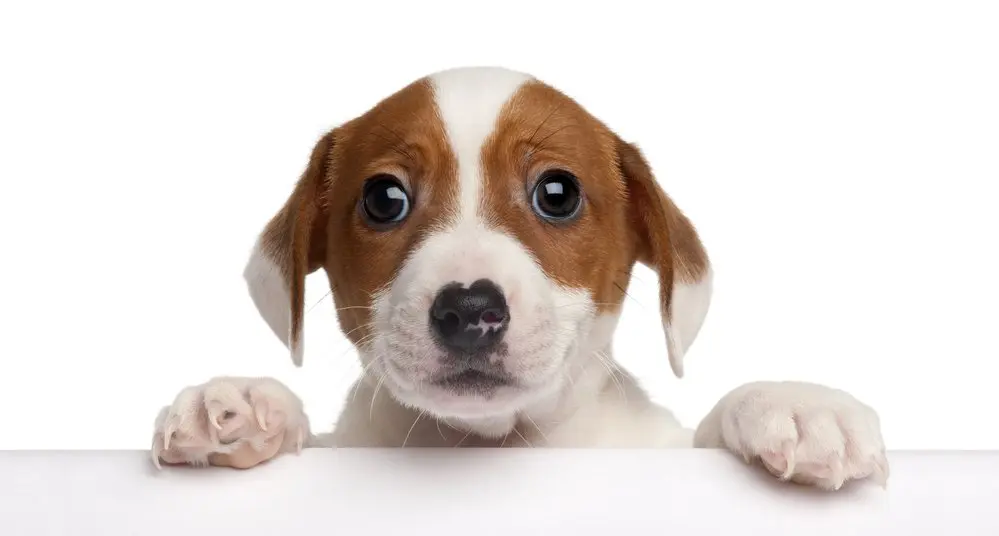 1. Photo to Detailed SVG for Vinyl or other Cuts
This is my favorite way to convert a PNG to SVG for Cricut use! The possibilities with this method are endless! You've likely seen me use this method in my American Flag Memorial Shadow Box where I added a photo of my Grandfather to my shadow box.
Here's how to do this method:
Go to CuteCutter.com
Click "Get Started"
Upload your image and you'll see it automatically change to a cutable SVG file.
Now you can play with the sliders on the right side to get the affect you're looking for.
When you're done, click Download and then import this new file into Design Space
You may be wondering what those sliders do… Here's a quick overview of what to expect:
Blur
The more you move this slider to the right, the more simplistic the image becomes. Move it to the left and you'll see tons of detail come back. You want to find a happy medium here because you'll need to week all those tiny lines!
Edge Contrast
Edge contrast will add more of the outline and some of the detail back to your image. I would increase your edge contrast and reduce your blur for a better result if you're going to be cutting the image out of vinyl.
Threshold
This seems to fine tune the amount of details in the image. So it's good to overdo the edge contrast a bit and then fine tune it in Threshold if you're trying to get just the right amount of detail.
Remove Speckles
Moving this slider to the right reduces the number of little pieces in the SVG which will make weeding much easier! I recommend moving this as far to the right as you like.
Touchups
This lets you make some manual changes! It's great if you need to add something back in or manually remove it! You can also use this to add colors to your SVG to make a mutilayered SVG with colors. We'll skip this for now but comment or email me if you'd like me to do a tutorial on this!
Using Cute Cutter, I turned out image of a dog into this!
Pretty cute right? Now we can cut this out of Vinyl or paper really easily! You can even invert it and create a stencil to etch with!
2. Convert a Photo to a Silouhette SVG
Your first option would turn your photo into a silhouette that you could then cut out out of vinyl or paper and use for any number of things! For example, I did this to make Framed Silhouettes of my kids! You can get the instructions for that project here.
Using this method for example, you'd turn this photo: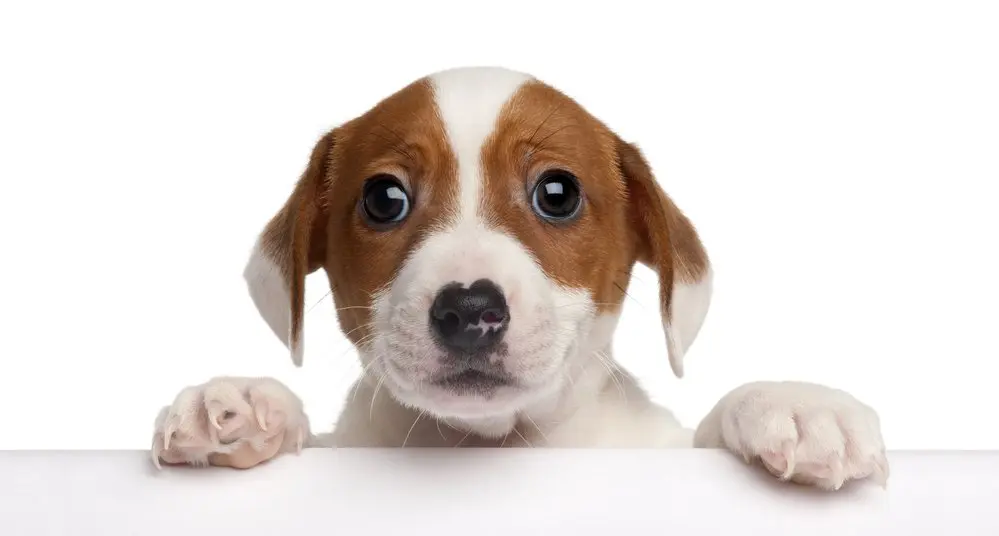 Into this cut file: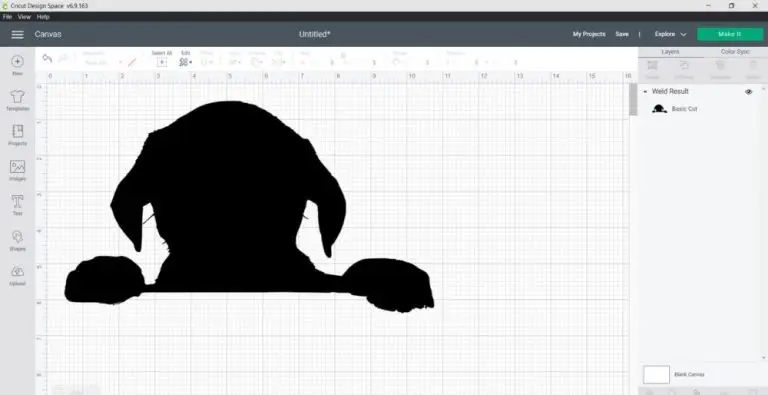 The beauty of this method is that it can be easily done right in Design Space fairly quickly!
Here's how I created a silhouette cut file within Design Space for my Framed Silhouette project. This is a great example because of how complete the picture was.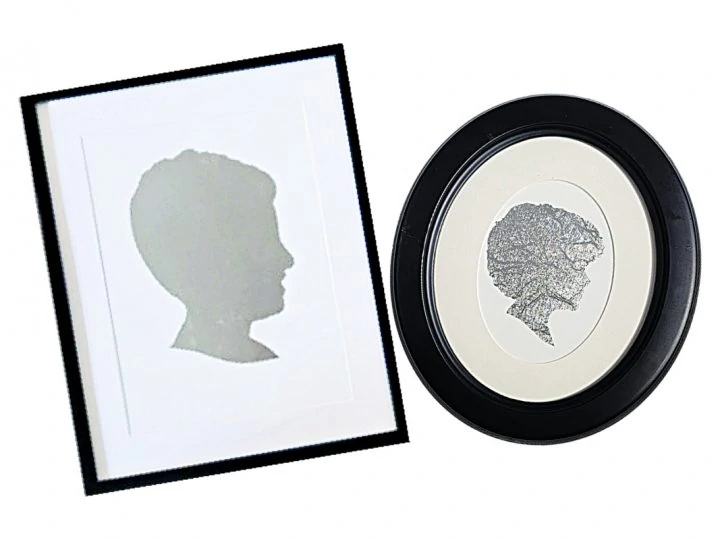 Yield:

1
How To Make Silhouette Cut Fille
Let's make gorgeous but shockingly easy Silhouette Art out of vinyl!
Instructions
Open Cricut Design Space
Click "New Project" (the plus sign)
Click "Upload"
Click "Upload Image"
Click "Browse"
Navigate to the image you want to use, select it and click "Open"
Choose "Moderately Complex" and click "continue"
The image will pop up but is likely zoomed in too much. If it is, zoom out clicking the magnifying glass with the negative symbol in it until you can see the whole image in your screen.
Now click on your background until it has all disappeared. Watch the background and subject closely as you do this, if a part of the person gets cut off, stop. If the part that gets cut off is way below the shoulders, don't worry about it and keep going. Continue removing the background until just the person/pet it left.
If part of the subject gets removed as you click on the background, click undo using the left arrow on the top right. Then click on "Advanced Options" on the left. Change the "Color Tolerance" to "8". Then try clicking on the background again. This will tell Design Space to only remove background areas that are closer to what you clicked. You can play with this number until you get to a setting that works and you can remove the rest of the background without cutting off part of the subject.
Once you have removed all the background that you can see, click "Continue"
It will look something like this. Don't worry! This is what you're looking for actually. Look at the photo on the left, doesn't it already look like a Silhouette? Take note of the specs around your subject where the background was, we are going to remove these. Click "Back" (Not cancel!)
Now click on the eraser and adjust the size using the slider so that your eraser (the circle) is a good size. Use this to erase those specs by clicking and dragging the circle over the specs. You want to get most of them but if you miss a few don't worry - they are likely so small that you will naturally miss them when you weed!
Click "Continue"
Select "Cut Image" and then "continue". Remember, a few extra specs is okay!
If the method above doesn't work,, try using an app on your phone or a website to remove the background. This could be faster, but I generally like to work in Design Space when I can! This is especially useful if your background has a lot of detail or there isnt' much contrast. I especially like using PicMonkey to remove backgrounds and then follow the above steps again.
There are two downsides to this method:
It doesn't show much detail since it's JUST a silhouette so you don't have a lot of detail – but it's very pretty!
It's not easily shareable since it's created within Design Space and you can't download files from Design Space.
That said, if you do really like this style and want to share it, you can share within design space or screenshot the image in your Design Space canvas and share the screenshot.
3. Convert a PNG or JPG for Print and Cut Use
Another option is to use Print and Cut function. This function let's you print your photo with all it's details and color and then cuts it out. So for example, if we go back to our dog example, we could make a sticker that looks exactly like this: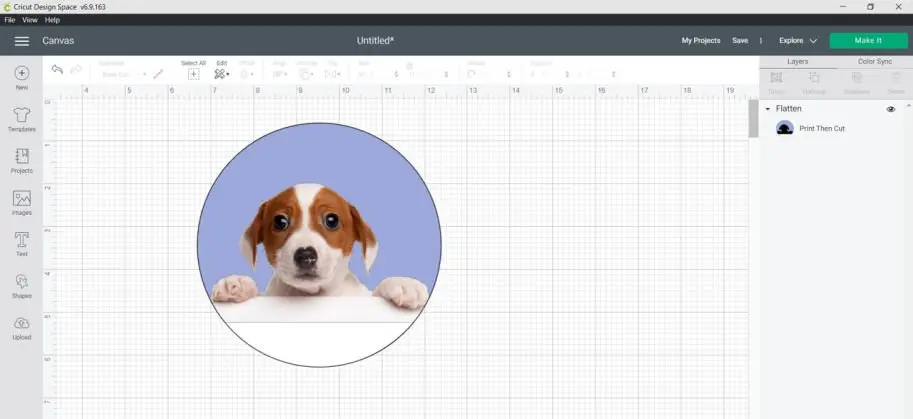 For this method, you upload the file like you did for the last method and only remove the background if you want to. Then you click on "Print then cut" image instead of "Cut image". This will bring it into your canvas with all it's detail and color instead of a silhouette.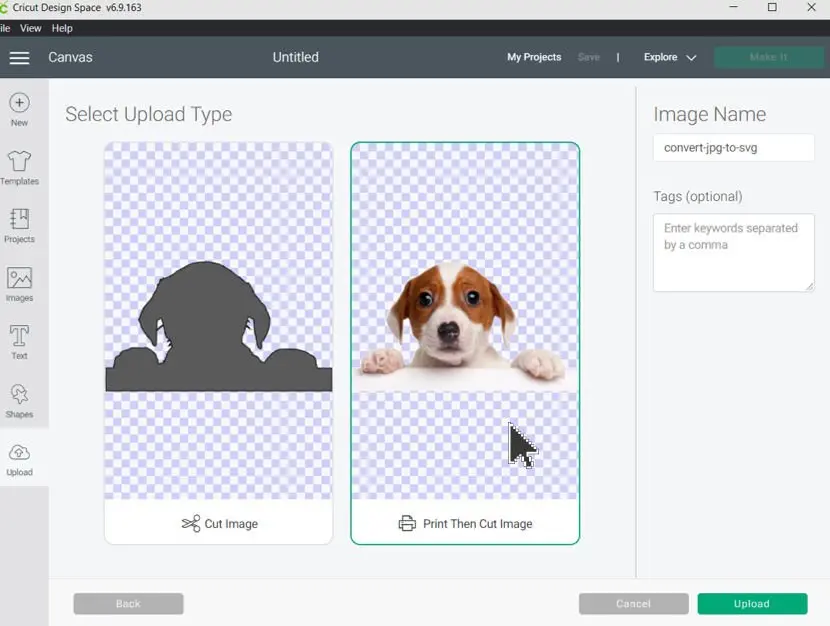 Next you'll want to make any changes to it you want. If you don't make any changes you can go straight to clicking "Make it". If you do make changes though you're going to need to do the following:
Select everything
Click Flatten on the bottom right
Click "Operation" and the select "Print then cut" and Standard on the top left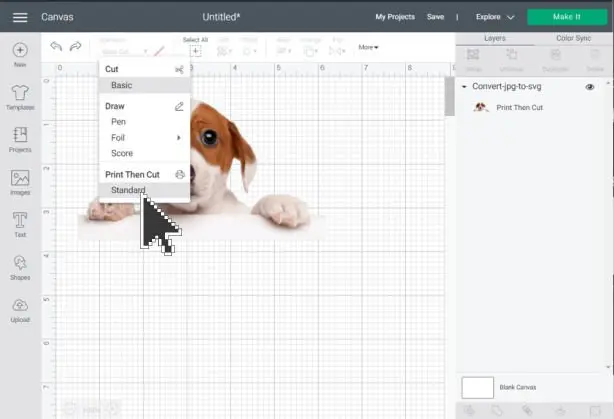 Next you'll click "Make it".
When you use Print then Cut, Design Space will send the design to a print (not your Cricut Machine). You'll want to feed your printable vinyl or paper into your print.
Once it prints, you will notice a big black box around your image. This is used to tell your Cricut Machine where on the page your image is.
Next you'll put the printed Vinyl or paper onto a Cricut mat and feed it into your Cricut machine and continue to follow the Design Space prompts. You'll notice that a light turns on inside the Cricut and it moves around a lot. It's sensing the black box to know where to cut. Once it reads the box, it will start to cut as usual!
Tip: If this is your first time using print then cut, or you haven't used it in a while, you'll want to calibrate your machine and your printer to make sure that everything prints well and lines up!
Frequently Asked Questions about how to convert photo to svg for Cricut cutting
WHAT IS A SVG AND WHY DOES CRICUT DESIGN SPACE ONLY USE SVG FILES?
Simply put, a SVG is a file type that can be made bigger or smaller without any loss in quality. It's basically a mathematical equation that can be easily multiplied or divided to make any size at all and the quality won't change at all!
Other file types are made out of pixels and those pixels expand as you expand the image for example… as the image expands, the pixels become jagged instead of smooth.
Can I save my file from Design Space as an SVG after I convert it from a PNG or JPG?
Unfortunately no. You cannot download SVGs from Design Space. If you love what you created in Design Space and want to share it with a friend you will either need to use the share function in design space library or screenshot the image and convert share with your friend how to convert that screenshot image into a cut file.
I hope you found this really helpful! If you have any outstanding questions, please comment below or post the question in my Facebook Group!
I'd love to see YOUR projects and how you converted your PNGs or JPGs to SVG and used them! Please share a photo in our Facebook group or tag me on social media with #analyticalmommycrafts or @analyticalmommy! I can't wait to see how they turned out!
More Fun Cricut Projects That Use Converted PNGs and JPGs
Save this project for later and pin it to your favorite Pinterest board!