DHA for Babies During and After Pregnancy
Post may include affiliate links. We may earn a fee if you use them at no cost to you. Disclosure.
DHA omega-3s are critical for babies in the womb and out! Did you know that DHA omega-3s (polyunsaturated omega-3 fatty acid) are actually one of 11 nutrients the American Academy of Pediatrics (AAP) recognizes as crucial for neurodevelopment in a baby's first 1,000 days of life?! It's THAT important! And yet, I remember a time when I hadn't heard of DHA!
My first was born in 2009 and at that time, I was instructed to take a prenatal vitamin, but was never told anything about taking prenatal DHA! There weren't 20 DHA supplements crowding the shelves at Target and I definitely wasn't seeing it added to milk and other foods! Well… That's changed! Now we know just how crucial these omega-3s are!
Thank you to GOED, The Global Organization for EPA and DHA Omega-3s, for sponsoring this post so I can share this critical information with you! I hope you'll find this post useful! I'll try to cover all the key information I've learned over the years like:
What are Omega-3s?
What is DHA?
What does DHA do for babies?
How much DHA do pregnant moms need?
How much DHA do breastfeeding moms need?
Foods high in DHA
Easy ways to add DHA to your meals
Great DHA supplements you could try (some taste better than others!)
How much DHA do babies need?
How do babies get DHA if they don't breastfeed?
Read on to learn more and feel free to comment below if you have any questions or want to share some additional information! As always, contact a physician if you have any medical questions. The following is information I've learned through my own experience and research and should not be considered medical advice.
Quick Links to Information in this Post
What are Omega-3s? What is DHA?
Sometimes I feel like omega-3s and DHA are used interchangeably and that's probably because DHA is a type of omega-3! Omega-3s are polyunsaturated fatty acids and there are many types, but the three most common are EPA, DHA and ALA. (I'll avoid spelling everything out or this post could get REALLY hard to read!)
EPA and DHA, ordinarily found in seafood, are the key omega-3s needed to support heart health, brain health, eye health and maternal health! You may actually know them as "Fish Oil" but more on seafood to come!
ALA is a short-chain omega-3 found in plant foods like flax seeds and walnuts. ALA is a great source of energy and is a building block for making EPA and DHA. Unfortunately, our bodies don't convert ALA to EPA and DHA well, which is why it's so important to get EPA and DHA through your diet or supplements.
What does DHA do for babies?
DHA is especially critical for babies from about halfway through gestation until 2 years old. This is because their brain is made up of a lot of fatty tissues and keeping that fatty tissue healthy is key to their brain development. While kids continue to accumulate DHA up to about age 18, the greatest benefit of DHA to babies is while they are in the womb until they are 2 years old.
On top of that… a recent study of 20,000 pregnant women found that mothers who got enough EPA and DHA omega-3s while pregnant had a 42% lower risk of early preterm birth. That's HUGE! It also showed an 11% lower risk of preterm birth and a 10% lower risk of low birth weight!
Have I convinced you of their importance yet?
Unfortunately, though, infants can only get it through the placenta during pregnancy and from breast milk or formula after birth. If you are exclusively breastfeeding and/or pumping, you will be your baby's only source of omega-3 fatty acids. That's why it's so critical for pregnant and nursing moms to eat enough fatty fish or take an omega-3 supplement!
How much DHA do pregnant or breastfeeding moms need?
While everyone is different of course, the recommended amount of EPA and DHA for women who are pregnant or nursing is 700 mg, of which at least 300 mg should be DHA. To get to this amount, the FDA recommends eating between 8 and 12 ounces of seafood!
Don't get me wrong – I LOVE fish, but consistently eating this much fish would be difficult – especially if fish turns you off while you're pregnant (I remember the super human ability to smell things!) or you're trying to juggle a baby while preparing dinner! So, it's a good thing that we have lots of options!
Foods High in Omega 3 Fatty Acids
There are three main ways that you can get the recommended amount of EPA and DHA needed during pregnancy and while breastfeeding.
Eating fish with lots of EPA and DHA like those shown in this chart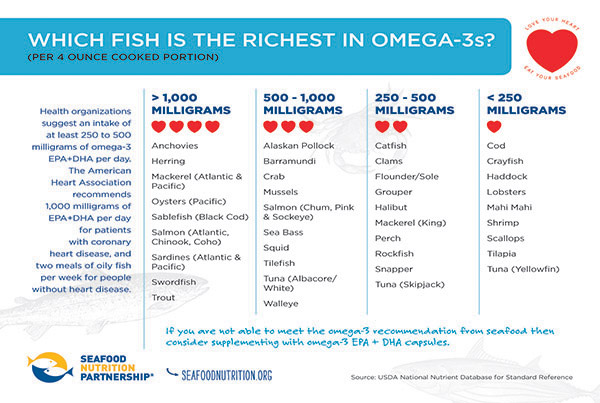 Eating food or drinks that are EPA and DHA fortified (some brands of milk for example!)
Taking omega-3 supplements
Salmon, anchovies and mackerel are great sources of omega-3s and they are very easy to add to your diet or meal plans! Anchovies for example, are usually canned and can be hidden in lots of recipes – so why not stock some in your pantry?
DHA packed recipes
Just about any recipe for salmon, anchovies, mackerel etc, will be naturally high in EPA and DHA. There are a few ways to sneak more of these foods into the busy and hectic life that is motherhood!

Here are my favorite ways to easily sneak DHA packed foods into my diet:
Puree anchovies and add them to tomato sauce, and you'll forget they were even there! This is especially great over pasta, or as pizza sauce and for me, this was a yummy pregnancy-friendly meal! Just remember that anchovies can be a bit salty so don't use as much salt, or add it to taste after the anchovies.
Break up salmon into small pieces and add it to cream sauce (like this one) to make an AMAZING pasta sauce!
Add any fish high in omega-3s to an omelette with chives for a delicious breakfast, lunch, or dinner! You can even bake the "salmon omelet" in cupcake tins to make them easier to take on-the-go! (Using lox – smoked salmon – works too!)
Prenatal Vitamins with DHA
If getting enough EPA and DHA from foods while pregnant or nursing is tough, you don't like fish, or you just want to be sure that you get enough every day, then a supplement is a great way to go!
Check to make sure that you're getting a reputable vitamin and read the reviews to see if they taste and smell okay! There are even some prenatal vitamin brands that include DHA but the ones I've seen usually require a prescription from your OBGYN.
How much DHA do babies need?
So how much DHA does a baby need daily? We've talked a lot about mom, but what if you don't breastfeed? How does your baby get EPA and DHA after they are born? In that case, you'll want to consider a DHA supplement for your baby or a DHA fortified formula.
According to the International Society for the Study of Fatty Acids and Lipids (ISSFAL), the recommended DHA dose for infants is about 32 milligrams per pound (mg/lb) of EPA and DHA until your baby is about 18 months old or 15 pounds. From then until about 15 years old, they recommend 15 mg/lb.
Formulas with DHA
I'm so thrilled to see so many things fortified with DHA these days! It wasn't always like that! If you're using formula, look for a brand and type that is enriched with DHA and you may not need to use supplements!
It's hard to say which is the best formula with DHA because every baby is different. The brand of formula my baby loves may be different from the brand your baby loves… sometimes you just need to try a few out.
Here are some options if you want to try formula with DHA!
Looking for an organic option? This organic formula with DHA seems to be one of the most popular based on the reviews I've read! It's hard to go wrong with Earth's Best!
Baby vitamins/drops with DHA
The American Pregnancy Association recommends Nordic Naturals so if you're looking for a DHA and EPA supplement for your infant, this is probably a good start!
Final thoughts about the benefits of DHA for babies and pregnant women
Phases come and go, but over the years, I've seen DHA become more and more commonly talked about! The research seems pretty clear if the AAP went so far as to include it in the list of 11 nutrients that are "critical" to a baby's brain development!
As parents, you're in complete control over whether or not your baby gets the critical omega-3s and nutrients that they need to thrive! If you're pregnant, your baby will only get DHA in the womb if you are getting enough through nutrition or if you're taking a supplement. If you're nursing or formula feeding, you can turn to supplements for yourself, supplements for your baby, or fortified formula!
I hope you find this post about DHA for babies helpful! Comment below if you have any additional questions about the benefits of DHA for infants or other information to add! And if you want more info about omega-3s, check out our alwaysomega3s.com for more info!
Related Posts