HOW TO MAKE A SHADOW BOX CARD – FREE SNOWMAN SHADOW BOX CARD TEMPLATE
Post may include affiliate links. We may earn a fee if you use them at no cost to you. Disclosure.
A STEP-BY-STEP SHADOW BOX CARD TUTORIAL, VIDEO, AND FREE SNOWMAN CARD TEMPLATE SO YOU CAN MAKE THE CUTEST CARDS THIS HOLIDAY SEASON!
This year, give your loved ones a shadow box card! They are beautiful works of art that your friends and family will want to display for years to come! They won't know how easy they are to make, and you'll love the look on their face when they see how unique the card is!
After the card recipient finishes admiring the shadow box on the front of the card, they'll open it and see a cut pop-up snowman!
If you've made layered cardstock shadow boxes before like my sunflower mandala, then this card will be extra easy for you to make! It uses very similar steps!
Haven't made a layered cardstock shadow box before? Not to worry! This card is still really easy to make! In this post, I'll share all the tips you need to know and answer all your questions PLUS include lots of pictures and a step-by-step video tutorial so you can learn how ot make a shadow box card in no time!
Let's jump right in and start crafting these beautiful holiday cards – perfect for Christmas, Hannukah, or any other holiday!
First, let's start with this step-by-step video tutorial!
Quick Links to Information in this Post
Snowman Shadow Box Card Materials
One of the things I love more about paper crafts like this card project, is that you need SO few materials! Here's what you'll need to make this shadow box card:
That's it!
You may have noticed that I mention "if you're using a cutting machine" a few times. You can absolutely make this by hand if you don't own a Cricut machine. Cricut machines make these kinds of crafts so much easier and quicker to make! If you'd like to learn more about Cricut Machines, check out my Cricut review.
If you rather cut it by hand, you absolutely can! More about how to do that later in this post!
Cardstock for Shadow Box Cards
I used 65lb cardstock because that's what I had on hand and it worked great but 100lb cardstock would probably be even better. I wanted to make a blue shimmer-y card and could not find any in 100lb. You can likely use whatever you have on hand but I would not recommend going with less than 65lb.
Buy the blue shimmer card stock I used from Michaels.com
Glue for Card Making
Finding the right glue for making cards is tough! You want something that won't dry too fast but fast enough that the parts won't slide and slip. You also need a glue that won't warp the paper!
Art Glitter Glue is a cult favorite for paper crafts but it always seems to be out of stock so here are a few great alternatives you'll be able to get more easily!
(Note that in my video I used the Art Glitter Glue and it probably would have been easier and quicker to make with one of these options instead!)
Glue Pens
This is a great adhesive for card making because you can be really precise with it!
Buy these glue pens from Amazon.com!
Glue Runner
Glue runners are great because it's like applying glue dots but much easier! Plus with this particular glue runner you have a small window when you can actually reposition the paper before it becomes a permanent bond.
Buy this glue runner from Amazon.com!
Tape Runner
Tape runners are another option. Rather than glue dots, these use double sided tape. I personally prefer glue runners but these work great too!
Cutting Machine

While you don't have to use a cutting machine for this project, having one will make this project (and so many others) SO much easier! I highly recommend getting Cricut Machine if you can and love to craft! The great news is that Cricut often has great sales going on!

That's why I recommend ordering a Cricut directly from their website. In fact, you can sign up for the Cricut Access program for a month which will get you a 10% discount off all orders off their site, and then use that discount towards a Cricut!

To get the best deal (1) Click here get Cricut Access and then (2) either click here to order a Cricut or watch my newsletter for the next big sale and purchase through there!

Not sure if a Cricut is right for you or which you should get? Read my Cricut Review post here!
Free Snowman Shadow Box Card Template and SVG
Last but definitely not least – to do this project, you'll need access to my FREE design! Fill out the form below to gain access to this design and many others! Once you have access, you can download the zip file from my members-only library. The zip file will have a SVG for use with a cutting machine, a PDF in case you want to cut by hand, and a document with a link to my project in design space in case you're a Cricut user and want to skip ahead a few steps!

If you're a fan of card making you will want to check out my pop-up flower card for mom or my necktie card for dad!

Alright, that's enough of an intro! So how DO you make a shadow box card? Let's go through it step by step!
Shadow Box Card Step-by-Step Guide
Yield: 1
HOW TO MAKE A SHADOW BOX CARD - FREE SNOWMAN SHADOW BOX CARD TEMPLATE
Active Time: 10 minutes

Total Time: 10 minutes

Difficulty: Easy

This pop-up shadow box card is perfect for the holidays or any winter occasion! It's also so easy to make but will WOW whoever gets it!
Tools
A cutting mat (if you're using a cutting machine)
A weeding tool (even a tooth pick will work!)
A scraper (optional - and only if you're using a cutting machine)
Instructions
Download my Shadow Box Card file and import it into Design Space.
To get a copy of the file, just click here and request access or fill out the form in this post. You will then get an email with instructions. You want to download file C17 in my library. Once you have the file, you'll need to unzip it and locate the SVG file. That's the one you want to import. If you're new to design space and don't know how to import a file, follow these steps next. You'll need to click Upload on the left side, then click Upload Image. Now click Browse and find the SVG file. Then click Upload! It's that easy!

If you are using a Cricut machine, you can use the Design Space link I've also provided in the zip file. If you use this, you'll be able to skip ahead a few steps! (Note: This link may not work forever so you also have the option to upload the SVG if the link ever breaks)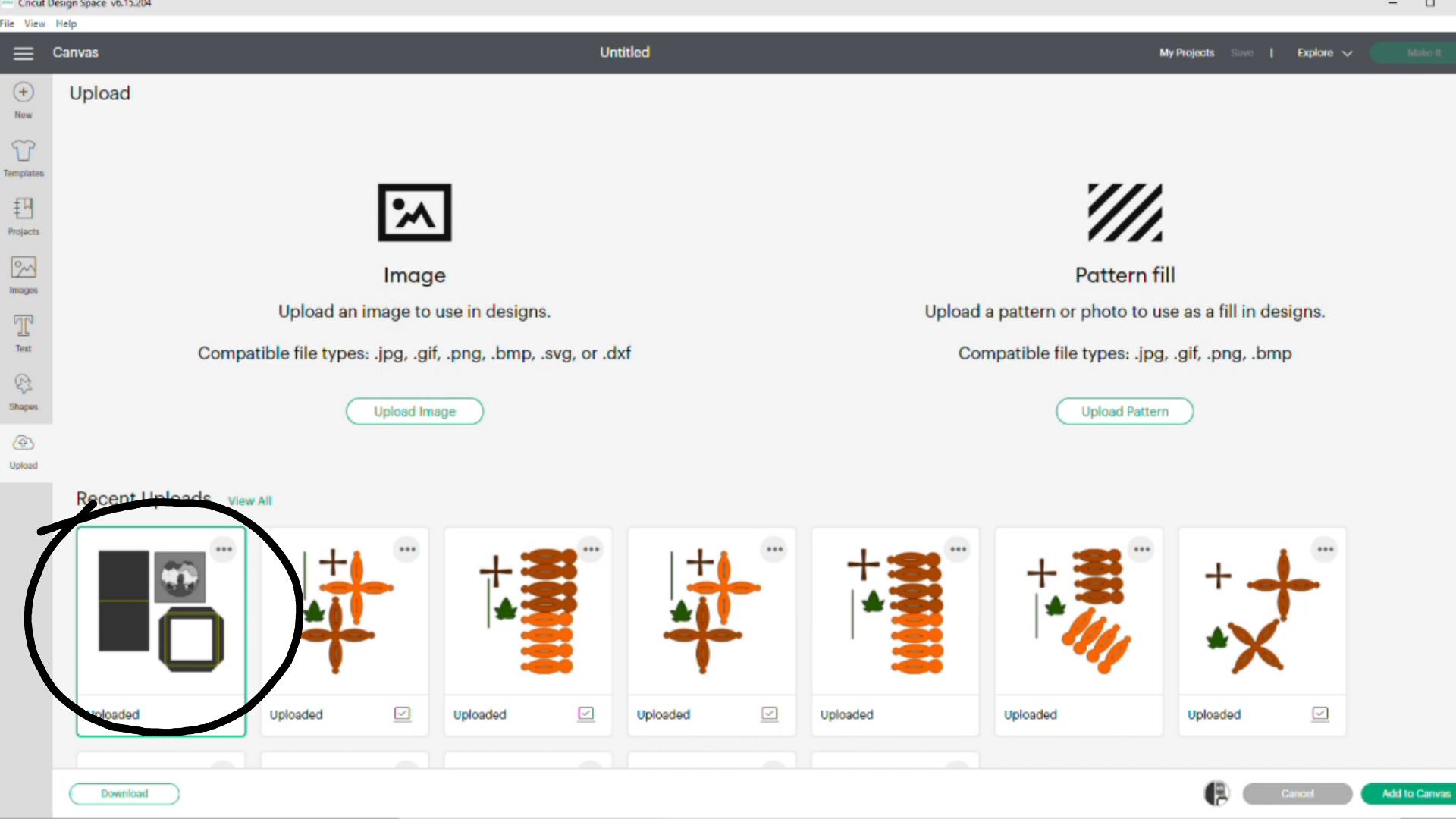 Resize design (Optional)
Now is your chance to easily change the size of the design if desired. You can of course change it later if you want, but this is the easiest time to do it because everything is grouped. To resign the shadow box card template, just drag the arrow on the bottom right or change the width or height value at the top.

Just be careful that you don't make it too big. You don't want the width or height of the big rectangle to be larger than your piece of paper. You can gauge the size of it as you adjust by looking at the rulers on each axis.
Ungroup the pieces
Now you need to right click on the design and ungroup the files. This is important for our next step.
Convert lines to score lines (Skip this step if you used the direct link)
Now we need to change all the lines to "Score" lines. I used to be able to code the lines to be score lines so you wouldn't have to do this but a recent Cricut Design Space update broke that. If you'd liek to skip this step and are using a Cricut machine, just click on the Design Space link provided in the zip file instead.

Otherwise, find each simple line in the list of objects on the right side. Select them and then click on "Operations" and then select score.
Attach the score lines
Now you need to attach the score lines to the pieces we want to score. If we don't do this, the machine won't know what to score. To do this, select the entire frame piece on the bottom right and all the lines on it. You can do this by clicking next to it and then dragging across the shape to select everything.

Once you've done that, right click and choose attach.

Now you need to do the same thing with the base of the card which is the big rectangle on the left. It has one score line. Select the big rectangle and the score line, right click, and choose attach.

Now we're done with the prep work! On to the fun stuff!
Cut all the pieces out and remove remaining cut outs
Now we want to cut everything!

Click "Make It" and then change your paper sizes if using something other than a 12x12 piece of cardstock. I'm using 8.5x11 paper. You can see how to do this in my video if you've never done this.

Then click "Continue"

Now select your material type. You want to make sure that you pick "Cardstock". If you have an Explore Air machine, either turn your dial to customer and select cardstock or turn your dial to Cardstock.

Now load your machine with either a scoring tool or a pen and the fine tip blade.

Add your cardstock to your mat and begin cutting.

If you're new to using your Cricut machine and need more detailed instructions, just watch my video!
Order your shadow box pieces
Let's start by identifying all the pieces you just cut! You're going to have the following:

- A large rectangle. This is the base of your card.

- A square with a square cutout in the middle and 4 flaps. This is your shadow box card frame.

- 6 squares each with a part of the snowman scene.

- A small stand-alone snowman (this is the snowman that will popup inside the card).

- A small rectangle (this will help our small snowman pop up inside the card).

Now grab each of the 6 scenery squares and put them in the right order. The easiest way to do this is to reference Cricut Design Space and put them in the same order they are shown there.

You should have:

- The sky with start cut outs

- A mountain (on the right)

- A mountain (on the left)

- The trees and houses

- The snowman

- Just clouds

Just put them in the right order. Don't glue them together yet.

Fold along score lines
It's about to start coming together! We're just minutes away from having a gorgeous pop-up shadowbox card!

Now we need to fold along each score line.

Find the large rectangle and fold it in half along the score line.

Then grab your shadow box frame and fold along the 8 score lines.

If you used a pen instead of a scoring tool, you'll need to be extra careful to make sure you fold along the lines correctly so take a few extra seconds to do this carefully.
Glue your shadow box layers together
It's time to assemble the shadow box card!

Grab your pile of shadowbox inserts and your foam dots.

Take the back layer first (the sky) and put a glue dot on 2-4 corners.

Now grab the next bottom-most layer and line it up with the sky and then press down to connect them. Watch my video to see how I easily line them up!

After you get the first two pieces connected, do the same again for each of the remaining layers.

Glue shadow box frame to the inserts
Now it's time to make your frame and connect it with the shadow box card inserts.

The key with this step is:

- to make sure that when you wrap the flaps around the inserts, the flaps form a nice straight corner (you want clean corners / 90 degree angles if you can).

- apply glue all the way to the edge of the frame's inner cut out so that it glues flat and doesn't curl

- don't use too much glue to avoid your cardstock from warping

First glue the shadow box inserts to the frame and then wrap the flaps around the inner layers and glue them down. Watch my video to see this in action.
Glue the frame to the main card
You should now have a small shadow box and a rectangle folded in two making a card. Just glue your shadow box to your card! Use the same glue tips mentioned above for best results.
Glue the Pop Up Snowman to the inside of the card
This next step is optional but if you want to turn this card into a Pop-up Shadow Box Card, follow these simple steps:

- Fold your tiny rectangle in half and then fold each of those halves in half. You should now have a square.

- Glue the edges to the inside of your card in the center and hold for a moment to make sure it stays in place.
- Next glue your little snowman to the little square we just glued to the inside of the card.
Watch my video for more help on how to do this if this is your first time making a popup card!
Recommended Products
As an Amazon Associate and member of other affiliate programs, I earn from qualifying purchases.
ANSWERS TO YOUR QUESTIONS ABOUT MAKING A Shadow Box Card
What cardstock is best for shadow box cards?

I would recommend 65lb to 100lb cardstock. Anything less than that will probably be too flimsy and warp from the glue. You could go heavier than 100lbs but I don't think there would be much benefit.

How do you make this by hand?

You'd download my shadow box card template and print off the PDFs. Then cut these out and use them as a "template". You can then use this template with any cardstock you'd like. Using a Cricut machine is much more precise and much easier though! Click here to learn about Cricut Machines.

What colors should I use in this Snowman Shadow Box Card?

I chose to use mostly one color for the inside of my shadow box. I love how elegant that looks. You don't have to go this route though! You can change up each layer. For example, the sky would look great if it were black. The snowman white. The trees and houses green etc.

Alright – that's it for now! I'd love to see YOUR shadow box cards and the colors you chose to use! Please share a photo in our Facebook group or tag me on social media with #analyticalmommycrafts or @analyticalmommy! I can't wait to see how they turned out!

Got a question? Comment below or post it in the Facebook group!
More of Card and Shadow Box Designs!
Save this project for later and pin it to your favorite Pinterest board!