Easy Shirt and Tie Card – Best Father's Day Card to Make With Free SVG and PDF
Post may include affiliate links. We may earn a fee if you use them at no cost to you. Disclosure.
USE MY FREE SVG AND PRINTABLE TEMPLATE FOR FATHER'S DAY CARD TO MAKE A CUTE SHIRT AND TIE CARD! ALSO PERFECT AS A BIRTHDAY CARD FOR HIM!
The other day I sat down with the kids and we brainstormed ideas for father's day! We wanted to make something super cute that would also be easy enough for the kids. We came up with a bunch of ideas and the first one we made was this really cute father's day necktie card!
What is more iconic than a shirt and necktie for Dad (even if Dad doesn't wear a necktie most days).
Well, I set off to come up with how to make this father's day necktie card template… I wanted it to be easy and highly customizable because.. well it's perfect as a birthday card for Dad too!
Just by changing up the cardstock, the card completely transforms! I also left the inside of the card blank so that we (and you!) could customize the words on the cards easily!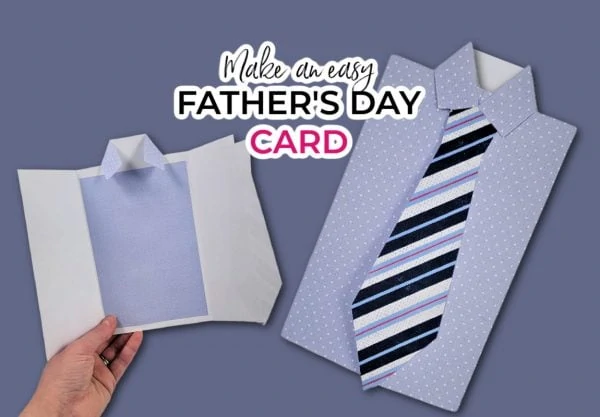 This card is so easy to put together that it's a GREAT kid craft activity too! Just help your little one cut out the pieces and then show them how to put it together! They can even watch the video below to learn how!
Whether you've got a cutting machine or not, I'm going to show you how to make a father's day card with paper within just a few minutes easily! Let's dive into all the details and as always… You can download my father's day card SVG and PDF for free using the forms in this post or by going to my free resource library if you already have access! (Just a reminder – the resource library password is always in my newsletters at the bottom!)
Want to make a gift for Dad too? Check out my Layered Paper Shadow Box for Dad! Perfect for Father's Day or a Birthday!
And if you want the card to look just like the one in the image above, be sure to order the cardstock pack I link below! There are so many amazing options to pick from in that pack!
Birthday and Father's Day Necktie Card Step-by-Step Video
Materials for this Necktie Card For Father's Day and Year Round
Cardstock for Cards
For projects like this, I love using cardstock from a pad because the patterns and colors already match really well! This pad had the perfect colors for this style of card and it matched my husband's taste perfectly! You can use anything you like though!
Best Glue For Cards
I use two types of glue when I make cards. I use this one and glue sticks. While glue sticks are easy and cheap and can work for this project, I chose to use this type because of the super fine tip, it dries quickly, and goes a very long way.
Cutting Machine
This is absolutely a project that can be done by hand! I love using my Cricut though and it always makes cutting easier! So, I used my Cricut Explore Air 2 in the video and sometimes make this with my Maker too! If you're curious about Cricut Cutting Machines, be sure to check out my Cricut review here!
FREE Father's Day Card SVG and Printable Template
If you love making cards or gifts for family and friends you're going to love my super Easy Pop Up Flower Card, Memorial Shadow Box and Paw Print Flower Shadow Box!
Alright, let's dive into how to make this necktie card for Father's Day and Birthdays!
Yield:

1
Necktie Father's Day Card To Make For Him
Make this super cut shirt and tie card for your husband or Dad with my FREE SVG and template! This can be made quickly and easily with or without a Cricut machine and is super easy to customize!
Tools
Instructions
Step 1: Download my Father's Day Card SVG and Template (FREE!)
Click here or use any of the forms in this post to get access to my SVG and Template! Once you've downloaded it, you'll need to unzip the file and choose either the SVG (if you're using a Cricut) or the PDF (if you're cutting by hand)
Step 2: Select your paper
You'll need to pick a color/pattern for the shirt, the tie, and the inside piece.
Step 3: Decide what you'll put inside the necktie card
My father's day card template is blank on purpose so that you can use it for any purpose - whether it's Father's day, a Birthday, a thank you card or anything else!
Decide what you'd like to put on the inside. You may want to print something on it, or maybe add something by hand, or program your Cricut to write something on it. That's up to you!
(The next few steps focus on how to make this Father's Day Necktie Card with a Cricut Machine but if you don't have one, I'll have instructions below for you)
Step 4: Load your Father's Day Card SVG into Design Space
If you haven't done this before, here are the steps:
1. Open design space
2. Click "New Project"
3. Click "Upload"
4. Click "Upload Image"
5. Select the SVG file (remember that you need to unzip the file)
6. Click "Upload"
7. Select the file you just uploaded from the library
8. Click "Insert Images"
9. While the whole thing is still selected, you can resize the card. It will automatically sized for roughly a 5x7 card.
10. Click Make It and follow the prompts
11. Be sure to select Card Stock from the material list or turn your dial to Cardstock.
Step 5: Load your tools and paper
Make sure that your fine point blade is loaded into your Cricut machine. Then add your Scoring Stylus or Scoring Wheel if you have one. (If you don't, just proceed with that spot empty and you can fold your card by hand).
Then add your paper to your light or standard grip mat and feed it into the machine by clicking the double arrow. Once the C starts flashing, press that button.
Tip: When you get to cutting the main card piece (it's the biggest piece) you want to put your cardstock on the mat upside down. This is because you want it to score on that side.
Cut all three pieces.
Step 6: Assemble Your Card
This part is super easy! You're almost done!
1. Take the largest piece and fold the sides on the score lines. If you did not score it, just fold from the edge of the collar flaps down. Note that one side will be wider than the other.
2. Fold the collar down. You want to angle the collar flaps downwards and align the points so that it looks like a collar and then press down on the fold. There aren't any score lines for this because it's to your taste.
3. Line up the tie with the collar. You don't want the tie to be above the collar so line it up to get a sense for where it should go. Then set it aside.
4. Add glue to the right flap of the card (not the collar) along the edge. Then press your tie to it. Note that you want your tie to be centered with the center of the card so only half the tie will be glued to the card. The other half will hang over. watch the video to see this in action.
5. Open the card and glue the remaining rectangular piece to the very center of the inside of the card.
And you're done!
Recommended Products
As an Amazon Associate and member of other affiliate programs, I earn from qualifying purchases.
ANSWERS TO YOUR QUESTIONS ABOUT MAKING A NECKTIE FATHER'S DAY CARD
Can you make this Shirt and Tie Card for Dad without a Cricut machine?
Absolutely! Just download my FREE template and use the PDF files. You will want to print those PDF files to the paper you'd like to use for your card. Then cut and fold along the lines. Alternatively, you can print them to a piece of paper or cardstock that you will use as a template and then trace.

How do I add a message to this card?
You have two options! Either print your message on a piece of cardstock (You may need to cut it down to letter paper size). Then cut the rectangular piece out of that piece of paper and use that as your inner piece. If you go this route, you will want to make sure that your message lines up with where the rectangle will be cut out of the paper and your Cricut. It may be easier to cut the rectangle out by hand if you go this route.
Another option would be to cut
More of the Best Papercraft Projects!
EASY SHIRT AND TIE CARD – BEST FATHER'S DAY CARD TO MAKE WITH FREE SVG AND PDF
Pin to Pinterest