How to make a paper flower bouquet – An Easy Cricut FLOWER CRAFT + Free 3D Flower Template & Video
Post may include affiliate links. We may earn a fee if you use them at no cost to you. Disclosure.
YOUR GOING TO LOVE THIS PAPER FLOWER BOUQUET! LEARN HOW TO MAKE GORGEOUS PAPER FLOWER DECOR THAT WILL BRIGHTEN ANY SPACE!
Paper flowers can be used in so many different ways and the possibilities are endless! There are countless flower styles you can make, and an endless supply of color paper or patterned paper that you can use. No two Cricut flower projects are ever the same and each is unique just like flowers in nature! Embrace the imperfection!
Depending on the colors and styles you choose, this paper flower bouquet will have a completely different feel! I wanted a spring decor DIY so I chose pastel paper, but you can choose whatever suits your space! In this tutorial, we will make paper flower table decor – so our bouquet will sit in a pretty farmhouse style vase but you can put it wherever you'd like!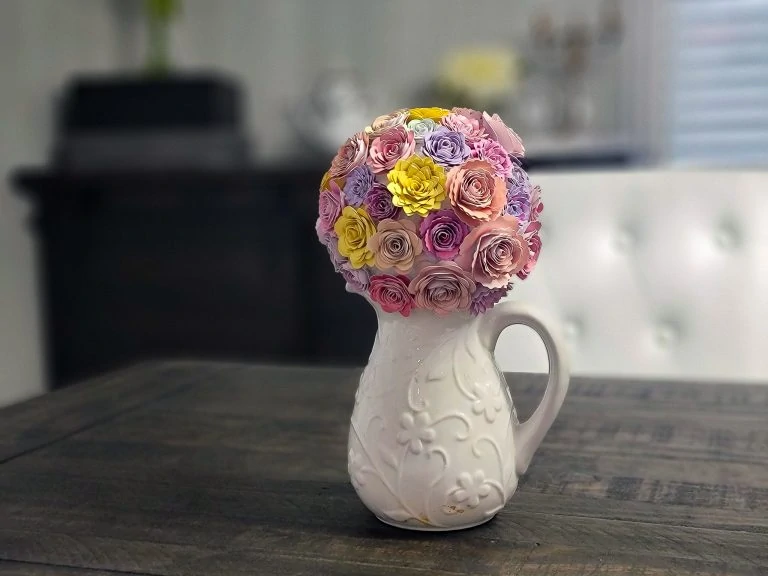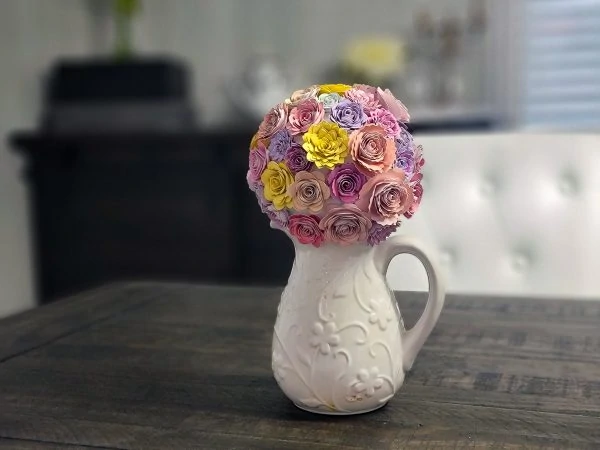 This is a super simple but gorgeous project! To make it, you really just need some sticks, Styrofoam, paper and glue. There are a few tricks that make this process much easier though so in this post, I'll share some great tips, exactly which products will work best, and how to put it together easily! Be sure to look out for those tips and watch the video and you'll have your bouquet ready to display in no time
Ready to make this paper flower decor DIY? Whether you want to make it for Easter, mother's day, or just because… you'll love this! Let's get started…
How to make a paper flower bouquet easy step by step video
This step-by-step video tutorial shows you how to make paper flower decor easily! Watch the video and then scroll down for all the details!
Materials for your paper flower bouquet
4.7″ styrafoam ball (I used this one)
Cardstock – I prefer to use solid core cardstock so you won't see white when you roll the flowers. Around 65;b is best. I used this kind for my spring themed flower DIY.
Chopsticks
Before we get too much further, f you're a fan of paper crafts, you'll love these too my Floral Picture frame too! It makes a great mother's day or Valentine's day present!
How To Make A Paper Flower Bouquet Step-by-step
Step 1: Choose your cardstock
I recommend using roughly 65lb cardstock for rolled flowers. It has the right amount of stucture to hold the shape well and the right amount of flexibility to roll well without folding or creasing.
Next, I recommend using solid core paper for this project. While you don't have to and it's a creative preference, I find that it looks best for this project.
I chose pastel cardstock this time because I wanted to make spring home decor, but you can go with other colors if it's wintertime, for a specific holiday, or just to match your home! This is my favorite paper for this project.
Step 2: Cut your paper flower spirals
First you'll want to choose which flowers you're going to make. I used a combination of my rolled flower pattern 1 and 2. They were perfect for this spring project! You can also use the ones in Design Space too but I love my custom patterns best! You can get these free paper flower SVGs from my exclusive resource library! Just fill out the form below to gain access for free!
After downloading my FREE rolled paper flower templates, you'll unzip the file and upload them into Design Space (my video below will show you how if you're new to this!).
Remember that your flowers once rolled and glued will end up being about 1/4 of the size of the spiral you cut. For this project, since we're going to be making quite a few flowers, I decided to make them pretty lose so I won't have as many.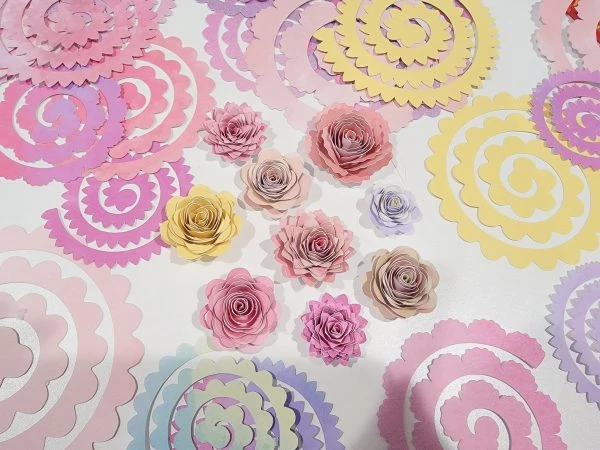 Watch the video below to see how I roll my flowers and especially how I make them loose so they look like bloomed flowers!
For this project, I cut my flowers to between 3 and 4 inches. By varying the sizes I was able to add more variety!
Step 3: Roll your paper flowers
I have a very detailed post all about how to make cricut paper flowers that you can read for lots of great info if you're new to making them! You can also watch the video below! !
While you can absolutely roll your flowers tightly, remember that you don't have to! As you can see in the video, I often drop my flowers on the table ON PURPOSE. It's okay. Don't stress. These are fun to make and don't need to be perfect. In fact, the imperfection makes them look more real! So have some fun.
You're going to want to cut, roll and glue a bunch of flowers in different sizes and colors for this project before you move on to the next step. You may end up needing a few more after you get started gluing them on the ball and that's okay. But get a bunch ready first.
I made my flowers between 3 and 4 inches big and needed about 55 flowers at this size. If you want to make fewer flowers, you could increase your flower size to anywhere from 3-7 and use fewer flowers! The look will still be very similar.
Step 4: Add sticks to your Styrofoam ball
Next we are going to add some chopsticks to our Styrofoam ball in order to help it stay in place on our vase. While I'm using chopsticks, you can really use any long stick you might have.
Place your ball over your vase you can gauge where you'll need the sticks. You want the sticks to come out of the ball and go into the vase sitting against the rim of the vase if you can so it won't slide around.
Then push two sticks into the ball where you need them and then test it out. Are they in a good spot?
If so, add 1-2 more and then place the ball with the sticks on top of the vase.
Step 5: Glue your flowers to the ball
Now you'll want to start gluing your flowers to the ball using your hot glue again. If you made different size flowers like I did, start with a 4-5 large flowers. Place them spread out on the ball so that you make sure to have good variety.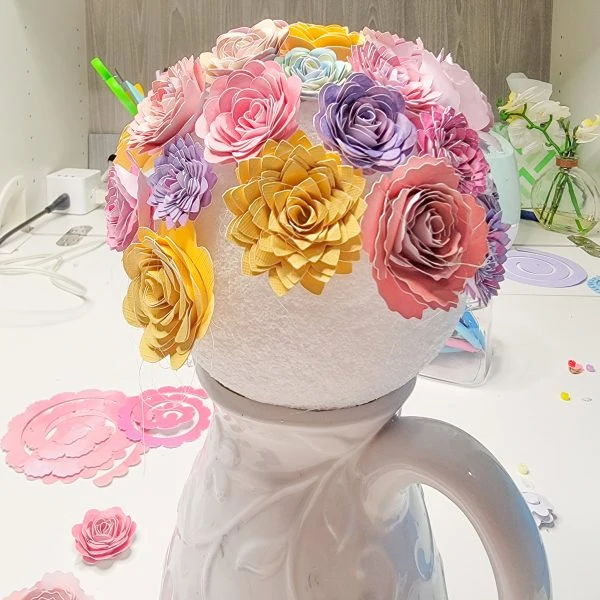 You wouldn't want all your small flowers in one spot and all the large in another.
Then, fill in with the remaining flowers until your entire ball is covered making sure to get all the way on the bottom where the ball touches the vase. You may need to lift the ball up a bit for this last part but that's okay!
Frequently asked questions about Paper Flower Decorations
What do I do if I need to move a flower after it's on the ball?
Not to worry! While it may be scary to do so, you can pull the flower off the ball and reapply it. Yes, it may take a piece of the Styrofoam with it when it comes off, but you won't be able to tell once you glue it to another spot and fill in that new empty spot. Just be gentle to limit the amount the rips off.
How do I clean my paper flower decoration?
Everything in our homes collect dust. They just do – and your paper flower decor will be no exception. Luckily, cleaning it is easy! Just spray it with some compressed air like this one and you'll be good to go in seconds! This is the same thing you likely already use to clean your computer keyboard!
How to make paper flower bouquet for birthday?
Adapting this project for a birthday is super easy! Consider using the birthday boy or girl's favorite colors for the flowers. Then make a miniature "happy birthday" sign or flag that you glue to a toothpick. Then just stick the little flag or sign into the ball with the flowers!
It will be a really cute present and after their birthday has passed, they will have the option of removing the birthday flag and keeping the present as a centerpiece or just home decor!
How to make a paper flower bouquet for mother's day?
For mother's day you can do something to the birthday idea above! This time, maybe make a paper heart or flat that says "Happy Mother's Day", glue it to a toothpick, and add that to the paper flower bouquet!
How to make a paper flower centerpiece for Easter?
This one is fun! Create a layered cardstock bunny (or print and cut bunny) and add that to the paper flower bouquet! You can also substitute a small basket for the vase and have your cricut flowers in a basket with a cute bunny!
OR… For an even cuter idea… Use white 3D paper flowers for the paper flower bouquet, then add a nose, eyes, and ears to it!
What paper is used for flower bouquet?
For this project, you'll use the same type of paper I recommend for any paper flowers. Roughly 65lb solid cord cardstock is ideal in my opinion. It holds its shape really well but is flexible enough to roll nicely without bending or creasing.
Feel free to experiment though! It's definitely a matter of opinion. Paper flowers are a work of art and you may really enjoy the effect something like white core cardstock gives.
What should I do if all I have is white core cardstock?
While I do personally prefer solid core paper you CAN use white core to make paper flowers. Especially if you are going for a light colored flower.
Additionally, if you make your flower really loose like I show in my paper flower video above, the white core will be much less noticeable.
And… If you like, you can also use a marker or some watercolor paint to PAINT the white parts once you've rolled the flower! It makes such a cool effect!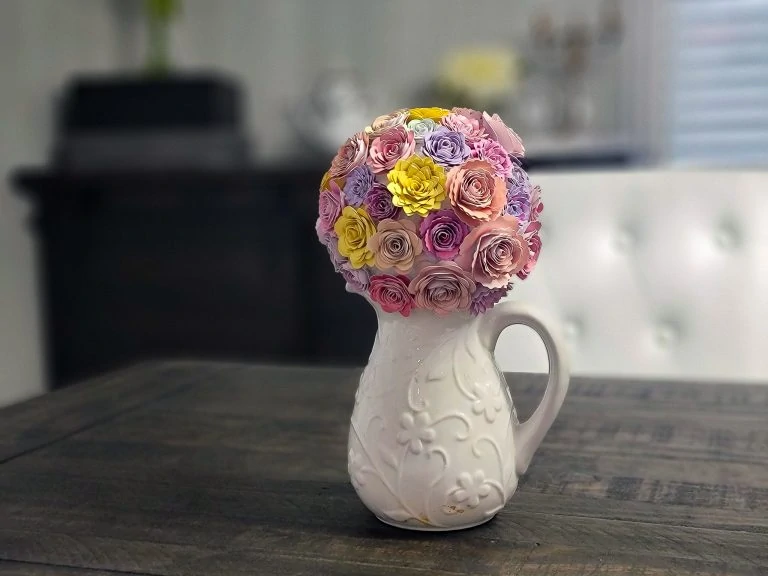 Yield:

1
How to make a paper flower bouquet - An easy cricut flower craft
Total Time:
1 hour
1 minute
Gorgeous paper flower home decor DIY idea - make a paper flower bouquet that you can use as a centerpiece! This makes an amazing DIY mother's day gift, Easter decoration, birthday gift and so much more! It's especially beautiful as a table centerpiece though!
Make sure to read the full post for all the tips and details!
Materials
Sticks (I used chopsticks)
Instructions
1. Choose your cardstock
Cut your paper flower spirals
Roll and glue your cricut paper flowers
Add sticks to your styrofoam ball
Glue your flwoers to the ball
Notes
Make sure to read the full post for all the key details and tips!
Recommended Products
As an Amazon Associate and member of other affiliate programs, I earn from qualifying purchases.
Final thoughts about paper flower bouquets…
Now that i've made one of these, I cannot wait to make so many more! I think paper flower bouquets for mother's day are a really cute idea and I'm sure I'll make more to match different holidays too!
I'd love to see what you come up with! Please use the hashtag #analyticalmommy or tag @analyticalmommy on social media if you make one and share it! I can't wait to see what yours looks like!
Still have a question? Comment below and I'll make sure to answer it quickly so you can get your project made and on display in your home or the home of a lucky recipient!
More of the Best Cricut Paper Crafts
How to make a Cricut paper flower bouquet – gorgeous home decor DIY IDEA
Pin to Pinterest