Easy paper rose craft and gift – a floral picture frame with video tutorial
Post may include affiliate links. We may earn a fee if you use them at no cost to you. Disclosure.
MAKE THIS PAPER ROSE CRAFT AND GIFT IT TO YOUR LOVED ONE THIS VALENTINE'S DAY OR ON ANY SPECIAL OCCASION! THIS EASY PAPER FLOWER CRAFT CAN BE A FUN ACTIVITY TO DO WITH THE KIDS TOO! MAKE IT AS A GIFT OR KEEP IT AS HOME DECOR!
Paper rose crafts always seem to be trending! They are so much fun to make and so pretty – it's easy to see why they are such a favorite!
In this craft, we will make a painted wood frame decorated with small paper roses. There are infinite variations and every time you make this DIY Cricut frame adorned with paper roses it will look completely unique! By just changing up the colors you use, this flower decorated frame craft can easily switch from a Valentine's Day theme, to a Christmas theme, to an Easter theme! Whatever the occasion, this makes the perfect gift!
One of the best things about this craft is that it's practical – who doesn't love and need picture frames? But more so, I love that this craft is made out of just cardstock paper, glue, paint, and a frame and it cost just a few dollars to make!
So let's dive right into it…
Quick Links to Information in this Post
Do you need a Cricut to make Paper Flower Crafts?
Making paper flowers is probably one of the easiest Cricut crafts around! Making paper flowers with a Cricut is probably the easiest and most enjoyable way. If you don't have a Cricut though, don't worry! I have an option for you so that you can make paper flowers by hand too! Keep on reading!
That said, if you are interested in getting a Cricut or just curious, I've written the most detailed review of the Cricut Explore Air 2 machine you'll fine! This review should help you decide if the Cricut Explore Air 2 machine is right for you and if so, how to get the best value!
How to Paper Paper Roses By Hand
If you don't have a Cricut machine, don't worry! You can make paper roses by hand. Just download m Paper Rose templates using the form below and grab #5 in the PNG format. Then print it, cut it out and use that as your template. You can then roll those up into your flowers as they are, or you can customize them using these scissors! Use them to cut along the outside edge which will make your flower petals look unique!
Can you make this DIY picture frame with the kids?
Absolutely! This simple photo frame craft is really, really simple to make. In fact, my kids LOVED painting the frame and deciding where each flower would go! I truly enjoyed making the rolled paper flowers but my kids aren't old enough yet to help with that part!
Since making the paper roses involves a glue gun, you need to be really careful when making them around the kids. Even the roses are hot for a moment after you close them up so just be carefulw hen you get to that step!
We made this paper flower frame over the course of a few days so I just make the quilling paper flowers when they weren't around.
Supply List
How to make paper roses
Paper rose crafts are one of the easiest crafts and they are so rewarding because they are gorgeous, there are so many versions, and because you can use them in so many ways!
Here's a quick run down of how they are made, but for a full tutorial head over to my full guide: How to make a cricut paper flower + FREE flower templates and a video!
To make a paper rose, or any rolled paper flower, you just need to find a paper flower template that you like, cut it out (either by hand or with a cricut) and then roll it up starting from the outside in. At the very center of the spiral, you'll see a circle. That "flap" becomes the "base" of the flower.
Once you havce rolled up the flower, add some hot glue to the bottom of the spiral you made and then fold the flap over on to the glue you just added to form the base of the flower. This holds the flower in place. Just hold the flap down for a moment and then let go.
Don't worry if your flower begins to unwind a bit. That's normal! So long as your hot glue covered the whole spiral, the flower will hold and look beautiful!
Using a quilling took to roll your flower can make it easier, but as you can see from my Paper Rose Picture Frame Tutorial Video, it's not required! You can do it by hand just as well.
Want your flower's petals to look more realistic? Roll a few outwards to make your paper flower look more real!
Here's a video from my full cricut paper flower tutorial showing you how it's done. Head over to that post for all the detail.
I've got 5 great paper flower templates that you can enjoy for free! Just fill out this form to download them (and as a bonus, you'll also get access to my whole resource library!)
Who would enjoy this DIY Cricut Picture Frame?
I love the idea of giving this photo frame to someone for Valentine's Day or even Mother's Day, too. The bright colors and the added flowers give it a warm and feminine touch.
BUT since this photo frame is so easy to change up by just tweaking the colors, it can easily be made for any type of holiday or celebration as well.
How long will the paint take to dry on this photo frame craft?
This project doesn't take a lot of active time to make but, you will want to plan ahead because you're going to want to let it dry overnight before you attach your paper roses! Just make sure you plan to break this up into two parts!
Unique Ideas For Using a Photo Frame
We all know that photo frames are normally used to hold photos but don't be afraid to think outside the box on this.
Since photo frames offer a way to showcase other cool ideas, why not give that a try and see what you think?
Instead of putting a picture in your photo frame, use it to add in the latest piece of artwork from your child, or a fun love note that they left you as well.
I like to use this photo frame throughout the year as a fun way to showcase items such as that. It makes my heart happy and the kids are always super pumped when their art is "featured" as well!
However, you decide to use this frame, be proud of your crafting abilities and making it! Just being able to place it on a shelf in your home and view it daily is enough to warm your heart and fuel your creative side for even more fun Cricut projects!
How to Make This Paper Flower Craft – Floral Picture Frame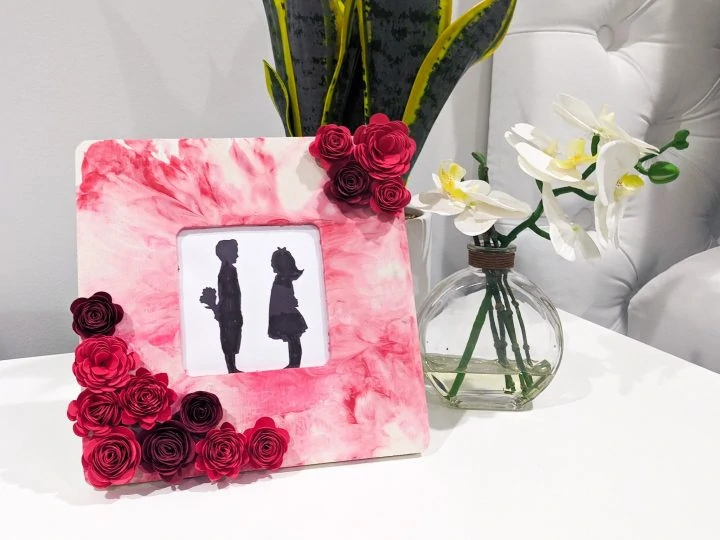 Yield:

1
DIY Paper Flower Decorated Photo Frame
Additional Time:
12 hours
Total Time:
13 hours
5 minutes
You'll love making this beautiful paper flower craft as much as your loved one will enjoy receiving it! Makes a gorgeous flower decorated picture frame!
Materials
Sticks (toothpicks, chopsticks, even plastic utensils work)
Plastic wrap and/or tray
Hot Glue Gun Sticks
Photo to add to the frame
Instructions
The steps to this frame project aren't hard, but play close attention as they are a bit details!
1. On a piece of plastic wrap or a tray, pour the white, red, and pink (optional) paint overlapping and make sure you have at least a thin layer of paint that's bigger than the picture frame you'll be using (You can change up the colors for other themes)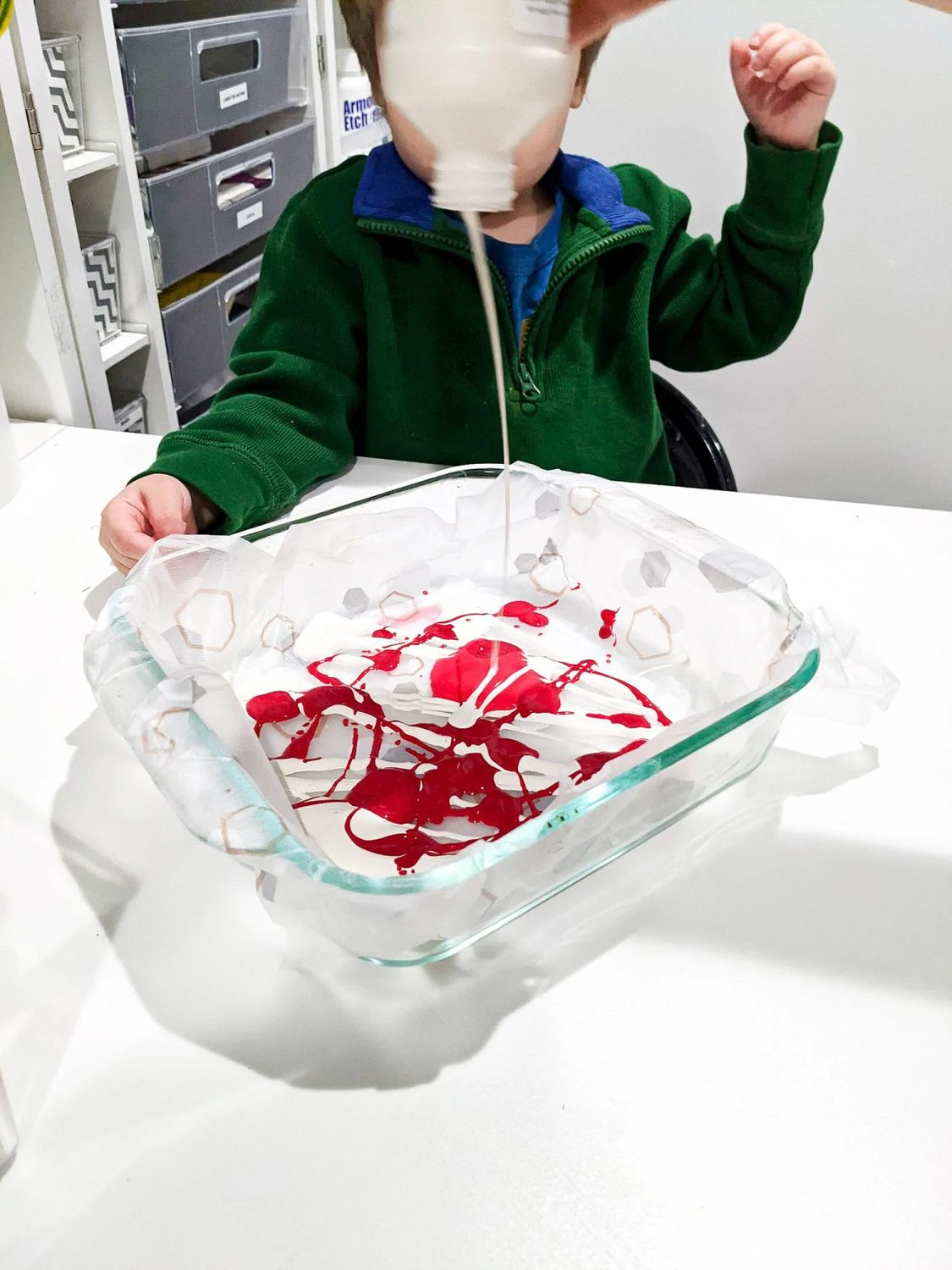 2. Using a stick, swirl the paint to make a marble look but be sure to avoid mixing the colors. You still want the unique colors to show through.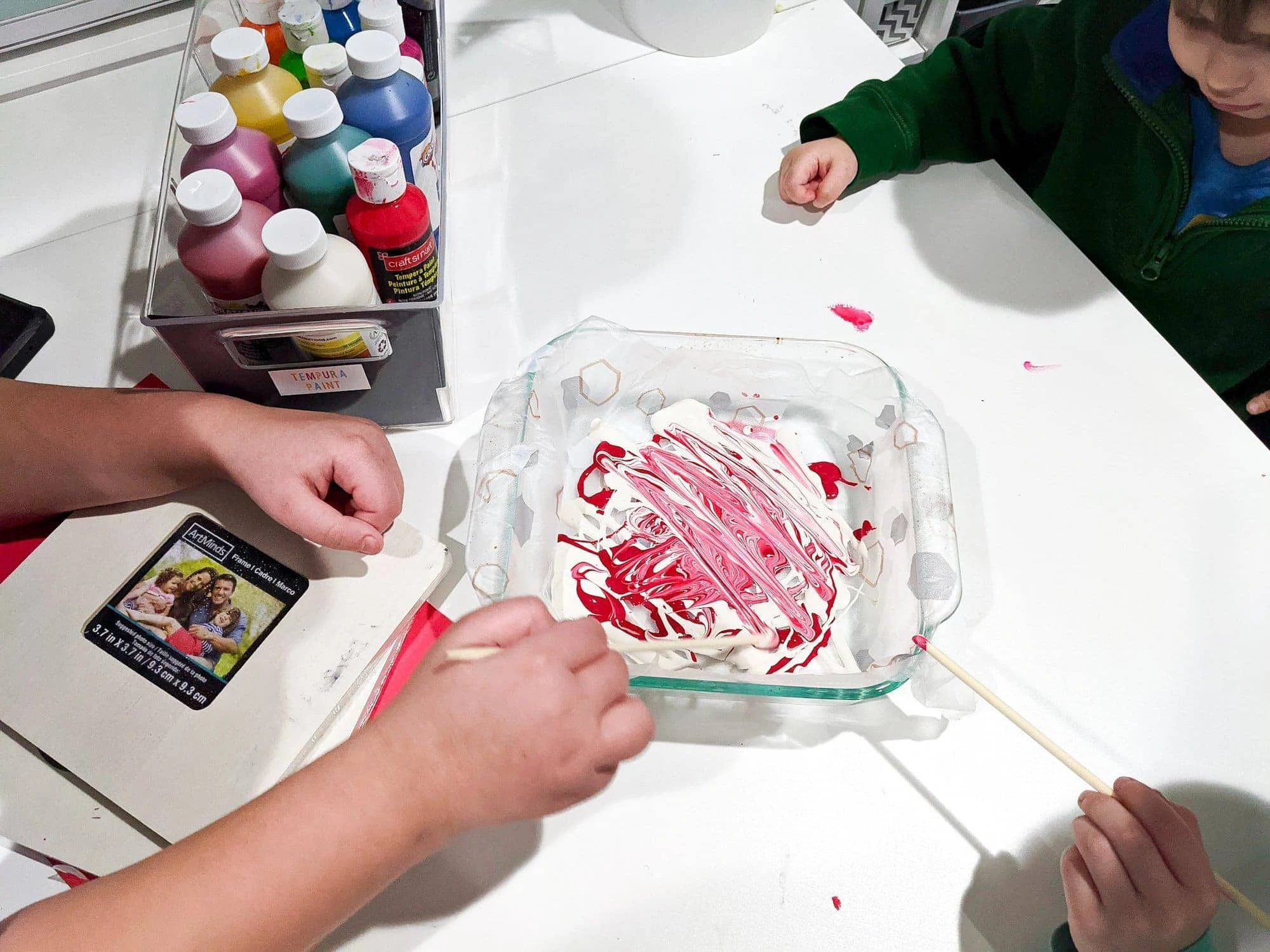 3. Lightly press the photo frame into the paint and lift it up.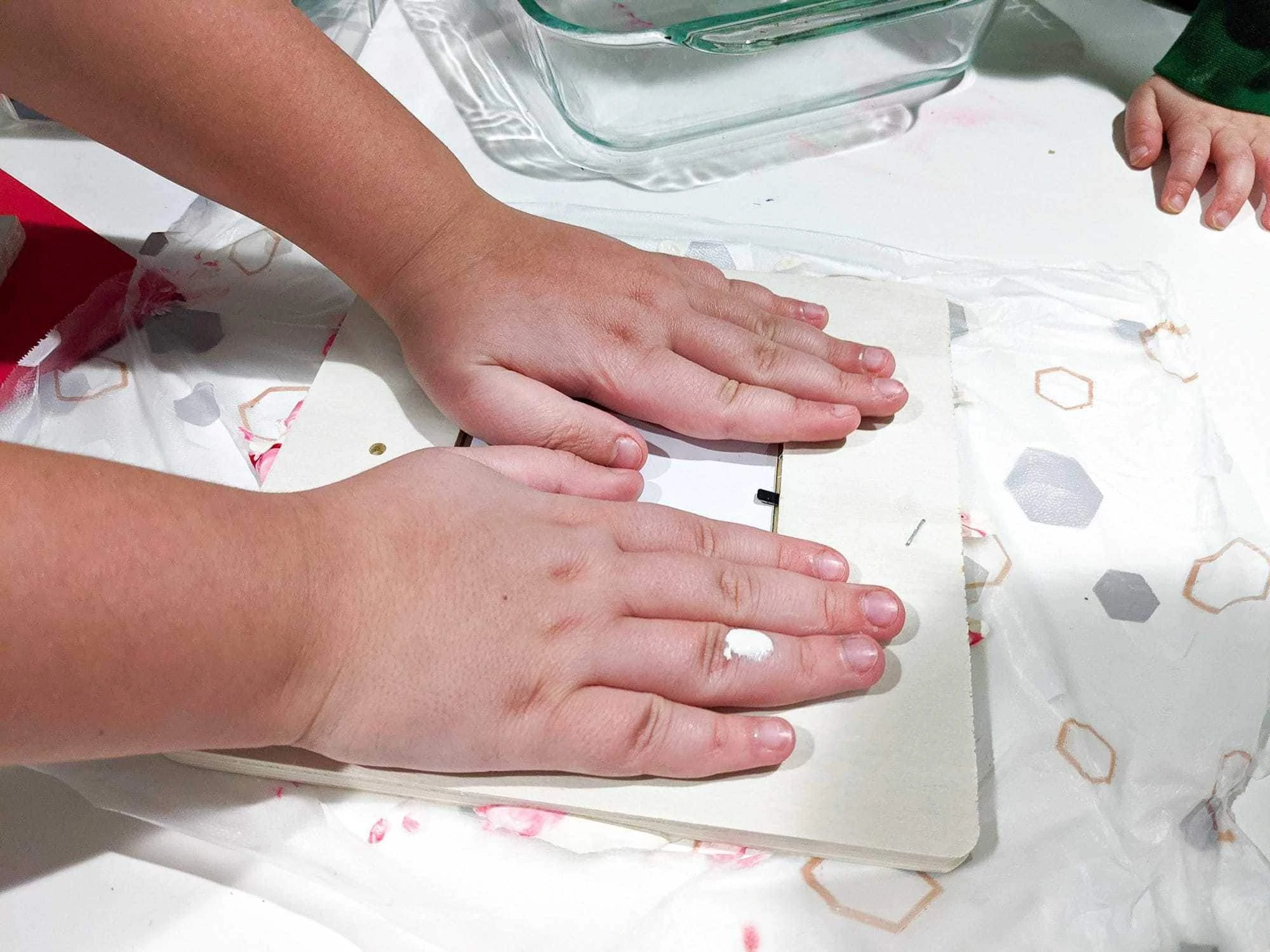 4. Lay flat overnight to dry fully. it will be absorbed by the wood so don't worry if it seems like there is a lot of paint on it. It will dry if you are using an unfinished wood frame.
OPTIONAL STEP: If you want your frame to have a glossy finish, you can add a coat of poly to it after it has fully dried.
5. Cut out the rolled flowers by hand or using your Cricut machine. Grab a copy of my flower SVGs and templates here here that make it super simple! If you're cutting by hand, you'll want to use PNG #5. Be sure to read my tip above for how to customize the by hand template easily! If you have a CRICUT machine or something ismilar, you can use any of the SVGs!
6. Roll the flowers starting on the outside of the template working in.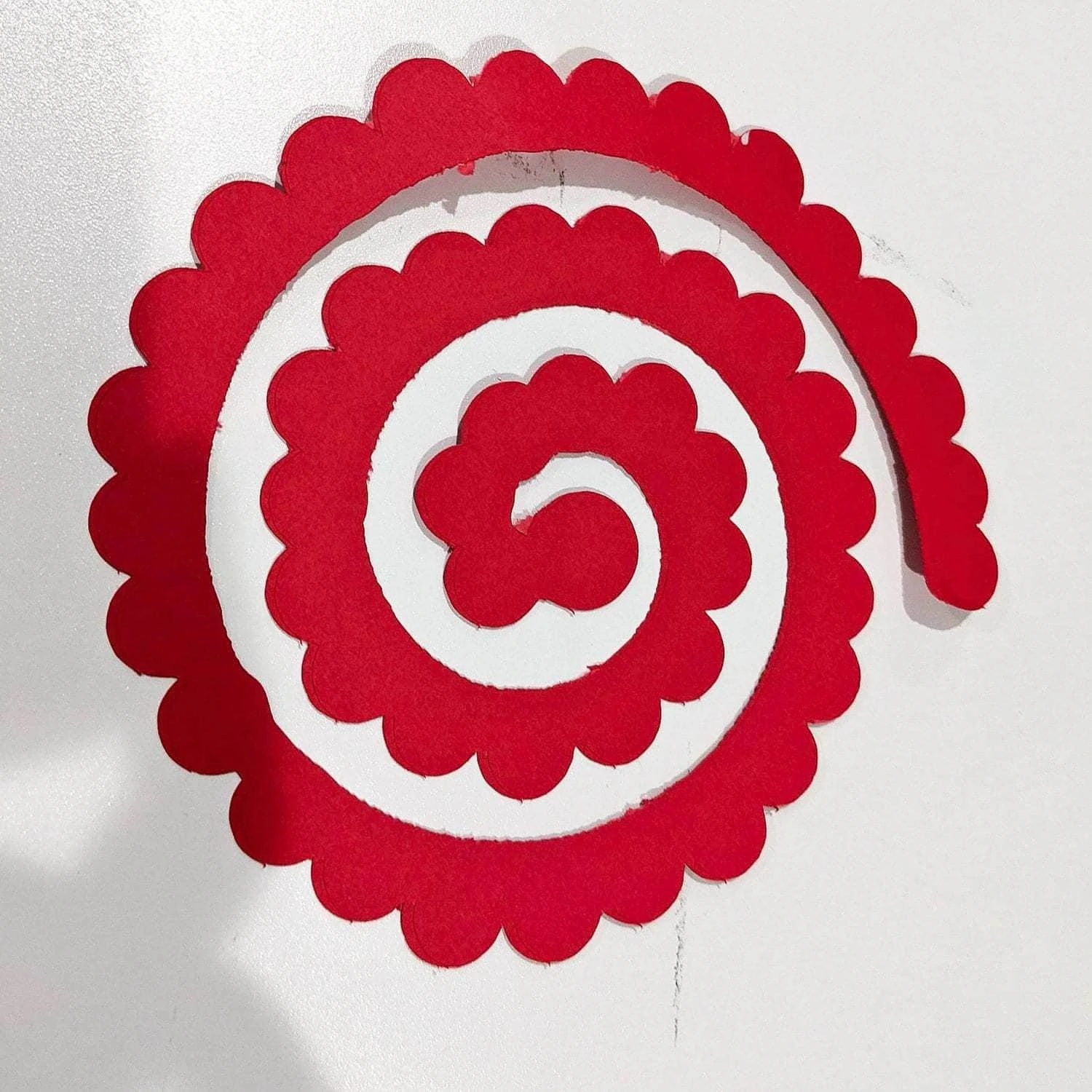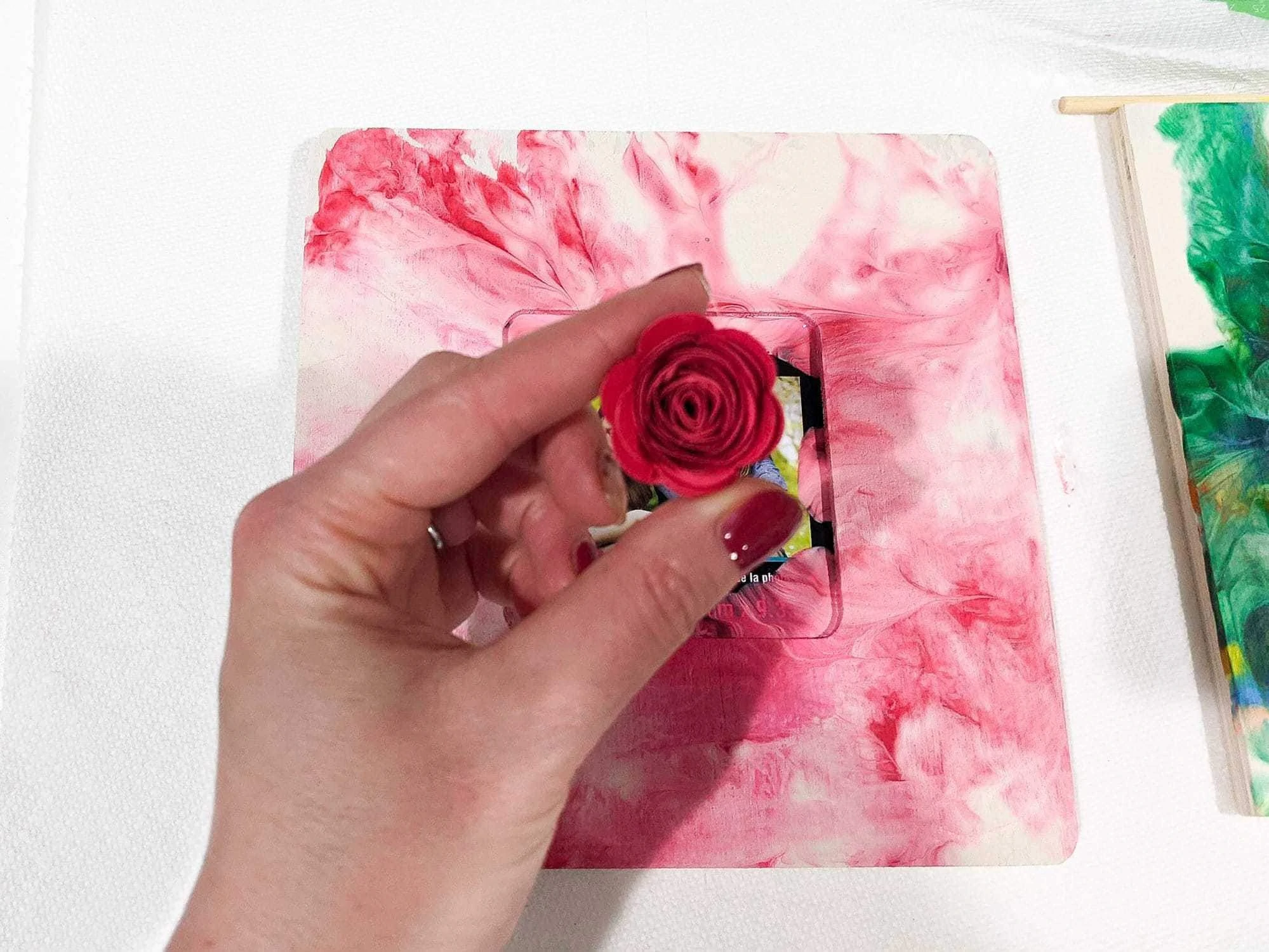 7. Add hot glue to the base of the flower and then fold the base over and hold for a few seconds until they cool
8. Repeat for as many flowers as you want and allow them to cool.
9. Use hot-glue to glue them to the frame and allow them to cool.
10. Add your own photo to the frame (or a handprint or anything else!)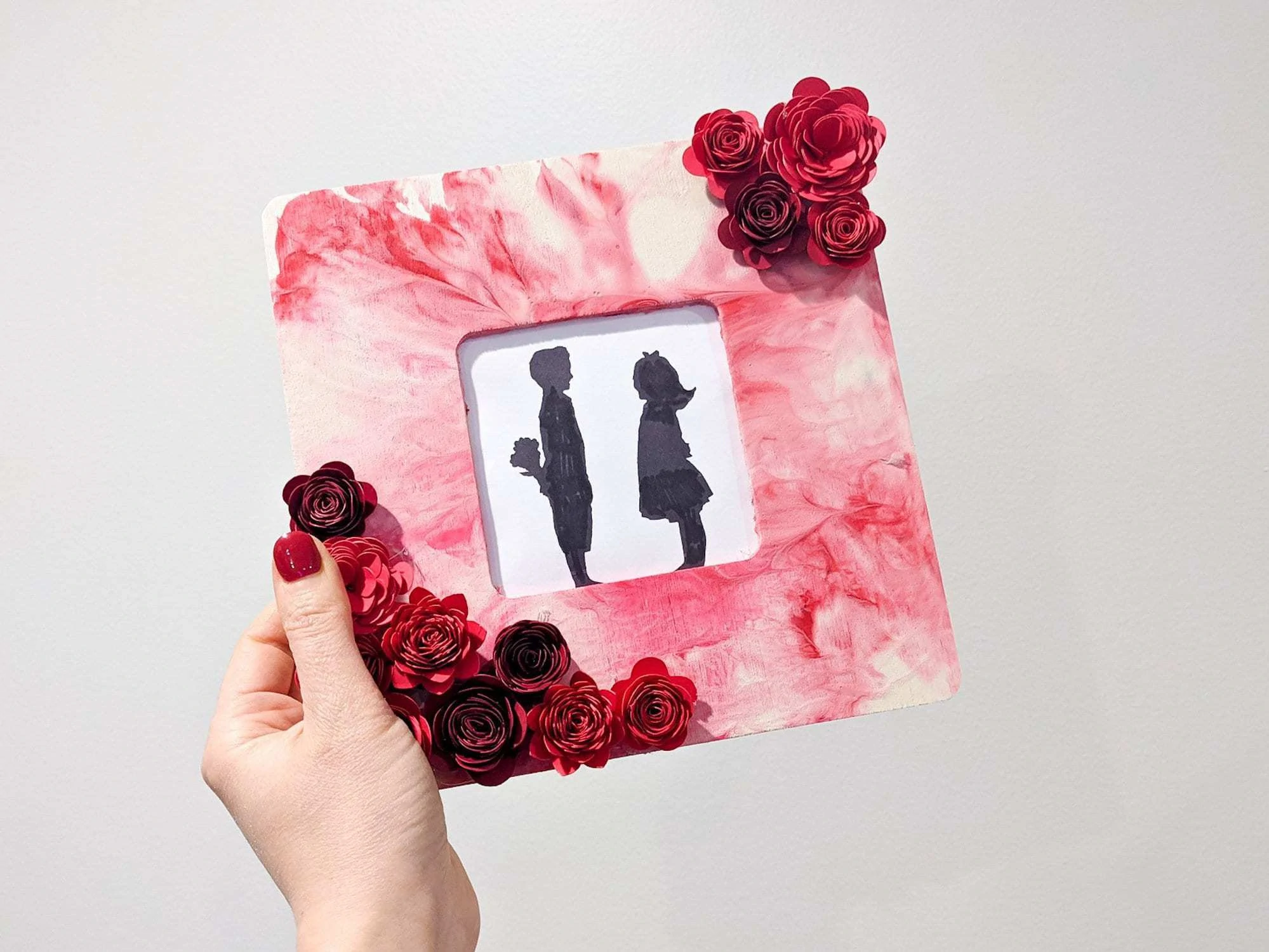 How simple and easy is that?! The process is easy to do and as long as you follow the format, you shouldn't have any issues with creating an amazing homemade frame that will last years and years. What a fun way to store some of your favorite memories and showcase them for others to see!
Recommended Products
As an Amazon Associate and member of other affiliate programs, I earn from qualifying purchases.
Pin to Pinterest