TOP Reasons You Should buy a CREATEROOM Dreambox + COUPON!
Post may include affiliate links. We may earn a fee if you use them at no cost to you. Disclosure.
IF YOU'VE EVER WONDERED IF A DREAMBOX IS RIGHT FOR YOU, WANTED A CREATEROOM DREAMBOX COUPON OR SALE INFO, OR NEEDED DETAILS ABOUT THE BEST DREAMBOX ACCESSORIES, THEN THIS POST IS FOR YOU!
Do you love to craft but hate the mess that comes with it? Or maybe you've always dreamed of having a craft room but don't have the extra space…
The DreamBox is the ultimate crafting solution for your home. It's a dream come true! With this all-in-one workspace, you can finally have everything in one place and never miss a beat. You'll be able to craft so much more easily the moment inspiration strikes without having to dig out or find your supplies. It's even perfect as an all-in-one office or homeschooling/homework space!
No more double buying materials or wasting time looking for supplies — with a Dreambox, all of your items will be right at your fingertips. I used to feel like there wasn't enough space in my house to store all of these things, have you ever felt that way? Don't worry because the Dreambox has over 85,000 cubic ft of storage space so you won't run out anytime soon! It can fit your craft supplies, office supplies and even school supplies! (I share mine with my kids!)
Plus, the clear In View Totes and Divi Drawers make it easy to see what's inside without having to open every single jar or bin! So much better than all the tubs I used to us. This way you'll always know exactly where each item is located and won't waste any time searching for them either. The makers of Dreambox even made sure that everything was accessible from the comfort of your chair so no matter how big or small an item may be, nothing gets left behind when crafting!
Want to learn more about the Dreambox to see if it's right for you? Keep on reading!
Want to save on your Dreambox? I get exclusive discount codes every month so just subscribe to my newsletter and get updates about upcoming sales and the best codes for all Createroom sales in my emails!
FREE GIFT! When you use my code to buy a Dreambox, you'll get my Dreambox Organization Hacks & Guide, Dreambox Planning Workbook for FREE! To get these gifts just use code CREATEMOM and then email me your Create Room order number!
Since crafting is such a huge part of my life, my Dreambox is like my crafty little best friend. I literally can't even remember my life before owning my Dreambox – and that's the total truth.
I share my Dreambox with my kids so we use it for my craft supplies, blogging and office supplies, and school supplies! My top reasons for owning a Dreambox are found below. I'm sure that if you purchase one, you'll totally relate to these!
Here's why I love my Dreambox and you will too!
Quick Links to Information in this Post
Dreambox is the perfect Craft Organization System!
I LOVE knowing where all my craft supplies are. Everything has it's place (a specific tote) and everything is within reach! Even the kids know where to get their things and can reach whatever they need!
When everything has a designated place, you'll be able to reach whatever you need quickly and easily – and put it away just as quickly and easily!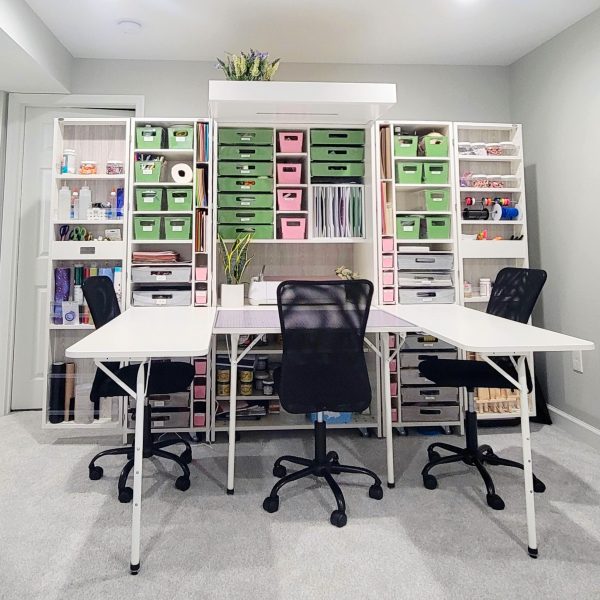 The Dreambox has a TON of desk space and you can add more!
I love working at my Dreambox whether I'm crafting, blogging, or doing office work! It's so much more than just a craft storage cabinet – it's a craft room and crafting workspace in one!
When my kids were doing virtual school, we often sat at the Dreambox together – I'd do work and they'd do school work! When the school day ended, we'd then switch gears and craft together!
With the standard table that came with the Dreambox there was often room for 2 or 3 of us to use the Dreambox at once. As our obsession with the Dreambox grew though, we decided to add on the side tables to give us more space!
Now there's tons of space for my 3 kids and I to hang out together, or tons of space for multiple projects when it's just me!
My dad came to visit us for about a month recently and he even used it! The Dreambox is in our guest room, so it became his office while he stayed with us and he loved it as much as we do!
Whether you use just the standard table, add the side tables, or even add the Divicart, the Dreambox is an epic workspace for one or more people at a time!
The Dreambox is Modular!
One of my favorite things about the Dreambox is how customizable it is! From the color, to the drawers, placement of the shelves, the totes you use and the accessories – You can easily modify your Dreambox so that it fits your tastes and needs today… and for years into the future!
I've changed up my Dreambox multiple times and I'm sure that I'll change it up many more times in the future! You're not suck with how you set it up the first time!
When you get your Dreambox the instructions will show you a few layouts that you can pick from. I highly recommend starting out with one of these layouts and then adjusting it from there as you fill yours up. This will give you a great starting point. Then as you use it, you'll learn what other things you want to move around. The possibilities are endless!
As for the design of your Dreambox… This was a huge surprise! When I first got mine, I didn't realize how common it was to decorate them! I didn't waste any time decorating mine by putting contact paper on the inside and creating tote covers and labels! It was so much fun that I've since redecorated it a few times for spring or a holiday! It's so fun!
Best Createroom Dreambox Accessories
While you don't have to order the accessories, I highly encourage you to do so! I've found that some of the accessories have become my favorite parts. Even though they cost a little bit more, they've made my crafting life easier to manage and completely stress-free.
Paper Organizer
If you love paper crafts like scrapbooking, making cricut flowers, making cards or making shadowboxes, then a paper organizer or two will be your best friend! I love mine and plan to get more because it's so convenient!
Cutting Mat
I love the cutting mat because it means that my Dreambox was still in great shape! This is a great protective layer that covers the top from getting damaged. Since the kids and I use the space all the time, I love knowing that it's protected from scissors and more.
Crown with Light
A lot of people spend time wondering if they should get the crown or not. I strongly recommend getting it for two main reasons!
First, it provides just the right amount of light and in the right place to make crafting (especially weeding vinyl) so much easier! With the crown you won't need to worry about adding a lamp or extra light.
Second, the crown adds the perfect touch to make the Dreambox look luxe when its closed! The fact that you can close the Dreambox and put all your craft space out of sight is one of the main reasons why we got a Dreambox in the first place. When we didn't have the crown it just seemed to be missing something – with the crown, the Dreambox looks GORGEOUS!
Side Tables
The side tables provide so much extra space! The Dreambox might already be quite large in size but when multiple people use it, you're going to want more working space! The side tables give my kids a place to sit and craft or do their homework and it just works out great!
They are also great for an individual – you can have multiple projects going at once, or designate one area to crafting and one to office work!
Dreamcart
The Dreamcart is another favorite of mine and it's really got two amazing uses!
1. If you're not sure you want to invest in a full Dreambox yet, you can get the Dreamcart!
It costs a lot less than the Dreambox and is a lot smaller in size, too. If you don't have a ton of space, this can be a great option to still have the organization in your rooms. If you decide one day to get the Dreambox, you can attach the Dreamcart to it and use it for extra modular table space!
2. You have/want a Dreambox and want more table space but want it to be extra modular
The side tables are awesome and come off easily but they either on or off. With the Dreamcart you can attach them to your Dreambox like you would the side tables but can have them half open or fully open! You get extra flexibility! You can also disconnect them from the Dreambox and use them as stand alone tables! They are much more modular!
Still have questions? I have lots more info about my Dreambox in my Full Createroom Dreambox Review!
Did you know – You can finance a Dreambox?
There's no getting around it – the Dreambox is definitely an investment piece. I obviously think it's very worth it! So whether you can pay for it outright, are saving up for it, or plan to finance i – there are plenty of options.

The company does offer financing, along with including a 24 month warranty and a 100% money back guarantee.
This helps many crafters afford their Dreambox! Plus you can still benefit from sales and coupon codes when you finance it!
Just click here to learn more!
Did you know…..?
IF YOU MOVE, YOU CAN TAKE THE DREAMBOX WITH YOU
Many people worry that they can't take their Dreambox with them when they move but i's completely moveable and should be done! The biggest tip for moving with a Dreambox is to unload the shelves and totes from it when you move it. Put those in boxes during the move.
When we move there is no way that I'm leaving my Dreambox behind. EVER.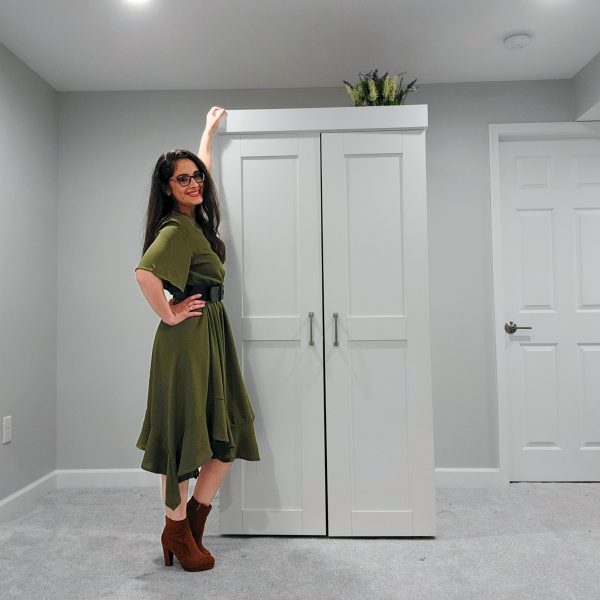 ORDERING A DREAMBOX IS SUPER SIMPLE TO DO
I love how simple and easy the process is to order this product. You just click here and then their website will walk you through all the steps! Here's what they will ask you to pick from:
Outside color and design (I have the white shaker)
The crown light – you will get to add it right away if you decide to get it! (You can also add it later if you want)
Your tote package – I currently have the 80 in-view tote package and love it. 80 was definitely the right number for us! I have ordered the Divi Drawers though because I think they look really modern and beautiful and I can't wait to get them in the mail! The Divi Drawers have straighter sides so they look great but will also be more efficient and hold more.
Built-in Drawers – You can decide if you want to add the 3 built-in drawers with your Dreambox. I didn't think I'd end up using them much so I don't have them.
Pre-Built – You have the option to pay a bit extra to have your Dreambox come pre-built. If you get it pre-built, it will arrive in three main pieces that you will then attach. I decided to get it pre-built because I know I'd be so anxious to use my Dreambox and wouldn't be able to contain my excitement! LOL It does take some time to build yourself so I wanted to save that time.
After you complete these steps, you can then add on the accessories I mentioned above.
You can always add totes
When ordering your Dreambox, they include 40 totes. I highly recommend upgrading to the 80 tote package but if not upgrading is the difference between being able to afford the Dreambox or not, then you can stick with the default 40 package and add more later!
Got more questions? Read my Dreambox Frequently Asked Questions post!
I hope you found this post helpful! I wanted this post to be an overview of the top things you'd want to know about a Dreambox but I"m sure you've got many more questions! That's why I've got a Frequently Asked Questions post too! If you still want to know more, click the button below to read my Dreambox FAQ!
Best Createroom Dreambox coupons
Don't forget about my exclusive Dreambox coupons! Createroom no longer does year-round coupon codes…. instead, I get exclusive codes a few days a month that will save you a ton! So make sure to subscribe to my newsletter so you'll be the first to get them!
Okay! That's it for now! Thanks for reading and let me know if you have any questions!!