How To Make A Sunflower Mandala – Easy 3D Mandala with a free 3D Mandala SVG!
Post may include affiliate links. We may earn a fee if you use them at no cost to you. Disclosure.
LEARN HOW TO MAKE AN EASY SUNFLOWER MANDALA WITH THIS STEP-BY-STEP TUTORIAL PLUS GET MY FREE 3D SUNFLOWER MANDALA SVG AND PDF!
I love making paper flowers. They always turn out amazing and any imperfections only make them look more real! Plus… flowers make everyone smile, right? Crafts with flowers are always such a huge hit for this reason – so today I'm sharing a Sunflower Mandala! It's the perfect gift for so many occasions and it's gorgeous on any wall or shelf!
I love to change up our home decor with the seasons and a Sunflower Mandala is the perfect summer home decor piece! It lso pairs perfectly with my Paper Flower Bouquet project!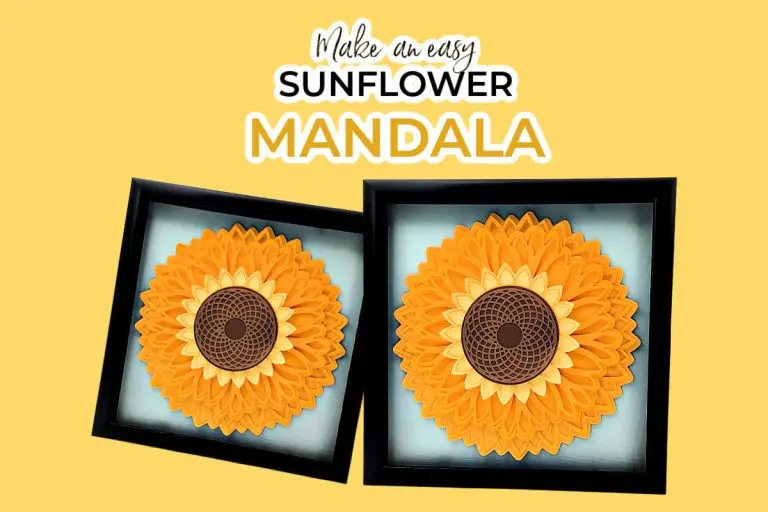 So why a Sunflower Mandala?
Simple! Sunflowers make people smile! It's the perfect way to use your Cricut for home decor fun and to add a pop of bright color to your home.
As soon as the weather began to heat up where I live, I got the idea for this project and instantly began to plan this project out. one of the things I love most about being mastering my Cricut machine, Design Space and Inkscape is that the sky is the limit and I can make any pattern I can dream of! Plus.. I can share it with you for free so you can make them too!
Don't have a Cricut? Not to worry! You can make this by hand too! It will just take more time…
I have to start off by saying that there is nothing to be worried about when making this sunflower craft. This can easily be tackled by someone who is just starting to learn how to use their Cricut. Just follower the tips I share below and you're first attempt will turn our perfectly! You'll be an immediate pro!
Oh and if you love sunflowers as much as I do, be sure to check out my Rolled Sunflower Paper Flower tutorial to make even more paper sunflowers to decorate your home!
Who's ready to learn how to make sunflowers with your Cricut? Let's get started!
This step-by-step video tutorial shows you how to get my Sunflower Mandala SVG, import it into Design Space, cut it and then assemble the 3D mandala! Check it out to see the whole process in action!
MATERIALS FOR 3d layered mandala sunflower
Grab everything that you are going to need for this 3D Mandala activity from my Amazon shopping list!
If you're going to make this project by hand, you'll also need something like an X-acto knife, a cutting mat, a printer, and some patience but I think it will be super satisfying! I don't typically have a lot of time to craft though which is one of the main reasons that I got a Cricut machine. I can make projects like this in a fraction of the time!
Be sure to read my FAQs at the bottom of this post for some great tips and tricks!
If you're a fan of this 3D mandala paper flower and my other paper flowers, you will want to check out my other paper flower projects! Check out my American Flag Shadow Box, Floral Picture Frame, Paper Flower Bouquet, and Paw Print Shadow Box!
How To Make a 3d sunflower mandala – a step-by-step tutorial
Yield:

1
How to make a 3D Mandala - Let's make a Sunflower Mandala!
A fun and easy 3D Mandala in the shape of a Sunflower! This is a perfect gift or art for your wall!
Materials
Instructions
Step 1: Download my FREE Sunflower Mandala SVG and Import Into Design Space
First you're going to want to get access to my FREE Sunflower Mandala SVG and PDF. Fill out the form in this post of click here to gain access. If you already have access to my FREE resource library, you can skip this step and head straight to the library! You want to download design #11!
Then unzip the file. If you're sing the PDF, take a look at my FAQ section for how to use the PDF templates and then skip to step 3!
If you're using a Cricut machine which will save you a ton of time, open Design Space and follow these steps:
2. Click "Upload"
3. Click "Upload Image"
4. Select the sunflower mandala SVG file for this project.
5. Click "Upload"
6. Select the file you just uploaded from the library
7. Click "Insert Images"

At this point you could resize your images if you wanted to. If you're going to use the shadow box I linked to though, you don't need to change anything! Just click "Make It".
Next you want to set your machine to cut cardstock. I also recommend setting the pressure to "more" since we've got some very precise cuts. If you have the Explore Air 2 for example, you can turn the dial to cardstock or turn it to Custom. If you have other machines or your dial is set to custom, you can select the material from within Design Space. This step is key so don't skip it! If you don't have the material settings right, you will unfortunately waste cardstock and time.
Step 2: Cut out the layers of your Sunflower Mandala
Next you'll want to pick out which cardstock you want to use for your sunflower mandala. I've linked to a great pack of cardstock that has lots of different colors to choose from, but you can pick anything! I used some colors from that pack and a few other individual sheets I had lying around. Pick out your layers and line them up to make sure that they all look good together. I recommend making the center two brown and the rest different shades of yellow, orange and gold.
Then, looking at Design Space to see which layer is being cut, select the right color cardstock and firmly press it into a light or standard grip mat.
Then feed the mat into the Cricut machine. Press the double ended arrows and then the flashing C button.
After each layer is done, click the double ended arrows to unload the mat. Then flip the mat over and peel the mat from the cardstock - not the other way around. This helps the cardstock not curl.
If you end up with lots of small pieces on your mat (you definitely will with the smallest piece!) you will want to use your scraper (linked in the material list) to scrape those pieces from the mat.
Repeat this for all layers of your Sunflower Mandala!
Step 3: Prepare Your 3D Mandala Layers
Since Design Space may have cut your layers out of order, you will now want to order them correctly. For the most part it's intuitive and by size, but it's helpful to go back to the canvas in Design Space and look at the design again to be sure.
Just click "Finished" and then look at the layers closely on the right hand side. Use this as a guide to order the cardstock you just cut using my sunflower mandala SVG.
Step 4: Assemble the layers of your 3D Sunflower Mandala
Now we're going to assemble our 3D Mandala! This is where it really comes to life!
Flip your stack of sunflower mandala layers over so the bottom of the bottom layer is facing up. Then flip that layer over - that's our base.
Now grab the next layer and add foam dots to the underside of that layer.
You will then attach that layer to the layer below it and continue this for all but the very last layer. It's a bit hard to explain here so be sure to check out my video!
Here are some tips to help you with this process:
Tip #1: Before you add the foam dots, align the layer you're working with and make sure you know how it lines up with the layer you're about to attach it to. (Watch my step-by-step video to see what I mean) It's a lot easier to do this before the foam dots are added.
Tip #2: When you remove the foam dots from the package you'll notice that one side is sticky and the other side has a cover on it. Attach them all to your layer first and then remove the cover from all of them at the same time. I find that this is faster.
Tip #3: Attach the foam dots all around the edges of the sunflower mandala layer and put at least one in the very center of the layer you're working with. This will make sure that the final product won't sink and it will have lots of definition. Just make sure that the foam dots aren't covering any cut outs so that you won't see them in the finished product!
Tip #4: Always check your layers before you press down so that you can reposition it if needed. Once you press down it will be much harder to undo it.
When you get to the last two layers, we are going to do something a bit different.
You're going to use a glue stick to glue the lacey layer (your layer at the very top of your design) to the brown circle. Then you'll add glue dots to the underside of the solid brown circle and attach that to your 3D Sunflower Mandala!
Tip #5: I find it helpful to put the lacy layer on a piece of scrap paper when your gluing to keep my table clean!
Step 5: Glue to Shadow Box and Enjoy!
Next, pick a color for the background of your 3D Mandala and glue it to the inside of your shadow box! Then glue your 3D Sunflower Mandala to it!
You can also skip this step and glue it straight to the canvas in the back of your Shadow Box if you want, but I prefer to use paper so I can pick the color!
You can use either Foam Dots for this or hot glue if you prefer.
You're done! Now all that's left is to find the perfect place for it in your home or gift it to a friend!
Recommended Products
As an Amazon Associate and member of other affiliate programs, I earn from qualifying purchases.
ANSWERS TO YOUR QUESTIONS ABOUT MAKING A Sunflower Mandala
Can you make this 3D Sunflower Mandala by hand?
Yes! If you don't have a Cricut machine, just use our PDF files! You'll want to pick cardstock that fits your printer and then print the PDF files to your cardstock. Then just use the outline printed out on the cardstock as a guide for cutting!
What kind of Cardstock is best for a 3D mandala?
The thicker the better but you also want your machine to be able to cut it precisely. I tend to stick to my typical 65lb cardstock but you could go a bit heavier if you wanted. I don't think you need to though!
What kind of foam dots should I use for a 3D layered mandala?
You want foam dots that have some thickness to them. Just how thick is absolutely up to you and you could even layer the foam dots if you wanted to add more depth!
The key is to make sure that you don't accidentally pick up some "glue dots" instead of "foam dots". You can order the exact ones I use by clicking on the link in my material lists to make picking foam dots out even easier!
As for the diameter of the dots – that will depend on the project. The ones I used in this project are nearly a half inch in diameter. I actually have a bunch of different foam dots that I use for varioust hings including 3D mandalas like this one. In general, I try to go with the biggest foam dot that I can. this is because they can be a bit tough to work with when they are super small and because I can use fewer dots and that makes the project go faster! If needed, though, you can always do a mix of sizes!
Can I use a different Shadow Box or picture frame with this Sunflower Mandala SVG
Absolutely! If you're using a Cricut, you can adjust the size of the layered mandala design in Design Space to match whatever size works best with the shadow box or frame of your choice! Just keep in mind that if you decide to use a picture frame instead of a shadow box, you will likely need to remove the glass or plastic pane because your finished product will be too thick.
I'd love to see YOUR 3D Sunflower Mandala and the colors you chose! Please share a photo in our Facebook group or tag me on social media with #analyticalmommycrafts or @analyticalmommy! I can't wait to see how they turned out!
More of the Best Flower Cricut Projects
Save this project for later and pin it to your favorite Pinterest board!