How to make a layered paper shadow box FOR DAD – A great Father's Day or Birthday Gift!
Post may include affiliate links. We may earn a fee if you use them at no cost to you. Disclosure.
LEARN HOW TO MAKE A CRICUT PAPER SHADOW BOX OUT OF CARDSTOCK AND GRAB MY FREE CUT FILE FOR A SUPER CUT DAD AND BABY THEMED GIFT!
Making shadow boxes is so much fun! They are super easy and a really great example of how us crafters can turn something as ordinary as paper, into gorgeous art fit to gift as a gift! I ike to refer to this as my "Dad and Baby Fist Bump" shadow box. It's a great Father's day idea but also works great as a birthday or just because gift!
It's got a picture of a dad and baby doing a fist bump, a silhouette of a dad and his baby in the dad's first, and the words "Always and Forever". I absolutely love how it came out and I'm thrilled to share it with you!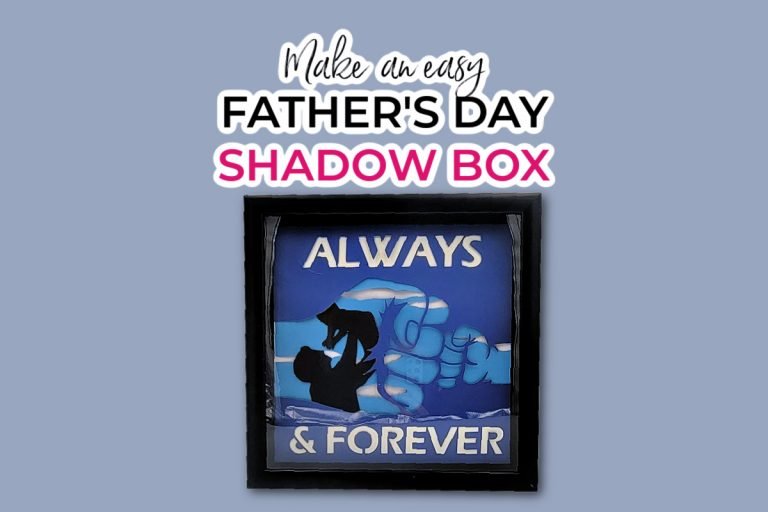 One of the best thing about layered paper shadow boxes is just how easy they are to customize! I'm going to give you this Cricut shadow box SVG for free, but even if you use it exactly as is, you can still make it unique just by changing the color or pattern cardstock you use!
This is a great way for a beginner to customize this project!
If you're a bit more skills, you can also change the text that says "Always and Forever" or even change the silhouette!
So let's jump right in… I'll show you everything you need to know to make this (or any other) layered paper shadow box plus give you access to my free cut file so you can make this one too for your dad!
And if you're making this for Father's Day, be sure to check out my cute Father's Day card too!
This step-by-step video tutorial shows you how to make a layered paper shadow box:
Quick Links to Information in this Post
MATERIALS FOR This Layered Paper Shadow Box for Dad
Get everything you need for this project from my Amazon Shopping list!
That's it!
If you're a fan of… you will want to check out my …
How To Make This Layered Paper Shadow Box For Dad
Yield:

1
How to make a layered paper shadow box for dad - A great Father's Day or Birthday Gift!
A really sweet layered paper shadow box perfect for dad! Make this for Father's Day or a birthday!
Instructions
Step 1: Download my FREE Layered Paper Shadow Box for Dad
Click here or use any of the forms in this post to get access to my SVG! Once you've downloaded it, you'll need to unzip the file. You'll see two versions of the file. I"ll walk you through how to make the version without the hearts, but the steps are very similar if you choose to use the other one.
Step 2: Select your paper
You'll need to pick a color/pattern for the different layers. You'll have one for the clouds, the sky, the silhouette of the dad and baby, the letters, and the fist.
Step 3: Load your Father's Day Shadow Box into Design Space

If you haven't done this before, here are the steps:
1. Open design space
3. Click "Upload"
4. Click "Upload Image"
5. Select the SVG file for this project.
6. Click "Upload"
7. Select the file you just uploaded from the library
8. Click "Insert Images"
Step 4: Resize the SVG Template and Cut

Now you'll want to take apart your shadow box and measure the inside of the shadow box. Then, while the whole design is still selected in Design Space, change the size of the design to the size that you need. For the Shadow Box I used and link to, I resized the design to 10.95.
Now click Make It and follow the prompts
Be sure to select Card Stock from the material list or turn your dial to Cardstock.
Step 5: Load your tools and paper

Make sure that your fine point blade is loaded into your Cricut machine.
Then add your paper to your light or standard grip mat and feed it into the machine by clicking the double arrow. Once the C starts flashing, press that button.
Do this for all the sheets.
TIP: It can help to adjust the color of the layers in Design Space to match what you want yours to look like so that you get a visual of it before you cut and to make identifying what layer the Cricut Machine is cutting as you go. Watch my video to see how to do this.
Step 6: Organize your cut sheets

Now gather the sheets you just cut and put them in the right order. This will make assembling your shadow box easier.
The order is:
Clouds (plain square)
Sky with cloud cut outs
Fit with dad and baby silhouette
Just the fit with no details (this is your letter color)
The detailed first with the letter cut outs
Frame
Step 7: Assemble Your Layered Paper Shadow Box

Now you are going to use your foam dots to put the shadow box together. Place your clouds sheet down and pick up your sky sheet. Add glue dots to the underside of the sky sheet, then line it up with the clouds sheet and press down. Continue with all the pages and always put the glue dots on the underside of the top most sheet you are working with.
Put a glue foam dot on each edge and near each feature to make sure they stay separated and don't sink.
Once you have put all the sheets of cardstock together, glue it to your shadow box backing put it in your frame and you're done!
Recommended Products
As an Amazon Associate and member of other affiliate programs, I earn from qualifying purchases.
ANSWERS TO YOUR QUESTIONS ABOUT MAKING A Layered Paper Shadow Bo
Can you use any size shadow box?
You can use this layered paper shadow box design with any square shadow box! Just change the size in design space before you cut!

Do I need a specific type of cardstock for this shadow box?
Nope! Your standard 65lb cardstock should be fine! You can use thicker cardstock too though!

Can you add lights this shadow box?
Absolutely! Just add them behind the cardstock. Fairy lights should be thin enough to use and fit into this box.
I'd love to see YOUR …l projects and how you ….! Please share a photo in our Facebook group or tag me on social media with #analyticalmommycrafts or @analyticalmommy! I can't wait to see how they turned out!
More of the Best Gift Ideas For DaD!
Save this project for later and pin it to your favorite Pinterest board!