Easy Pop Up Flower Card Tutorial & Video – A Mother's Day Pop Up Card DIY!
Post may include affiliate links. We may earn a fee if you use them at no cost to you. Disclosure.
THIS EASY MOTHER'S DAY POPUP CARD TUTORIAL IS SO FAST AND FUN TO MAKE BUT SO IMPRESSIVE TOO!
Mother's day is coming up, or maybe your mom's birthday is… whatever reason brings you to this post, welcome! I'm about to show you how to make a gorgeous but super easy mother's day pop up card! I'm also going to share my template for a DIY happy mother's day card with pop up flower! That way, you can make this exact card quickly and easily! You can even change up the design in design space really easily and reuse it for just about any occasion!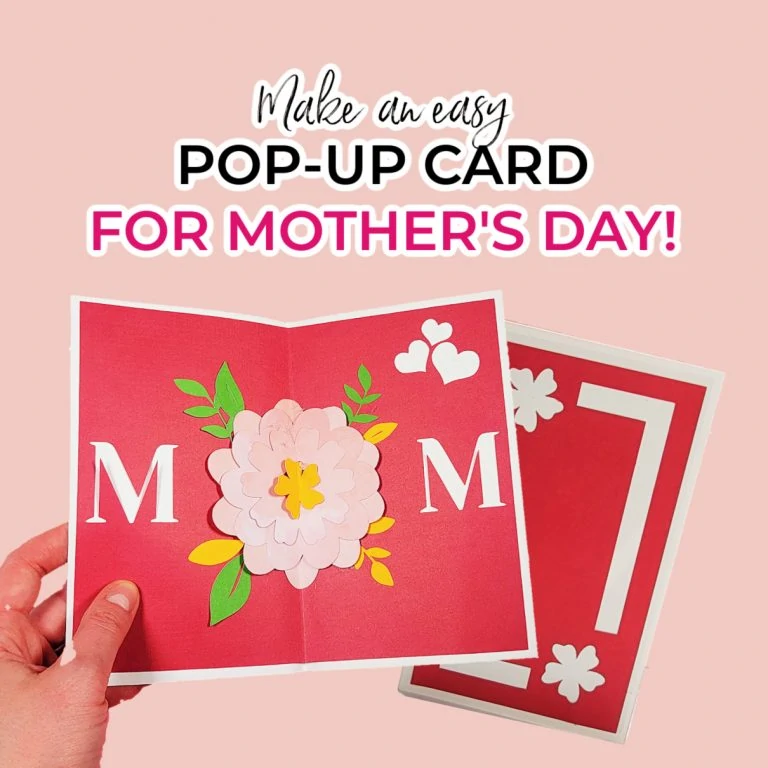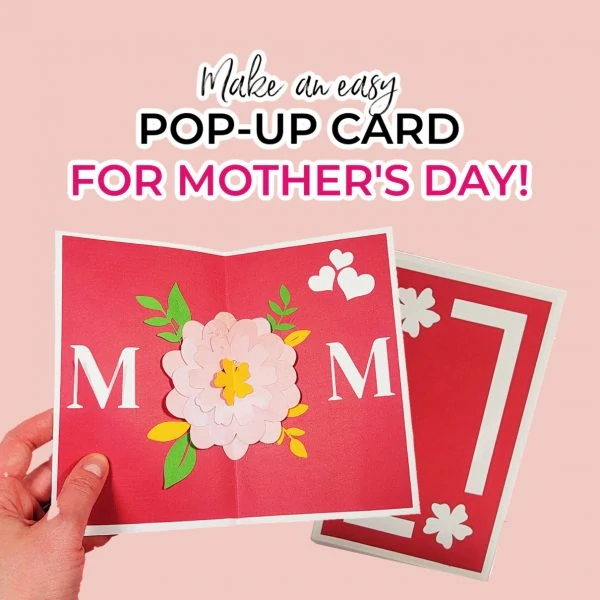 Okay… have I said EASY enough times yet? Yes! This is an easy beginner Cricut project! So if you're new to pop up cards, have no fear! I designed this flower pop up card specifically for beginners (though if you're more experienced,y you'll love it too!).
All you're going to need is some glue, cardstock, and your Cricut Machine!
Don't have a Cricut Machine? Not to worry! I'm sharing an SVG AND PDF version! So if you want, you can print this design out and then cut the pieces out by hand! I do highly recommend getting a Cricut Machine though if you love crafts! You will find that you end up using it SO much! Read htis post to learn if a Cricut Explore Air 2 is right for you!
The real trick for this project is in how you assemble your card so that your pieces turn into a 3D flower card! But not to worry – once I point it out, you'll be off and crafting immediately! It's super easy!
Oh and if you've got young kids, this is a great project for them too! Just cut the pieces using your Cricut machine and then give each kid their own "kit" and even they can put this card together! They will love it and there is still plenty of room on the card for them to draw on and customize!
Alright… let's get into it!
Materials for a Mother's Day Pop Up Card
That's REALLY it!
Let's talk a bit about the materials before we move forward…
Cardstock
The color cardstock you choose will make a big difference. This really determines the look of your card! So take a few minutes to think about how you want it to look when you're done. You can't go "wrong" but plan it out before you start cutting with your Cricut machine.
Also you're going to want to get something sturdy like a 65lb cardstock. This really is my go-to cardstock and it works for so many things including my 3D paper flowers!
Each layer of the flower could be a different color or a different shade, or they could all be the same. In the card pictured, I made 3 layers of the pop up flower one type of cardstock, and the centermost piece another. BUT, I also picked a "Watercolor" pattern cardstock which gave the flower some extra definition and detail! I love how it turned out.
Glue Stick
I like to use glue sticks when making cards because they are easy to work with and don't warp the paper. Plus, I always have a ton of them around the house because well… #momlife.
If you have anothere preference, that's fine! Just be careful with something like Elmer's Glue as it will likely be too wet and warp the paper. Also a hot glue gun usually gets too thick for and heavy for big areas. I would only use it on a few areas of this card – not the majority of it.
Hot Glue Gun
That brings us to the Hot Glue! I do think that hot glue is helpful when gluing the flowers in place so that it is strong, dries quickly, and holds well. This allows the 3D flower to pop up and make this a well… pop up card! You COULD use the glue stick for this step but then you'd need to exercise a little patience and hold the parts in place longer to make sure they really stick. Alternatively, you could use a binder clip to hold them in place while they dry and set.
Easy Mother's Day Pop Up Card Step-By-Step Video
If you're a fan of flowers and easy cricut projects…
Then you are going to absolutely love many of my other projects! Especially my Cricut flower projects! I have a tutorial on how to make a 3D flower bouquet (which is an amazing mother's day gift by the way!), a flower shadow box with an American Flag template and of course a very detailed Cricut Flower tutorial to teach you everything you need to know to make these and many other projects perfectly the first time!
Alright enough of that… let's get into the steps needed to make this gorgeous pop up card!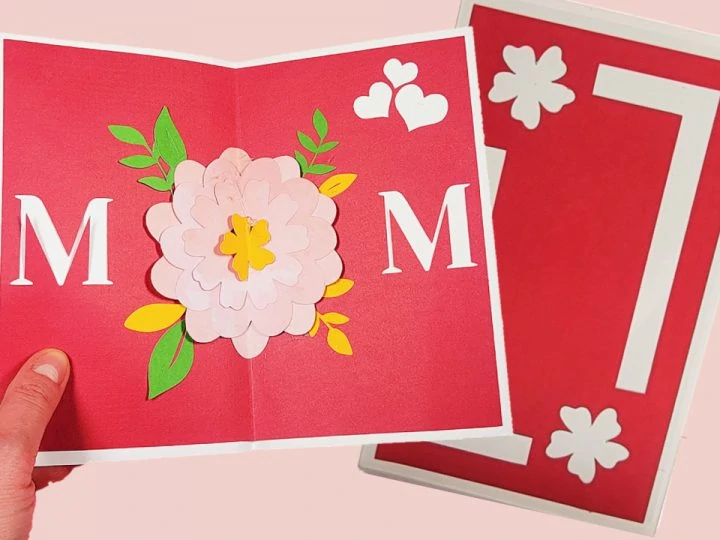 Yield:

1
How To Make A Mother's Day Pop Up Card
Download my free pop up card SVG and make this gorgeous and easy to make 3D flower card for Mom this Mother's Day!
Materials
Up to 8 sheets of Cardstock (in awhatever colors you like)
Hot Glue
Glue Stick
Tools
A way to cut your cardstock. I love using my Cricut machine!
Hot Glue Gun
Light or Standard Grip Cricut Mat
Scoring Stylus
Instructions
Step 1: Download my Mother's Day Pop Up Card Template

Fill out the form in this post to get access to my library and download my free Mother's Day pop up card SVG! When you download it, you'll get a zip file which you will need to extract/unzip.
Step 2: Import the SVG file into Design Space
Next you'll want to import the file. Here's how:
1. Open Design Space
2. Click "New Project"
3. Click "Upload Image" and the "Browse"
4. Navigate to the file you downloaded and unzipped. Select it and then click "upload"
Now the DIY pop up card template should show on your canvas!
Step 3: Resize the Pop Up Card Design
Now you're going to want to decide what size card you want. I recommend making your card 7" high. This will make a roughly 5x7 card.
Note that the card design will be grouped automatically when you import it. This means that any changes you make iwll apply to the entire card and that the design will keep it's aspect ratio. This is a good thing! don't ungroup until you have resized your card.
To resize it, just click on the card design, then click on the numbers next to the "H" for height at the top and change that number to 7.
Step 4: Cut the pieces of your card
Look at the parts of the card and determine what colors you want to use. Then find your card stock in the colors you want and set them aside.
Now click "Make It" in design space and follow the prompts. Make sure that you are using a fine tip blade in your Cricut Machine and that your settings are set to cardstock.
Follow the prompts.
Note that this design is set to score your lines for you. If you don't have a scoring stylus that's okay! You'll just need to fold the pieces manually and a bit more carefully.
Step 5: Assemble your card
This is the really fun part! You get to put your card together and see it come alive!
1. Plug your glue gun in so it warms up and is ready to go when you need it.
2. Then fold the inner piece that has the hearts and M's cut out and the largest piece. Then glue them together using your glue stick and gluing the smaller piece to the inside.
3. Now glue the outer piece to the front using the glue stick again. This is the piece that has the L shapes and 2 flowers. This goes on the front.
4. Now we are ready to work on the flower! You'll notice that all but one flower piece has a hole in the center with two "flaps". We are going to glue the flaps to the card using hot glue. Don't put glue anywhere but the flaps! This let's the rest of the flower move.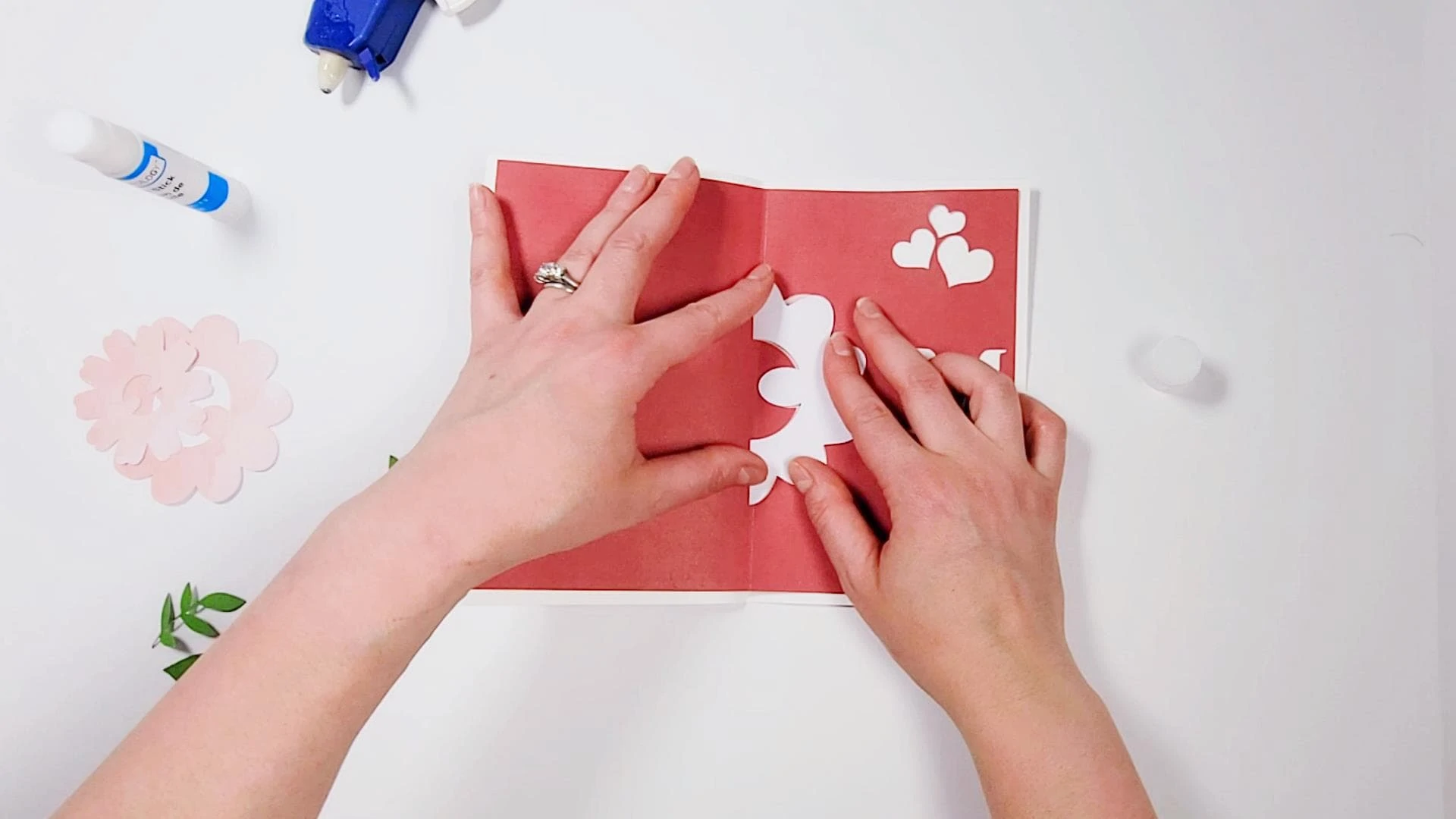 First, fold each piece and starting with the largest flower piece, rest the fold on the inner most part of the card. You want to make sure that when glued into place, this fold sits against the very venter fold of the card. Now add a drop of glue on the flap and close the card holding it in place until the hot glue cools.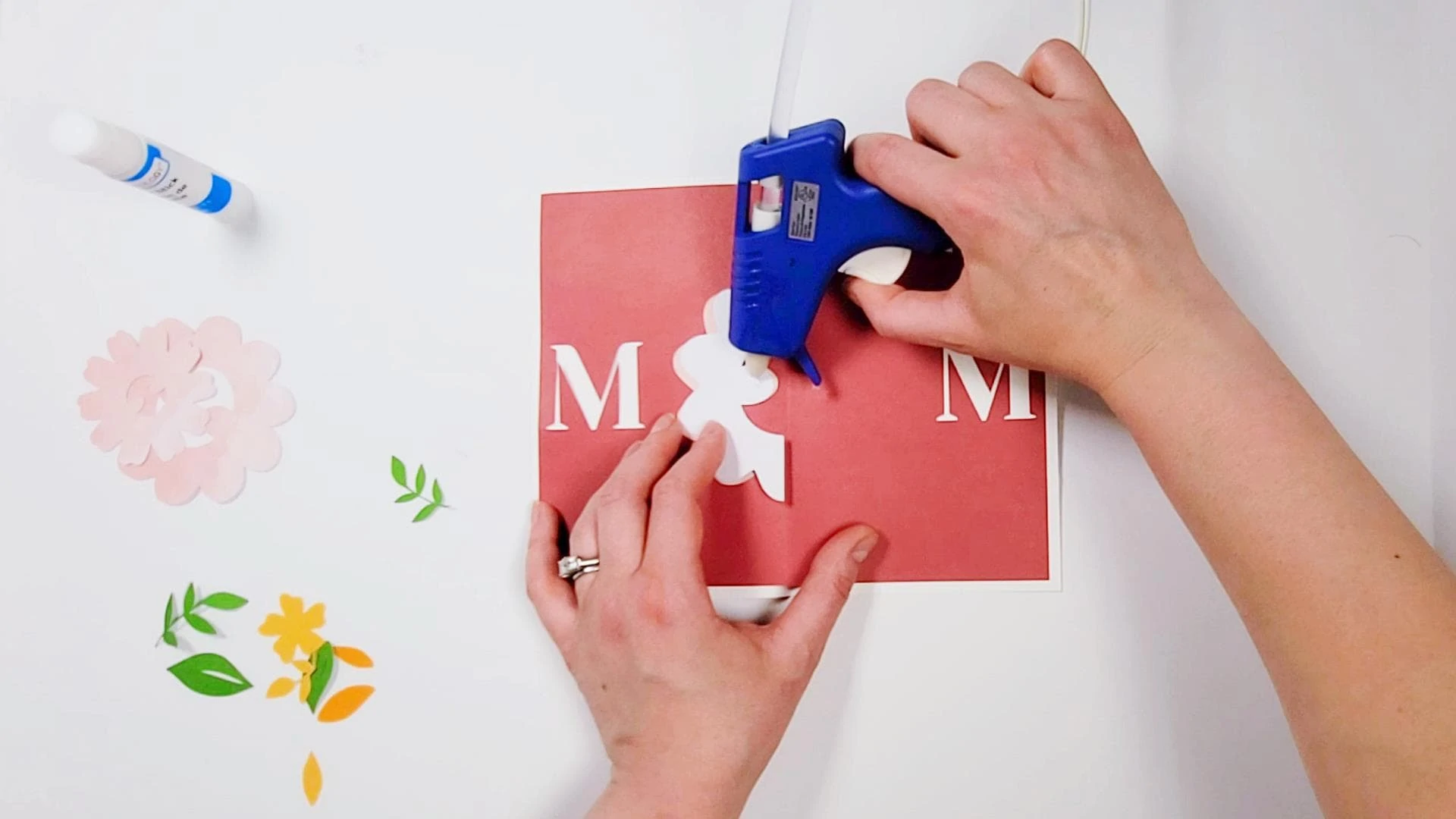 Repeat this process with the rest of the pieces in descending size order doing one at a time so you can align each carefully and hold them in place as they cool.
When you get to the very smallest flower piece, that doesn't have a hold, just fold it and add a small drop of glue to the very center and glue it in place.
5. Now using your glue stick again, glue your leaves wherever you'd like!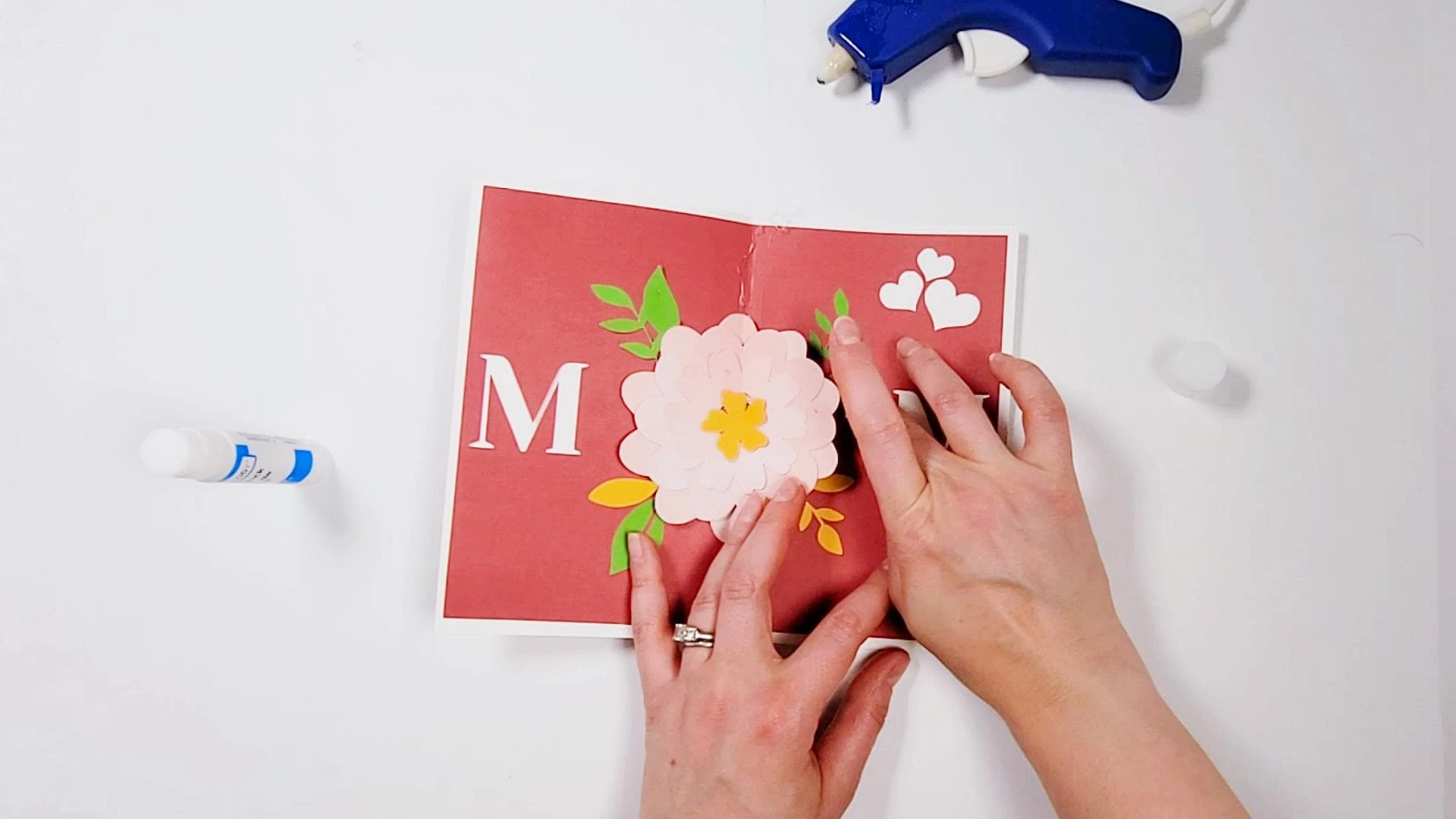 6. Carefully fold your card and put a heavy book on it to hold it down while it sets. (Make sure you don't have extra glue somewhere on the card - you don't want to accidentally glue it shut!)
Recommended Products
As an Amazon Associate and member of other affiliate programs, I earn from qualifying purchases.
Answers to your questions about making a Mother's Day Pop Up Card
What makes the flowers pop up in this pop up card?
It's the flaps! They allow us to secure the flower to the card without holding the whole flower down. That way, the edges can pop up. This is a much simpler method than some other pop up card techniques as you don't have to roll, fold and position as carefully! It's very forgiving and a really great beginner pop up option!

Can this Mother's Day Pop Up Card be used for other occasions?
Absolutely! This card would be wonderful to give your mom for a birthday or just because! You can also easily cover up the "M"s on the inside or remove them in Design Space and turn this into a more generic pop up flower card for any other use!

I hope that you love this card as much as I do! It's such a quick and easy card to put together and will quickly become your go-to card!
I'd love to see your Mother's Day Pop Up card and see the colors you chose and any customization you made!! Please share images of your final card with me! If you post it to social media, just tag me @analyticalmommy or #analyticalmommy so I can see it!
Pin this Mother's Day Pop Up Card Tutorial To Pinterest!