k-12 School photo frame (Glowforge & Cricut FREE SVG)
Post may include affiliate links. We may earn a fee if you use them at no cost to you. Disclosure.
Ready to make photo frame for all those adorable school photos? I've made that's perfect for cutting with your Glowforge Aura or Cricut machine because this photo frame is 12×12″!
Each small cut out will work great with those wallet-sized photos you never know what to do with and the larger spot for the graduation folder will hold a 5×7 photo.
While this is designed to 12″x12″, you can of course stretch or shrink it as needed.
There are two versions and you can cut this out of wood, acrylic, cardstock and probably much more!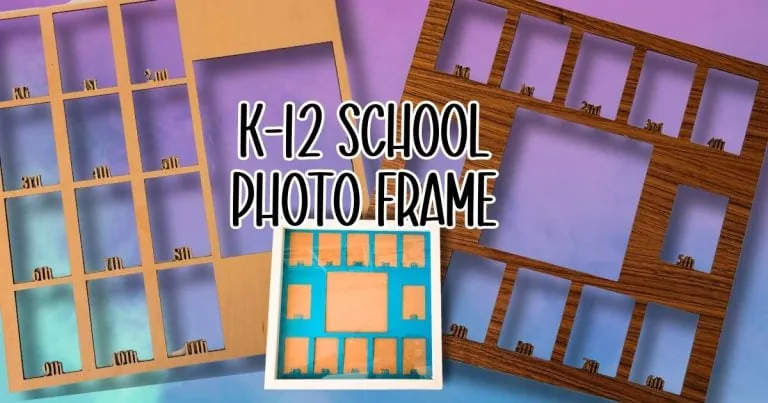 Want To Personalize It?
You have two options!
Option 1: Cut out your kid's name from another material and glue it on.
Option 2: Open the version you choose in Inkscape, add the text and then "weld it" to the frame. You can use the same method depicted in this video to do that:
Note
The little letters for each grade are somewhat delicate so be careful when handling it so as to not accidentally break off a letter 🙂
Download
To get your copy of this FREE SVG, you can fill out the form below and get a copy of the file sent to your email address! If you already have access to my members-only library, just download file C.35 in the library! Once you have the file, don't forget to extract the file and upload just the SVG file to the Glowforge App or Cricut Design Space (both won't recognize .zip files).