Best Heat Press Machine for Sublimation and HTV (For every budget!)
Post may include affiliate links. We may earn a fee if you use them at no cost to you. Disclosure.
Picking the right heat press machine for you can be difficult. Especially if this is your first machine and your new to this. That's why I've written this post! To share what I have found are the best heat press machines for sublimation and HTV! I've picked my top 3 machines for different uses and budgets.
If you're in the market for one, read on and feel free to comment with any questions you might have!
Several types of heat press machines are available for personal crafts or home-based craft businesses. Which style of heat press is the right choice for you will depend on your crafting purposes, your open workspace, and the materials you'll be using.
These are my recommendations for the best heat press machine for sublimation and heat transfer vinyl.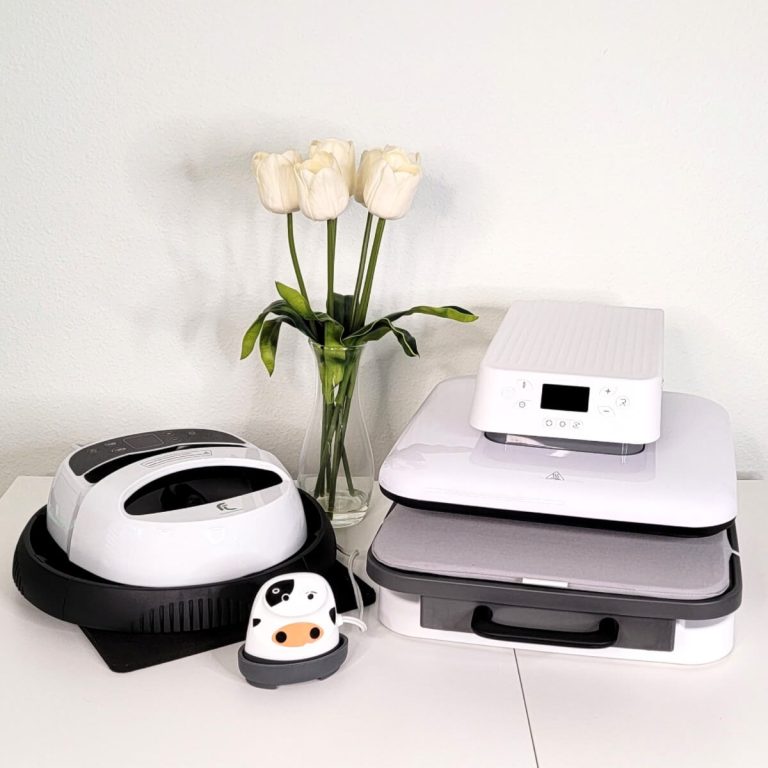 Let's start at the beginning…
What Are Heat Press Machines?
A heat press is a machine with a built-in heating element that applies heat to a surface with firm pressure to transfer a graphic design from a transfer to a suitable blank (a term used for items you customize). The functionality of a heat press is similar to using an iron to adhere a design to clothing, but at a faster, more efficient process and with more precision.
Irons don't typically get hot enough and make it very difficult (if not impossible) to apply enough pressure for many uses.
Using the right heat press is a simple process with a few basic steps that allow you to make a range of clothing and different sizes of merchandise with one device. For a heat press to work, it requires using a specialized material like Heat Transfer Vinyl or paper printed with a special ink – often sublimation ink – and a blank.
Sublimation ink requires a specific type of sublimation blank. For best results, your blank must be at least 65% polyester; even then, the results will not be as good as 100% polyester. This is because sublimation ink only dyes polyester, and it will wash out of the cotton fibers. However, there are hacks you can use to "sublimate" on cotton, like DTF Sublimation.
The advantage of using a heat press machine for making products like clothing, tote bags, and other smaller projects is that the press will retain a consistent temperature and pressure to ensure the graphic successfully transfers. If either isn't consistent, it can cause the sublimation ink to "ghost," which means it's fuzzy. Or it can cause the heat transfer vinyl to separate when washed.
What are the Different Types of Heat Press Machines?
Several heat press machines allow you to find a design that meets your skill level and crafting needs. Let's discuss the different models of heat presses before making a selection purchase.
Clamshell Press
With a clamshell design, a top plate lifts, allowing the machine to open fully. And when you close it, the upper plate presses firmly against the lower plate to cause a transfer of the image from the template to the blank.
There are several advantages to using a clamshell over other heat presses for home use. One good reason to use clamshell presses is the ease of use. This style of heat press device has an efficient, quick application, and the design requires less workspace than a swing-away press.
But there is a risk of getting burnt by the top plate, usually more common on the first time of use. A clamshell press already requires a lot of space above the heat press to open. You won't want to use this style if you have cabinets above the workspace where you'll use the clamshell heat press.
Swing Away Press
Another design is the swing away, which has a liftable top plate that you swing to the side to open and access the lower platen. Since swing-away designs have top ceramic tile presses that completely move out of the way of the bottom, there is less risk of burning yourself.
Swing-away design presses also need more space to use because the top platen lid moves all the way off the base to behind the lower heat platen, where you place your heat transfer paper and blank.
But because you can access the bottom plate easier, you get a more precise placement of your design. This style of heat press is also a great way to press thicker substrates.
Until recently, this was the most common option for people pressing many shirts. However, since it takes up a lot of space and requires a bit of muscle to press down, it's not always the best option. In addition, you'll need a lot of room to store and use it, and you may experience arm strain and soreness if you use it a lot in one "sitting."
Auto-Heat Press
Drawer-style auto heat presses feature a slide-out bottom platen that operates as a drawer for easier use of your chosen substrates – whether adding or removing. The heat plate at the top then automatically lowers when triggers and presses the blank. Auto Heat presses are a good idea for users with limited space who still want consistent professional results and relatively hands-off operation. Personally I think they are the best option for beginners because they eliminate all variables and user error!
Multi-functional
A multi-functional press is a great option if you want something to do several functions. These are usually swing-away presses with special attachments for pressing mugs and flat objects like shirts.
Handheld
The final type of heat press machine is a portable, handheld version. Some handhelds have a small frame with a pointed tip that makes them great for targeting hard-to-reach corners and odd angles.
And even better, the tiny shape makes it easy for these presses to store in a bag for easy carrying, making it the perfect travel press.
My Favorite Heat Press Machines
You can get a quality heat press machine at an affordable price for personal use, if you want to start a t-shirt business, or just for fun. For example, my kids and the neighborhood kids love to come over to our house and ask me to make them custom shirts for their teams, birthdays, or just to put their names on their pencil bags.
While a slight learning curve exists with a more advanced, heavy-duty machine, fewer technical machines give you flawless results from the very first use, like my top choice below.
My Top Choice: Best Heat Press Machine for Sublimation and HTV
In a rush? If you want to know my absolute favorite heat press, it's the HTVRONT Auto Heat Press. Here's a summary of why! If you want to know more, read the full post!
Why it's the best heat press for sublimation
It's the perfect choice when you're limited on space and want flawless results every time. It also has a built-in drawer to help you avoid getting burned, super-fast dual heating coils that heat and operate twice as fast as other presses, and an auto-iron function to save you tons of time.
It also applies the right press automatically, has four pre-programmed fast mode buttons, 2 custom buttons that you can set yourself, and instant release of the plate to prevent burning and overheating of your material make the HTVRONT the best heat press on the market, whether you're working with HTV or sublimation.
After my Dreambox, my HTVRONT Auto Heat Press is my favorite craft product!
Watch this video for an in-depth look at the features or scroll down to see a more detailed write-up!
Still have questions and want to know what my other favorites are? Let's get into it!
Lowest Price / Value Heat Press Machine: Fierton Easy Press
The Fierton Easy Press is heat press machine option if you're on a tight budget and looking for something under $100. While it can be used for sublimation, it shines most when used for vinyl. This press has a whopping 1,652 5-star reviews (as of when I'm publishing this post), which is amazing!
The biggest repetitive complaint was that it tends to cause ghosting when used for sublimation. Not to worry though! There is a trick to avoid or at least minimize this that I'll get to soon!
Ease of Use
This heat press has a large size 12″ by 10″ by 6″ heat plate that can press onto fiber, metal, cotton, and other materials.
And it operates hands-free for many materials and uses, meaning once you set the timer, pick the appropriate temperature, and place it onto your blank, there's nothing else to do until the timer stops counting down.
Performance
The dual functionality of this heat press also has a built-in anti-overheating system thanks to three layers of heat-resistant insulation that protects the external casing.
This hand held heat press can work on heat transfer vinyl (HTV) and sublimation prints, with a temperature range of up to 450°F/232℃ and a time range of up to 999 seconds. It recommends using settings of 10 seconds at 320°F for thermal transfer stickers made with vinyl materials and for 60 seconds at 356°F for sublimation paper. You'll want to set the time and temperature based on your transfer material.
Ghosting is one of the major complaints with this model. This issue occurs from a slight vibration caused when the machine turns on. But holding the + button for five to ten seconds will turn off this vibration setting, preventing ghosting.
The vibration is a feature that can be helpful for HTV but detrimental for sublimation. Unfortunately most people don't read the instructions and realize that it can be disabled which is why they complain about the ghosting! Once you disable the vibration it should be fine.
Time Saving/Headache Preventing
This model also comes with a rubber stand that allows you to set the heat setting and warm the unit up without causing damage to your work surface.
You can walk away and do other tasks while the device presses your design and acts as an iron in less than 60 seconds. However, if you're pressing something that needs significant pressure, you may still need to hold the press and press down. This takes some trial and error.
And it has a pressing pad that also offers protection when pressing. The inside heating components have a ceramic coating that will prevent burns from overheating or long-term operation and a thirty-minute automatic shutoff.
Aesthetic & Space Saving
The Fierton Automatic Sublimation heat press machine is a large black portable plastic hands-free unit with a handle on top for easy moving and pressing. On the top are buttons for operation and an easy-to-read display. A black rubber mat protects the bottom of the heat press from burning objects when the plates heat up.
What Comes in the Box
This heat press comes with the following:
● the machine
● a heat-resistant rubber stand
● a heating pad
Value/Price
At less than a hundred dollars, the Fierton heat press machine offers a lightweight, portable way to make decorative crafts without the concern of safety hazards.
You can carry this press around for a portable workstation, but it's also great for kids compared to clam or swing away. And best of all, it's hands-free, so you can walk away while it's pressing, as long as your craft doesn't need firm pressure and you lift it when the times up.
Best Heat Press For Sublimation, Frequent Crafters, and Small Businesses: HTVRONT Auto Heat Press
Several features make the HTVRont auto heat press the top heat press machine on my favorites list. If you're looking for one heat press that can work on all your flat materials whether your an occasional crafter or starting a small business – then this is the machine for you! When you consider all its features, this heat press is definitely the best overall value even though it costs more than the other two on my list.
Ease of Use
The HTVRont Auto Heat Press has 4 preset buttons and 2 custom buttons that let you set the temp and time with the press of just one button.
It also has an auto-iron function that I love! When this function is enabled, the heat press will begin pressing when you push the drawer into place. You don't even need to press anything to start. If you're doing a lot of pieces this is a huge time saver and help!
It also auto-opens when it's done pressing and the plates automatically adjust up to 1″ to apply optimal pressure to your material.
Performance
The dual-zone uniform heating coil heats twice as fast as other heat presses. A large 15″ by 15″ heating plate accommodates various-sized base materials and takes just six minutes to reach the maximum temperature of 410℉/210℃.9.
And after pressing is complete, the plate automatically releases from the material to avoid burning or overheating.
Time Saving/Headache Preventing
This auto-heat press has little or no learning curve because it does all the work for you! Heats to the right temperature quickly and releases the heat plate at the right time. Plus, it applies just the right pressure!
And if the temperature and pressure you need aren't preset, you can also easily select the exact temperature and timer you need.
The auto-iron function also saves you tons of time! Just one click and you're good to go!
Aesthetic & Space Saving
This heat press comes in cute color options and looks really pretty and sleek. It also has a really small footprint and takes up less space than clam or swing-away heat press machines which need space above and next to them too! In addition, it has an easy-to-use digital display and is surprisingly quiet when turned on despite the fan that runs.
What Comes in the Box
This auto heat press comes preassembled and ready to go with an instruction manual.
Value/Price
Best of all, this auto heat press is more affordable than other auto presses on the market. The cost is as low as ⅓ of the price of its main competitors with comparable features, performance, reviews, and reputation.
Overall, this heat press is the one to buy if you're only limited to one machine on a flat surface. It can do everything, eliminating the need for other tech and giving you the most bang for your buck.
If you're unsure, consider whether you will eventually need/want to upgrade to an auto-heat press. While a smaller hand held model will cost less, if you end up upgrading in the future because you need more pressure, faster performance, the auto function …. then you'll end up spending more in the long run because you purchased two instead of just the one.
Best Heat Press for small projects and budgets: TeckWrap Mini Heat Press
A mini heat press can be a perfect choice when you're on a tight budget or working on small projects that don't need a large surface heat. And the TeckWrap mini heat press makes it fun and cute to press items like hats and shoes!
Ease of Use
This handheld, all-in-one heat press can work for decorating small items like hats, shoes, stuffed animals, pockets, baby clothing, purses, bags, or shirts. Or you can use it as a regular iron.
The single-button power control allows the press to heat up and apply even heat distribution over the pattern.
Performance
Although small, this mini heat press can easily get into hard-to-reach places and evenly glide over the fabric.
Three temperature settings allow for diverse uses for materials and blanks. The lowest setting is 284℉, with a 320 medium setting and 374℉ high temperature.
Time Saving/Headache Preventing
The small size and advanced safety features make it easy to carry this mini press around in a tote bag. An automatic timer cuts off the heat if there are ten minutes of inactivity, and a hollow insulated base avoids unwanted heat transfer.
Aesthetic & Space Saving
This heat press comes in lots of cute characters. The tiny size of 4″ tall and 2.36″ wide with a 4″ length and a 2.87″ tip, and a 4.52″ long heat plate makes it excellent to use anywhere or to carry along for projects on the go.
What comes in the box
This small heat press comes with a:
● tiny drawstring bag
● long cord
● hollow base
● instruction booklet.
Value/Price
This mini but powerful heat press proves that big things come in small packages without breaking your budget. With three heat settings, automatic power off, the ability to work on all heat transfer vinyl, and small size, you can tackle any small project at home or on the go. This model won't work for bigger projects though.
How to Pick an Appropriate Heat Press Design
Picking a heat press is more challenging than buying shoes. You need to put serious thought and effort into which design will work for your needs.
The varying styles and functions mean that not all heat presses are the same. When comparing models, here are some criteria to weigh to get the best results and a heat press you can continue to use for a long time.
Machine and Operation Size
Before you purchase a heat press, you'll need to know the dimensions of your workspace. How much space you have to store and work will help you decide on the size of your press and which style would be best.
If you have limited room, you don't want to sacrifice it with a swing-away press that will take up more width when opened. Another thing to consider regarding size is what items you'll use inside the press.
If you predominately need a t-shirt press machine, a medium-size press with a 9″x9″ size or bigger would be a good option.
You'll need at least a 4″ to 6″ or 6″ to 8″ press for items like baby clothing, ceramic tiles, mouse pads, and tote bags. And you'll require a dedicated cap press (like the mini heat press) if you want to try your hand at making decorative hats.
There are also large-size machines with 15″ by 15″ or 16″ by 16″ sizes, which are handy for various home projects or professional jobs.
Analog or Digital Operation
Another crucial factor to weigh is whether you want to use a machine with an analog or a digital operation. Either type is effective, but a digital model is more expensive. However, you will get better performance from a more advanced digital model, making it a valuable investment.
The benefits of using a digital design are that you get more temperature control accuracy, there are timers that can go up to 999 seconds, and an LCD makes for easy viewing and setting the temperature range, making it the perfect heat press machine for personal use.
An analog machine press is better for a budget, but these devices usually only have timers that can go up to 60 seconds. Therefore, analog presses are not the best choice for large projects or items that require long press times.
Pressure Adjustment
Some heat press designs, like a clam press, can adjust the pressure to accommodate different print jobs. There is usually a knob that turns to increase and decrease tension. Knobs at the top of the press are more convenient and easy to use. Luckily the HTVRONT Auto Heat Press determines the pressure for you so you don't have to worry about it!
Timer
The model and display format of the clock is another important feature of any heat press machine. Having a timer with an audible alarm ensures you know when the heating is done so you can remove the high pressure before your design burns.
Some timers also can shut the heat press machine off once the timer runs down, reducing accidental overheating. However, you can still burn your design with residual heat if the press is closed as it cools down. The best option is to purchase an auto heat press that automatically lifts the heated plate when the time is up.
Temperature Control
The next thing to consider is the temperature range of the heat press. Transferring images to fabric requires high heat. So, you at least want a heat press with a high-temperature surface that can get 350°F to 400°F. There are also heat presses that can exceed these temperatures.
Warranty
While it's unnecessary, it's always recommended to consider purchasing a good-quality heat press with a warranty. The best heat presses come with an extended or lifetime warranty on specific parts. But other models may come without any warranty or a short-term six-month to a one-year protection plan.
Best Heat Press Machines for Sublimation and HTV
Naming the best heat press isn't as easy as picking the best brand and model. Because your needs can vary based on your project, having only one heat press might not be enough.
Many small business owners who use their heat press machines for sublimation designs and heat transfer vinyl projects to run a business have multiple heat press machines in various sizes.
If you're looking for just one machine, I highly recommend the HTVRONT Auto Heat Press. It will work for just about any flat project and give you by far the best results at the best value.
Frequently Asked Questions About Heat Press Machines for Sublimation and HTV
What materials can I heat press?
Heat pressing is safe on most items, but some can melt at high temperatures – usually synthetics or thin fabrics. You should not have a problem with nylon, cotton, Lycra, polyester, or spandex.
One simple way to be sure is to either do a small test or purchase products specially called blanks. I always recommend putting butcher paper or a teflon sheet over your item before you press to protect your machine in case something should melt.
Is there any maintenance needed for a heat press to stay operational?
It's recommended to clean the plates after each use once they have had time to cool down.
New to sublimation and HTV? I recommend starting with HTV. Check out this post on how to make t-shirts to get started!