Transformer 4.0 – The Best Minimalist Extendable Dining Table
Post may include affiliate links. We may earn a fee if you use them at no cost to you. Disclosure.
Finding a sturdy dining table to accommodate a large gathering without dominating your space can be difficult. That's why I'm obsessed with everything from the Transformer Table brand.
My current love interest is the elegant yet functional minimalist extendable dining table, Transformer 4.0. In my search for an appropriate dining room table that adjusts to different sizes, I've researched multiple modern dining tables. The Transformer expandable dining table has been at the top of my list.
So, as a major fan and affiliate of all things Transformer Table, I immediately jumped at the opportunity to check out the newest version of the minimalist Transformer Table just released.
Thank you to Transformer Table for sponsoring this review and giving me the opportunity to try your newest version!
Quick Links to Information in this Post
What is a Transformer Table?
If you have yet to hear of the Transformer Table brand – no, we're not talking about the hit movie and kids' toys – let me introduce you to why it's my favorite contemporary design for small spaces and large groupings.
All Transformer Table products have a compact size, simple design style, and a major wow factor. The versatile design allows you to expand a console table to a larger table for a big gathering of up to 12 family members or friends.
Each of my Transformer Table products has been a great solution for helping me maximize my space while allowing me to have a large dining table when I need extra room. I even used my Version 3 Transformer Table alongside folding tables for a big birthday party!
What is the Updated Transformer Table 4.0?
The newest addition to the Transformer product line is the 6-in-1 updated kitchen table. Like my previous Transformer table, the 4.0 offers a sturdy, solid wood base with a simplistic, rectangular, modern design.
This wood table comes in multiple nature-inspired colors. The surface is also super easy to clean because of the matte lacquer topcoat that protects it from water, scratches, and heat. Use a lint-free cloth slightly dampened with a mild wood cleaner to wipe in the same direction as the grain.
Although there is a protective coating, you'll want to protect the surface. Use placemats, hot plates, tablecloths, and coasters to provide a barrier.
Another updated feature of the Transformer table is an adjustable central support leg. It moves side to side to secure the panels for stability and legroom. Upgraded steel telescopic hardware makes it easy and fast for a single person to expand the table.
To truly appreciate the beauty of the Transformer Table design, you can get the Table, bench, and coffee table!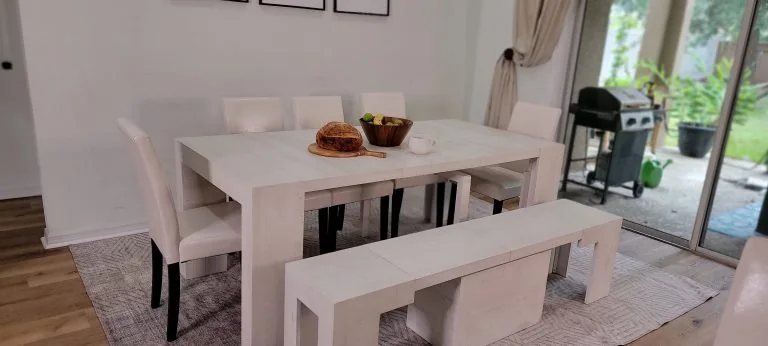 What is the Transformer Bench 4.0?
The Transformer bench starts at a compact 14.25″ width with an 18.25″ height and a basic 28.5″ length. It also includes five 20″ wide panels that you can insert to add extra seating.
When fully closed, it's just big enough for one person to sit at and it nests perfectly in the fully closed table. Together they make a beautiful console table!
With all five panels inserted, you get a 134.8″ total length. The removable leaf panels go inside your bench when removed. At full length, it seats 5 adults and fits perfectly along one side of the table! Get one to seat people on just one side of the table or get 2 and put one on each side!
What is the Transformer Coffee Table 4.0?
At first glance, the new Transformer 4.0 coffee table looks like any regular wood coffee table you would use in your living room. But this versatile piece of furniture serves multiple purposes, like having a lift-top that elevates the surface so you can use it for a breakfast tray or a workplace.
Inside the coffee table, you can store the five panels you add to your Transformer 4.0 table to expand from a bistro-style table for two into a massive seating for 12. The coffee table can also store other items you want to keep organized and stored.
While I loved my Transformer Coffee Table 3.0, the design of the 4.0 is so much better for the leaves! Getting leaves in and out of the coffee table is much faster and easier and I love the design so much more!
Transformer 4.0 Unboxing and Assembly
Ordering furniture online always comes with the worry of how it will arrive. There can be a concern for product damage. Or you might worry about assembly.
The shipping method for all of my Transformer Table products has been above satisfactory. I love not needing special tools or expert experience to set up my furniture. Delivery was a breeze and all three of my Transformer Table deliveries have been super smooth and the delivery team couldn't have been any nicer!
The Transformer 4.0 is the ideal table to choose when you want something you can unbox and place without assembly or installation. The table and bench don't need any assembly at all! They are ready to go right out of the box.
The only work you'll have to do for this set is assemble the coffee table, making the Transformer a great option for those with limited to no handy skills. The Transformer Coffee Table 4.0 comes with an Allen key tool necessary for the included hardware.
​Transformer 4.0 Designs and Color Options
These home decor pieces have a classic design with a natural finish. My old Transformer was a gorgeous, rich brown natural color, but my new Transformer 4.0 has a classic white finish that looks great in any home but especially modern, contemporary, coastal and farmhouse-styled homes.
The 4.0 Transformer table comes in six gorgeous neutral colors: American Walnut, Canadian Birch, Scandinavian Oak, Aged Elm, Brazilian Sequoia, and Smoked Hickory.
Honestly, it was hard to pick just one color!
How to Expand the Transformer 4.0
Expanding the Transformer 4.0 table can be done in moments by just one single person. You just unlock the clamps under the table and then pull one side of the table legs out to create a large gap, exposing the inside carbon steel metal frame.
These metal rails support the drop leaves that expand the small console table into a larger rectangular dining table that seats up to 12 people. After placing all the leaves you want in place, you just close the clamps to secure everything in place, slide the middle support leg to the middle, and you're done!
The Transformer Table can support a staggering 700+ lbs.! So don't let the expanding nature fool you. This is a very sturdy table!
Dimensions and Configurations
This extendable dining table stands at 30″ tall with a 37.5″ width. Without the table leaves installed, the table has a modest 18″ length, making it a perfect console or entryway table. But you can expand this minimalist dining table to an impressive 118″ size by adding each 20″ removable extension leaf until you get the ideal length.
With one panel inserted, your dimensions become 38″ long, with enough room for seating four. Two panels give you a length of 58″ for seating six. Seat up to eight people with three panels to create a 78″ long table. With four panels added, your 98″ long table can seat ten people. And it becomes a max length of 118 inches with all five panels inserted for enough room for 12.
The Transformer product line offers an impressive range of support in terms of weight. The table can hold up to 750 pounds, while you can seat up to 1500 pounds on the bench, allowing it to hold multiple adults. The table weighs 110 pounds. Moving it is a total breeze, though!
How to Use the Transformer 4.0 Table
As with any Transformer table, you can use this modern table in your dining area to add extra space when hosting a party or game night.
Or you can keep it in its primary compact shape without the inserts and tuck it into the corner of your kitchen to use as a breakfast nook, casual table for two, or a place for your kids to enjoy snacks and do homework. You can use it as a console table, too, in your entryway!
Pros and Cons of Transformer 4.0 Table
Knowing the advantages and disadvantages of products before you purchase is always great. As much as we wish it were true, nothing is perfect. So, let's see if the Transformer table is right for you!
Advantages
Adjusts to seat 2 to 12 people.
It comes with an expandable bench.
Easy to clean.
Six nature-inspired colors
Five extension leaves are stored in the coffee table.
Very sturdy
Gorgeous design that fits most home styles
Disadvantages
Price could be a disadvantage for some. It's an investment, but it's real wood furniture that will last a lifetime and transform to fit every occasion. In my opinion, it's worth the investment and will outlast any less expensive table many times over.
May not fit a home with rustic decor or Louis XIV, XV, and XVI styles.
​Pricing for the Transformer Table 4.0
When you're shopping for a Transformer 4.0 table set, you can pick from multiple bundles to help you save! You can pick from just the table, or the table and a bench, table with chairs and a bench or a table and 2 benches! You can also upgrade any of these to include the coffee table at a discount!
If you're excited to grab a Transformable 4.0 table, click here to choose your desired package and use code ANALYTICALMOMMY100 to get $100 off!
Is the Updated Transformer 4.0 Table Worth It?
Overall, the Transformer table gives you great value for a low price. It's at the top of the best extendable dining tables. Who doesn't love having a compact table that you can transform into a large frame for extra guests without difficult installs or special skills? Enhance your dining experience and interior design with a high-quality Transformer Table.
Transformer Table FAQ
Can You Use the Transformer 4.0 Table Outside?
The Transformer 4.0 table is only for interior use. The materials of this table are not safe for outdoor use. Check out the different Transformer products for outdoor use, such as the Transformer patio dining set, bar cart, and the Transformer patio umbrella.
How Many Panels Does the Transformer 4.0 Come With?
Both the Transformer table and the bench come with five insert panels each.
How Do I Store the Panels?
The panels for the dining table go inside the coffee table, while you can keep the other five panels for the bench inside the support box in the middle of the seat.