Fall and Halloween Themed Pumpkin laser cut earring designs (Made with the Glowforge Aura!)
Post may include affiliate links. We may earn a fee if you use them at no cost to you. Disclosure.
Making your very own Laster Cut Earrings is a breeze! This tutorial is a great way to learn all about laser cutting in a fun and usable way. I'll show you step-by-step how to make acrylic or wooden earrings (your choice!) that everyone will love – and just in time for fall! If you need new earrings, why not make them yourself?
You may be wondering why you would want to make your own earrings instead of just heading to the store and buying them. I love being able to use a laser cutter and digital files to create a physical item.
Not only can I make exactly what I want, but I can do so in minutes! Talk about a way to be spontaneous and artsy!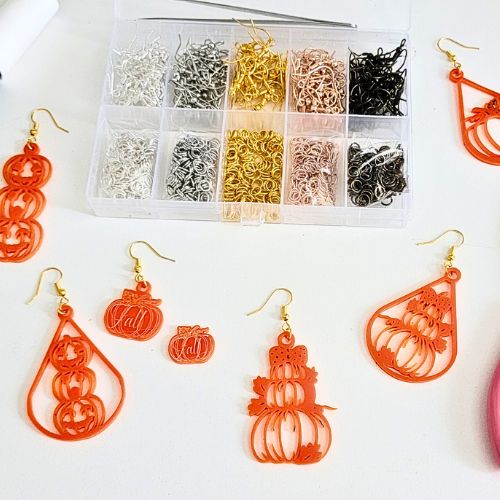 To make these laser-cut earrings, you really just need a few simple supplies. I'll show you exactly what it takes to make the perfect earrings by using the correct settings.
You'll get a free download as well that you can keep to use over and over again! Because once you make one pair of earrings, you're going to be hooked!
So let's get started on how to learn how to make these fun fall DIY earrings. I'll give you all the details you need!
Quick Links to Information in this Post
MATERIALS FOR LASER CUT EARRINGS
Let's talk briefly about the materials…
Acrylic or Wood
You're going to need to decide what you want to make your earrings out of. Delicate earrings like the dangling earrings in this design set, are well… delicate! While you can make them out of wood, you will need to be very very gentle with them. The stud design in this set though can 100% be made out of wood with no issue or concerns!
I personally recommend using acrylic for the dangling earrings in this set. They will hold up best an come in so many amazing colors!
While I chose to make mine out of an Orange Proofgrade material, you can 100% make these out of non-proofgrade material.
Earring Hooks or Studs
Next you're going to need some hooks or studs for your earrings after you've cut them with your laser printer. I used these when making this project the first time and they worked great! The set even came with beautiful colors! But… they needed a jump ring which I'm not super experienced with and they took me a while to put together. If you make lots of jewelry and this isn't an issue for you then go right ahead and use those hooks!
Since, I've started using these and they're my new favorite! They basically snap into place. Super easy to put together and just as beautiful! They do cost a bit more but they are much faster for me to put together which is a huge plus! Whether you're making them for yourself, as gifts, or you're starting a small business and want to sell earrings, making them faster will be a win for sure!
Now, one of the designs is made specifically as a stud. If you have sensitive ears, sometimes dangling earrings are an issue, so I wanted to make sure that I included a stud too! If you decide to make the stud earrings, you'll need these instead of the hooks. Or maybe you want to make both!
Digital Download
It probably goes without saying, but you're also going to need my free files! How else would you cut these! When you download my file, whether from your email after you fill out the form or from my library directly, you're going to need to extract the folder. You'll then see a rights and usage file and a SVG file. The SVG file is what you're going to upload to your laser cutting machine software.
There are two files. One has the word "thicker" in the name. This is the one I recommend using. This file has 6 dangling earring designs and a stud design.
There is also a really thin delicate version (the file that says thinner in the name) and a bonus keychain! These are really tough to work with because they break somewhat easily but if you're careful and patient they are really nice thin!
The design set also contains 6 danging earring versions, 1 stud version and even a bonus keychain design!
Glowforge Aura
I used a Glowforge Aura for this project but any laser cutting machine will work. Personally, I love the Aura and how simple and easy it is to use! It's also at a really great price point for crafters like me. If you have another machine, though, you can use that instead!
If you're a fan of these simple earrings, be sure to check out my review of the Glowforge vs. Cricut. Here I go over these powerful tools and talk about the similarities and differences. There are so many digital designs to download, and so little time!
How To Make Fall Earrings with a Laser Cutter
One thing is for sure. Once you make your own earrings, no one else is going to have anything like them. Unique jewelry pieces are the best because they're made 100% by you.
Fall and Halloween Themed PUmpkin Earrings
Additional Time:
30 minutes
Materials
Tools
Instructions
For all but the designs with the word "fall":
Export the ZIP file and import the SVG you want into the Glowforge app.
Delete all the designs you don't want and make a copy of the ones you do so that you now have 2 of each.
Set your designs to cut
Print with your Glowforge
Attach your earring hook and enjoy!
For the earrings that say "fall" on them only...
Export the ZIP file and import the SVG you want into the Glowforge app.
Delete all the designs you don't want and make a copy of the ones you do so that you now have 2 of each.
Reorder the layers so that the pumpkin details is first, the word fall is second, and the overall shape is 3rd.
Set the pumpkin details to score.
Set the word "Fall" to engrave
Set the outline to cut.
Print with your Glowforge.
After it's done in the Glowforge, you can fill the engraving and scoring with paint like we did for the engraved pencils. You can do this before or after removing the masking. This one is so small that I don't see a difference either way.
Then add your earring stud or hook and you're done!
ANSWERS TO YOUR QUESTIONS ABOUT MAKING LASER CUT WOOD EARRINGS
Can I make stud earrings?
You can! I give you all the file formats needed to make study earrings or dangly ones. You have options when it comes to what to make!
How long does it take to make the earrings?
The total time for these earrings should be no longer than 30 minutes. The first few times you make them, or something like them, it may be a tad bit longer just because you're learning. But once you get the hang of how simple and easy it is to do, you'll be making your own earrings easily in no time at all.
Can I make these earrings with my Cricut?
Yes! You could absolutely upload these to Cricut Design space and cut them out of another material. That said, they will likely be much thinner and less durable so if you do, don't expect them to last as long. If you make them out of acrylic with a laser cutter like the Aura though, they'll be super durable.
Can I share the vector file with others?
This file is for personal use only, meaning that the file can't be shared or sold. However, if you love it, just share a link to this blog post with your family and friends and they can come and download theirs right away to keep. Sharing is caring!
Is there an additional cost associated with making earrings?
The only supplies that are going to be needed are the ones listed above. Once you start making more and more earrings or other jewelry pieces, you'll find that there will be more expenses that start to add up. However, keep in mind that these expenses are likely much cheaper than buying earrings new at the store, because you'll be able to use three free files that I've sent you repeatedly. This means that you can reuse the same file and change out the material to make it look new and unique.
I'd love to see YOUR earrings once you get done making them! Please share a photo in our Facebook group or tag me on social media with #analyticalmommycrafts or @analyticalmommy! I can't wait to see how they turn out!
More of the Best Craft Projects
Save this project for later and pin it to your favorite Pinterest board!