How to make elegant thank you cards on Cricut (+ FREE Template and Video)
Post may include affiliate links. We may earn a fee if you use them at no cost to you. Disclosure.
Look no further than these elegant origami thank you cards made with my FREE Cricut template!
Are you looking for an easy way to make thank you cards on Cricut? If so, then look no further! In this step-by-step tutorial, we will show you how to create beautiful and elegant thank you cards with your Cricut machine. Plus, we have included a free template that will help make the process even easier. So let's get started!
The beautiful origami design of this thank you card template makes it truly unique and eye-catching. It is also incredibly easy to customize; simply pick your favorite color palette, add a special message, replace the "Thank You" text, and personalize the font to create an elegant invitation that will wow your friends and family. You can even customize whether you emboss, foil, or write different features of this card!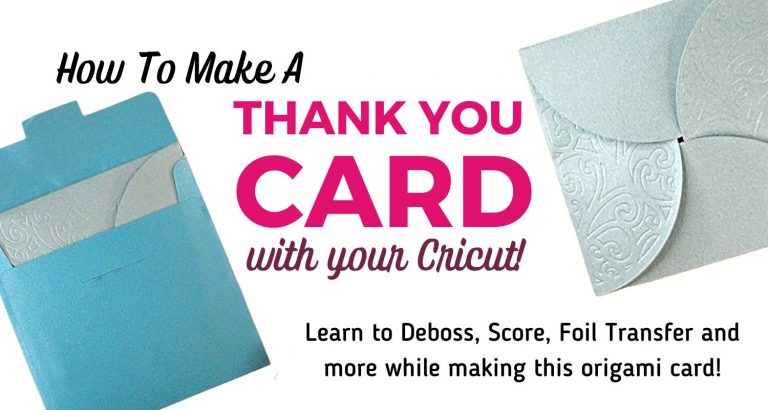 These cards will look like you spent a fortune and your friends and family will be even more wowed when they learn that they are handmade! They won't have any idea just how easy these are to make!
That said, while this project is shockingly easy once you know how to do it, you'll want to read this post carefully and maybe watch the video a few times if you're a visual learner. Also, don't forget to pin this post so you can come back to it later! You'll be switching Cricut tools quite a few times and will need to set up your project just right otherwise you may make a few mistakes and the project will take longer to finish than necessary.
In many ways, this tutorial is a how-to-guide for using lots of Cricut tools and functions in a single project!
Did you know that your Cricut machine can sense which tool you have loaded into the machine? If you don't have the right one inserted, it will tell you! I'm so thankful for this function because otherwise, I would have wasted so much material!
Now that we've given you an overview of how you can use Cricut to make these elegant and eye-catching thank-you cards, let's take a look at how easy it is to create them step-by-step. To help, I have put together an awesome video tutorial that walks you through the entire process from start to finish. (After you've watched it, just scroll down for lots more detail in writing, close-up images, and how to get a free Origami Thank You Card template so you can get started!)
Quick Links to Information in this Post
Materials for this Cricut Thank You Card
Here's what you're going to need to make this project! If you don't have some of them, don't worry and ready on…
Cardstock
You can pick any cardstock you'd like for this project and the number of sheets you will need are going to depend on the size you scale the project to.
If you choose to make each component a different color, you'll need one color for the envelope, one for the origami card, and one for the actual square you will be writing on. I went with blue for the envelope, another blue for the origami card, and white for the square.
You can of course make the origami card the same color as the envelope for example though which might save you some money if you are making a lot and buying a pack of cardstock.
I recommend making sure that the square is white and the envelope is light enough for you to write on.
Tip! Need a great way to organize your cardstock collection? This is what I use to organize mine in my Dreambox!
Foil
When I made this card, I made the word "thank you" on the white square out of foil. This is not required – You can instead put the text on with vinyl or use the pen, deboss it, or skip it all together.
That said, I LOVE how the foil looks. It really elevates the card.
It's also such a small space, that it's a really great way for you to practice with foil if you're new to it!
To add foil to your card, you're going to need the foil fool and foil itself. Here's what you'll need.
[Insert foil and foil blade links]
Glue and brush or glue bottle with a fine tip
If you're not worried about this project holding up for long, you can honestly use just about any glue.
If however you want to make this "right" and want to make sure that this origami thank you card which is a piece of art, stands the test of time, you'll want to use a specific glue.
I love this one.
When I made my cards, I couldn't find my bottle so I ended up applying it with a brush as you can see in my video. This is an option and worked just fine!
BUT the best waY to apply it is with a glue bottle that has a super fine needle tip like this one.
I purchased these right after shooting the video and they work just as well as the one I originally got with my glue!
Cutting Machine (I used this one but you can also you this)
Oh my cutting machine. I can't say enough amazing things about it! Normally I say that you can make my projects whether you have a cutting machine or not (so long as you have a steady hand and a lot of patience) but that's not the case with this project since we're doing so much more than cutting.
I used my Cricut Maker but you can use a Cricut Explore too!
Standard grip cutting mat
While you can sometimes use a light grip cutting mat for cardstock, since we will be debossing, I find that the standard grip mat works much better. When debossing, the tool can start to tear up the cardstock if it's not held still so make sure to really press your cardstock into your mat!
While making my Cricut thank you cards, I wasted quite a bit of paper before I remembered this tip!
Debossing tool
I held off getting one of these for a long time thinking that I really didn't have enough of a use for it and boy was I wrong! I'm obsessed with my debossing tool! You can use it for so much more than card making and the effects are gorgeous! Imagine adding beautiful texture and dimension to your next shadow box for example!
Debossing really makes these cards look elegant so if you don't already have the Cricut Debossing tool, I highly recommend getting one!
Note: You can only deboss with the Cricut Maker. It doesn't work with the Cricut Joy or Cricut Explore machines.
If you don't want to buy the Debossing tool or don't have a Cricut Maker, that's ok! You just won't be able to get the same effect and your card will look plainer. You can draw on it or just used patterned paper instead!
Tip! Want a great way to keep track of your blades and keep them handy? I love this organizer!
Scoring blade or scoring stylus
Since we're making thank you cards, you're going to want to make sure that you have a scoring blade or scoring stylus. Normally I say that you can draw the scoring line with a pen and fold it manually but you won't want to do that on a card where the mark will be visible and it's just going to be too tedious.
For thank you cards, I do highly recommend getting one of these tools.
I have both and for this project, I liked using the scoring stylus because it goes in clamp A which was otherwise unused and helped me avoid having to change tools and extra time!
Either will work though.
Fine tip blade
Since we're cutting cardstock, you're going to want to use the fine tip blade. Luckily this is the standard blade that comes with your Cricut machine so you're already good to go!
Foil Transfer tool
Besides being an origami card, the too things that make this card really special are the debossed details and the foil! It's just so elegant and beautiful and few will realize it's something you can do at home! It adds a wow factor! So, while it's an extra step, I consider it well worth it!
You'll need to purchase the Foil Transfer Kit if you have the Cricut Explore or Cricut Maker, or the Cricut Joy Foil Transfer Kit if you have the Cricut Joy.
The kit comes with enough foil to get you started but depending on how many cards you make, you may need to buy more! I like this foil from Amazon.
If you're a fan of card making you will want to check out these!
How To Make Thank You Cards on Cricut
Origami Thank You Card On Cricut
While the focus of this tutorial is how to make thank you cards on your Cricut machine, you can also use this design to make any other card including invitations and save the date cards!
In this tutorial I'm going to show you not only how to assemble a card and make it, but also how to customize it so that if you don't have some of the tools that I used, you can customize it to what you do have on hand, and you can also adjust the sizing or adjust the text, whatever you might need to do.
Materials
Tools
Instructions
Step 1: Download and Upload the Origami Thank You Card Design
First, you're going to need to grab this project from my resource library. You can sign up for it by clicking here or filling out the form in this blog post. Once you get into my resource library, just look for design #C23 and download it.
Once you have it downloaded, you'll want to extract the ZIP file and save the SVG somewhere.
Then in Design Space, you're going to open a brand new canvas, click Upload 9on the left side, then browse and select the SVG you just downloaded.
This will add the SVG to your Design Space Library.
Now you're going to select the design from your library and click the green button on the right to load it to your canvas.
If you need more help with this process, you can watch my video on how to use my SVGs and Library here.
Step 2: Setup the Operations
When you open the project, you'll see three main pieces.
The envelope on the right, and the 2 components of the card on the left. We'll call the big part of the card the card casing and the other part (the square with text on it) the card insert for now.
The inner part of the card is a square with text that says "Thank You" on it. This is the part you will be writing on. I would keep this piece white so that you can write on it and the text will show best.
Since Design Space doesn't let us program the operation of each piece into the SVG, you're going to have to add those now.
First, click on the design and select "ungroup".
Now, select the squares inside the envelop and the card casing and then click on operation on the top right and select "Score".
Now select the filigree on those same pieces. There should be two on the card casing and two on the envelope. Once they are selected, go to operation and click "Deboss".
Now, select the text and go to operation and select "Foil" and then "Bold".
Last, you're going to need to attach all your components. Select everyting on the envelope and right click, then "attach". Now do the same for the card casing and then the same for the card insert.
If you've never done this before, make sure to watch my video in this post or on Youtube to see all the steps and get some tips.
If you want to write on both sides of this piece you can! Just leave "free" and don't glue it down. You can however glue it down and just write on the one side if you like that looks better!
Also, if you're going to use this for an invitation, you can use the print then cut function to print on the cards, then foil and then cut! Read my Print Then Cut tutorial here!
A note about the operations used in this project
In this project, if decide to do everything as I have, you will be scoring, debossing, foil transferring, and cutting. You don't HAVE to do all of these though if you don't want to or don't have all the tools.
If you are brand new to using different operations in Design Space, I strongly recommend watching my video so you can see everything better.
The debossing tool indents your paper to create really beautiful, elegant and delicate detail to any project. It really elevates this card so I really recommend using the debossing tool if you have it - or getting it if you don't!
They're not that expensive and there's just so many things you can use with them. You're going to see just how really pretty it makes the paper look.
If you don't have a Debossing Blade and you really don't want to buy one, you can either remove that detail and instead use patterned card stock or change the operation of that design from deboss to write and draw the design!
To change the operation, select the debossed detail on the card and envelope (there are 4 different debossed elements) and click on Operation on the top left and then on "pen". You can only use this if you have pens that fit your Cricut Machine though.
Alternatively, you could use your Foil Transfer Tool to foil these details if you prefer! We will be using foil for the "Thank You" letters on this Thank You card, so it could make the process simpler if you don't have the Debossing Tool but do have the Foil Transfer Tool!
Now moving on to the Thank You text, this is in Foil. As with the other elements in this Cricut Thank You Card, you can change this if needed! You an use vinyl, Cricut Pens, Debossing... what ever you like! It's set to foil though.
You can also easily change the text to say whatever you like! You can change the font, the size, change it to "Save The Date"... whatever you like!
The last customization you may want to consider if for the envelopes! I wrote our addresses on them because I was making a lot and didn't have much time. If you want though, you can add your addresses right on the envelope using either Print then Cut or Pen!
If you're new to changing operations, adding text, picking fonts, etc... be sure to check out my video!
Step 3: Pick a size!
When deciding how big to make your card and envelop, it's important to keep in mind the size of your paper. Most pretty card stock will come in either 12"x12" or 8.5"x11". While you can get cardstock in 12"x24", your options are much more limited for that size. I suggest picking out your cardstock first so that you know what your constraints are.
To resized your project, select everything (for example, CTRL+A on PC) and then drag it while looking at the grid in design space to estimate size of your components. Then click anywhere on the canvas to unselect all, click an item, and check the size at the top of the screen. Use this method to make sure that you're not exceeding your paper size.
To find out how big your final card will be, select the inner square with the Thank You text and check that for an approximate final size.
Step 4: Sending your Thank You Card to Your Cricut Machine
All right, now let's click "make it" on the top right and then select the "regular mat" if prompted. You can also choose the size mat at this time and change it from the default 12x12 if needed. Then click "confirm".
At this point you're going to see that we have the base of the card going on one mat, the little square insert on another, and then our envelope as a third.
You're going to need three pieces of cardstock per card.
If you want to make multiple Thank You Cards with Your Cricut at once, the best way to set this up is to go to project copies, on the top left and click apply. This will help you save cardstock because it will put as much cuts on one sheet as possible!
Now click continue.
At this point your computer will look for your Cricut Machine. Once it connects to it, you'll be prompted to pick your material.
For this project I recommend at least 65lb cardstock so I use the "medium cardstock" material and default pressure. I don't find that I need to change the pressure at all on this one, so we're just gonna go with that.
Understanding "Load Tools and Materials" in Design Space
The next step is to check the Load Tools And Materials section. This part is really key. We are using many different tools and this will tell us which to put in first and where!
By default it's going to ask you to insert your Scoring Wheel into Clamp B. I happen to have the Scoring Stylus too which fits in Clamp A. If you also have the stylus, this is a benefit! That's because you'll be able to put it in Clamp A and put something else in Clamp B saving you a tool change!
To do this, click on Edit Tools, and then select the Stylus.
As you progress with this project, you'll see similar boxes pop up to tell you what to do next, so watch for those! Never unload your mat until Design Space tells you to because it may be pausing just to tell you to change tools.
Note how on the bottom it says coming up Deboss tool and fine point blade tool at the bottom. This his helpful so you can prepare the blades you need!
Step 6: Now Load Your Machine! Yay!
Now all you need to do is insert the tools into your Cricut Machine per the instructions in Design Space.
Then add your cardstock to a Standard Grip Mat and make sure to really press the paper into the mat. You don't want it to shift at all.
Then load your mat under the little brackets, click on the double-sided arrow button, and then click on the flashing C when it's ready.
It's going to start debossing and scoring (or just scoring if that's what you have in clamp B). Then when it's done, the machine will pause and you'll get a pop up in Design Space that looks like this.
As it says, you are going to want to want to chance the tool in your machine. Be careful when you do the step, you don't wanna click on the double sided arrows. You just wanna change up the blade, not move the mat at all and then press the C.
Then it will continue working! Just continue this process until it finishes and you get a message telling you to unload the mat.
Then repeat the process for the rest of the mats!
A note about removing your cardstock from your mat. Make sure to peel back the mat from the cardstock - not the other way around. Watch my video if you haven't done this before!
Are you using foil for the first time? Watch my video to see how to deterine how much you need, where to put it, and how to use it!
Step 7: Assemble Your Cricut Thank You Card
Okay now our card is embellished and cut out! Yay! Now it's time to put it together. This step is super easy!
You'll have a little square insert, this is what you're going to write on. You can write on both sides like we did for our thank you cards. And then when you put it in, you just don't glue it down. However, if you're just going to use one side, you can absolutely glue it down and that's totally fine.
Then we have our origami card casing - I can't think of any other name for it! Isn't it pretty? And then of course, we've got our envelope and it's all ready for us to fold and glue together.
You're going to need some glue - and while a glue and brush works okay (like I did in this TikTok), I love using a little glue applicator bottle with a fine needle tip so that I can use as little glue as possible and really control where it goes.
The Thank You Card Casing
Let's start with the card casing. We are going to need to fold along the score lines. Except there's a catch! Since we debossed and scored on the same side, your piece is going to want to fold in the wrong way and hide the debossing!
To fix that, fold it inwards like it wants to, and then fold it back! The easiest way to fold along the score line is to place your thumb nails in the score line and then fold!
Once you've done this to all four sides, it's time to practice folding it all together! To do this fold one side, and then the next going in a circle (in either direction). When you get to the 4th side, it can be slightly tricky but you'll want to make sure to tuck it under the first side. Watch my video to see it in action!
The Envelope
Now it's time for the envelop! Again we are going to want to fold along all the score lines and then fold those same sides backwards. Next You need to add some glue. Take a look at the photo to see where to add the glue. Be sure not to add too much - you don't want to accidentally glue your envelope shut!
Once you apply the glue, just fold it togethe
r and you're done!
I love this glue I'm using because it doesn't come out tacky at all but it dries fast enough that I can lift up the envelope almost as soon as I finish putting it together!
That said, give it a few minutes before you insert your card!
That's it! You did it! Now all that's left to do
Recommended Products
As an Amazon Associate and member of other affiliate programs, I earn from qualifying purchases.
ANSWERS TO YOUR QUESTIONS ABOUT MAKING This Thank You Card On Cricut Machine
Can you make this Thank You Card project using a Cricut Joy or Cricut Explore?
The answer is yes and no. You can make this project with either of those Cricut Machines but then you won't be able to deboss. In order to deboss you need the extra power of the Cricut Maker machine.
Can you make this Thank You Card with just the fine point blade?
Absolutely! But then it will be more plain. Since you won't have the foil or debossing etc.
Can I add more to the card rather than leaving it mostly blank?
Absolutely! You could use the print then cut function to print on the card and then cut it out!
Can I use this Thank You Card template for other things?
Of course! In the video I walk you through how to modify the card to serve as a Save The Date or Invitation but there are lots of other options too!
I accidentally unloaded my mat when trying to change the blade, what now?
Depending on the function, you might be able to simply reload it and have it run through again but for some things like debossing this doesn't work. Unfortunately, more often than not, your best bet is to start that mat over again.
Well there you go! I hope you found this helpful! Don't forget to grab access design!
I'd love to see YOUR Origami Thank You card and how you customized yours! Please share a photo in our Facebook group or tag me on social media with #analyticalmommycrafts or @analyticalmommy! I can't wait to see how they turned out!
More of the Best Cricut Cardstock Projects
Save this project for later and pin it to your favorite Pinterest board!
Image