Rainbow Fish Craft For Kids – An Easy Preschool Craft Project
Post may include affiliate links. We may earn a fee if you use them at no cost to you. Disclosure.
THIS RAINBOW FISH CRAFT PROJECT IS A GREAT WAY TO USE UP SUPPLIES THAT YOU HAVE ALREADY – A SIMPLE, EASY, AND FUN RAINBOW PAPER PLATE FISH!
i love rainbow fish craft ideas and this Rainbow Fish Craft using paper plates is so cute and fun! Who doesn't love the idea of making a cute and puffy fish, all with simple supplies that you already have at home?
In this post, I'm going to show you how to create a cute rainbow paper plate fish that is perfect for early learners and older-aged kids as well. Because once they see how fun this craft is, they're going to want to join in on the fun, too.
This fun fish craft creates a unique fish that factors in all the colors of the rainbow. Fun-colored fish are the best!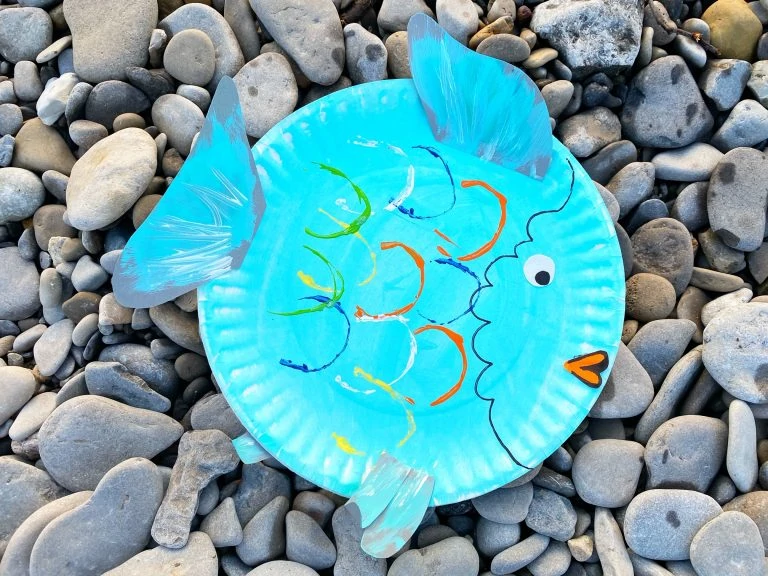 To make this fun rainbow fish craft, you'll need a paper plate, grey card stock, acrylic paints (light blue, green, blue, orange, white, and yellow), black sharpie, paint brush, Elmer's glue, scissors, and a paper towel roll.
What I enjoy most about this fun rainbow fish craft is that it's really quick and easy to make and shows the kids that art can be used from objects that are just lying around the house.
Ready to get started on the simple steps? This fun rainbow fish craft is perfect for a day, just like today!
Quick Links to Information in this Post
Rainbow Fish Craft Material List
Even though I mentioned the needed supplies above, now is a great time to double-check and be certain that you have them all!
Paper plate
Grey card stock or printer paper if using my template!
Acrylic paints: light blue, green, blue, orange, white, and yellow
Black Sharpie
Paint brush
Elmer's glue
Scissors
Paper towel roll
A super simple list of needed craft supplies, right? Here are a few notes on the needed materials listed above…
Paper Plate
Make certain that you're using a paper plate for this craft and not a Styrofoam plate. The paint needs to be on paper to stick. With that said, the cheaper the plate the better! Those really thin paper plates work especially well! Don't have a paper plate that will work? You can also cut out a paper circle or use a coffee filter if you need to!
Gray Cardstock
You can use gray cardstock to cut out the fins as described in the instructions below, or download my printable template and just cut that out for an even easier project! If using my file, just print it out on regular printer paper!
Acrylic Paints
I like using acrylics because they stay longer and cover better. That said, if you have another similar paint, that should work fine! Watercolor will even work in a punch but isn't as easy to work with.
Elmer's glue
Any type of glue will work for this simple fish craft.
What's the inspiration for this craft?
The book of course! Growing up my brothers and I LOVED the Rainbow Fish book so of course when I started to read the book with my kids I wanted to be able to make an activity out of it! I highly recommend getting the book and reading it to your kids just before doing this craft! They will have so much fun!
How To Make A Rainbow Paper Plate Fish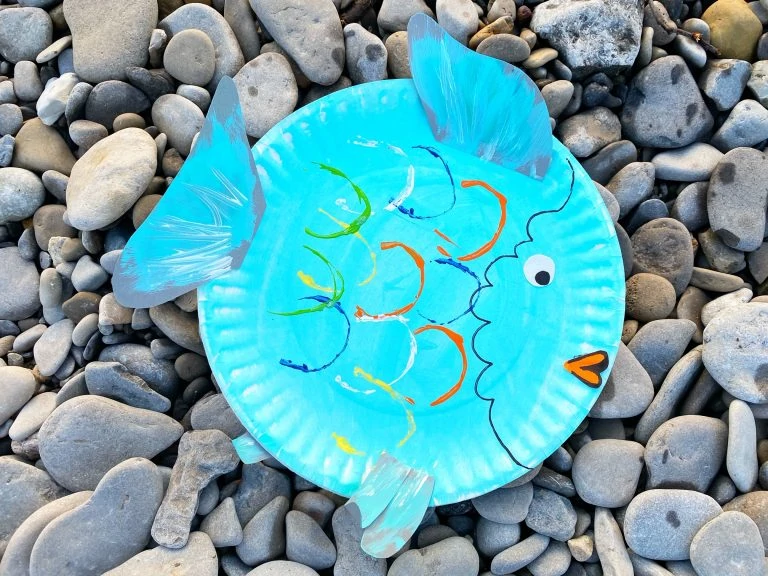 Yield:

1
Rainbow Fish Craft For Kids - Using Simple Home Supplies!
Super fun rainbow fish craft that's easy enough to do anytime with things you already have on hand!
Materials
Paper plate
Grey card stock
Acrylic paints: light blue, green, blue, orange, white, and yellow
Black Sharpie
Paint brush
Elmer's glue
Paper towel roll
Instructions
Step 1: Apply Paint
Paint a paper plate light blue and let dry.
Step 2: Cut out the fins
Cut 4 fins from your gray card stock, 1 for the top, 1 for the back and 3 small fins for the bottom. You can also use regular printer paper and just print out my fin template to make this project even easier! Get the printable file using the form at the bottom of this post or by clicking here.
Step 3: Glue on the fins
Glue the fins onto the blue plate-like pictured.
Step 4: Paint fins
Brush a little blue and white paint on the fins.
Step 5: Create eyes
Cut a small round circle the size of a nickel and glue it onto the right top of the plate for an eye, use a black Sharpie to color a circle in the eye.
Step 6: Complete the fish face
Draw a scalloped line on the right side of the fish for the face.
Step 7: Make the fish mouth
Cut out a small heart shape from an extra paper plate for lips, paint it orange, outline it with a black Sharpie, and glue it to the center right side of the edge of the plate.
Step 8: Add paint colors
Squirt each color of paint onto an extra plate.
Step 9: Cut the paper towel roll
Cut your paper towel roll in half lengthwise and then into smaller pieces to use as half-circle stamps.
Step 10: Add fish scales
Dip a piece of the paper towel roll stamp into paint and onto the blue fish for scales.
Step 11: Repeat
Repeat step 10 with different colors and let your fish dry.
Frequently asked questions about this fun preschool craft project – Rainbow Paper Plate Fish Craft
Is this craft easy for preschool-aged children?
Absolutely. Just be there for parental supervision but this is one craft that they can start to do on their own. It's a great confidence builder, too!
How long does acrylic paint take to dry?
There are a few things to keep in mind with acrylic paint. First, it's not washable so remember that, and also, you need to be certain that the kids don't put it in or near their mouths.
For drying purposes, plan on anywhere from 30 minutes – 1 hour of time, depending on how thick the paint is applied.
I'd love to see YOUR rainbow fish craft! Please share a photo on social media with #analyticalmommy or tag me @analyticalmommy so I can see your amazing creation! Each and every fish is unique and I'd love to see yours!
More Fun Craft Ideas for Kids
Plus, look at how I organize our craft space in just a few simple steps! It's now organized and the perfect space for the kids and I!
I hope you enjoyed this fun fish paper plate craft!
Pin to Pinterest