Glowforge Aura Review – Your guide to the new craft laser
Post may include affiliate links. We may earn a fee if you use them at no cost to you. Disclosure.
Glowforge laser cutters are taking the crafting world by storm and for good reason! The ease of use paired with the high-quality details it can create with the push of a button make it a powerful laser that is perfect for small and larger projects alike! Consider this your buyer's guide to purchasing a Craft Laser!
For years, if you wanted a laser machine, your only option was a commercial-level laser the size of a car. Then laser makers like Glowforge created smaller but powerful versions for small businesses – machines like the Glowforge® Basic, Glowforge Plus, and Glowforge Pro (their Performance series).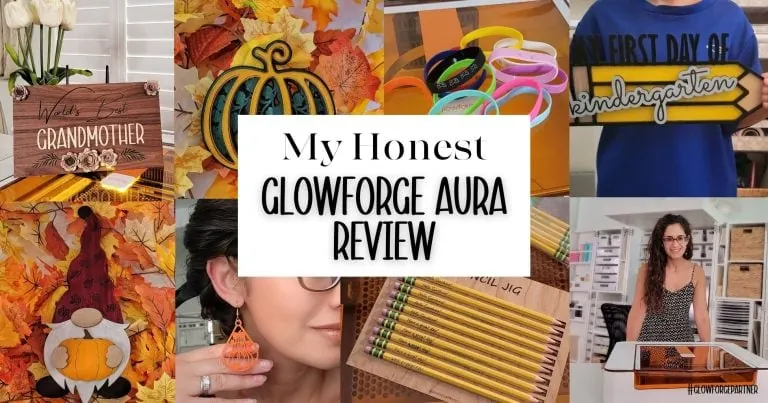 Now, crafters like us have options too! In June 2023, I got to participate in the Glowforge Aura™ launch campaign and became a Glowforge partner and my crafting world has never been the same since!
Let me explain why… While I'm a blogger now, once upon a time, I went to college to earn an engineering degree! In the basement of our engineering school, we had the most amazing machines including CNC laser machines that were big enough to fill up a small room, 3D printers as big as a small car, and so much more. I remember thinking that it would be so cool if I could use them for crafts instead of just schoolwork! Well… now I can!
In this blog post, I'll dive into the top reasons why this powerful laser needs to be on your radar and answer your top questions about the Glowforge Aura. The good news is that I've done all the hard work and research for you. By the end of this post, you'll know if the Glowforge Aura is right for you. (And if you still have questions after reading, no problem! Leave a comment or join my FB group and I'll do my best to answer!)
Let's start at the beginning…
Quick Links to Information in this Post
What Is The Glowforge Aura?
Any avid crafter who has tried laser cutting will likely rave about how amazing it is! It works by shooting a very thin beam of light, a diode laser, at a material of your choice to cut, engrave, or score a wide variety of different materials and easily create your own designs.
Not only does it fit seamlessly in your craft room, but it's a laser printer that any beginner or experienced designer can use. All the original Glowforge models can help you to create beautiful crafts with ease (like laser-engraved photos on wood) and the Glowforge Aura is not exception!!
You might be asking yourself "But I can already cut, score, and engrave with my Cricut! Why would I need the Glowforge Aura?". The short answer to that is that it all comes down to materials! You're very limited with your materials when it comes to your Cricut machine – but you can work with much bigger, thicker, and harder materials with a Glowforge! For a more detailed answer, check out my Cricut vs. Glowforge post.
With that… let me tell you more about the Glowforge Aura!
My First Impressions
For the most part, I'm a hobby crafter. That's why I haven't purchased a Glowforge or other laser printer before. So when Glowforge reached out and asked me to partner with them on their Glowforge Aura launch campaign, I was so excited! Finally, a craft laser for people like me!
I'm typically a quick learner. I'm not sure if it's my engineering degree, curiosity, or the fact that I'm a bit of a geek, but I tend to pick things up pretty fast. I was pretty confident at first that I'd be able to hit the ground running when my Aura arrived.
That said, I'll be totally honest. I was a bit intimidated when the box arrived!
After all, I didn't want to burn down my house!

Well, let me tell you… There was NOTHING to be intimidated about. Glowforge did an AMAZING job of making this laser printer super plug-and-play! Literally… you plug it in, pop the laser head in the right spot (which connects with a magnet so it's foolproof), and put the crumb tray in, and you're ready to get started! ANYONE can do it!
To make things even easier, Glowforge makes Proofgrade® Materials. These are Glowforge brand materials that come with a QR code. The Aura reads this QR code and automatically adjusts the settings on the machine to perfectly cut, engrave, and score the material every time!
Working with non-Proofgrade materials is slightly more challenging because you need to find the right settings but that's what I'm here for! I'm on a mission to help provide you with the fastest effective settings for tons of materials so that you don't have to run all the tests yourself! Just join my Facebook group to get access!
My first impression, after I finally opened the box, is "WOW! This is easy!" and it is. I've watched hundreds of people in my Facebook group start using their Aura with amazing success right away and you can too.
Glowforge Aura Feature Review
The new Glowforge Aura can do SO much! From cutting materials up to 1/4″ thick to engraving and scoring materials up to 3/4″ thick… the possibilities are endless! There are hundreds of materials and blanks (items you can buy like keychains, pens and coasters) you can work with!
I'm on a mission to find the best settings for as many materials as I can get my hands on and my pile of things to test just keeps getting bigger and bigger!
Did you know:

When working with a Glowforge machine, the term "Printing" is used to describe cutting, scoring, and engraving. Basically you "print" with your Glowforge, so don't be confused if you see me talking about printing! It's a catch-all phrase for the 3 functions!
Cutting
When it comes to cutting, you can cut items that are 12″ by 12″ and up to 1/4″ thick without using the passthrough. But once you add the pass-through, you can cut stuff that's 12″ wide by just about any length! Just open the pass-through slots and slide it in. You'll be amazed by just how much fun you'll have once this option is available to you!
Just the other day I was walking around Hobby Lobby looking for some new things to play with and noticed that many of the things I used to gravitate to, like a wooden cut out of a bird with ribbon, I could now cut out myself with my Glowforge Aura!
Yes, you can cut a lot of things with a Cricut too, and I still love my Cricut but the Glowforge Aura is on a totally different level. Not only can it cut much thicker materials, but it can cut things like cardstock more flawlessly and without needing an annoying mat!
Engraving
The engraving feature on the Glowforge Aura might actually be my favorite. When you engrave, it will basically fill in your shape and burn that into the material, or burn all the details of your image into the material.
The burnt engraving on wood is absolutely stunning and you can do SO much with it! You can also engrave on things like pens, coasters, cutting boards, notebooks, wooden spoons, and a ton more! I personally love the burnt engraving look and love that it's basically a one-step project that looks so professional!
You can also engrave images thanks to some of the Glowforge App features! Just place a photo in the machine, and it will scan the photo and then engrave it with just a few clicks!
If you want something a little different, you can also engrave slate and acrylic plus so much more! One of my favorite things to do is to engrave acrylic and then fill the engraving with paint for a 2 toned look. You can also buy two-toned acrylic though that will automatically have a different color in the engraving!
Scoring
Scoring is another amazing feature of the Glowforge Aura. Scoring with the Glowforge Aura is totally different than scoring on your Cricut though. When you score with the Glowforge, you're basically creating a thin outline of your shape. It's almost like you're cutting the shape out but it doesn't go all the way through the material so you end up with a very thin outline of your shape or design. Scoring can sometimes be substituted for engraving because it's MUCH faster but the look will likely be different since you're getting an outline vs. a fill effect! Still, it's something to consider!
Passthrough
Ah, the passthrough! I can't even begin to tell you how excited I was to learn that the Glowforge Aura would have a passthrough! Even the best Glowforge alternatives – other compact laser craft machine options – don't have a passthrough function! And even some of the bigger Glowforge machines don't have it either!
So what is Passthrough?
It's slots on either side of your Glowforge Aura that let you pass larger pieces of wood, acrylic, or anything else that's 3/16″ or less through the machine! This lets you cut items that are bigger than 12×12!
Right now using the passthrough is manual. The bigger Glowforge machines have software features that assist in the process and I'm hopeful that we'll get that software upgrade in the future! For now, we need to line it up manually. That may seem daunting but don't worry! I have a project coming for a large fall-themed garden gnome that uses the passthrough function. It will help you learn how to use this function!
Onboard Camera – Aura Vision™
The Aura comes with an 8-megapixel wide-angle camera and plenty of lighting inside. This means that when you're working in the Glowforge app, you can see your material and design or plan your project on the material itself! This is what makes the passthrough function possible!
You can also use the onboard camera to trace or scan objects like photos so that you can engrave your photo onto other materials!
I love that you can get a live preview of your print so that you can plan accordingly and make the most of your material! It's super easy to use up scraps thanks to this feature!
Not being able to see my mat in Design Space is actually one of the things that frustrates me with the Cricut. I had to place materials on my mat and remember where they were and what the dimensions were. Then, I'd have to line them up on the screen manually – then hope I got it right! I know you can use your smartphone camera with the Cricut app to do something similar but really don't like the smartphone or tablet app so it really wasn't a good function for me.
Thanks to the new Aura's built-in camera, I can see everything in real-time. This is an amazing feature and I can use it for cardstock, laser-safe vinyl, leather, acrylic, wood and more!
Glowforge Aura Specifications
The Glowforge Aura is something that you'll be using for very long time and you probably want to know everything about it!
Here are some key specs you probably want to know:
Machine dimensions: 22 x 20.5 x 5 inches
Weight: just 19 pounds!
Diode Laser: 6 Watts
Camera: 8 MP wide angle lens
Max materials depth (with crumb tray): up to 1⁄4" thick
Max material depth (without crumb tray): up to 3⁄4" thick
Max material size (without passthrough): 12" x 12" inch cutting area
Max material size (using passthrough slot): 12" wide by as long as you want!
Passthrough Thickness: 3/16″
Now for some geeky specs if you want them!
Wavelength: 450nm CW
Wavelength: 450nm CW
Internal laser power: less than 6000 milliwatts peak
Internal laser power: less than 6000 milliwatts peak
Beam diameter: 0.1mm
Beam diameter: 0.1mm
Beam divergence: 9mRad
Beam divergence: 9mRad
Accuracy: 0.01mm
Accuracy: 0.01mm
Safety Features in the Glowforge Aura Craft Laser
When buying a laser, there are a lot of safety precautions that you want to keep in mind.
Two key things you want to consider when picking out a safe laser machine are:
Protecting your eyes from the lasers
Protecting your lungs from fumes
Luckily for us, the Glowforge machines are fully enclosed desktop laser machines! That means that the laser is fully contained within the machine. On top of that, the transparent cover of the machine is made of a protective material which eliminates the need for safety glasses! (That said, I personally won't look directly at the laser through the lid and wouldn't recommend that others do it either just in case, but I really appreciate that they took this step!)
Glowforge also made a unique air filter designed for JUST the Glowforge Aura. Let's talk about it!
Glowforge Personal Filter
The Glowforge Aura comes with an exhaust hose in the box that you can use to direct smoke from your machine directly out a window. This is great if you don't have neighbors close by, live in a climate where you can leave your window open a bit, and plan to have your machine near a window.
If you want to be able to use your machine indoors, like I do, there is a personal air filter option!
I live in Florida, so venting out a window in the heat for hours at a time, just isn't a great option for me so I'm really thankful for the air filter!
It's fairly small, coming in at just 10 in. x 17.5 in. x 18.5 in.! Each replaceable filter inside has a lifetime of up to 100 hours of printing too which is amazing!
According to the Glowforge website, the air filter traps over 99.9% of particles in the air and it's made just for the Aura. This filter won't work with other machines and other air filters likely won't work with the Glowforge Aura.
If you plan on using your Glowforge inside, I highly recommend getting the air filter!
Do Glowforge Aura competitors need a filter too?
If you're deciding between the Glowforge Aura and other laser machines, you might be wondering if needing an air filter is "normal". My opinion is that yes, it's always needed.
Not all machines on the market have a "matching air filter" like the Glowforge Aura and users would need to buy a generic air filter if they want one that isn't designed specifically for their machine. On top of that many of the options in the same price point as the Glowforge Aura are open machines which means that they don't have any convenient way to pump air from the machine into a filter. It just goes into the room!
Any and all materials will emit dust and fumes when burned with a laser so to safely use them (without some sort of face mask), I would recommend an air filter.
I really appreciate that the Glowforge Aura is an enclosed system with a specially designed air filter that fits tightly onto the machine to minimize smells and keep the air in my room clean.
I highly recommend getting the air filter if you purchase a Glowforge Aura. And if you decide that the Glowforge Aura isn't for you, make sure to look for a machine that is fully enclosed and has a tight-fitting air filter made for that specific machine to make sure you are safe when using your laser!
What Can I Make With A Glowforge Aura Craft Laser?
The question should really be, what CAN'T you make? This is the first-ever craft laser made for hobby crafters that can cut through, engrave, and score various materials easily. I'm talking wood, leather, metal, fabric, stone, and more. You can make an engraved stone coaster as a gift, make hardwood place settings for Thanksgiving, create a functional bubble gum machine, and then turn around and make an intricately detailed paper birthday card for your next project.
You just need to make sure that you are using laser-safe materials when using your Glowforge Aura – or any laser machine for that matter.
On that note…
Get my free designs to make laser-cut projects!
Did you know that I love making and sharing FREE designs that you can use with Glowforge? I share FREE SVG files in my members-only resource library that you can download and use right away! I use design software like Inkscape and then test, test, test until I get them right for you! Once they are ready I'll share them in my newsletter and Facebook group, so you know that they are ready for you to download from my library!
To get access, just fill out this form!
Glowforge Aura Material Guide
Glowforge Aura is a 6-watt Diode Laser. There are different types of laser in laser machines. The two most common are Diode Lasers or CO2 lasers. The Glowforge Aura is a Diode Laser and with that comes some unique characteristics. Much of the information in this section about materials is more about how Diode Lasers work and is not unique to the Glowforge Aura. Whether you get a Glowforge Aura or some alternative at the same price point, it will likely be a Diode Laser and the material characteristics will be similar.
What materials can the Glowforge Aura cut and engrave?
You can cut leather, wood, stone, glass, cardstock, acrylics, silicone, and hundreds more materials. It would likely be impossible to list out every single material you could print on. So with that, it might be more important to talk about materials that you can't print on, and I'll get to that in a second but first…
Glowforge Proofgrade Materials
Let me introduce you to Proofgrade Materials. These are like magic! Proofgrade Materials are sold by Glowforge and come with a QR code. When you put the material in your Glowforge Aura, the internal camera scans it and automatically recognizes the material. It then adjusts the cut, engrave, and score settings to the optimal settings for that material! There is ZERO guesswork!
What's more is that Glowforge constantly tests these materials so that if anything ever changes in production, they'll update the settings for you and you might not even notice! It's just automatic!
Basically, if you use Proofgrade, there's no guesswork!
The options are somewhat limited though, so at some point, you'll likely venture out and try other materials. That said though, Proofgrade materials are extremely high quality and I highly recommend them! I also think they are the best option for beginners so that you can get used to your machine without having to worry about settings!
What materials can the Glowforge Aura not cut?
Since the Glowforge Aura is a diode machine it will have some limitations that are caused by physics – and are not unique to the machine or design. For example, Diode lasers cannot cut clear or transparent materials and really struggle with blue too. Trust me, I tried all sorts of hacks to see if I could get it to cut clear, but it just melts it!
Here's why…
Diode laser cutters function by emitting a focused beam of light from a semiconductor diode. This beam is directed and focused onto a material to either engrave or cut it. Most clear materials, such as certain acrylics, are transparent to the laser's wavelength, causing the laser light to pass through without being absorbed and producing the necessary heat or precision for cutting or engraving. Similarly, when the laser wavelength is close to the blue visible light spectrum, blue materials can exhibit similar transparency or reflectivity properties.
Did you know that when we see an object's color, we're actually seeing the wavelengths of light that the object reflects rather than absorbs? For example, a blue cup reflects the blue portion of the light spectrum while absorbing other colors. This is also why a blue diode laser might be less effective on blue materials; the blue light can be reflected by the material instead of being absorbed.
Because of this, diode lasers can't cut clear and really struggle with transparent, white (reflects ALL colors) and blue – usually not being able to cut them but there are some exceptions! (I'm doing tons of testing to find those exceptions and even streaming it! Join my FB group to follow along!)
Some other colors that are close to blue on the color wheel, like green and purple, will be able to cut but will require more time and power.
How about engraving and scoring?
If you can cut a material, you can definitely engrave and score it too! How about the colors that you can't cut through?
With some hacks, you may be able to engrave and score most colors. That said, you won't be able to engrave and cut as cleanly or deeply, and in some cases, it's more like etching than engraving.
For example, I have been able to engrave clear more successfully than I could engrave some shades of blue! It did scorch though and the engraving turned black… So if you go this route, just be ready to fill the engraving with paint for a 2-tone effect that hides the scorching! That said, I have found some shades of blue that I could cut beautifully!
Unsafe for Laser Materials
Since you're likely considering purchasing a laser machine, I feel it's important to take a step back and explain that there are some materials that are unsafe to work with in ALL laser machines.
Whether you get a diode machine like the Glowforge Aura or a CO2 machine like the Glowforge Plus and Pro or even an XTool or other brand… some materials are unsafe to use.
Cutting some faux leather and vinyl in a laser cutter can be hazardous due to the potential release of toxic chlorine gas. Many are made from PVC (polyvinyl chloride). When PVC is hit with the intense heat of a laser cutter, it can break down and release chlorine gas, which is both corrosive and harmful to humans when inhaled. Exposure to chlorine gas can cause respiratory distress, and lung damage, and can even be fatal in high concentrations.
There are other chemicals to consider too. ABS, when laser-cut, emits cyanide gas, and it tends to melt, posing risks of fume inhalation and fire, not to mention ruining your machine.
Here's a sampling of things to watch out for but this is not a complete list:
Leather and artificial leather containing chromium (VI): They release chromium (VI)
Carbon fibers (Carbon): These can produce harmful fumes
Polyvinyl chloride (PVC), Pleather, Vinyl: They release chlorine gas and hydrogen chloride.
ABS: They can release cyanide gas
Styrofoam: Very flammable!
So whether you get a Glowforge Aura or any other laser machine on the market, always do your due diligence and make sure it's safe for laser machines. Don't take anyone's word and always check for yourself before working with it. Despite these limitations, the Glowforge Aura can still print on a wide range of materials – so many that you really won't miss that you can't print on some!
Glowforge Aura App
The Glowforge Aura connects to your computer through the Glowforge App which you get to by going to app.glowforge.com. This is a FREE app that you use to import designs, choose your settings and placement on your material, and then print using your Glowforge.
Inside the app, there are also premium features that you can only access with the Premium Subscription. If you don't need these features, though, you can use the app for free!
Premium Subscription
If you sign up for the Premium Subscription, here's what you'll get:
Free with Premium Catalog of designs so you can search tons of projects that are ready to cut with just a couple of clicks!
Fast Lane access to the Glowforge servers for your prints. All prints go through the Glowforge servers and you'll get priority!
Access to the text, shape, outline, and other creative tools from inside the app.
Unlimited storage!
Magic Canvas (an AI image generator!)
If you can afford it, I highly recommend getting the Glowforge Premium Subscription – at least for the first 6 months to a year because it makes the entire Glowforge printing experience (regardless of whether you get an Aura, Plus, or Pro) that much easier!
Once you get the hang of finding or creating your own designs by using design software like Inkscape, Adobe Illustrator, Canva Pro or others, you can consider whether you want to keep it or not.
Personally, I love the fast lane, unlimited storage, and text/shape/offset tools in the app, and want to keep Premium!
Where to purchase the Glowforge Aura
There are a few places where you can purchase the Glowforge Aura and some may even have occasional sales or deals!
Right now, it's available on the Glowforge Website, Michaels, Joanns, and Amazon! Click the buttons below to check availability and pricing – they seem to be consistently flying off the shelves!
Check pricing at….
Tip: Even if purchasing in store, I recommend ordering online for in-store pickup! They sell out fast and you'll want to reserve yours!
Glowforge Aura Financing
If you're trying to decide where to purchase your Glowforge Aura from, consider buying it from Glowforge.com! They have some great financing options to help you with your purchase if you need it. When you check out, just select monthly payments and then you'll see their monthly payment financing options through their 3rd party provider!
Psst… If for some reason, you don't qualify for this financing option, don't worry! There just might be a "top secret" 2nd look option that might work for you! So don't worry… Go through the prompts and if you're rejected, you may just see it!
What To Expect when you get your Glowforge Aura Craft Laser home
Unboxing The Glowforge Aura
Once your new Glowforge Aura Craft Laser arrives, you're probably going to be super excited to unbox it! I know that I was! Let me tell you what you can expect…
Before unboxing anything, make sure that you have a flat space with a surge protector nearby dedicated to the Glowforge. Once you have your space cleared and chosen, remove the top piece of foam and use both hands to lift the Glowforge out of the box. Place the machine on your flat surface.
There should be a card or sticker with a QR code…. scan that and it will take you to a webpage that walks you through unboxing and setup with really easy-to-follow pictures.
In a nutshell, you'll just need to remove all the packaging, place the laser head on the designated spot (it's a black square thing), and place the crumb tray (a metal sheet with holes) in place. That's it!
When you're done setting up, put all the pieces back in the box and put the box in a safe space. If you ever need to send your machine in for repairs, move homes, or want to take the machine with you somewhere, you'll need the box to package it back up safely!
What Comes With the Glowforge Aura?
In your new purchase, there will be several items that are included. Do a check and make sure that you have them all! Luckily, the Glowforge Aura is super plug-'n-play and comes pre-built. It's all contained in a "box."
The items will be loose:
White accordion tube/hose (for air filter or venting)
Glowforge Aura casing
Crumb Tray (sometimes called the cutting tray or honeycomb tray)
Plug
Inside the Glowforge Aura casing the following components will already be assembled:
Laser ribbon cable
Laser rails
Laser arm end caps
Side rails
Lid camera lens
Exhaust fan
Laser head and fan
You'll also get a sample piece of Proofgrade wood for your first cut!
Setting Up The Glowforge Aura
When you're ready to set up your Glowforge, the process is super easy! Just open your favorite web browser and go to setup.glowforge.com. If you're using Chrome, you will then be prompted to download and install a setup file. If you're using Safari or Edige, you can complete the setup without downloading anything (also, I hear this method goes more smoothly!). Once you have done that, it's as simple as following the text prompts.
To give you an idea of what to expect, the software will ask you to switch your device'snetwork connection from your home wifi to a Glowforge network. Once you do that and it connects successfully, you'll be prompted to connect back to your home network through the software. The key to this step is to pick your home network from inside the setup wizard.
Once it connects back to your home network it will need to do a few more things in the background, so don't jump the gun. Wait until the wizard says you're done before you click away and close it or you may need to redo the setup wizard.
Once you have everything set up, any software update that Glowforware wants to push out will happen seamlessly in the background!
Join my Facebook group!
Are you still debating if you should get the Glowforge Aura and want the inside scoop on how it's going for others? Or maybe you have already decided to buy one and want to join an amazing community of Aura crafters? Then you're going to want to join my Facebook group!
I've created guides in the group where I share non-proofgrade material settings, tutorials, projects, free design files, recommended tools and products, Q&A, and do livestreams!
Honest Review of the Glowforge Aura: Should you get it?
So, let's summarize things a bit…
There's a new laser on the digital crafting scene called the Glowforge Aura. Should you get it? My vote is a big YES!
If you're a hobby crafter and want the ability to make a huge variety of 2D, 3D, and even mechanical crafts that look boutique-worthy, then the Glowforge Aura is for you! It's extremely plug 'n play, designed with safety in mind, customer service is super friendly and helpful on the phone and chat, and you'll be joining a group of really supportive and friendly crafters who can help you along the way!
Answers to Your Questions About the Glowforge Aura Craft Laser
Do you have to design your own files?
No! You absolutely don't have to! You can buy tons of amazing files from the Glowforge Catalog a-la-carte, or get access to most with a Premium subscription. You can also download lots of designs from my members-only resource library, from Creative Fabrica for cheap, from other bloggers, or buy some from Etsy!
Is The Glowforge Aura Craft Laser Just Like A Glowforge Pro But Smaller?
Nope! The Aura uses a Diode Laser and the Glowforge Pro uses a CO2 laser. The Glowforge Pro's laser is significantly higher power too. The Pro is meant for small businesses and people who need to craft at a different level than hobby crafters. You can of course still get a Glowforge Pro if you want though! Just know that they are different though.
Who Should Consider Getting A Glowforge Aura?
Anyone who is looking for different ways to create should consider getting one. This machine is great for all levels of crafters and especially amazing if you already love Cricut crafting and want to take it up a notch! This could be a great way to take your homemade gifts to the next level! You could even use it to create some small items to sell. The possibilities are endless!
Glowforge Aura vs. xTool and other competitors – which is better?
You know what I'm going to say here, right? The Glowforge Aura has proven itself to be THE machine of the year.

The main benefit of the xTool over the Glowforge Aura I could find is that the xTool machine can engrave tumblers. If that's the main focus of your crafting, then maybe the xTool is right for you. That said, I've been "engraving" tumblers for months using just a vinyl stencil and Citrus Strip like in my TikTok that got over 760k views, 15k saves and 500+ comments! I don't need my laser engraver to do that!

When I went through the xTool's website and created a custom package that would be similar to the Aura, I found that it actually cost more (despite their sale) and wouldn't be plug 'n play like my Aura.

I really liked that my Glowforge Aura came with everything I needed right out of the box (like the crumb tray and fan). Plus, the Glowforge Aura has a Passthrough slot that the xTool counterparts don't!

So all in all, the Glowforge Aura is a better out-of-the-box laser printer for hobby crafters and lets you cut infinitely longer pieces of material!
Does The Glowforge Aura Cut Clear Acrylic?
No. The Glowforge Aura, and all Diode Lasers, cannot cut clear acrylic.
Can the Glowforge Aura cut white acrylic?
Yes, the Glowforge can cut through white acrylic but it will take a while and high power. I recommend using 1/16″ white acrylic or up to 1/8″ metallic white acrylic.
Can the Glowforge Aura cut blue acrylic?
Yes but only VERY specific shades of blue. Teal for example will work, and some metallic blue acrylic options work. I share which ones do and their settings in my FB group!
I have a Maker 3, should I still get a Glowforge Aura?
This is up to you! Both can make great things, but both are specific to different needs. Personally, I feel that either are a great starting point, but I lean towards the Aura more because of all the various cut settings. Read my full post on this topic for more details.
What can you put your Glowforge Aura on?
While the Glowforge Aura isn't super heavy, it's absolutely precious to me so I make sure to put it on something very reliable. I also want to make sure what I have it on is stable so it won't move around. That's why I personally put mine in the middle of my Create Room Dreamcart that I always leave open. The very middle of it is super sturdy and this lets me move it around my craft room as needed!
How do you organize your materials?
Sometimes I think that collecting crafting materials is as much fun as crafting and my collection might be proof of that! I store my iron-on vinyl (both laser and non-laser safe), vinyl, wood, acrylic, laser blanks, 3M adhesive sheets and so much more in my Create Room Dreambox!
The Dreambox has totally changed how I craft and helps me keep all my materials easily within reach. But what I love even more about it, is the fact that it's totally modular and I can reconfigure it within moments when needed. I had a period where I did sublimation and DTF daily, so I reconfigured it for that. Then I started doing puff vinyl all the time, so I changed it around then. Now I'm really into testing different kinds of Acrylic to find all the best settings for my Glowforge Aura Facebook group, so I reconfigured it for that. I still keep everything in my Dreambox, but I'm able to move things around easily to accommodate whatever I have the most of at any given time!
To learn more about the Dreambox, check out my Dreambox series.
Can the Glowforge Aura fit in a Dreambox?
Unfortunately not! I really wish it could. The Glowforge Aura can fit on the table when it's open, but I wouldn't put it there all the time because it would extend past the hinge and I wouldn't want to put wear on those hinges over time. You also wouldn't be able to close your Dreambox up with it in it. I do however keep mine on my Dreamcart and I'm able to put the Aura filter on the cart under the table too so when I move it around, the filter moves with it!
If you get your own Glowforge Aura, I'd love to see your projects and what you make! Please share a photo in our Facebook group or tag me on social media with #analyticalmommycrafts or @analyticalmommy! I can't wait to see how they turn out!
More of the Best Glowforge Aura projects
Save this project for later and pin it to your favorite Pinterest board!