How to Treat Your Baby's First Stuffy Nose (and all the others!)
Post may include affiliate links. We may earn a fee if you use them at no cost to you. Disclosure.
Can we talk about you baby's stuffy nose for a moment? Or more specifically, snot! I know I know… it's gross BUT if you've stumbled upon this post, there's a good chance that your little one has a cold and that the little snot-tool (called a nasal aspirator) you brought home just isn't cutting it!
Or maybe your bundle of joy has grown up a bit (say, into an 8 year old!) and well… that means more snot! You need stuffy nose relief fast right?
So what do you do?
Quick Links to Information in this Post
For starters, get a great humidifier!
I strongly recommend getting a cold air humidifier so that you don't need to worry about your soon-to-be toddler getting hurt if they play with it.
These are great because they really help keep the air moist enough and will help your little one's skin, lips, and nose from drying out! (You know that dry skin feeling you get when you're stuffed up and spend the night breathing through your mouth? Ick!

If you're into essential oils (EO), you can sometimes add a drop or two to the machine to help your little one breath better.
Just be careful that your machine is compatible and that the EO you're using is safe. My humidifier has a little compartment for "Vicks pads" which is really just a felt pad with Vicks on it.
So… being the frugal mom that I am, I just added a few drops of EO to the pad once the Vicks ran out and have continued to use it!
If you get a humidifier (which I strongly recommend!) you will want to buy a few gallons of distilled water too.
Humidifiers can get gross quickly but using distilled water seems to really cut down on the gross factor! I suspect it will let your filters last much longer too!
That definitely helps with the comfort factor, but what about that snot?
With my first two kids, I struggled with what I not-so-fondly called the "snot sucker" – that little nozzle thing that has a squishy bubble on the end.
Manual nasal aspirators works great for little messes but every so often I'd come across something it just couldn't handle. Then of course there was the clean up… omg are those things gross!
I can't imagine how many I went through because no matter what I did, I was never convinced that they were clean. I'd clean and clean and clean and then throw it out and get a new one! Such a waste of time and money!
There is a better option and I wish I had known about it when my first was born!
Imagine a breast pump and nasal aspirator combined! That's what Nosiboo reminds me think of.
It comes with a super cute little bear-looking pump, a tube, and then a few parts that when combined make up the nozzle you put in your baby's nose to suck out and collect the snot.
Like a breast pump, Nosiboo has a dial to control the suction strength, which helps you adjust it for anything from a baby to a grown kid's needs.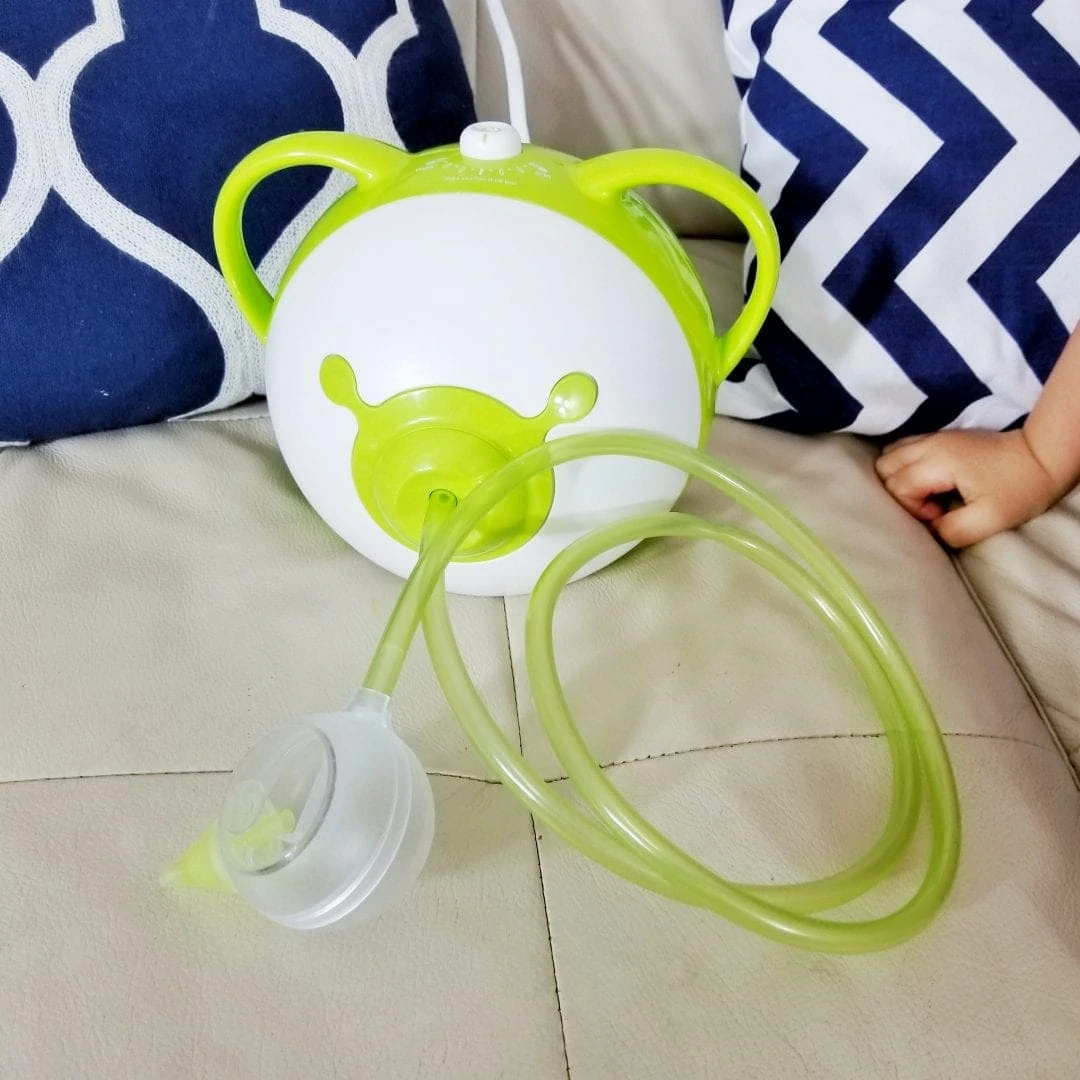 Every since I partnered with Nosiboo to review this product and first tried the machine out with my kids, my oldest has been asking me to use it every time he has the slightest stuffy nose!
(Sometimes I have to remind him for that for the occasional snot-occurrence that a tissue will do just fine! He loves the machine that much!)
There are three things I love best about Nosiboo for snot relief…
It's adorable! This definitely makes it less intimidating! My 3-year-old loves to look at it and constantly wants to hold it!
It's so easy to clean! The components that you put in your child's nose and the pieces that hold the snot all come apart making them super easy to clean! You can also buy replacements or just extras! This way you always have a clean set on hand or can quickly change them out if you have a house full of sick kids!
It's also great that the Nosiboo is so versatile! You can use it on a baby or an 8 year old and older with no problem! Just as effective and handy!
The only downside is that it can be a bit scary to use the first time. It's a little alarming (just like a breast pump probably felt the first time!).
Don't worry though because chances are you will find it weirder the first time than your kid will! Both my kids thought the first and every experience is fun and they didn't want to stop using it! (and unlike the breast pump, you won't dread using it either!)
I have a third baby on the way and I cannot wait to use the Nosiboo once he is born! I know it will make the baby's stuffy nose and colds so much easier to handle!
RELATED:
No more having to deal with gross manual nasal aspirators that only sort-of-work and then get gross after a couple uses (if that many!). Plus, I really think that the Nosiboo is able to suck out more snot than the manual models ever could!

Between the Nosiboo and my cool-air humidifier, I feel 100% ready for this year's cold season!
Are you ready for your first baby's stuffy nose? What are you doing to prepare?