How To Avoid Mom Burnout: 22 Tips From A Mom Of 3
Post may include affiliate links. We may earn a fee if you use them at no cost to you. Disclosure.
Mothers often feel the weight of the world on their shoulders, and it's easy to get burnt out. But how do you avoid mom burnout? It can be tough to figure out how to take care of yourself while also taking care of your family, household tasks, and sometimes even work There are so many things to balance and manage at once – it can be overwhelming! To help make your life a little bit easier, we've compiled 20 tips that will show you how to avoid mom burnout!
Do you feel like you're constantly running around and never have time to take a break? Are you burned out?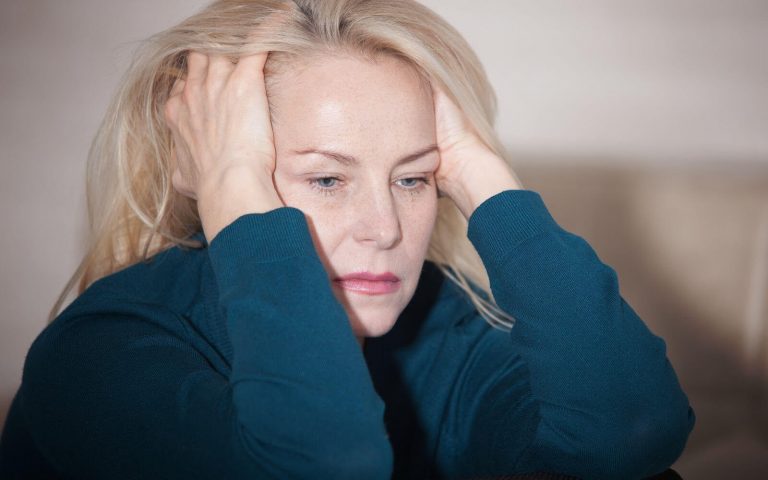 You're not alone. Mom burnout is real, and it can happen to anyone. If you find yourself feeling overwhelmed, stressed out, or just plain exhausted from being a mom all the time then this article is for you! We've got 22 tips that will help give your life back some balance so that you can enjoy being a mom again without feeling completely overwhelmed by everything on your plate.
It doesn't matter if your kids are babies or teenagers – we've got something in here for everyone! These tips will help make sure that no matter how old your children are, they'll still be able to get the love and attention they need from you and you can maintain your sanity at the same time.
So sit back, relax with a cup of coffee (or tea) and let us teach you how to avoid mom burnout once and for all!
What is Mom Burnout?
Burnout is when the person in question feels exhausted, overwhelmed, and frustrated with all of their obligations. Burnout can lead to a severe lack of motivation which can make it difficult for you to do everything you are obligated to do. As a mom, if you get burned out it affects so much more than just you – it has a major impact on your kids' wellbeing, your relationship with your spouse, and your household overall.
Burnout can take many forms including physical, emotional, and behavioral. Here are some example signs of burnout:
Feeling tired all the time even after a few days of solid sleep
Getting sick more often than usual
Increased headaches
Loss of motivation (even for things you love the most)
Having a negative outlook on things when this isn't characteristic of you
Missing deadlines or forgetting promises
Being unable to start or complete tasks
Yelling and losing your temper more than usual
While some of these can seem typical for motherhood – like being tired or forgetting things – a sudden change or increase in these behaviors isn't going to be normal.
If you're a brand new mom or just had another baby, give yourself a little time to adjust to the change before fearing that you're burned out because you may be in a transition period. If at any time though you fear for your wellbeing or the wellbeing of others in your family, please get help and don't wait.
This is a great article about burnout and how to know the difference between burnout and stress.
If you think you may be burned out, or want to avoid getting burned out in the first place, then read on…
How to Overcome Mommy Burnout
I have 3 kids (each 4 years apart) and until recently worked a demanding corporate job while also running a side business. Keeping it all together can be hard and I'll admit that at times I've felt burned out but over time I have learned many techniques to keep burnout at bay. I make this a priority because if I get burned out, it impacts the entire family – not just me. So here are my top 22 ways to avoid being a burnt-out mom.
You don't need to do all or even most of these… Instead, pick and choose the ones that you think will be the easiest for you to try and/or the ones that will have the most impact.
1. Stop being a perfectionist and say no to mom guilt
Being a perfectionist puts a lot of pressure on you and let's face it, life is messy and no one is perfect. So why do we sometimes expect perfection of ourselves? We can all do our best to provide for and serve our families, but perfectionism will only lead you down a road of mom burnout.
On that note, you don't need to feel guilty about not being perfect either! It's OK. You can make mistakes and still be a good mom.
One great example is family photos. I have seen so many moms stress about not getting that perfect photo. You know the one where the whole family is dressed in matching outfits and everyone is facing the camera and smiling? Sure those images may be "perfect", but you have to admit that the silly photo where one of your kids is making a silly face is more likely to make you smile in the future! So embrace the imperfections!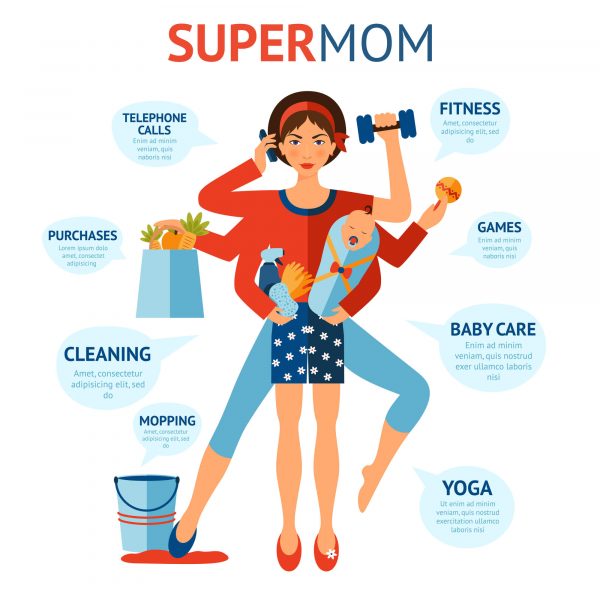 Want to hear a true story?
When my second was born, we went to take family and newborn portraits. I'm a huge comic book fan and thought it would be adorable to get some photos of my oldest and then youngest in batman and robin costumes. First, we took the newborn photos, then we took sibling photos, and then we put them in their costumes and took those sibling photos. When that was done, we wanted to take some as a family including my husband and I.
Well… my oldest who was 4 REALLY didn't want to remove his batman costume. We had two options… Option 1 was to force him to remove it and attempt for the "perfect" family photo and risk a huge (and likely) meltdown. Option two was to go with it and let him keep it on.
We picked option two and got some epic family photos of my husband and I, the baby, and our little Batman. To this day that photo is framed and on display in our home and it makes us laugh every time we notice it. It's also a great conversation starter!
I wouldn't trade that photo for anything!
Don't aim for perfection all the time. It's not achievable and not ideal.
2. Create an achievable schedule
On that note… It's about time that we stop creating unachievable schedules that will not only cause mom burnout but likely kid burnout too!
In an attempt to give our kids all the opportunities in the world, sometimes we overbook our kids and overbook ourselves.
If you've been reading my posts for a while, you probably know that I'm a "list person" or a "planner". Over the years I've come up with many different ways to manage my time and my schedule and some have worked better than others.
One of the biggest challenges I've found with most calendar, to-do lists, and time management apps is that they can get very overwhelming.
It can be all too easy to over-schedule yourself.
There are too many bells and whistles and you can become distracted or overwhelmed by the app.
They don't usually handle juggling multiple streams well. For moms for example, we often have our home-management stuff, our kid's schedules, our work schedules and personal schedules.
We need a way to juggle all of those things without getting overwhelmed by them. We also need to know when we're over-allocated and our schedule is unrealistic so that we can fix it otherwise we're setting ourselves (and our family) up for failure and burnout.
Well, Sunsama must have heard my silent cry for help! They reached out and asked me to review their time management tool and I'm obsessed!
To avoid burnout, moms desperately need to be able to create achievable schedules that aren't overwhelming. Here's how Sunsama helps with that:
Sunsama prompts you to plan out each day, allocate time estimates to each activity, and then place that activity on your calendar. This is the Daily Planning Ritual which helps you quickly see if you're overallocated.
Sunsama prompts you to wind down at the end of each day and reallocate anything you didn't get to. This Daily Shutdown Ritual is very satisfying because it helps you see what you've accomplished and also avoids overwhelm by helping you move unfinished tasks to another day.
It also lets you tag activities so if you have activities for different kids, or work, or even a side hustle, you can tag them accordingly to help you see what you've got going on better.
To help you get started, Sunsama sends you daily time management tips that go way beyond helping you use the tool – they help you learn to manage your time better.
It integrates with multiple calendars – so you can see your calendar, your kids' calendar, and your work calendar for example combined within Sunsama. This keeps you from double or triple booking yourself or your family when managing your time in Sunsama. It also lets you continue to use those other calendars to accept invitations and automatically update in Sunsama.
The interface is VERY minimalist. The default view is JUST your tasks for the day (Today Focus View) so that you don't get overwhelmed by what you have going on later in the week and so that you aren't tempted by a million features to over-engineer your schedule. This helps reduce overwhelm.
I could go on and on!
Creating and maintaining a realistic schedule that you can achieve is key. Of all the tools I've tried, Sunsama is the best for that for all the reasons I mentioned above and more!
Click here to sign up for a risk-free 14-day Sunsama trial and give it a shot!
3. Get some exercise
Getting exercise is a great way to recover from or avoid burnout. That's because physical activity releases endorphins and improves energy levels, mood, and immune function.
Regular exercise can reduce your risk of mental health problems such as depression, anxiety, burnout, and even the onset of dementia. Exercise also aids in muscle repair and brain plasticity.
Exercise also helps people sleep better which enhances cognitive performance such as concentration span (the key to getting things done!), memory retention, problem-solving skills, and spatial recognition.
Doesn't sound like it would help with avoiding burnout?
6. Take a break from social media
One of the best ways to avoid mom burnout is to take a break from social media. Social media can lead to constant comparison and a lack of self-worth.
It's all too easy to see curated snapshots of your friends' lives and fall into the trap of thinking that those posts represent real life. Even if you know they don't, after seeing 100 curated posts from someone, it becomes tough to remember that it is likely not real.
Your friends don't mean any harm. They want to show off what they are proud of and at the same time, don't want to air dirty laundry.
Sometimes it helps to take a break from social media for a few days – and maybe even set up a playdate to visit that "perfect" friend's house for a dose of reality!
7. Ask for help to avoid burnout
It's important to ask for help when you're feeling overwhelmed because it doesn't matter how motivated you are – there are only so many hours in the day AND there are some tasks that somebody else may be better able to do!
That's one of the reasons I love that Sunsama prompts you to allocate a time estimate to each task, tells you when your workload is uncertain, and encourages you to move things to other days if you can!
I don't know where the concept of the "super mom" came from but it makes many moms feel like they are a failure if they can't do it all on their own. This is toxic.
It's okay to ask for help. Even if someone else doesn't end up doing the task, it can lead you down a path where you identify how others could help you in the future.
Still not convinced? Consider this – by asking for help when you are feeling overwhelmed or burned out, you are helping others!
When we take care of ourselves, whether it is by getting enough sleep or taking a break from social media, we become better able to focus on the needs of our families and friends. This makes us more available to help them when they need it. It's not selfish – in fact just the opposite. It's a win-win.
8. Set boundaries and learn to say "no"
The connection between setting boundaries and avoiding mom burnout is more than just intuitive.
As moms, we often feel like there are more demands on us than time in our day to meet them. And maybe it's because we get tired or worn out more easily – or maybe it's because the job is so big that it's hard to know where the end is sometimes.
Setting boundaries helps alleviate some of that guilt and pressure, while also recognizing that it's okay for other people to do things too and it's okay to say no.
You don't need to say yes to everything. You don't need to sign up for every event. You don't need to cook every night.
For everyone, the boundaries will be different and they can change. Just know that it IS okay to say no and it is okay to set boundaries so that you and your family can avoid burnout. Otherwise, you will be too drained to truly enjoy or participate in anything and miss out on what's important.
9. Get a support system
When I heard my first baby, I heard the phrase "it takes a village" a lot. I really didn't understand what that meant at first but as my kids got older it became more and more obvious.
Moms are often doing more than just taking care of their kids and themselves. They may be working to support their family and caretaking elders too. This is a lot of work and can lead to mom burnout or mommy guilt, especially if it feels like we're not doing our best for anyone else. When you're spread thin, it's all too easy to feel like you're failing at everything.
A support system is so important – whether it's your partner, other family members, friends, neighbors or professional help. Imagine being able to reach out to a neighbor or family member when an emergency arises or when you accidentally end up double-booked. That's a lifesaver!
10. Dance like no one's watching
Okay, let's mix this list up a bit. Here's a fun way to avoid burnout. Dance it out!
Turn up the radio or tell your Alexa to play some dance music, put the volume on high, and dance like no one's watching! Either alone or with the kids! What kid doesn't love a dance party?
You'll be amazed by how freeing dancing for no good reason can be and it goes a long way towards helping you feel better when you feel overwhelmed. It's 60 seconds very well spent and who doesn't have 60 seconds to spare?
11. Schedule breaks and take time for yourself
On that note, it's important to include breaks in your schedule. When you're planning your day, block off some time to relax whether that's to read a book, go for a walk, or call a friend.
I'm sure that I don't have to tell you how stress makes everything more difficult. Stress takes a lot of energy and it can be hard to focus on anything else. We also know that stress and anxiety can hinder creativity and make us less effective in the long run, both at work and at home. This is because it takes up so much mental capacity to deal with those emotions.
That's why scheduling breaks is so key! It will reduce stress, help prevent burnout, and actually make you better at everything else you do in the long run!
12. Let your kids entertain themselves
Young kids often want to be a part of everything that their parents are doing. It can be difficult to say no or let them do things on their own, especially when they're not very good at it.
It's important to remember though that they'll learn more from our example than they will from our instruction. They need time to play and explore on their own so that they develop the skills and confidence they need to grow up.
In my experience, letting them have this time is one of the best ways I've found to avoid mom burnout – because my son needs a chance to just play and I need a break!
13. Dress up or put on makeup
This may not be the case for everyone but I really do think that there's something special about dressing up or putting makeup on. At the end of the day, I'm not sure it has anything to do with how I look, as much as that I spent a few minutes on myself which helps me feel a little extra special.
And that feeling often lasts all day!
Give it a shot! This extra boost in confidence could inspire and motivate you which can help you avoid burnout.
14. Get some fresh air
Some moms may not have the opportunity to get outside as much as they'd like. Whether it's because of their job, mental health, or family obligations.
If you're one of those people, I want to tell you how important getting outside for a few minutes every day is! Studies show that getting fresh air and sunlight can lower stress levels and improve moods.
This doesn't need to be more than 10-15 minutes every day but it's enough time to make you feel better and give your mind and body a break from the grind.
15. Avoid negativity
I like to think of burnout as a little like having the flu. The more stress I experience and the less I take care of, the worse it becomes. Negativity eats away at me inside and that stress manifests itself in ways that make my life harder.
If there's something in your life that only brings negativity into your life, don't let it in! That negativity will only cause burnout to worsen even more so. Do your best to stay positive to keep burnout at bay!
16. Change your routine
This may sound counterintuitive but changing up your routine can go a long way towards helping your mental health and avoiding burnout. Change may sound stressful but it's good for you! Interestingly, studies show that burnout decreases after we change our routines.
When you feel overwhelmed and like you may become burned out, it can be helpful to take a fresh look at your routine, commitments, and schedule. What small changes can you make that will have a big impact? Or maybe it's as simple as taking a different route on the way to do errands?
Look for ways that you can change your routine that will improve your day and be easy to implement.
17. Give your kids a bath
This may sound like an odd way to help with mommy burnout but hear me out. A great way to get a few minutes of peace is to bath your kids. The reason is simple… When your kids take a bath they are contained and having fun, and you get to sit and breathe while you keep an eye on them to make sure they are safe.
Generally, there's no crying or screaming, they aren't running around and making a mess, etc. They are usually playing or laughing. It can be a great break for both of you!
By the time bathtime is over, they are usually tired and ready for bed too! A double-win!
18. Get organized and become more minimalist
Becoming more organized and being a minimalist could help you avoid mom burnout. Think of it this way – if your home is more organized and you have less stuff, your home will be less messy, it will be easier to stay clean, and you'll spend less time living in a cluttered space. All of this goes a long way to helping reduce stress and burnout.
19. Have a date night
Date nights are probably seen as more of a romantic thing but they can also be really beneficial for your marriage and reducing your mom burnout. The reason is simple – when you go on a date night, you get to spend time nurturing your relationship with your spouse which is really important to your mental health and well-being. It also makes you a better team which may help your household run more smoothly! Date night doesn't need to be anything too crazy or expensive. Just an at-home movie night can go a long way!
Read my 40+ Indoor Date Night ideas post!
20. Treat yourself
Treating yourself can be good for your mental health and help you avoid mom burnout. This is because when you treat yourself, you feel better and happier. It gives you positive things to look back on and look forward to.
There are so many ways to treat yourself without spending too much money.
One way is to schedule a little time for yourself every day. Find 10 minutes in the morning (when you're getting ready for work), 10 minutes at lunch (here's where you can enjoy that sandwich or salad), and then 10 minutes before bed (try reading, taking a bath, stretching, anything really). This way you feel like you're taking care of your mental health on your terms.
You may also want to explore what else might make you feel good – whether it's taking up an art hobby or joining a book club. If it makes you happy, go for it!
21. Give the kids chores
Chores are not only good for teaching your children valuable life skills, they can also be a great way to help you avoid mom burnout!
Kids may make different types of messes or get into different types of trouble, but they also have the potential to create order too. Their toys may all end up in one bin while their shoes are sorted according to what goes on which foot (instead of scattered all over the entryway). Ask them an hour before bedtime to pick up their room and then reward them when they finish.
It's important to give kids the right chores for their age and it can take a little work to get the routine started, but once your kids start doing chores, you'll see a huge improvement in their behavior and development.
You'll also have a few extra minutes on your hands because you will have outsourced age-appropriate tasks to your kids. This will help you avoid burnout, and your kids will become more responsible!
22. Get some sleep
One thing that I found helpful for avoiding mom burnout is getting enough sleep. I put this last because it's one of the hardest things for me to do. Especially when you have a baby or young kids!
Have you ever heard of revenge procrastination? It's when people put off going to bed to get a few minutes to do what they want – usually, mindlessly scroll social media in my experience!
It happens because sometimes our day is so hectic and we're at the mercy of so many outside factors, that when we finally have some control (when it's time to go to bed), we instead decide to use it to relax.
Resist that urge!
I know it's hard and I usually fall prey to it, but resist the urge and go to sleep instead! When you're tired, you're so much more likely to struggle to keep up and burn out.
Final thoughts about how to avoid mom burnout
Many moms find themselves feeling like they're running on fumes and can't keep up with the demands of their family, work, and personal interests. The good news is that there are several ways to avoid mom burnout, many of which we've covered in this post! You don't need to do all of the above tips to avoid mom burnout, just some of them! Pick a few that you think you can start implementing today and maybe add on more in the future!
Don't forget to give Sunsama a shot, it's free to start!
Got more tips for avoiding mom burnout? Comment below and share!