Martha & Marley Spoon Review + Coupon: Read this before you order!
Post may include affiliate links. We may earn a fee if you use them at no cost to you. Disclosure.
Considering signing up for a meal kit subscription? Read this Martha and Marley Spoon Review before you place your order!
Bored with your daily routine? Want to try something different but are too busy to plan it all out? Do you have kids who are always hungry and impatient when they get home from school? You might want to sign up for a meal kit subscription service.
Meal kits, also called "meal subscriptions" or "recipe boxes," can be delivered monthly, weekly, or even just once every few months. They're perfect for the person who's looking for variety in their diet without all the planning, coordinating and shopping that goes into cooking whole meals on their own. Plus, because these services come with pre-selected recipes and ingredients each month (or week), you never have to worry about forgetting an ingredient at the store again! Meal kits or buying a whole container of something you might only use once!
I have tried many meal subscriptions since they became popular! Marley Spoon recently reached out to ask me if I'd test and review their subscription and of course I said yes! I'm always excited to try a new one out!
If you're considering signing up for a meal subscription or want to know more about Martha and Marley Spoon, then make sure to read this post! In this Marley Spoon Review, I'm going to answer all your questions so you can decide if it's right for you! Not every subscription kit, no matter how delicious the meals might be or how cheap or expensive it is, is right for everyone. There are so many factors to consider so let's dive into it and you can be the judge!
Quick Links to Information in this Post
What is Martha & Marley Spoon?
Tired of cooking?
I know you're busy – so am I! Most of the time dinner rolls around and I wonder where the day went! That's one of the many reasons I'm personally a fan of meal kit subscription boxes.
Marley Spoon, also known as "Martha & Marley Spoon" is a meal kit delivery service that brings fresh, pre-measured ingredients and recipes straight to your doorstep. They offer the convenience of having everything you need for a complete meal sent right to your house without the hassle of running errands, standing in line at the grocery store, or reading dozens of recipes just to figure out what to make!
All the recipes come straight from Martha Stewart so you know they're going to be amazing. PLus they are shockingly simple and family-friendly so you can spend less time coordinating and planning. Plus, the meals are designed to be quick and easy to make – they all take just six steps or less!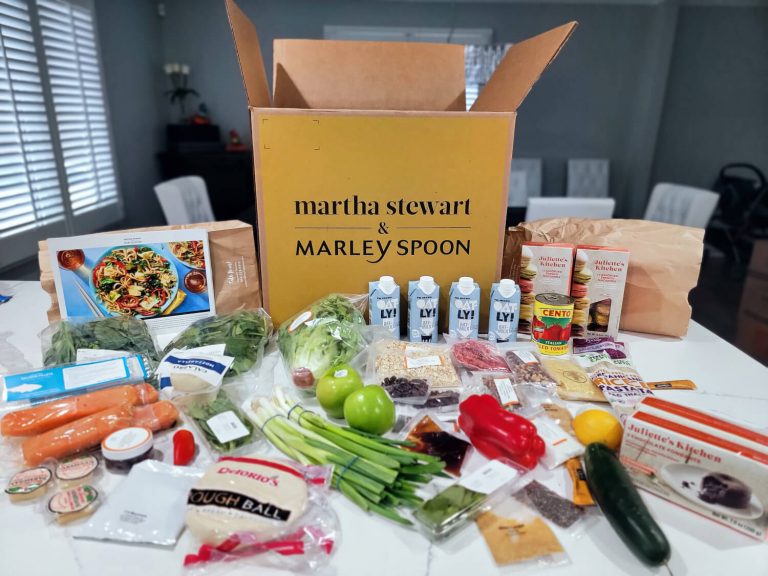 You don't need any special skills or fancy equipment to whip up a gourmet meal from scratch using Marley Spoon. Just follow the step-by-step recipe cards and get dinner on the table quickly! No matter what kind of foodie you are – vegetarian, paleo, gluten-free, vegan – there are going to be delicious options for you!
Click here to Sign up for Martha and Marley Spoon!
I'll get into all the details in just a minute but in case you're short on time – I think Marley Spoon is one of the better meal kit subscription boxes and I will use it again!
Here are a few key features that are great before I dive into the details:
You choose from 40 meals a week
The meal options change weekly to keep it exciting!
It's easy to skip or change deliveries
Recipes take just 6 steps so they are easy for beginners!
The quality of the ingredients is the best I've seen yet!
Recipe cards are vERY clear – better than all the other subscription boxes I've tried
Boxes have the least excess packaging – great for the environment, my overflowing garbage and recycling bin, and less hassle!
LOTS of options for different diets – I loved the vegetarian selection!
In a rush? Click here to sign up for Marley Spoon and give it a try!
How Marley Spoon Works: Step by step signup and selection
Marley Spoon has the best sign-up process I've come across yet! As I went through the process to prepare this Marley Spoon review, I wanted to be sure that the site and ordering process was smooth, the selection great, and the recipes easy and delicious! Needless to say, I was very impressed by the Marley Spoon sign-up process and algorithm? What do I mean by that? You'll see!
Step 1: Create an account
Just click the "choose your meal kit" button
Step 2: Select the size of your box
Now choose between a 2 or 4 person box! If you have kids, you may be able to split each portion because the portion sizes are generous! The 4 person portion was plenty of food for our family of 5.
Step 3: Enter your zip code and email address
We are about to get to the fun stuff but first, you'll need to confirm that Marley Spoon can deliver to your zip code!
Step 4: Pick the types of protein you want!
Now you get to decide what kinds of protein you like to eat! You may like everything and can check the "I'll eat anything" box if you do! But… if you have specific preferences, dietary or religious restrictions, you can pick those here! But that's not all…
Step 5: Pick detailed recipe preferences!
I love this screen! It's so great that you can get this specific and it really helps Marley Spoon automatically pick great meals and recipes for you!
Want a quick meal? Sure!
Want to try recipes that are super adventurous? Okay!
On a diet and want light meals? No problem!
Have kids and want mild meals? You can pick that too!
It gets even better though…
Step 6: Rate recipe options!
This is where Marley Spoon really works its magic! During this step, you'll see a few recipe options and give feedback on them. Based on how you respond to these, Marley Spoon will have a really good picture of what you like and don't like! They then use all the info you provided during this and the last few steps to recommend recipes to you each week!
Step 7: Review Martha and Marley Spoon's Recommendations
Now Marley Spoon's algorithm analyzes all your inputs and maps them against the recipes available during the next shipment. It then makes a recommendation that you can review.
How did they do?
If you don't do anything manually, they will do this weekly and pick recipes for you based on your inputs. You don't need to do a thing! You'll just get a surprise box each week!
If you don't like the choices, don't worry! You can manually make changes. After you try the recipes you get, you can log in, provide feedback, and help fine-tune the algorithm further until all of Marley Spoon's recommendations are 100% on point!
In my case, they were right on point!
Marley Spoon's Meal Plans
Now that you know how Martha Steward and Marley Spoon works, let's talk a bit more about their meal plans!
All the recipes offered can be made in 6 steps or less and are really easy to make.
You're able to filter options based on 5 categories: Health & Diet, Vegetarian & Vegan, Meat & Fish, Under 30 Minutes, and Family-Friendly!
If you choose to select your recipes manually, you will see 40 new recipes each week and it looks like this:
For example, the Sweet and Sticky Salmon clearly shows that it is spicy, has no added gluten, takes under 30 minutes to make, contains fish, and is dairy-free! All on the menu page! This makes it really quick and easy to check if recipes are a good fit for you!
If you click through to the recipe itself, you could see that the difficulty level is "Easy", see the nutritional info, and also see if you'll need any additional equipment or ingredients. For example – salt, pepper, and oil are sometimes required.
Some other details shown on the main menu page include:
No added gluten
One pot meal
Spice optional
Kid friendly
Festive
Healthy
Nutritious
No Added Gluten
If you want, you can filter too. So for example, if you have young kids like me and want family-friendly recipes, this is what you might see – these are all great!
I love their meal variety from Marley Spoon too! We eat mostly vegetarian or fish meals and most meal kit subscriptions I've tried, have been extremely limited. We often couldn't even find two or three meals that we'd like. That wasn't the case at all with Marley Spoon! In fact, it was hard for us to choose from all the options!
So if you're picky or have dietary restrictions, I highly recommend giving Marley Spoon a shot!
Check out the menu options next week!
Marley Spoon's Ingredients and Quality
I have tried many meal kit subscription boxes over the years – maybe all of them – and one of my pet peeves has always been ingredient quality. There have been times when I got a box from another brand and had to make substitutions because the ingredients were terrible.
When I got my box from Marley Spoon, I was extremely impressed. All the fruits and veggies were extremely high quality – maybe even restaurant quality. Anything that was branded, was also from really great brands – nothing seemed "generic". Some ingredients were also organic which I appreciate!
For example, the greens I got were all still very crisp as if they were fresh from the garden or farm. The apples were perfect and didn't have a single bruise or mark!
I garden and know that fruits and veggies aren't always perfect and that's okay. That said, when I'm paying for a subscription box, I want to know that everything is fresh and was well handled. Marley Spoon does a great job of picking their ingredients!
Marley Spoon's Delivery & Packaging
That brings me to packaging! They also do a really great job of packing all the product so that it arrives fresh and bruise-free! How did they manage to pack a can of tomatoes along with apples and not bruise the apples!
All without using excess packaging too?
It's a mystery but I'm impressed!
About excess packaging … Some of the subscription boxes that I've tried in the past used a TON of packaging. In fact, it's one of the reasons that I've canceled my subscription to other brands. Disposing of the packaging got to be out of hand and it seemed so wasteful!
While there is always room for improvement, I thought that Marley Spoon did a really great job of limiting their packaging. For example, rather than separating the ingredients for each recipe into its own bag, they put all the ingredients together.
This did mean that I had to sort when they arrived but there was also a huge benefit!
Pros
No big bags of ingredients to stuff in the fridge (I never have enough room for them!)
Less waste
Don't need to search each bag individually for things that don't belong int he fridge
Cons
Had to find individual ingredients needed for each recipe when making the recipe vs. pulling out one bag
All in all, I think this is still a net positive and I much prefer having all the ingredients together than in individual bags.
Marley Spoon Recipe Cards
On the surface, the Marley Spoon recipe cards look very similar to the recipe cards I've gotten from competitors in the past. That said, they are MUCH easier to follow. Unlike some of their competitors that cram a lot of little steps into each step making it hard to follow, these recipe cards are super clear and concise.
I wouldn't call myself a beginner cook but I have been very confused with the recipe cards that come from other brands. These we easy enough to skim and follow – and also easy enough for beginners!
But… just in case, the recipe cards include something really special! A cooking hotline number! How cool is that?! If you need any advice or help while you're cooking, you can call the number at the bottom of every recipe card for help!
The recipe cards are also different depending on whether you have the 2 person meal kit or the 4 person. I really appreciate that because I've used other meal kits before that didn't do that. They sent you the same card whether it was a 2 or 4 person meal and you had to double the recipe while you cook which can get confusing when you're distracted by kids doing homework right next to you!
Marley Spoon Nutrition
I really like that Marley Spoon clearly highlights health and nutritional characteristics on their site. On the menu page, for example, you can clearly see if a recipe is:
Low calorie
Dairy free
No added gluten
Healthy
Low carb
Nutritious
And there are lots of menu options that fit each of these criteria too so you won't get stuck picking JUST based on these criteria!
If you ever want to see the exact nutritional details like calories, fat, carbs, etc, Marley Spoon makes it super easy! You can find it right on their website AND on the recipe cards!
Lastly, and this may just be based on the recipes I've tried so far, but overall I think that the recipes from Marley Spoon have been healthier than those I've tried from other subscription services! (And better tasting too!)
Marley Spoon and Diets
Based on all the details shared directly on their menu page, it's pretty clear that Marley Spoon is a great option if you are:
Vegetarian
Vegan
Low Carb
Low calorie
Dairy-Free
Allergic to shellfish
Don't eat pork
and many other diets!
When you click through any menu item, you can look over their allergen section on the right-hand side if you have lots of allergies and need to be extra careful!
For example, one recipe highlights the following in the allergen section:
"Fish, Soy, and Sesame. May contain traces of other allergens. Packaged in a facility that packages gluten-containing products."
You can also click on the Ingredient Hub (link is just below allergens) for even MORE details about all the ingredients in the recipe.
Whether you're on a diet, have picky eaters in the house, or have allergies, Marley Spoon does a really great job of making the details you need easy to access! With 40 options to pick from each week, there are also great options to pick from for every diet!
How much does Martha & Marley Spoon cost?
I'm sure by now you're thinking "that's great and all, but how much does it cost?" right?
I'm happy to say that their pricing is really competitive and a great value is given what you're getting!
Here is what Marley Spoon costs per portion when you order on the 4 person plan and a comparison against some of its competitors:
| Number of Meals | Marley Spoon | HelloFresh | Sunbasket | Blue Apron |
| --- | --- | --- | --- | --- |
| 2 | $9.99 | $9.49 | $12.49 | $8.99 |
| 3 | $9.49 | $8.49 | $11.49 | $7.99 |
| 4 | $8.99 | $7.99 | $11.49 | $7.49 |
| 5 | $8.99 | $7.99 | $11.49 | N/A |
| 7 | $8.49 | $7.99 | N/A | N/A |
| Shipping Cost Per Box | $8.99 | $9.99 | $7.99 | $9.99 |
As you can see, Marley Spoon is priced right in line with its competitors – so choosing which to go with likely won't come down to price. You will probably
Want to give Marley Spoon a try? Click this link and get $40 off automatically!
Marley Spoon Coupons
Since I had such a great experience with Marley Spoon and want you to have the chance to try it out too, I was able to get a $40 discount code for you!
Just click the button below and you'll get $40 off your first order automatically! No coupon code is needed!
How Is Martha & Marley Spoon Different: Meal Kit Comparisons
Martha & Marley Spoon differentiate themselves from other meal kit delivery subscriptions in a few ways.
First, they have a much wider variety of meal options. You can choose from 40 meals each week and multiple diet/nutritional options. You're not limited to a handful of recipes like you might be with some other services.
Second, their recipes are truly gourmet-level. Then again – what would you expect from Martha Stewart? Let me tell you – the meals didn't disappoint! Martha does it again!
Third, their ingredients are always of the highest quality. You're not going to find any cheap filler ingredients here – everything is top-notch!
And finally, Marley Spoon is extremely transparent when it comes to sustainability and eco-friendly. In fact, they have a full report on their site for anyone to read!
There are many more reasons why I ended up falling in love with the Marley Spoon service, but these are the ones that stood out the most!
"Better ingredients", "gourmet recipes" and "easier to make" are all things I'd say to describe Marley Spoon BUT they are hard to quantify and prove. So let's take a second to look at some objective facts. The table below shows a clear comparison of Marley Spoon and a few of its competitors – you'll see what I mean!
| Criteria | Martha & Marley Spoon | Sun Basket | Green Chef | Gobble | Blue Apron | HelloFresh |
| --- | --- | --- | --- | --- | --- | --- |
| Meal Kit Sizes | 2 and 4 | 2 and 4 | 2, 4, and 6 | 2 and 4 | 2 and 4 | 2 and 4 |
| Highest Price Per Portion | $11.99 | $14.49 | $12.99 | $12.99 | $9.99 | $11.99 |
| Lowest Price Per Portion | $8.49 | $11.49 | $11.49 | $12.99 | $7.49 | $7.99 |
| Shipping Cost | $8.99 | $7.99 | $9.99 | $7.99-$8.99 | $9.99 | $9.99 |
| Food Variety | 40 options per week! | 24+ weekly recipes | ~20 per week | ~14-16 | 19 | 33 |
| Diet Friendly | Vegetarian, Vegan, Low Carb, Low calorie, Dairy-Free, Allergic to shellfish, Don't eat pork etc. | Paleo, Vegetarian, Lean & Clean, Gluten-Free, Carb-Conscious, Mediterranean, Diabetes-Friendly, Pescatarian | Keto, Paleo, Plant-Based | Lean & Clean, Vegetarian | Vegetarian | Vegetarian, Pescatarian, Fit and Wholesome |
Marley Spoon Review – Marley Spoon is a great value compared to it's competitors AND has more variety and dietary options to pick from!
My personal experience trying out Marley Spoon
The best part of doing a Marley Spoon review is getting to eat the food! Here are the 3 meals I ordered from Martha Stewart and Marley Spoon and how they turned out…
Meal #1: Thai Drunken Noodles
The Thai Drunken Noodle recipe from Marley Spoon was absolutely delicious! The sauce was perfect – not too spicy, but with a great flavor. The noodles came out perfect and the mix of veggies (bell pepper and Chinese broccoli) was a great addition.
The recipe called for adding a cut-up omelet to the noodles for protein (since it was a vegetarian dish) and I was skeptical at first but love how it tasted!
Although we're a family of 5 and all LOVED this dish, we had some leftovers! The portions are very generous.
I would definitely order this meal again!
Meal #2: Greek Pan Roasted Salmon
I was really looking forward to trying the Greek Pan-Roasted Salmon with Scallion Orzo and Spinach Salad from Marley Spoon, and it did not disappoint! The salmon came out perfectly (and I'm very picky when it comes to cooking salmon), and the orzo was so flavorful with a great texture. The spinach salad was also delicious – I especially loved that it used pickled cucumbers as dressing.
I admit that when I was cooking it, I was a little skeptical that it would be enough food for all of us but it worked out. The fish was much more filling than it first seemed and the orzo was so good that we definitely had a good amount of it! This dish was a real winner!
Meal #3: Our Family Pick! Sheet Pan Margherita Pizza with Caesar Salad
The Margherita Pizza with Caesar salad recipe from Marley Spoon was a huge hit in my house! The pizza crust was perfect – not too crispy or chewy and the marinara sauce was fast and easy to make. The Caesar salad was also great! I loved the salad dressing recipe though I honestly wasn't sure about it at first! Even my kids complimented the dressing!
We make homemade pizza often so I can really appreciate a great pizza dough (they aren't easy to make!). If you're new to making pizza at home, preparing the crust can be daunting. Sometimes it's too sticky or won't stretch but the dough that Marley Spoon included was so easy to use!
I loved that they included whole pieces of parmesan with this recipe for the pizza and the salad. The cheese was really great quality and I actually enjoyed shredding it. I think it made the dish taste better overall. They could have just sent a little baggie of shredded cheese but I doubt it would have tasted as good!
I would absolutely get this again and likely make the salad dressing using the recipe card again soon!
Add-ons
Overnight Oats
These were delicious! We make overnight oats often but I get into a habit of making the same thing all the time. This was a really nice change. It came with walnuts, dried cherries, shredded coconut, flax seeds, chia seeds, freeze-dried strawberries, and apples plus oat milk and oats of course! This combination of mixings was so good!
French Macarons
I hid these from the family until it was time for dessert and OMG did they flip when they saw them! We got a box of perfectly intact macaroons and they were so good! I was honestly most worried that they'd arrive broken but nope!
Chocolate Lava Cakes
This was another item I kept as a surprise. My oldest son LOVES chocolate lava cakes and is a bit of a connoisseur! He loves to make them so he can be a bit picky and he loved these!
All in all – None of the recipes we got disappointed us in any way. They were all really amazing!
How easy are Marley Spoon meals to make?
Marley Spoon recipes were the easiest of all the meal kit subscription recipes I've tried over the years! When they say it's only 6 steps – they really mean it. They aren't combining 4 steps into 1 to get to the 6 steps number!
They also tell you upfront very clearly if you need any additional tools or ingredients (like oil, salt, pepper etc), so you can have everything ready to go before you start!
They also send you a different card based on whether you got the 2 person meal kit or 4 person meal kit! Other companies only make one card and then you have to double it yourself which can get confusing if you're cooking with kids around!
And… this could be the most important part for some … there is a cooking hotline number at the bottom of every recipe card! So if you do need help, it's there from 9 AM to 9 PM!
I've never seen that before!
Marley Spoon Review: The Pros and Cons of Marley Spoon
You can't have a Marley Spoon review without a pros and cons list, right? So here goes!
The Positives
The website is easy to navigate
The algorithm is really top notch and understands your preferences
If you're on a specific diet or has dietary preferences, it's easy to pick out the right meals – you can easily spot meals for dairy-free, gluten-free, low-carb, vegan, and vegetarian diets for example.
The recipes are delicious
There's less packaging
They use seasonal ingredients
You'll have less food waste and save money because everything is proportioned for that meal
Generous portion sizes
It's great way to learn to cook gourmet food
The Negatives
I wish shipping were free (it costs $8.99) but none of their competitors are free either
I wish they'd let you customize your protein. A few do this but most don't. Imagine being able to say "I want that chicken dish, but want fish instead of chicken". Maybe they will add this one day!
What people are saying…
So now you've read most of my Marley Spoon review and obviously, I love it! What are other people saying though?
Here are some example reviews from other customers I found online before placing my order:
"I have ordered from several meal kit services, but Marley Spoon is by far my favorite. The variety and quality of the food are excellent and it appeals to our adventurous palates. (A competitor serves white rice or potatoes with every meal, no thanks.) They are good about communicating regarding delivery or unanticipated ingredient changes. Best of all, I appreciate the sensible packaging and limited waste."
"Top notch meal prep instructions and delicious recipes with perfect seasonings."
"The food is delicious. I've tried two other meal kit services and, so far, I'd rank this one the best. My only issue is that it's also the most expensive." I don't think this person noticed that some are much more expensive!
"The quality of the food is very good and the portions are generous. The instructions are easy to follow. Everything is well packaged"
"nicely put together meal box. good looking and intuitive site/app. lots of variety in meals and treats to choose from each week. generally, on-time delivery and good customer service when it's not. easy to follow recipes, fresh ingredients and the meals turn out just as described."
Marley Spoon Review: Frequently Asked Questions
Is Martha Stewart the founder of Marley Spoon?
Nope! But when Marley Spoon decided to bring its meal kit service to the United States, they partnered with Martha Stewart! All the Marley Spoon meals are Martha Stewart recipes and I think that's a big reason that it tastes so great!
Is canceling Marley Spoon easy?
Yes! You can do it online within the website! Other companies will claim that you can easily cancel but then tell you that you need to call them to do it. Not Marley Spoon – You can cancel yourself if you want to within the website. Customer service is also great and you can chat with them live. They will help you if you have any issues.
Is Marley Spoon a rebrand of Dinnerly?
Dinnerly is owned by Marley Spoon – it's not the same thing or a rebrand.
Are there keto recipes?
Marley Spoon has lots of low-carb options and they make it really easy to spot on their menu. They do not have a "Keto" specific plan options though.
Are Marley Spoon meals healthy?
Yes! I spot-checked many of the Marley Spoon meals and most if not all seemed healthy! I am sure there will be the occasional outlier but they do a great job of designing meals that are well balanced. If anything, they give you extras of things like salad and veggies which I can't complain about! They do offer "low calorie" meals though if you're also very calorie-conscious. In general, though, Marley Spoon meals seemed to have a great macronutrient breakdown and were lower calorie than most of the other meal plan kits I've tried!
Does Marley Spoon deliver to my area?
Chances are that it does! Marley Spoon delivers to most of the contiguous US states and they ship from three centers! During the registration process (before you put your credit card info in), you'll be prompted to enter in your zip code so you can check if they deliver to your address!
How long can Marley Spoon stay outside?
Marley Spoon comes with dry ice to help keep everything cool on its way to you. I asked customer service and they said that in general, your box should be okay on your doorstep for a day. I wouldn't leave it out any longer than you have to though to make sure your fruits, veggies, and proteins stay as fresh as possible!
Where does Marley Spoon ship from?
Marley Spoon ships from three fulfillment centers – located in New Jersey, Texas, and California. This is great because it makes sure that your box will get o you as quickly as possible!
Why is it called Marley Spoon?
According to the Marley Spoon website, the founders of Marley Spoon named it after a restaurant they once went to. You can find the story here.
Is Marley Spoon organic?
While a few Marley Spoon ingredients I got were organic, not all were. It's a mix but probably mostly non-organic.
So, is Marley Spoon Worth It?
Absolutely! I found Marley Spoon to be very price competitive. I love the wide variety of options they have (even for families that eat vegetarian or pescetarian), and their amazing algorithm that seems to read my mind and know which recipes I'd want. I am super happy with it so far and can't wait to try the next few meals!
If you're following a strict Keto diet, only eat organic, or only eat Kosher or Halal, then Marley Spoon is probably not right for you at this time.
If, however, you're looking to make gourmet meals at home that won't break the bank (even if you're a beginner cook), want to spice things up and stop making the same 10 meals on repeat, or just want the convenience of delicious meals and ingredients showing up at your door hassle-free, Marley Spoon is for you!
Save and Share this to Pinterest