Best Stools For Your Kitchen Island If You Have A Family (Complete Guide)
Post may include affiliate links. We may earn a fee if you use them at no cost to you. Disclosure.
So you need a stool for your kitchen island, right? Well, you're in the right place! I did tons of research into all the stool options, the best types of stools for each use, and even tested a few out myself! I'm going to share it all with you so you can get the best stool at the best price for your kitchen island on the first try! No one likes to have to repackage and return this type of thing – if you keep reading, you won't have to!
When I renovated my kitchen recently, I knew that I wanted to add a kitchen island. I wanted to create an environment where I could prepare dinner while the kids did their homework near me at the island so that we could all be together. That meant that I had to prioritize picking out kitchen island stools that were very kid-friendly (my youngest was shy of 3 years old).
Kid-friendly kitchen island stools weren't easy to find! In this post, I'm going to share with you what I learned and which stools are my favorite! First I'll give you an overview of the different types of stools and then I'll share my favorite kitchen island stool picks for families with kids!
Quick Links to Information in this Post
Favorite Stools for Kitchen Islands (That are family-friendly)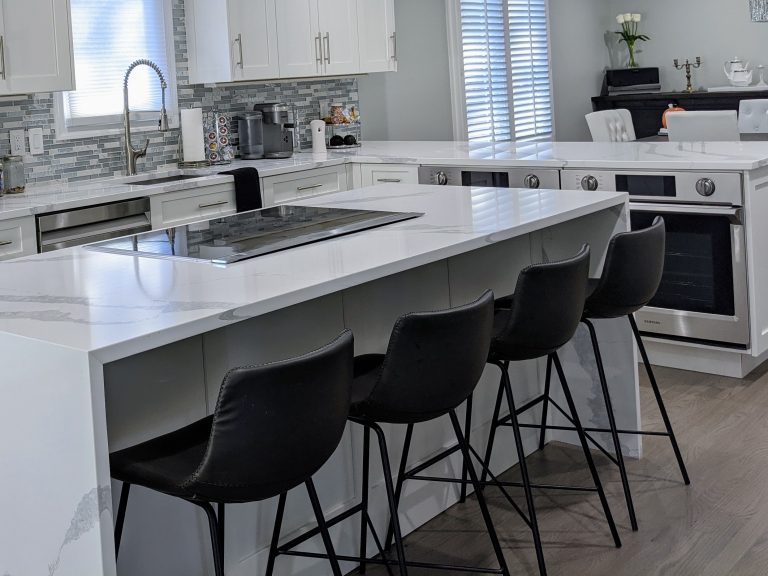 Before I get into all the details about how to pick your stools, what size you need and what the pros and cons are of all the features, I thought I'd first share my favorite stools with you!
Everyone who has come to my home and has seen these kitchen island stools loves them and I've even had people ask to buy mine from me!
I love these because they are made of faux leather which makes them incredibly durable and easy to clean, they have a mid back which makes them safer for my young kids (including my preschooler!) and they don't swivel or move up and down which makes them safer on little fingers and spinning!
Picking Stools for Kitchen Islands
When picking out bar stools for your kitchen island, there's a lot to consider: stools that swivel, stools made of sturdy materials, stools with backs or not, stools without arms, or pull-out stools, stools that are easily cleaned… the list goes on and on.
Fortunately for you, this guide will cover all of this from the perspective of buying kitchen stools for a family with kids (or grandkids!)
You're going to want to consider:
Dimensions and sizing
Features
Style
Kitchen Island Stool Sizing
Nearly every stool on the market has different dimensions. I didn't realize at first just how much that would impact my decision! Our kitchen island fits four stools only because we found stools that were narrow enough. For many stools, we would have only had room for 3!
Here are some general sizing guidelines to help you pick stools that'll fit in your kitchen island:
For a standard counter height kitchen island (about 36″ high), you want stools that are 24″-26″ high.
For a bar heigh island (about 42″ high), you want barstools that are 30″-32″ heigh. Essentially, you want your kitchen island stools to be roughly 10-12″ lower so there is space for your legs.
Additionally, you want about 22" or more of space per stool so there's enough room for people to get in and out and not bump elbows
To figure out how many stools you can fit and what dimensions you should pick, measure the height of your kitchen island and then subtract 10″ from the height to find out the kitchen island stool seat height you should aim for. Then measure the length of the seated area and divide by 22″ and that's roughly how many seats you can fit.
Since we're specifically looking for kitchen island stools that are kid-friendly, you can then adjust those numbers a bit. For example, we picked out extra narrow stools so we could fit in four stools knowing that we were only going to have little bodies sitting in those seats.
Kitchen Island Stool Features
Now it's time to consider the type of stool you want. First, think about the features. Here's a list of the most common stool types and the pros and cons of each when it comes to families with kids.
Types of Kitchen Island Stools
Simple metal stools
These stools may appear to be "one-piece" and are completely made out of metal. They can be especially great if you have a minimalist or industrial style in your home.
They are also incredibly easy to clean and durable.
The downside though is that they can be very uncomfortable. Especially for little knees and many young kids like to sit on their knees from time to time.
Because they can be uncomfortable to sit in and because they didn't fit with the design of our kitchen, we didn't go this route.
If you don't expect to spend a long time sitting in your stools at a time and/or your kids don't tend to sit on their knees, this could be a great option because of durability and how easy they are to clean.
If you're interested in this type, here are a few great options:
Swivel seat stools
Swivel stools are stools with a single or multi-seated swiveling base. These stools also usually have a padded seat. These stools tend to be the most popular and the kind you'll find in most homes because they can be stylish and make it easy for you to get in and out of your seat. Just swivel in or out.
Unfortunately, these stools aren't great for families with young kids. It's just way too much fun to spin the stool around in circles – because you can. As much fun as this might be, it's dangerous for kids so I don't recommend them if you have young kids or grandkids around.
If your kids are older though, and you're not worried about them spinning in circles while sitting at the kitchen island, then these could be a great option! These stools tend to be sturdier than most stools and they're usually very comfortable and easy to use.
If you're interested in this type of kitchen island stool, here are a few great options:
Mid and high back stools
These stools tend to be more comfortable than "one-piece" stools and swivel seat stools because the design of these stools is based on traditional dining chair styles. The mid and high-back stools look much classier than the stools above.
These stools are especially good for families with smaller kids because the stool's back helps keep kids from falling out of the chair (at an unusually high height).
Mid and high-back stools tend to be very comfortable since most are padded.
If you have young kids or grandkids, I highly recommend getting a kitchen island stool with a back. That's what we did and I'm so glad we did!
If you're interested in this type, here are a few great options:
Backless kitchen island stools
Backless stools are exactly what they sound like. These are kitchen island stools that have no back. These tend to be wider than some of the other types mentioned above so they aren't great if you have a small island.
Since these have no back, they are also much more dangerous for young kids because nothing is stopping them from falling off the stool.
While I love the way these look and how clean they are completely tucked into the island, these are not a great option for families with young kids or grandkids.
If you're interested in this type, here are a few great options:
Kitchen Stool Seat Materials
Now let's talk about the seat material! This is almost as important as the features above. If young kids are going to be sitting at these stools, the stools are inevitably going to get dirty and have shoes scraped against them. You're going to need something durable!
So here are the most common kitchen stool seat material options ranked from my favorite to least favorite!
First Choice: Leather / Faux Leather
This is my favorite seat material!
Leather stools tend to be a little more expensive than stools with other seat materials but it's worth the investment if you have kids! I also love faux leather stools because they can still look classy and chic, just like real leather stools, but for a fraction of the price.
Leather and Faux Leather seats work so well because they are extremely durable, comfortable, and easy to clean!
Here are a few great examples! Click any image to learn more.
Runner Up: Wood
Wood stools are nice, especially if you're into that rustic look.
They are extremely durable and will hold up to the wear and tear that kids dish out well. The one reason I don't list wood seats as my favorite is because they are less comfortable.
I should also point out that wood stool seats are going to be more delicate and can dent easily – especially if your kids love trains and tend to bang their trains on things. If you decide you like the wood look, consider getting a more rustic piece so that any dings will blend right in! (That's what we did with our dining room set!)
Somewhat neutral: Metal
If durability is your number one concern, then picking a kitchen island stool with metal seats is going to be a great option for you. Unfortunately these also tend to be the least comfortable. Sometimes kids can also find metal seats to be slippery and they may have trouble sitting on them.
Metal seats are still a great choice but I wouldn't recommend them if you plan to sit on them for long periods of time.
Least Favorite: Cloth
My last option is stools with cloth seats. For me, these stools are a definite NO!
These are going to stain and get dirty quickly. While they may look great at first, they will end up being a huge headache so I don't recommend using these if you have kids.
In conclusion…
If you're looking for stools that are family-friendly, I would recommend going with a stool that has a leather or faux leather seat, doesn't swivel, and has a mid or high back. Leather and faux leather materials are durable and easy to clean, making them the perfect option for kids! If you're not into the leather look, wood stools are also a great choice – just be aware that they may not be as comfortable as other options. Making sure that your stools don't spin and have a mid to high back is also key because they will be much safer for young kids.
Which of the stools I shared is your favorite? Did I miss any great options? Comment below or share this post with a friend!