13 Must Have Kitchen Features For Your Next Kitchen Renovation
Post may include affiliate links. We may earn a fee if you use them at no cost to you. Disclosure.
HERE IS WHAT EVERY KITCHEN NEEDS – READ THIS BEFORE DESIGNING YOUR NEXT KITCHEN. ESPECIALLY IF YOU HAVE KIDS!
Let's face it…the kitchen is an important part of the house. Who would have thought that out of all of the space in our homes, the kitchen would ultimately become the area to do almost everything that we need – besides sleep, of course!
My kitchen is a place to fill our bellies, slow down and have quality time, and bond together over cooking and eating. I've always wanted a spacious kitchen that would be calming and inviting.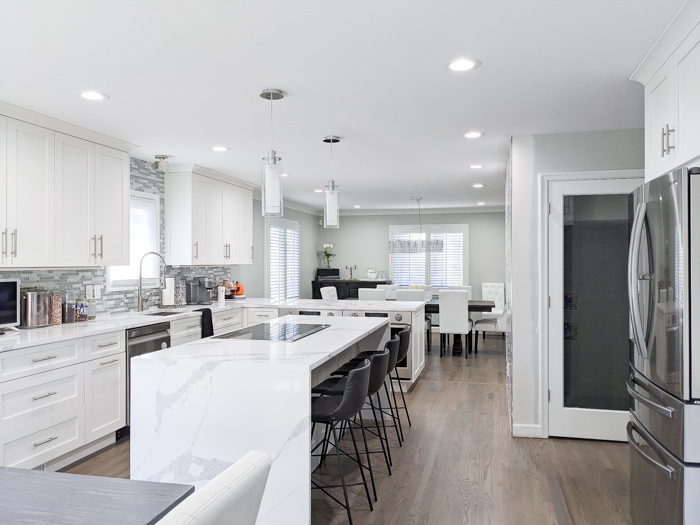 Since I spent a ton of time in the kitchen, I'm all about picking features that will make the kitchen more welcoming, inviting, and efficient! Even simple upgrades like painting kitchen cabinets or painting your countetops can be a great way to give your kitchen new life!
Sometimes you need something a bit more drastic though and a renovation is a must. In our case for example, we desperately needed to remove two walls and a drop down ceiling to achieve my goal – so although I loved my painted kitchen cabinets, we had to say good bye to them.
Once we started the design process for our new kitchen, I realized just how many decisions and details there were! Every time I thought that I had considered every angle, I uncovered something new to consider.
A big factor for us was the fact that we have 3 young kids. Sometimes I'd pick something out design-wise and then realize the next day that the kitchen feature I'd picked would be a nightmare with little kids! So this list is really helpful for you if you have kids!
Then there's that pesky little detail of COST. Wow! Kitchen stuff can get SO expensive! I like to look for good value but I also have a budget to stick to. So there are some areas where I really hunted for a deal and other areas where I splurged a bit so that I could get what I was looking for and stay within our budget.
In the list below, I'll share with you what every kitchen needs (based on my many many hours of research) to help you make decisions about your upcoming kitchen renovation!
BEST KITCHEN DESIGN FEATURES FOR YOUR NEXT KITCHEN
Best Kitchen Design Features For Your Next Kitchen
Check out this list of great kitchen upgrade ideas for your next kitchen remodel or DIY project! This list is especially helpful if you have young kids and are looking for a modern kitchen that can stand the test of time (and little hands).
Photo Credit: www.thespruce.com
Adding a waterfall edge to our island was a last minute change. I can't believe I didn't think of it sooner but honestly, I originally ruled it out because of cost.
In the end, we added a waterfall in the island just in time because we didn't want the kids to get bruised or poke an eye out on the corner of our island. We were going to have the edge of the island come out about a foot to create a bar top and looking back, that would have been such a hazard for little kids running around the kitchen!
It's absolutely gorgeous to look at too which is great and makes even a small island like our feel so much more substantial! I'm thrilled we got it and I highly recommend working this feature into your budget if you have young kids.
Photo Credit: rstyle.me
I love to organize and right from the beginning, I knew that I'd want a super organized kitchen. As in, everything would easily be within reach. I didn't want to have to move or push things out of the way to get to what I wanted. That's a recipe for disaster in a big family. If we were going to renovate the kitchen, I wanted to get it right.
Having organizers all over the place was going to be a must-have for sure. That said, this is a kitchen we will keep for a very long time if not forever. I knew that eventually I'd want to move things around. It's normal. So, rather than committing to built in organizers in our drawers, I opted for the Peg Board Inserts. They are so pretty, so functional, and great if you might need to change things up in the future.
Imagine that you replace your set of pots and no they don't fit in the built in organizers! Or you decide to swap your pots with your dishes - with the peg board drawer inserts, that's easy!
Since my kitchen is my calm space, I like to keep as much as possible off the counters. Can anyone truly be calm in a cluttered environment?
So, a docking drawer was key for us!
Imagine being able to charge a bunch of devices all at once but have them hidden in a ddrawer? That's what a docking drawer does!
We even added this functionalist to our junk drawer. The first half of the drawer holds our "junk" and the back half holds our devices while they charge. I love how it keeps the cables and devices out of site!
Photo Credit: rstyle.me
Okay... Maybe I was living under a rock but I did NOT realize how amazing these workstation sinks really are! Or that you could get them at an affordable price!
If you don't know what a workstation sink is, it's like a modular sink. It has accessories that fit into the sink perfectly to give it added functionality. But you only add what you need to it when you need it!
I got this one from Glacier Bay (a Home Depot brand) and it was the deal of the century!
This workstation sink came with the faucet, a draining bin, a cutting board, a drying rack, a towel and the rack for the bottom of the sink. Most people buy faucets that cost as much as the whole package did!
They have them in just about every style but I went with the under mount version.
I love being able to wash and drain my veggies in the draining bin and then cut them on the cutting board without getting my counters dirty!
Then if I have any wet dishes, I can lay them right on the drying rack inside the sink so that they don't get the counters wet!
The whole thing is so convenient and helps keep my messes contained and my kitchen clean!
It's an amazing value!
TIP: When it comes to your sink, don't get anything other than the faucet built into the countertop! It sounds great to have it build in and looks pretty for a while, but then you notice how hard it is to keep the area around you faucet, soap dispenser, hot water tap etc clean! Water pools in that area no matter how careful you are and you're just asking for stains and build up! And definitely don't get the push button garbage disposal inside the counter top - can you imagine what a mess that would be! ?
Photo Credit: rstyle.me
I had never cooked with induction before but I was set on getting this Induction cooktop. Why? Well, it cooks quicker which is great for busy moms and I feel like it's safe because kids cannot burn their hands on the cooktop itself (note: they could still burn themselves on the pots...).
It's also less of a fire hazard and I don't have to worry as much about something catching fire. Read this post to see what I mean!
It also gives you more workspace when not in use. Who couldn't use more counter space?
Some people complain that it shuts off easily but I don't have that issue at all. Some complain that it's hard to adjust the level but I see this as a safety feature for kids. There's a magnetic dial you can add when you're using it and it's like a "key" for adults. I love safety features like this that help keep my cooktop safe around the kids!
Photo Credit: www.homedit.com
As a mom of 3 kids, I knew for sure that I'd want my cooktop in my island. While some people really dislike this, I had very specific reasons for wanting this.
First, I had a vision of my 3 kids doing their homework at the kitchen island while i cooked dinner. I wanted to be able to face them and help them with homework while cooking.
Second, since the kitchen is such a central place for our family, I didn't wan tto have my back to everyone while cooking. Having the cooktop in the island helps =you prepare food and cook while facing your family which gives you more bonding time and lets you more easily help them with things like homework at the same time.
I used to hate having to crouch down on the floor to search for something in the back of a cabinet. I'm still young but that hurts my back! I can't imagine how it would feel when I'm in my 40s or older!
That's why I decided that everything under the countertop would be drawers! This way I wouldn't have to practically sit on the floor to find something! It also makes sure that nothing gets lost at the back of the cabinet. You can pull the drawer out and see everything!
So much better as you get older!
The one place that I couldn't do this was the kitchen sink. You can't put drawers under a kitchen sink! So for that I used a pull out sliding organizer like this one so that I could still easily get to everything!
If you're like me, you have a ton of spices! Like, too many. I knew I didn't want to take up too much precious cabinet space with my spices so I got these door mounted spices! I put my most used spices in these and my lesser used ones on the bottom shelf of the cabinet. That way I know exactly where to grab things when I need them and I make amazing use of the space! I highly recommend getting these!
Tip: Categorize what you put in the door racks! For example, one spot is for baking, another for soups, another for salts, etc. This way I know where to look and it's less spread out than if I alphabetized them!
Tip: On that note! You SHOULD alphabetize the rest of your spices to make them easier to find!
I love using lazy susans in tight spots! They are amazing for bottles of oil, medicine bottles or anything else really!
They are especially amazing when you have a corner spot and you need to store a lot there. Normally you'd jam everything into that space and then have to move everything around as you look for the item you need. Who has time for that!
With a lazy susan, you can just put your stuff on the turn table and turn it to get to what you need without moving anything around! It's faster, more efficient, looks great, and you don't risk knocking any bottles on the ground!
I use them in cabinets and even in my fridge! I think I've got 6 of these lazy susans of them in my kitchen right now!
Tip out drawer under the sink - lets you hide your sponges and other cleaning items. Just clean it ever so often. Can be unscrewed and put in the dishwasher! Again - I LOVE not having these on the counter!
Photo Credit: www.polyandbark.com
These gorgeous and sturdy (nonturning) mid-back stools are safer for kids because they don't spin and the mid back is plenty high for them. These are SUPER sturdy and are great for kids to climb on without the worry of them tipping. I also love how tough the vegan leather is, too! They literally can withstand anything that my kids do to them AND they clean like a dream!
This isn't a kitchen feature but a must for anyone with kids because it brings kids to counter height safely! I love being able to cook with my kids and it was always a challenge when they were tiny. Often I'd have to bring the bowl to them because there was no safe way for them to comfortably reach the countertop!
Thanks to the kitchen helper, they are able to safely reach the countertop and the tower-like design makes sure that they stay secure and safe while they help out!
I hope you find this list helpful as you decide which of these must have kitchen features are a fit for your new kitchen!
Be certain to check out my tips on How To Keep Your House Clean With Kids as well.
More Home Ideas to Try