How to make an ice cream pie – the perfect fundae dessert!
Post may include affiliate links. We may earn a fee if you use them at no cost to you. Disclosure.
This post is sponsored by NABISCO, but all opinions are my own.

THIS ICE CREAM PIE IS THE PERFECT SUMMER TREAT! QUICK, EASY, AND DELICIOUS! THE STAR OF THE SHOW IS CHIPS AHOY! HERSHEY'S COOKIES WHICH TAKES RECIPE OVER THE TOP!
I've never hidden the fact that I have quite the sweet tooth. When there are cookies and ice cream within a room, it's just so hard to resist!That's probably why I started making Ice Cream pies years ago! That's why when the new Chips Ahoy! Hershey's flavors came out, I wanted to create a new Fundae recipe! What a perfect chance to come up with a new version to share with you!
That's when this Cookie Ice Cream Pie recipe was born! Can't you just imagine it now… A cookie pie crust, filled with ice cream, and topped with more cookies, chocolate sauce and whipped cream? It's impossible to resist!
It's like a sundae and ice cream cookie sandwich in one… Yum!
If you're looking for a super fast and super amazing dessert, this easy ice cream pie is EXACTLY what your summer snacking plans need!
The great part about this easy dessert is that it was crazy fast to make. There's also no real "baking" and it's very kid-cook friendly!
ICE CREAM PIE FUNDAE INGREDIENTS
I mentioned this recipe was easy, right? I was able to grab everything I needed right at Walmart in just one easy trip. The fewer ingredients, the faster I can get home to create.
Chips Ahoy! Hershey's flavor cookies (I used 2 packs of different flavors but only used about half of each pack)
Chocolate syrup
Butter
Ice cream (your flavor choice)
Whipped cream/Cherries (optional)
DON'T MISS OUT ON THIS ICE CREAM PIE RECIPE!
Yield:

1
How to make an ice cream pie - the perfect fundae dessert!
Additional Time:
40 minutes
This ice cream pie recipe is so simple and easy to do!
Ingredients
1 pint of ice cream
4 tbsp butter
4 Tbsp Hersheys chocolate syrup
6 Tbsp whipped cream
Instructions
Crush about 10 cookies any way you prefer. You can use just about anything to crush them. I like to put them in a plastic sandwich bag to keep the mess contained and it works great!
Melt about 4 TBSP of butter and add it to your crushed cookies. Mix.
Press your cookie crumb and butter mixture into a pie pan. Then pop this into your refrigerator to set.
While it's setting, take a pint of ice cream out of the freezer. I like to use vanilla ice cream but chocolate would be delicious too! You want it to soften but not melt. Once it's ready, just spread the ice cream onto the crust.
Cover it with cookies - you can use the same cookies as you used for the crust or use a different flavor. I opted for a different flavor!
And finally... add some chocolate syrup, some whipped cream and/or anything else you'd like! Now put it back in the freezer to harden and enjoy once it's ready!
FREQUENTLY ASKED QUESTIONS ABOUT ICE CREAM PIE
What type of ice cream pairs best with Chips Ahoy! Hershey's flavor cookies?
This is why it's so great. Any type of ice cream will work. You can never go wrong with classic vanilla, but don't forget about the flavor and power of chocolate, strawberry, and even cookies and cream!
You can also make up this simple fundae dessert again and again and make it taste different every single time just by changing up the flavor of ice cream. It's literally just that simple to do.
How long does the crust have to set in the fridge to firm up?
You can be flexible with this as well. I wasn't very patient at all because I wanted to eat it as fast as I could. You're really just getting it to a cooling status so that it isn't warm from the melted butter.
If you make it 10 minutes, great. But the longer that you let it chill, the better that it will likely stick together once you add in the ice cream.
What fun toppings can you add to ice cream pie?
Literally anything that you want! I like to add a variety but some simple topping ideas could be:
Whipped cream and cherries
Chopped nuts
MORE crumbled Chips Ahoy! Hershey's flavor cookies
MORE chocolate Syrup
Sprinkles
VARIATIONS FOR THIS EASY ICE CREAM PIE
Since Chips Ahoy! has released a ton of new Hershey's flavored cookies, you can literally make a fun and delicious pie that takes on all of those options.
Grab a new flavor of cookies and have fun making your pie taste unique!
Now that you know how simple it can be to use Chips Ahoy! cookies to make this EPIC dessert, it's time to get started!
I hope you love this recipe as much as we do!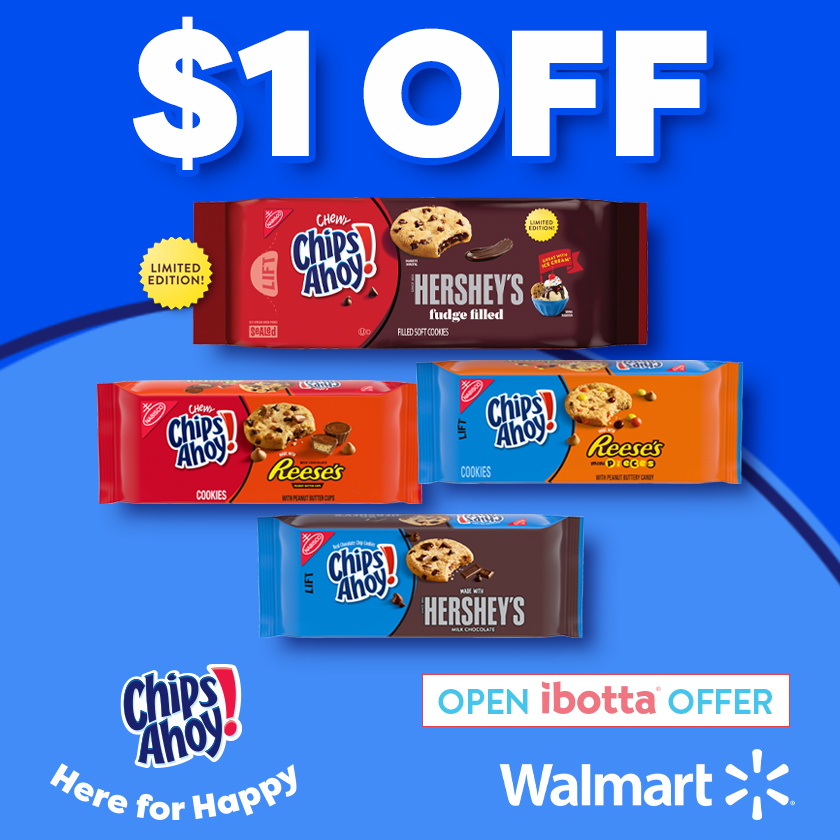 MORE EASY DESSERT RECIPES
Pin this recipe to pinterest for later!