EASY Marbled Sugar Cookies RECIPE (With video) for Valentine's Day
Post may include affiliate links. We may earn a fee if you use them at no cost to you. Disclosure.
While the cookies are delicious, it's important to note that the icing for these Valentine's Day sugar cookies is what really steals the show. I'm not joking at all when I say that this is the best icing for sugar cookies! (I'll never turn it down!)
On top of that, they are GORGEOUS! I mean look at the marble design! The best part about this recipe and method, is just how easy it is to do! You'll be surprised and delighted when you see how fun and easy this is to do – even your kids can do it! They make great gifts or are great to serve at a party because of how impressive they look!
What's more – do we need another reason? – These cookies are so easy to adapt to other occasions! Want to make marbled Christmas cookies? Just change up the colors – use green! How about iced sugar cookies for Easter? Use blue, green, and yellow!
If you're a cookie hound like me, be certain to check out our 4-Ingredient Peanut Butter Cookies as well because, in my opinion, you can never have too many cookie recipes in your life.
I've been making these marbled sugar cookies for YEARS and they're a hit every time I frost them and share them with family and friends. This is why I knew that it was too cute of an icing recipe for sugar cookies to keep to myself.
I can't wait to hear what you think about these marble frosted sugar cookies because I think they're about to be a game-changer in your house!
Quick Links to Information in this Post
Marbled Sugar Cookie Ingredients:
Since I'm obsessed with the way this sugar cookie frosting tastes and looks, this is going to be my main focus for this post. You just need some premade sugar cookie dough (or your favorite homemade sugar cookie recipe) to get started. The icing is really where the "wow" factor comes in!
Here are the ingredients you need:
Powdered sugar
Milk/Cream
Lemon Extract, Vanilla Extract, or Almond Extract
Salt
Red and or Pink Food Dye (I used a plant-based food dye!)
Optional: Light corn syrup
Cookie Dough
The cookie dough is obviously key but for this post I'm going to stick to just talking about the icing! There are tons of great sugar cookie recipes out there and I've got my own that I love, but I'll share that another day. In the meantime, you can definitely use premade cookie dough like the one linked above. When I'm in a rush, I'll use this one and it works well too!
Powdered Sugar
This is key to the recipe of course! You won't want to substitute granulated sugar (if you're tempted to try that). You definitely want to stick to powdered sugar when making sugar cookie icing. Sometimes it's called "Confectioner's Sugar". They are the same thing.
Milk or Cream
Milk or heavy cream work great! I've tried other liquids and the taste and texture is never as good.
Extract
The extract you use will have a huge impact on the taste. You can omit this if you run out but I don't recommend it as it just won't taste as good. I will admit that I have forgotten o include it on occasion and the cookies despair just as quickly – but I can instantly tell the difference. The main types I recommend are Vanilla, Lemon, and Almond though any flavored extract will work! Just note that if you use Vanilla (or any other extract that isn't completely clear) it will effect the color of your icing. Vanilla will have a yellow/brown color. Almond and Lemon tend to be mostly clear.
Food Dye
There is a lot of controversy around food dyes and whether they are safe. I was so excited to learn that you can now buy plant based food dyes! This is my favorite one but I am sure that there are many others!
Will this icing recipe harden?
Absolutely. This is what makes it so good! As the icing cools and starts to set, it's going to become glossy and harden up to make a crispy topping on your cookies. This is especially great because it will last and you'll be able to stack your cookies or store them in a jar (if they last long enough!)
What makes this sugar cookie icing glossy?
This recipe makes an icing that's got a bit of sheen to it – think "eggshell" paint! If you want that glossy shine on your cookies, you need to add in the corn syrup (optional) when the recipe calls for it. So, if you don't use corn syrup, you definitely don't NEED to include it but I think it's a nice treat and effect.
How to make sugar cookie icing matte?
Not digging the shiny frosting option? No worries! You can easily make this icing have a matte look by adding in a teaspoon of vodka! You won't be able to taste or notice it at all but the icing will become perfectly matte!
How to keep the sugar cookies from spreading and losing shape?
Want to keep your sugar cookies from spreading when they cook? There's a trick that you can do! Once you have your sugar cookie dough on the baking sheet, pop it in the fridge for 10-30 minutes.
After that time has passed, take the baking sheet out and immediately pop the sugar cookie dough and baking pan into the oven. This will help them keep their shape while baking. Quite the fun tip, right?!
What to do if your sugar cookies lose their shape?
This has happened to everyone at least once! If you're a busy mom like me and juggling 15 things while you bake, it's likely to happen to you too! Don't get frustrated…
You have a couple of options. The first is to just roll with it and act like it was meant to be. (and if you're eating them at home only, this might be just fine to do). Let's face it, they are going to taste just as good! In fact, since they may have spread bigger than intended, they will hold more tasty and gorgeous marble icing!
But if you're giving them to someone, you can let them cool just enough that you can move then and then use your cookie cutter to recut out the shape that they're supposed to be. Then just dip them in the icing and let them set.
Just make sure that you catch them before they are cooled completely or this method will cause them to crack.
How do you make the marbled effect in marbled sugar cookies?
Have I mentioned how crazy-easy this recipe is?! You're going to be shocked by this method and find so many other applications for it! I use the same method in my Easy paper rose craft and gift – a floral picture frame!!
Scroll below to see how it's down or watch this marbled sugar cookie tutorial!
Tips For Making These Valentine's Day Cookies
Even though this recipe is super simple, there are a few things that are important to point out.
You need to let the cookies cool for several moments after icing them so that the icing hardens up nice and firm.
Also, the food dye is plant based which is much better than using anything with red dye in it!
Fun Ways To Share This Marble Cookie Recipe
These heart cookies are unique in the fact that they can be shared during so many different times of the year. Valentine's Day and Mother's Day are both great options but don't forget about birthdays and those "just because" days also.
Since the icing on these cookies harden, you can easily put them in a plastic gift bag, seal with a ribbon and gift as gifts!
My philosophy in life is that cookies are meant to be enjoyed. And if you want to make up heart cookies in the middle of the day on Wednesday, you should be able to do use that!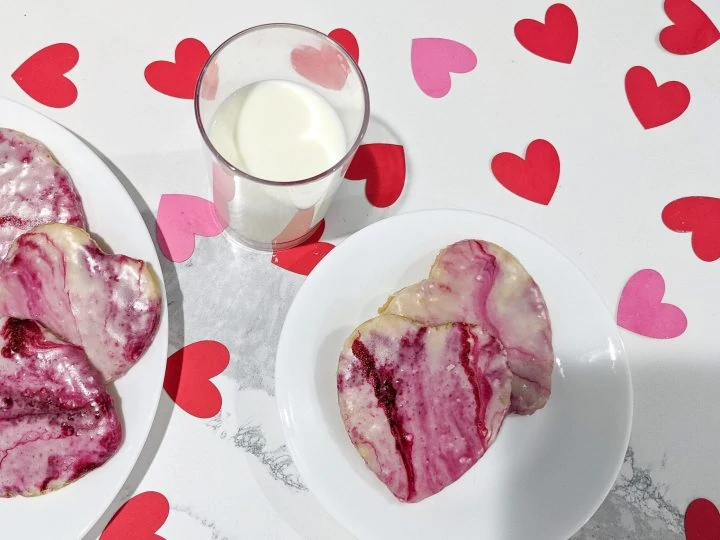 Yield:

20
Marbled Sugar Cookies for Valentine's Day
Additional Time:
10 minutes
This gorgeous jaw dropping marbled sugar cookie icing is sure to please and impress!
Ingredients
2 cups powdered sugar
1/4 Cup Milk/Cream
1 Tsp Lemon or Almond Extract
Pinch of Salt
Optional: A tsp of light corn syrup - makes it shiny)
Instructions
You literally just have to mix all the ingredients together in a bowl, minus the food dye. Stir well so that it's smooth.
Add 4-8 drops of the food dye and swirl. Be careful that you don't mix it in. You want streaks. Watch my marbled sugar cookie tutorial to see what I mean.
Dip the cookies and you're done!

After you get through a bunch of cookies you may notice that the colors have mixed in your icing. That's okay! Add a few more drops of the food dye, swirl, and continue.

You'll end up with a batch of cookies that are mostly white with some color marbling. And towards the end, you'll end up with pink cookies with some red swirls! Each cookie will be perfect and unique!
Recommended Products
As an Amazon Associate and member of other affiliate programs, I earn from qualifying purchases.
Nutrition Information
Yield
20
Serving Size
1
Amount Per Serving
Calories

51
Total Fat

1g
Saturated Fat

0g
Trans Fat

0g
Unsaturated Fat

0g
Cholesterol

2mg
Sodium

9mg
Carbohydrates

11g
Fiber

0g
Sugar

11g
Protein

0g
Nutritional information is an estimate only and is auto generated. Please consult the nutritional information on the ingredients you use for exact nutritional information.
Want more delicious recipes?
You'll love these!
Looking for more Valentine's Day stuff? Check out my Easy paper rose craft and gift – a floral picture frame! It's the perfect Valentine's Day craft and gift!
Pin to Pinterest