Simple Cranberry Cinnamon Cookie Recipe (with fresh cranberries)
Post may include affiliate links. We may earn a fee if you use them at no cost to you. Disclosure.
This cranberry cinnamon cookies recipe is perfect for the holidays or any time of the year!
What I love about these simple cranberry cookies is that they're fast and easy to make and they are festive looking. They are perfect for the holiday season. If you love soft cookies loaded with flavor, you're not going to want to miss out on these. Imagine a sugar cookie with a slightly tart taste. While I LOVE the cinnamon flavor notes paired with the tart cranberry during the holiday months, I also think that these yummy cookies would be excellent to make any time you are getting that cookie craving.
You can easily double or triple this new recipe for a party or make your own batch of cranberry cinnamon cookies whenever the feeling strikes.
Since you only need a handful of simple ingredients to make these delicious cookies, there's no reason that you can't make them wherever you want.
If you're a fan of making homemade cookies, be sure to check out my Valentine's Day Cookies with M&M's (Made with Cake Mix!) as well as my EASY Marbled Sugar Cookies RECIPE (With video) for Valentine's Day as well!
What I really love about these cinnamon cranberry cookies is that they're soft, chewy, and perfectly sweet. The cranberries add a nice chew with a pop of tart!
These are delicious fresh, or you can even bake them and freeze some for later!
Making homemade cookies is one of my favorite things to do with the kids because it gives us time and options to work together. It's such a precious time to have us bake and make yummy treats that make memories forever.
Quick Links to Information in this Post
What to eat with cranberry cinnamon cookies
Cookies don't HAVE to be paired with anything, but then where is the fun with that? I love adding ice cream or frosting to my cookies, but then that's just me.
Enjoy these cookies with a glass of milk for a perfect treat! It's the perfect combination!
The entire cookie recipe is located below in a simple-to-use format and easy to read. Follow the directions and you'll have simple and perfect cookies every time.
Simple Cranberry Cookies Recipe Ingredients
Remember how I said that you don't need a ton of ingredients for this cookie recipe? You really just need a few, and they're all common ones as well.
Large Eggs
Sugar
Unsalted Butter
Vanilla
All-purpose flour
Fresh cranberries
Eggs
Always best to use room temperature! Large eggs will be best but it doesn't make a huge difference for this recipe.
Sugar
I like sugar cane because it's less processed, but you can use regular granulated sugar or baking sugar too!
Vanilla
Vanilla extract is great here and the easiest to find, but fresh vanilla from the vanilla bean or even vanilla bean paste is amazing too! Takes it way over the top and only takes a few extra seconds.
All-purpose Flour
All purpose flour gives the best texture by far but I often substitute half of the all purpose flour for whole wheat flour or oat flour so that I can add some fiber and whole grains to these cookies and feel better about eating them! If you love oatmeal cookie recipes, you can even substitute to half of the all-purpose flour for rolled oats. Mmmmm chewy oatmeal cranberry cookies… that DOES sound good!
Fresh Cranberries
The fresh cranberries add a great taste and flavor and are a great option. If you don't have fresh, though, you can also use dried cranberries if you want. Be sure to read the ingredients label, though, because a lot of dried cranberries have a ton of extra sugar added into them – and it's really not necessary!
Chopped dates or raisins would work well, too!
Cinnamon Chips
To get that cinnamon flavor, the cinnamon chips are a must. If you don't have them or just can't get them, you can easily use milk chocolate chips or semi-sweet chocolate chips, too. Love white chocolate chip cookies? Just add white chocolate chips or replace the cinnamon chips with white chocolate chips. These cookies are so easy to customize!
Cranberry Cookie Recipe with Fresh Cranberry FAQs
How do I store leftover cookies?
The best way to store leftover cookies is to let them cool down all the way and then store them in an airtight container.

You don't have to keep these cookies in the fridge, but you can if you want.
What other ingredients can be added to these cookies?
You can make these Cranberry Oatmeal cookies by replacing half the flour with oat flour or rolled oats.

You can make these cranberry oat nut cookies by replacing half the flour with rolled oats and replacing the cinnamon chips with your nut of choice. Walnuts are great!

How do I know when the cookies are done baking?
The sides of these cookies should start to turn golden brown. You can also look at the center of the cookies, as they shouldn't look wet or shiny.
How many cookies does this recipe make?
As long as you follow the directions below, this cookie recipe should make two dozen warm and delicious cookies.
Can I substitute brown sugar for the white sugar?
Yes but it will likely change the texture of these cookies and make them a bit more dense.
Which stand mixer attachment should I use?
The ideal attachment would be the paddle attachment. If you're using a hand electric mixer though, and have different hooks, you'll want the one with flatter sides vs the thin ones. If you don't have that, use whatever you'd got! A wooden spoon works too!
What if I don't have a cookie sheet?
Don't worry! A cookie sheet or jelly roll pan or anything else works to!
Can I use a silicone mat?
Of course! Most people use parchment-lined baking sheets but a silicone mat or even a bare nonstick pan will work just fine! I don't think parchment paper changes the texture or taste any so it's fine!
Can I add dried fruit?
Absolutely! You can add just about add dried fruit or use dried fruit like dried cranberries instead of fresh!
Do these cookies have a chewy texture?
They do! So long as you don't overcook them!
Can i use ground cinnamon instead of cinnamon chips?
Absolutely! If you don't have cinnamon chips you can definitely use ground cinnamon instead. It'll definitely be different but it'll still taste great!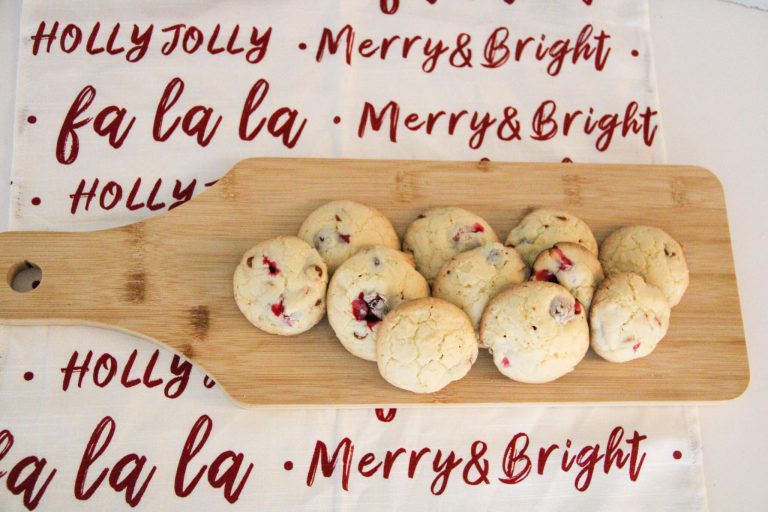 To find out about new recipes, make sure to subscribe!
How to make Simple Cranberry Cookies
This process is so simple to make and do – you're going to love how they turn out!
1. Preheat the oven
Preheat the oven to 350 degrees.
2. Beat the eggs and sugar.
Beat the eggs with the sugar in a medium bowl or large bowl until thickened and light in color. This will take about 4-6 minutes using a mixer on medium speed. It should also double in size.
3. Mix the butter and vanilla

Add the butter and vanilla and mix for 3 minutes.
4. Mix in the flour
Add the flour and mix it until your wet and dry ingredients are just combined. Then add the fresh cranberries to the flour mixture and fold in until mixed.
5. Scoop the cookies
Use a cookie scoop like this 2-tablespoon cookie scoop and add the dough to parchment-lined cookie sheets. Put in the oven and bake for 16-18 minutes.
6. Bake
Bake for 16- 18 minutes, until the cookies, have puffed up and turned golden brown along the edges.
7. Cool
Take out of the oven to cool on the sheet for 5 minutes. Then transfer to a cooling wire rack.
Yield:

24
Cranberry Cinnamon Cookies
These simple cranberry cookies are loaded with sweet taste and flavor!
Ingredients
3 eggs
2 cups sugar
3/4 cup butter, softened
2 teaspoon vanilla
2 1/2 cups all-purpose flour
12 oz fresh cranberries
1/2 cup cinnamon chips
Instructions
Preheat the oven to 350 degrees. Beat the eggs with the sugar until thickened and light in color. This will take about 4-6 minutes using a mixer. It should also double in size.
Add the butter and vanilla and mix for 3 minutes.
Add the flour and mix it until just combined. Add the fresh cranberries and fold in until mixed.
Use a cookie scoop and add the dough to a parchment-lined baking sheet. Put in the oven and bake for 16-18 minutes.
Take out of the oven to cool on the sheet for 5 minutes. Then transfer to a cooling rack.
Nutrition Information
Yield
24
Serving Size
1
Amount Per Serving
Calories

204
Total Fat

8g
Saturated Fat

5g
Trans Fat

0g
Unsaturated Fat

3g
Cholesterol

39mg
Sodium

55mg
Carbohydrates

31g
Fiber

1g
Sugar

20g
Protein

2g
Nutritional information is an estimate only and is auto generated. Please consult the nutritional information on the ingredients you use for exact nutritional information.
Conclusion
It's a good thing that this cookie recipe makes 24 of them because you're going to want more and more after the first bite! This recipe for homemade cranberry cookies is one of the best!
More of the Best Desserts
Cranberry Cinnamon Cookies
Pin to Pinterest