Can You Put Wallpaper on Textured Walls – Answered and Explained
Post may include affiliate links. We may earn a fee if you use them at no cost to you. Disclosure.
One of the biggest interior design questions of the year is can you put wallpaper on textured walls? Wallpaper does best on smooth walls, so walls with texture can be problematic, but it IS possible. I've got a workaround for making textured walls into the proper surface for hanging decorative paper. Get your answers below.
Quick Links to Information in this Post
Challenges When Putting Wallpaper on Textured Walls
There are several challenges to putting wallpaper on a textured wall. Some wall textures make it easier for wallpaper to stick to than others. However, the final look and success of wallpapering walls with texture will depend on the type of texture, the method of adhesion, and the wallpaper type.
Textured Walls Make It Difficult to Hold Adhesive
The purpose of textured walls is to add visual interest versus a traditional smooth wall surface. But these uneven gaps, dips, cracks, and holes make it more difficult for the paper to have the surface area needed to create a secure bond. In addition, areas with moist and warm conditions, like bathrooms or kitchens, are more prone to loosened or falling wallpaper.
Wall Textures Can Cause Uneven Seams
If you want your wallpaper to look good, it's important to make the seams – where the pieces of wallpaper meet – invisible. Because the depth is the same on smooth walls, each piece of paper is the same size and will align evenly.
But when you're trying to put wallpaper over texture, the unevenness affects the fit and lay of the wallpaper. The different levels of flawed surfaces can make each piece of the paper look at an extra depth (top to bottom) and affect the side-to-side seam alignment.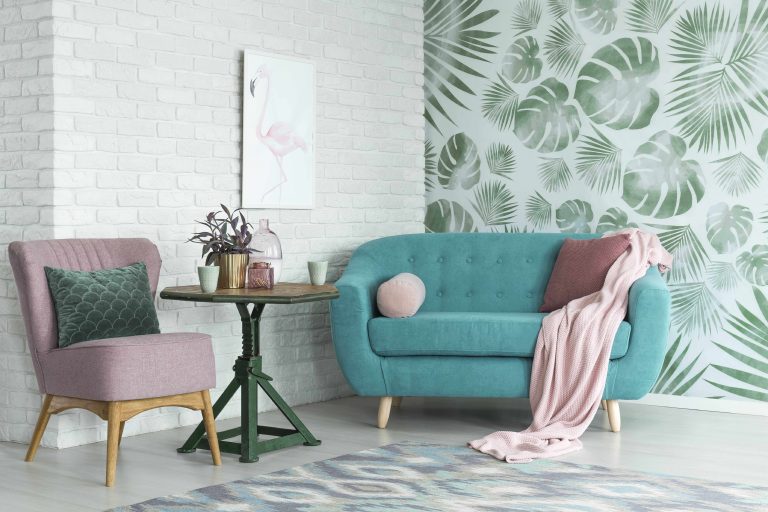 Texture Shows through Wallpaper
When wallpaper sticks to the wall, it creates a flat, tight bond that flushes against the surface. But as a type of paper, wallpaper is very unforgiving of any flaws or damage it presses over.
When you have textured walls, the texture can show through the wallpaper, causing a rough, ill fit. The depth of the surface can also cause damage to the paper, depending on its thickness.
Types of Textured Walls
New trends are constantly revealing new wall texture types like lace, stomp brush, rosebush, or skip trowel, while there are some fan favorites that builders, designers, and contractors continue to reuse.
Popcorn is the most popular wall texture found in homes without flat wall surfaces. This look is easy to identify by sight and makes it nearly impossible to apply wallpaper over the top. Instead, it looks like your walls have tons of tiny beads thrown on and covered in paint.
Another common wall texture that's more popular for DIY'ers is the knockdown method. Unfortunately, this dimensional plaster method also creates a challenging, if not impossible, wallpaper surface. Knockdown texture is most common in stucco surfaces and consists of uneven pits and holes.
Orange peel wall texture is popular in apartments, hotels, and some homes. The main characteristics of this texture are that it forms a cracked, wrinkled, uneven surface with pits and dimples similar to the peel of an orange. The texture depth can be fine, medium, or heavy, with a fine texture being possible to cover with wallpaper if you use a thick enough brand and a strong adhesive.
Cracked or peeling paint can create an incompatible surface area for wallpaper glue. In addition, adding an adhesive over damaged paint can cause the glue to flake or peel off, causing the wallpaper to fall off.
Types of Wallpaper
The wallpaper type is also crucial to how well it will adhere to and cover textured walls. The kind of wallpaper affects the adhesive method and, therefore, the strength of the glue's hold on the paper.
Peel and Stick Wallpaper on Textured Walls
Many people love to use peel-and-stick wallpapers because they are simple to install and remove due to the self-adhesive strip on the back. But because this type is meant to be temporary and easy to take down, many varieties will not secure properly to textured walls.
They can work, though and are the easiest to apply so I highly recommend ordering a sample and testing it out on your wall to see if they will work for you!
Another model of peel and stick is pre-pasted wallpapers. These paper strips also have paste on the back of the wallpaper. This method is easier to install than traditional wallpaper sheets. All you need to do is put water onto the glued backing and press it into place.
This method can have a mixed performance on textured walls. It depends on the adhesive strength, the paperweight, and the intensity of the texture.
Traditional Wallpaper on Textured Walls
Traditional wallpapering consists of plain wallpaper without adhesive. You have to mix up a paste that you then apply to the entire sheet of wallpaper. Then you mount the paper into place on the wall.
This wallpapering method is exhaustive and messy and can be stressful without experience. But with textured walls, you'll get the best wallpaper coverup with a traditional paper due to its more durable, long-lasting adhesive.
Tips for Putting Wallpaper on Textured Walls
If you've decided to cover textured walls with wallpaper, there are a few simple tips you can use for a more successful project.
The first tip is to make your wall texture as flat as possible before applying wallpaper. Of course, some surfaces are better, like orange peel.
But you can flatten existing dried textures with a tool or use the knockdown method to flatten enough spaces for wallpaper to stick if you're applying a wet surface. Dragging a wide drywall knife over the texture in the same direction as the knife's edge is a fast way to remove sharp tips and high-piled ridges.
Skim coating is also a useful way to prep textured walls to hold wallpaper. This process requires several supplies – a wide drywall knife, a strong cleaning product like TSP, fresh microfiber rags, pre-mixed drywall joint compound or mud, a pan to put it in, and a sander. For this process, you:
Remove sharp points and raised spots.
Clean the surface with TSP-soaked microfiber cloths.
Prep and apply the joint compound onto the wall using long strokes at a 45-degree angle with the blade's edge. You want to make the texture flush – even – by filling in low spots until they're flush with the high areas.
Use a low-speed fan and warm temperatures to dry the skim coat for two to 12 hours.
Finally, use fine-grit sandpaper for drywalls to lightly sand the surface. Then check that no areas need touch-ups before cleaning the area thoroughly and applying wallpaper.
If skimming your walls sounds like too much work to prep for hanging wallpaper, another option is to apply lining paper with a paste. When using this method, the liner should be horizontal instead of vertical. And you have to prime or seal the walls before you can put up liner paper.
Best Wallpaper for Textured Walls
Textured walls do best with dimension and texture rather than flat wallpaper. Here are a few of my favorite best wallpapers on textured walls.
Frequently Asked Questions
What Kind of Wallpaper is Good for Textured Walls?
The best wallpaper for textured walls is thick highly detailed, non-pasted paper applied with heavy glue.
How to Get Wallpaper to Stick to Textured Walls?
The best way to make wallpaper stick to textured walls is to first prep the surface with a joint compound to fill in the lower spots and make them even with the higher texture points. Since this is often unrealistic for the regular DIYer, knocking town sharp points is a great first step to try. I recommend lots of trial and error with sample pieces so you can find the method with the least effort that will give you your desired results.
What Happens If You Put Wallpaper on Textured Walls?
Applying wallpaper to textured walls can cause the wall texture to show through the wallpaper. The more elaborate the surface, the more it will poke out of the paper. This is why it can be best to remove as much of the texture as possible before hanging wallpaper and choosing thicker paper. This is also why picking a wallpaper with lots of detail is great because the intricate details will help hide the occasional texture that might show through.
Applying Wallpaper to Textured Walls is Possible
Textured walls are not a deal breaker for your dreams of hanging wallpaper. Although it is more of a challenge to apply wallpaper to walls with texture, it's possible. Skim coating is an excellent method for prepping textured walls to create a secure hold for wallpaper. And while you can use pre-glued wallpaper, you'll get the best security by adding a strong adhesive to each piece of paper before putting it on the wall.
Related Home Decorating Posts