5 Best Diffusers for Large Rooms (and under $40!)
Post may include affiliate links. We may earn a fee if you use them at no cost to you. Disclosure.
Adding a diffuser for large rooms is a popular way to make your home smell good while adding interesting ambient lighting. Oil diffusers offer a better way to disperse fragrance throughout a large area without harmful chemicals. In addition, some fragrant oils used for aromatherapy diffusers could provide health benefits.
If you're considering adding a diffuser to your large room, you've hit the information jackpot. I've picked five of the best diffusers for large rooms and put together a detailed buyer's guide to help you get the right diffuser for your large space.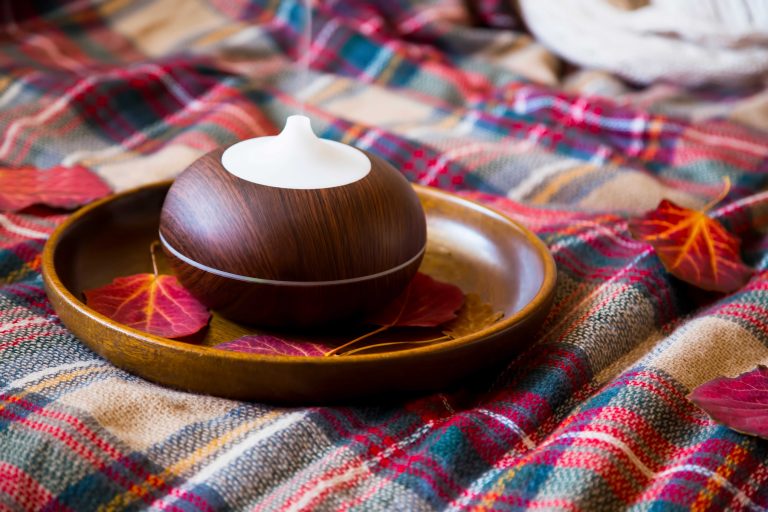 Quick Links to Information in this Post
How to Choose the Best Diffuser for Your Large Room
Picking the best diffuser for a large room is more complex than buying the one that looks the coolest. The aesthetic is only part of the shopping experience. You should also consider these criteria.
Diffuser Type
Most diffusers are electrical, with the two most popular essential oil diffusers for large rooms being ultrasonic and nebulizers.
Ultrasonic diffusers create an oil mist through electronic ultrasonic waves. This method is quiet and will disperse strong oils through an area. In addition, many of these models have built-in lighting and can work as humidifiers for cleaner air.
Nebulizers are a more popular electric essential oil diffuser for large spaces. These large room diffusers use a high-pressure pump to force oil through a narrow nozzle. As a result, you get longer-lasting aromas, less oil usage, and preserve the oil's therapeutic properties.
Another great essential oil diffuser for large room is a reed diffuser. A reed diffuser for large room is more affordable and versatile. There are three parts to a reed diffuser – a glass container, reed sticks, and essential oils. Add oil into a bowl or jar then arrange seven wooden reeds inside. The oil soaks into the reed sticks and releases into the air in all directions.
Tank Size
Diffusers have different water tank sizes, affecting the machine's operation time. Tank sizes range from 100 milliliters (a small compact size) to extra large room diffusers with 550 mL.
Area Coverage
To determine what size oil diffuser for large room, you'll need to know the estimated area you'll need to cover. Determine your measurement in square footage and then check if the large room oil diffusers can accommodate the size. A small oil diffuser with a low-capacity tank will cover less space with shorter run times, but it can be appropriate for infrequent operation.
Price
Diffusers can vary in price, with many smaller models costing less than $50. But you can also get larger, more advanced diffusers that are a few hundred dollars. Most inexpensive oil diffusers for large rooms will do an appropriate job as long as it has the space capacity.
Run Time
Run time is crucial for picking the appropriate oil diffuser for your large space. Most diffusers have a customized run time from one hour up to eight hours, with the longest run times being 10 to 12 hours of continuous operation.
Timers
Many oil diffusers come with built-in timers that allow you to set how long the diffuser will put out a mist of fragrant oil. The timing can range, with several models allowing for multiple times, such as 1 hour, 3 hours, 6 hours, or 12 hours.
Automatic Shut-off
Safety features like automatic shut-off prevent oil diffusers from overheating or burning up due to running once the water tank runs empty.
Remote Control
Some electronic large room humidifier and diffuser models allow for the operation of the controls and settings via remote control. These models make it easier to tweak the level of mist, run time, and light cycles without having to interact physically with the machine.
Diffuser Smart Features
Smart features allow for easier operation and more customization. For example, some models of diffusers connect to WiFi so you can control the settings with your voice, a smart device like Google Home, Alexa, or other home assistants, and apps.
Mist Levels
Diffusers can have different mist levels, typically slow and high rates. The mist refers to how the oil disperses from the diffuser. The strength of the mist dispersion affects the intensity of the aroma and where you place your diffuser in the room.
Noise Level
Diffusers can produce multiple noises, whether from the sound of the oil coming out or the operation of the device. An optimal noise level for the best diffuser for open floor plan, nurseries, or bedrooms is less than 25 dB – 20 dB is the sound of a whisper from five feet while 30 dB is a soft whisper.
Lights
Picking a diffuser with lights can create a soothing ambiance of dim lighting for relaxing sleep or as a child's night light. Or it can make a fun display of multi-color lights for large living rooms and game rooms.
Aesthetic
Diffusers come in various shapes, sizes, colors, and materials, giving you many looks to consider. Basic models have a simple form and no aesthetical extras while other oil diffusers look like artwork in unique shapes and colors.
Best Diffusers For Large Rooms
These five best oil diffusers for large spaces are a sample of how different these tools can be and look. We've included a range of designs and functions to give you a great list of diffusers suitable for your large space..
This uniquely shaped diffuser for large bedrooms has a 500 mL water tank at the metallic round base bordered by an LED strip of seven lights that provides a soothing glow from seven color lights with fifteen light modes and an auto color cycle.
You can also pick from two fog levels and timers (1 hour, 3 hours, 6 hours or just on), without worrying about overheating. Plus it has an auto shut-off so you don't have to worry about it operating without water.
It has a 12-hour run time with low fog or six hours on high mist and can also function as a humidifier, all operated remotely.
This large-capacity essential oil diffuser is perfect for large spaces and offers multiple ultrasonic functions and a fun, relaxing visual appeal. A 500 mL water tank reduces refill frequency, and the diffuser automatically shuts off when it's empty.
Built-in lighting has fourteen varying ambient color combinations controlled by remote. You can also choose from four-timer modes with up to 12 hours of 25 dB quiet automatic runtime. And best of all, this classic design diffuser also works as a cool mist humidifier and nightlight.
This 2-piece set of empty transparent glass bottles offers a transcendent neutral decor you can use in any room. The graceful inner curving silhouettes of the two high-capacity diffuser bottles add dimension and visual interest. And 16 black reed sticks stand 10″ tall to disperse scents through large rooms and serve as a catch-all for storing small items.
This 8″ L x 2″ H x 4″ W wood oil diffuser has three functions – oil diffuser, humidifier, and ambient light. It uses 24V power to operate three light settings and three ultrasonic atomization levels with four timed modes – on, 30S, 2H or 4H.
And you can control and create a realistic flame with mist and LED lighting all controlled by a remote.
It is nearly silent (just 24dB), runs for 12-hours and has auto-power off when the 200 mL water tank is empty!
This adorable teardrop-shaped ultrasonic remote-operated diffuser is the best oil diffuser for large rooms if run time is your priority! It has an extra-large water tank capacity of 550 mL and 15-hour operation time with auto shut-off when the tank goes empty.
The BPA-free sandalwood finish fits into any decor, while 15 light modes of seven colors create a soothing dark and light ambient cycle.
You can also set two fog intensity levels, four timer cycles, and deep sleep mode. Plus it has whisper-quiet operation (just 25 dB) using its buttons on the diffuser or the remote.
How to Care For Your Diffuser
Now that you know how to pick the best diffuser for your large room and you have probably picked one of the diffusers from my list above, let's talk about how to care for it!
Luckily diffusers do not need much in terms of care other than regular cleanings.
For starters, your diffuser should be disconnected from its power source before cleaning and you should try to clean your diffuser after each use to prevent the buildup of corrosive oils.
Here's a quick summary of how to clean your diffuser… (Don't forget to pin this post so you can reference it when you need to!)
To clean an oil diffuser, add some water into the tank without exceeding the max fill line.
Then add ten drops of vinegar to clean out the old oil.
Next, turn the diffuser on a continuous cycle to run for three to five minutes.
Drain the solution and wipe all areas of the diffuser down with a cotton ball covered in vinegar.
Use clean water to wash the diffuser and thoroughly remove the cleaning solution.
After draining again, dry the machine with a towel by patting it down.
Frequently Asked Questions about Diffusers for Large Rooms
What Size Diffuser is Best for My Large Room?
Most large family rooms need a diffuser with a tank size between 300 and 500 mL, which is a medium to large capacity model.
Are Room Diffusers Safe?
With proper use, room diffusers are completely safe. Just make sure to follow the manufacturer's instructions. Also do your research when picking out essential oils to use because some aren't suitable for pets or kids.
How can I make my house smell like a hotel?
One of the best ways to make your house smell like a hotel is to spray your bedsheets with a delicate scent and also add that scent to a diffuser so everything smells nice and fresh!
Where should I put my diffuser?
Diffusers should go on a sturdy surface below eye level but at least two feet off the ground.
What's the difference between a diffuser and a humidifier?
Humidifiers produce water vapor to add extra moisture to the area. Diffusers also form small water droplets, but they contain oil. Diffusers are not meant to change the moisture content in the air… their main purpose is to alter the smell for a refreshing aroma.
Why are diffusers better than air fresheners?
Diffusers use essential oils to add scent and purify the air. Some may have antimicrobial and antibacterial health benefits, too whereas some air fresheners can contain potentially harmful ingredients or endocrine disruptors.
Conclusion
Diffusers are an easy and fun way to introduce scents to a room without using harmful chemical air fresheners. The best diffuser for large rooms will have a large-capacity water tank, the ability to run on a timer or for several continuous hours, and multiple functions like a humidifier and ambient lighting.
More Home Posts and Ideas