How to Paint Brass Fireplace Trim – A Quick and Easy Update!
Post may include affiliate links. We may earn a fee if you use them at no cost to you. Disclosure.
PAINTING YOUR BRASS FIREPLACE TRIM WILL TRANSFORM YOUR ENTIRE ROOM IMMEDIATELY!
If you're looking for a really quick and easy way to transform your living room, or any room with a fireplace, then you're going to want to read this tutorial on how to paint bras fireplace trim! (Also sometimes referred to as the brass fireplace surround)
While brass fireplace sourround (also called the fireplace trim) can be beautiful, it's not a fit for all home decor styles. Especially some of today's trending styles. When it doesn't match, boy doesn't it ruin the room! We have two fireplaces in our house and while I absolutely LOVED having the fireplace and I loved having lots of brick in our living room – there were two things that I just couldn't stand.
Our reddish beige brick and our gold/brass fireplace trim.
Before we even purchased the house I know that I'd want to change them up. In fact, I'm pretty sure I googled "can i paint brass fireplace surround" on my way home from seeing the house for the first time!
Well, I'm here to tell you that not only can you paint it, the process is super fast, easy, and cheap!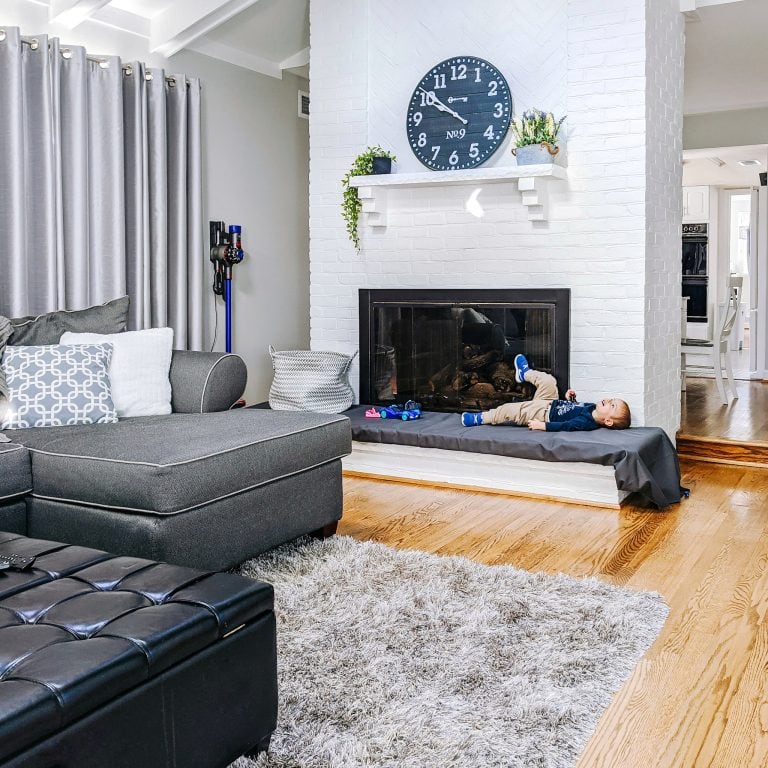 Painting fireplace metal trim – spray paint or brush on paint?
Let me start by saying that most of the instructions I found online suggested using spray paint. By the time I got around to painting my fireplace, I was already completely moved in so I already had furniture nearby. I had also already painted the brick around the fireplace super bright white.
Needless to say, I was NOT about to use spray paint inside the house near my furniture and my gorgeous bright white brick. Neither should you.
I opted for regular "brush on" paint that's perfect for hot spots like a fireplace!
So let's get into what you're going to need and how to do it because while this is super easy to do, you need the right tools and the right technique to get it perfect the first time!
Materials needed to paint brass fireplace surround
Paper towel
Bowl x2
Stirring stick (plastic disposable utensil, chopstick, etc)
Heat Resistant Paint
Remember my google search when I saw the house for the first time?
Can i paint brass fire surround?
The answer is a big and absolute – Yes! The most common concern when painting a fireplace is of course heat. Luckily there seems to be a paint for absolutely every need these days and of course they make paint specifically for high heat materials! That's what we're going to use.
Deglosser and Cleaner
I learned an amazing trick from the ladies over at Heirloom Traditions Paint and that's to always use deglosser before you paint anything! It cleans the surface so much better than any other cleaner and removes all buildup and oil. In this case, it may be soot and dust.
Deglosser also etches the surface so that your paint sticks to it better. The best paint for brass fireplace trim won't work if it can't stick to the surface! That's on of the many things that deglosser can help with – it etches the surface so the paint can grip better!
This means less chances of the paint chipping or scratching away (when kids hit it with a train or car)! Score!
A note about deglosser – while it does a great job of cleaning, you can't forget that it etches things. For example, if you use it on something that is glossy, most if not all of the gloss will be gone after you use it. Do NOT use deglosser to clean things that you don't intend to paint immediately.
Sponges
You're going to need two types of sponges to paint your brass fireplace surround. First you'll need a green scrubby sponge that you will use with your deglosser. You do NOT want to skip this step or skip using a sponge like this. Luckily, they are super inexpensive!
The other type of sponge you'll need is actually to apply your paint. Bear with me – this technique will be a game changer and you'll never go back! I'll explain how it works in the upcoming steps.
Alright well now that you know what you're going to need… let's dive into how to do it! I'll show you how to paint gold fireplace trim quickly and easily – even if you've never done a home DIY project before!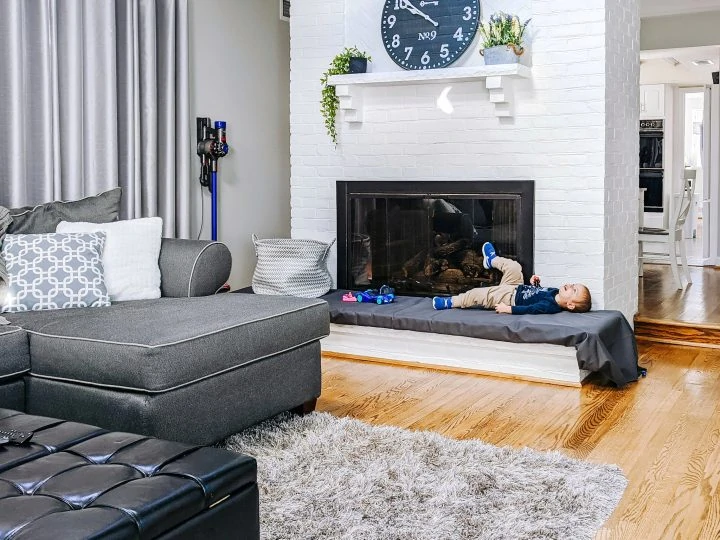 Yield:

1
How to Paint Brass Fireplace Trim - A Quick and Easy Update!
Learn how to paint gold fireplace trim (also known as your fireplace surround) and get goreous modern looking results!
Tools
Paper towel
Bowl x2
Stirring stick (plastic disposable utensil, chopstick, etc)
Instructions
Gather up your supplies and then dive right in!
Step 1: Tape up your fireplace trim
Apply your Painter's tape to the area surrounding the trim. Make sure that this is thick enough that you can work on the edges of the trim without getting anything on the surrounding area (in my case it was brick).
Press down on the edges really well to make sure it stays in place.
Step 2: Degloss your brass fireplace trim
When you paint anything, it's so important for the surface you are painting to be perfectly clean. This means clean of oils, dust, soot, everything. Your fireplace trim is no different. Before you can paint your fireplace trim, you need to clean it and prep it using a deglosser.
To use the deglosser, follow these steps:
1. Put your plastic gloves on
2. Pour some deglosser in a bowl
3. Dip your green scrubby sponge in the bowl to soak up some of the deglosser.
4. Scrube your fireplace trim well. You can do this in parts or all at once, Just don't let the deglosser dry.
5. Wipe the deglosser off the trim with a paper towel until it's all gone.
Don't be surprised if your paper towel is nearly black. You'd be shocked at what settled on our stuff over time and almost fuses with it! That's why this step is so critical. If you feel like one round of this isn't enough, you can repeat this step a second time but it's rarely needed.
Step 3: Paint your Fireplace Trim - Chip Brush
I told this was easy right? We're almost done!
Now you're going to stir your paint really well and then pour some of your paint into a bowl and paint your fireplace trim's edges.
Use this tiny brush to paint along the edges of the fireplace trim. We do this to make sure that we get a nice clean line on the dges. This line doesn't need to be perfect but you want to make sure that it's solid and that you don't have any drips.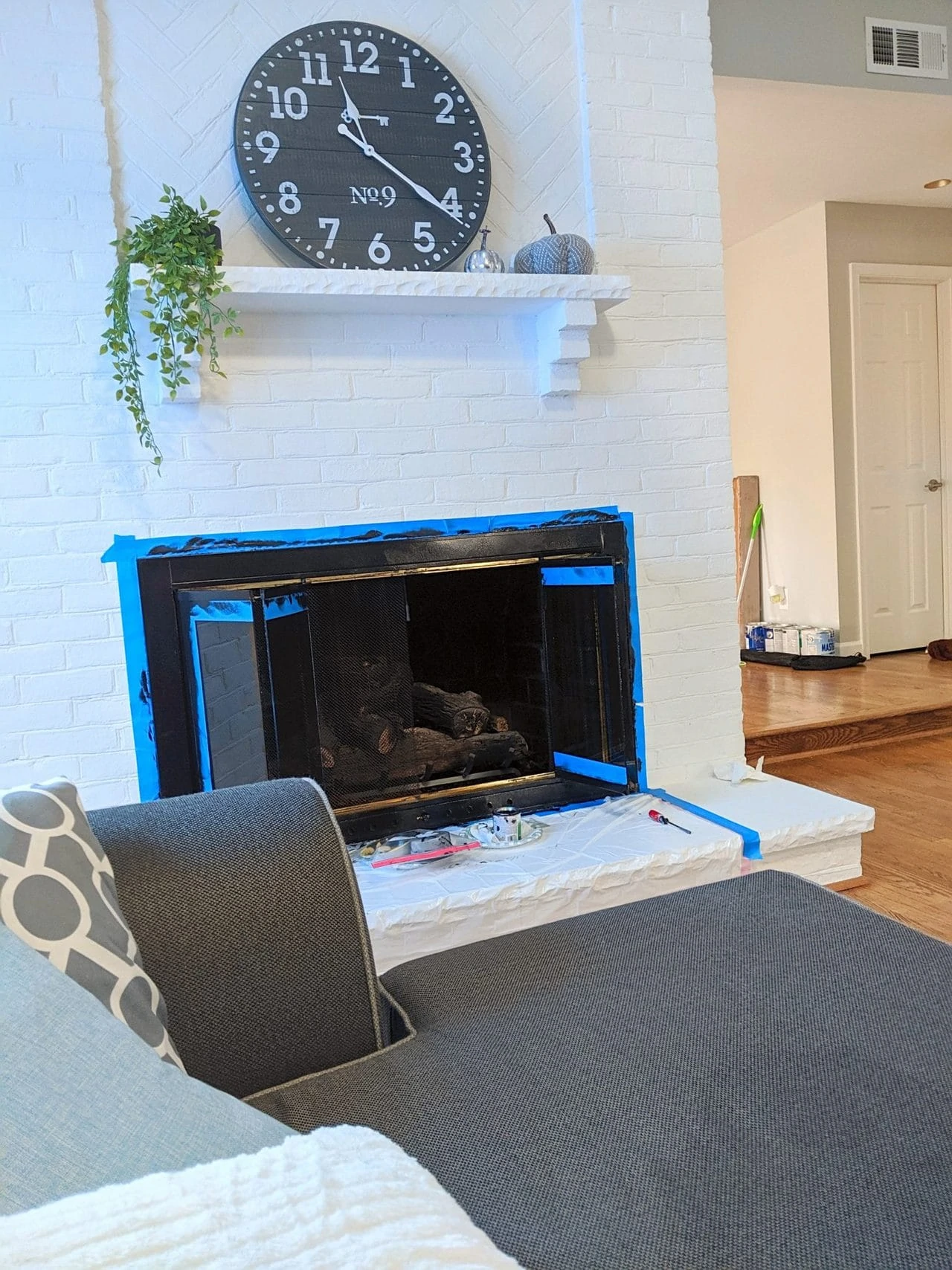 Step 4: Paint your Fireplace Trim - The sponge
This is where the magic happens. If you were to do this with a brush, you'd end up with brush strokes. You'd also have a tough time getting the paint to adhere to the brash or metal fireplace trim (even after deglossing). I find that the brush seems to apply and then remove pain on this type of surface. That's why we are using a sponge!
Here's how you do this step:
1. Grip your sponge so that you're holding the edges and not the flat portion of the sponge. We will be using the flat edges to paint with.
2. Dip the flat edge of the sponge into the paint.
3. Now swipe the sponge across the surface of your fireplace trim to apply some paint.
4. Now we are going to stipple. To do this, using the flat edge of the spong, lightly tap the paint. This can feel weird at first but you'll quickly get the hang of it and see the benefits. When you tap the paint, you are breaking it up getting rid of any stroke marks but helping the paint stay in place and adhere to the surface better. Don't over do it though, tap of the area once or twice and then move on.
Do this everywhere to paint your entire fireplace trim.
Step 5: Check to see if a second coat is needed
At this point you want to look clsoely at your work. Will you need a second coat? If not, it's best to remove the painter's tape now. If you remove the tape before the paint dries, you'll get a cleaner line. If you think you'll need a second coat, you'll need to hold off.
Step 6: Allow to Dry
Allow the paint to dry completely. Don't worry! It doesn't take long - especially with this technique!
Step 6: Apply a second coat if needed
I almost always apply a second coat but it's not always needed. Take a close look and decide for yourself if you'd like to apply another. If you do, just do steps 3 and 4 again. Do not degloss again.
Step 7: Remove the Painter's Tape
Now that you're done, you'll need to remove the painter's tape. If it's still on at this stage, it's likely because you did a second coat and there's some dry paint on the tape. This is okay but be very careful as you remove the tape. The best way to remove it now is slowly and by pulling the tape back not up.
But ultimately, don't worry! If any spots come up with the tape, you can go back and fill them in with the chip brush. I just like to avoid those touch ups when I can!
That's it! Step back and look at the amazing work you just did!
Notes
A few notes about Stippling:
This technique is amazing for so many things! I also talk about it in my post about how to paint kitchen cabinets!
When you get to the edges of the fireplace trim, you may need to use the edges of your sponge. That's okay.
As you stipple, you may see some bubbles form. That's okay! Ignore them and move on. They will likely disappear. If you try to keep stippling to get rrid of the bubbles, you are likely to make the paint tacky.

Common questions about how to paint gold fireplace trim
Can you paint brass trim on a fireplace?
Absolutely! I did it to two of my fireplaces and I always get amazing compliments on how they look! I turned both from brass trim to matte black trim and it looks amazing and so modern!
How to paint brass trim on fireplace doors
Simple! Follow the steps above and use the products I mentioned and you'll complete this project in no time! It's easily done in an afternoon. Just make sure that you tape off the glass well or you'll end up havingn to scrape paint off the doors!
What kind of paint is best for brass fireplace trim?
You want to make sure that you use a heat resistant paint. Click the link in my material list above to get the kind I used!
Well that's it for now! I hope you found this how to paint brass trim tutorial helpful! I cannot wait to see your before and after images! Be sure to tag me on social media with @analyticalmommy so I can see how amazing your transformation looks!
Got a question? Comment below and I'll answer it and add it to the FAQ list!