How to Steam Clean An Oven (An Easy Guide!)
Post may include affiliate links. We may earn a fee if you use them at no cost to you. Disclosure.
Don't know how to steam clean an oven? We can help!
Steam cleaning is a great way to clean your oven without using any harsh chemicals. Not only is it better for the environment, but it's also safer for you and your family.
With our easy-to-follow guide, you'll be able to steam clean your oven in no time! Read on to become an expert at steam cleaning your stove in no time!
Quick Links to Information in this Post
Why You Should Clean Your Oven with Steam
The biggest advantage of cleaning your oven with steam is that it's natural and safe. When you use steam to clean an oven interior, you rely on water condensation to break down and remove tough grease and charred residue.
Other cleaning methods require corrosive chemicals that produce toxic, potentially harmful smoke. You could introduce hazardous ingredients into your food cooking areas, like caustic soda, ethylene glycol, or dichloromethane.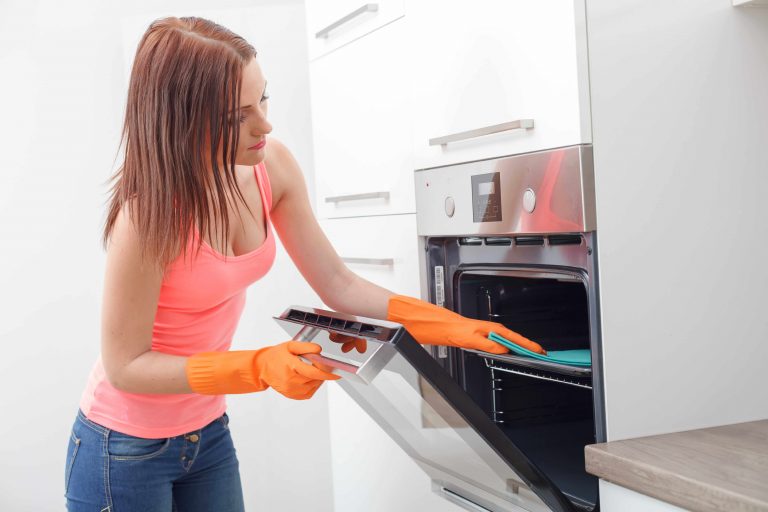 Oven Steam Cleaning Methods
There are three tried and true methods for oven steam cleaning. The method you choose will depend on your stove brand, age and features, and the amount of stuck-on food and gunk.
How to Steam Clean With A Built-In Steam Cleaning Option
Many new stove models have a built-in steam cleaning feature. This function is mainly used for maintenance rather than deep cleaning. Heavily soiled ovens would benefit from regular cycles of self-cleaning – pyrolytic cleaning – to turn the baked-on residue into ash.
Ovens with built-in steam cleaning features often have storage tanks at the bottom where you add water before each cycle. Otherwise, you'd use an oven-safe bowl filled with water or pour the water onto the oven's bottom.
The exact method of automatic steam cleaning varies by model. But a general guideline is to remove everything inside – racks, accessories, cookware – and wipe the oven down to eliminate loose debris and grease. Then set the oven to steam-clean and wait on the cycle to run – 10 to 30 minutes.
Give the oven time to cool after the cycle finishes, and then use a dry sponge or cloth to remove any leftover moisture and debris.
If you have an oven with a built-in steam cleaning function, I highly recommend using fairly often to avoid ever getting much build up. This option is just so easy, why not! This will help you avoid it ever getting so bad that you have to use more drastic options.
How to Steam Clean an Oven with a Handheld Steam Cleaner
Many of us don't have the luxury of a newer model oven with a built-in steam cleaner. But that doesn't stop you from using this cleaning method.
If you have access to a handheld steam cleaner, you can use it to clean your oven routinely. Handheld steamers can clean the metal, glass, and enamel. And you can use the different tools for a complete job on baked-on crud and grease. There are several attachments that you can use for steam-cleaning ovens.
Like the Dupray Steam Cleaner, which has 22 different attachments, it lets you steam clean your home and appliances from top to bottom, inside and out. Find out more about this impressive steam cleaner in my Dupray Steam Cleaner review.
Start by removing all of the stuff out of the oven. Then fill your steam cleaner with distilled water and add an attachment for scrubbing – a scraper or brush tool. Turn your steam cleaner on and be prepared to be amazed! dirt and grime are no match for steam!
Insert the cleaner into the oven and move the attachment back and forth to cover all areas. You do not need to apply hard pressure. The vapor is what's going to do the most work. Finally, wipe the grease, grime, and condensation off with a dry towel or sponge as you're working.
How to Steam Clean an Oven If You Don't Have a Steam Cleaning Oven or Steam Cleaner
Using steam to clean your oven is possible without a newer model built-in cleaner or handheld steam cleaner like a Dupray.
For this method of DIY oven steam cleaning, you'll need a wide heat-safe dish or oven pot, like a casserole dish. Next, add one cup of water, place it on a cleaned rack in the center of the oven, and shut the door. If your oven needs hardcore cleaning, add ½ cup of vinegar or swap out the water for all vinegar.
Turn the temperature to 450℉ for 20 to 60 minutes. Then dampen a rag or sponge and wipe the surfaces once the oven has cooled. A scrubber pad and baking soda can help tackle stubborn spots.
Frequently Asked Questions
How Do You Clean the Glass in Your Oven Door?
For regular cleanings of the glass inside oven doors, you can use one part water and vinegar sprinkled with baking soda to add abrasiveness. Smear the paste with a non-abrasive pad and wipe it clean with a wet rag. If it's really stubborn you can even use a glass scraper like this one. Then finish the cleaning with a glass cleaner. Severe buildup on glass oven doors may require that you take the door off and remove the glass for thorough cleaning.
How Do You Clean Your Oven Racks?
There are several ways to clean oven racks. One method is to soak them in a bathtub filled with hot water, ½ cup of dishwashing detergent, baking soda, or distilled white vinegar. You can use an old toothbrush or dish towel to scrub hard residue. Salt can add extra abrasion. Alternatively, add dish detergent to hot water, swirl the water with a few dryer sheets, soak overnight, then rinse and wipe.
Do You Still Need Cleaning Products When Using Steam?
More steam might be needed to clean your oven for extremely stubborn stains. But you don't have to rely on chemicals or live with stains. A natural paste made of baking soda and lemon can make an excellent abrasive. Spraying the area with vinegar and then sprinkling baking soda on top can also be a strong cleanser. Let the mixture sit for 30 minutes, then scrub with a clean sponge.
What Equipment is Useful When Steam Cleaning Your Oven?
Useful equipment for steam cleaning an oven includes a handheld steam cleaner, paper towels, rags, rough sponges, baking soda, vinegar, lemon juice (for fragrance), distilled or filtered water, and a metal scraper for large messes.
Steam Cleaning an Oven is Possible with These Three Methods
Steam cleaning is an effective and fast way to get a clean oven without dangerous chemicals or hard labor. Your oven may have a built-in steam cleaning feature. Otherwise, use your regular household handheld steam cleaner. Or go with a bootstrap DIY method of adding a regular glass casserole dish to a center rack in the oven for 20 to 60 minutes at 450℉. Vinegar can help boost the cleaning feature.
More Cleaning Tips and Ideas