Pineapple Beef Stir Fry recipe – quick 5 Ingredient Meal in 15 minutes
Post may include affiliate links. We may earn a fee if you use them at no cost to you. Disclosure.
THIS 5-INGREDIENT STIR FRY IS SO QUICK AND EASY TO MAKE – AND IT's KID FRIENDLY!
What's not to love about a dinner recipe that takes just 5 simple ingredients? This Pineapple Beef Stir Fry – 5 Ingredient Meal is one of my favorite simple recipes. The pineapple chunks combined with the scallions create a truly delicious flavor!
I have to admit that I was a bit nervous before feeding this to the kids. I didn't know what they'd think about the combination of the beef and the pineapple together but I'm happy to report that they LOVED it. I bet your kids will too!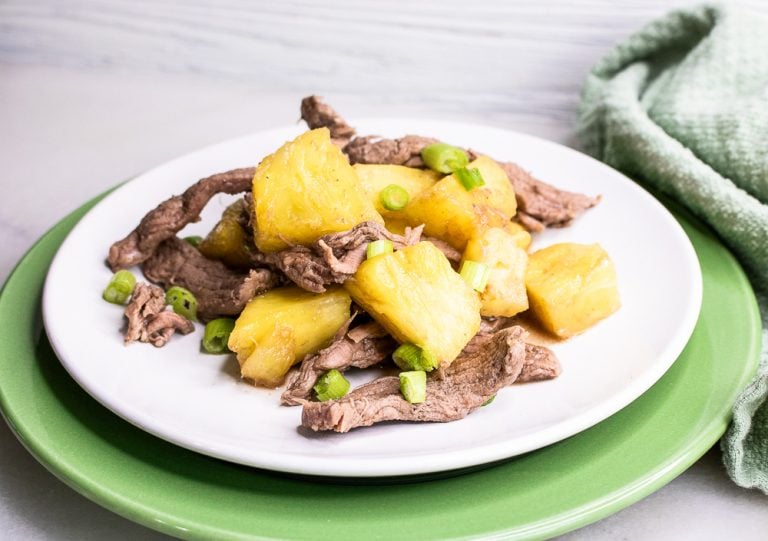 And since this recipe has just a handful of ingredients, it's one that takes minimal effort to make. Just grab the beef when it's on sale at the store so that you can make up this recipe when the craving hits.
If you're ready for a fast and simple dinner recipe, I can't stress enough how much you should make this simple stir fry! The flavor is crazy good! Make sure to bookmark, print, or pin this recipe!
So many people tend to stay away from pineapple and meats but I really love this combination! Make certain that you also check out my Healthy 30 Minute Instant pot Chicken & Avocado Salad recipe as well as it's a super simple and delicious recipe too.
Quick Links to Information in this Post
Pineapple Stir Fry Ingredients
Since the list of ingredients is so short, take this as a good sign of how simple and easy this stir fry recipe is! It's one of those flavors that you're really going to love.
Coconut oil
Beef flank steak
Pineapple chunks
Tamari or coconut aminos
Scallions
Sea salt and black pepper
Coconut oil
Coconut oil is a delicious option for this recipe, but if you don't like using coconut oil for any reason, that's okay! You can definitely substitute for another oil just fine without any trouble!
Beef flank steak
While this does seem to work best and it's a great value, you really can substitute any beef if you don't have flank steam on hand or want something else.
Pineapple chunks
Pineapple chunks from a can work great for this recipe! Did you know that Pineapple will actually tenderaize this meat! Check this post from How Stuff Works to learn how this works!
Tamari
If you have Tamari, I recommend using that! It tastes amazing! If not though, you can definitely substitute soy sauce or coconut aminos.
Great sides for your Pineapple Beef Stir Fry
My favorite side for stir fry is always rice! That's my go to – especially jasmine rice! Sometimes we go on a stir fry kick and make stir fry often. When that happens, we like to enjoy our stir fry with pasta, salad, pot stickers, or miso soup too! If you want to eat this with a salad, a great option is this cucumber onion salad.
Frequently Asked Questions About Pineapple Beef Stir Fry
How do you cut flank steak for stir fry?
The key to cutting steak for a stir fry is that you want to cut it against the grain. This is the best way to make the meat tender.
Since flank steak isn't a super tender meat, cutting it this way really does help in the texture.
Do you have to tenderize flank steak?
Normally, I'd recommend tenderizing flank steak though it's definitely a preference. That said, since this recipe includes pineapple, the pineapple will do the heavy lifting for you and you likely won't need to tenderize it!
Why is my stir fry beef tough?
There are actually a few reasons for this. First off, if you're not cutting against the grain, the meat is going to be tough.
The other reason that it might be tough is that you're overcooking it during the process. Pay attention to the cooking time so you're not making it dried out and tough.
What can you use instead of flank steak?
Flank steak is the most popular steak used for stir fry but another great option is the skirt steak as well. Both are cheaper cuts of meat that tend to do well with seasonings and flavor. Here are some great flank steak alternatives from Organic Facts if you're interested.
How do you not overcook stir fry?
Keep stirring! As long as you're stirring around the food items that are in the pan, you're unlikely to overcook them. So just stir them while they cook but don't worry – it will cook so fast so you won't be doing this long.
If you're active in the stirring process, you're going to be able to keep an eye on the meat and ingredients to know when it's time to pull them so you don't overcook them. This also prevents the food from steaming.
Variations for Pineapple Beef Stir Fry
The great thing about stir fry is that it's easily changed up fast. Not only can you change up the meat but you can change up the other ingredients easily a well.
You can opt to make this with chicken or pork or even omit the addition of meat all together.
I also love to add in other veggies and see what flavors I prefer. Broccoli, peppers, cabbage, onions, and mushrooms are some of my favorite additions to do.
You can also add garlic, ginger, and/or sesame seeds for a great twist!
This is also a super simple way to get the kids to eat even more of a healthy and balanced diet!
Storage Tips for Stir Fry
Dare I say that I think that this recipe actually tastes even better the next day? There's just something about the way that the pineapple meshes perfectly with the beef and it literally almost marinates together overnight.
All you need to do is put the leftovers (if you're lucky enough to have any) in a storage container and keep them in the fridge. Then when you're ready to eat, you can just reheat on the stovetop low and slow or pop in the microwave for a short period of time.
That said, this is likely to be such a huge hit that unless you double the recipe, you likely won't have any left overs. This recipe is easy to double so consider doubling it and storing your left overs for the next night!
Now that you know how simple and easy this recipe is, you have no reason not to get started! It's one meal that everyone will love and you'll love how simple and fast it is to make.
Pair it up with a nice side salad or a side dish of white or brown rice. It's literally an awesome dinner recipe that you can easily make tonight!
THIS 5-INGREDIENT PINEAPPLE BEEF STIR FRY IS SO GOOD AND SIMPLE!
Yield:

4
Pineapple Beef Stir Fry - 5 Ingredient Meal
Quick and delicious week night meal that even the kids will love!
Ingredients
1 Tablespoon of coconut oil
1 pound of beef flank steak
2½ cups of pineapple chunks
3 Tablespoon of tamari
3 scallions
Instructions
Thinly slice your scallions
Slice your flank stead into strips against the grain.
Drain your pineapple chunks and reserve the pineapple juice for other uses!
Put the coconut oil into a skillet and heat over high heat. Add in the beef and pineapple and season with salt and pepper if desired.
Stir fry over high heat until the beef is cooked and the pineapple turns golden, which should take about 3 minutes or so.
Add in the tamari and stir-fry for another 2 minutes.
Take off the heat and add top with scallions. Enjoy!

Recommended Products
As an Amazon Associate and member of other affiliate programs, I earn from qualifying purchases.
Nutrition Information
Yield
4
Serving Size
1
Amount Per Serving
Calories

353
Total Fat

13g
Saturated Fat

7g
Trans Fat

0g
Unsaturated Fat

4g
Cholesterol

90mg
Sodium

821mg
Carbohydrates

26g
Fiber

2g
Sugar

23g
Protein

34g
Nutritional information is an estimate only and is auto generated. Please consult the nutritional information on the ingredients you use for exact nutritional information.
More Easy Weeknight Recipes