Quick and Easy Yogurt Drink Kids will love
Post may include affiliate links. We may earn a fee if you use them at no cost to you. Disclosure.
This is the most simple and quick yogurt drink recipe your kids will love!
Kids everywhere LOVE Danimal drinkable yogurt, then you look at the nutrition label and OMG…But there's an alternative!
I have discovered a way to make my own healthier version of Danimal Yogurt Drink at home!
These yogurt drinks come in short-size bottles that kids seem to go through before you can say "Dannon Danimal Drinkable Yogurt!". Wow… that's quite a mouthful.
But seriously… my kids would go through the jumbo pack within a couple of days. When you realize how little is in each bottle you realize how expensive they are.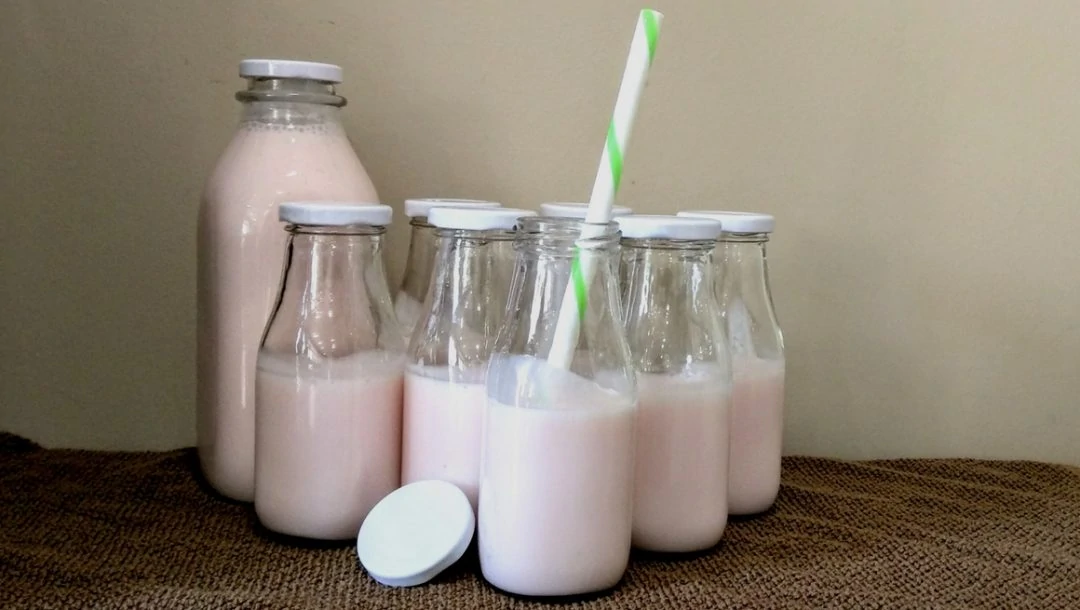 (Note: This post contains affiliate links but that in no way impacts my opinion of any product mentions and doesn't cost you any extra! I will only ever link to products I! It just means that I may be compensated a small amount for any purchase made which helps me keep this site up and running!)
I had to put a stop to these but I loved that they were basically drinking healthy protein-packed drinks.
I set out to find out how to make them at home and was pleasantly surprised to find out that my very first attempt at a "copy cat" hit the nail on the head!
My kids LOVED it and my 7-year-old even said "Mom, I like this even better!".
What about the convenience factor of making yogurt drinks at home?
Those little Danimal bottles are quite convenient. My kids would help themselves to the drinks constantly – which was nice (sometimes).
I have a perfect workaround though! I fill little glass bottles (that I have around the house anyway) with the drink and leave about 6 in the fridge at any given time.
This way, the kids can grab one whenever they like.


As a bonus… this type of bottle doesn't break even if you drop them! I guess you probably COULD break them if you were on a mission to do that, but my 3 and 7-year-old have yet to break one.
As for storing large batches… I even have a cute solution for that! If you haven't noticed, I adore glass bottles and mason jars. So… I store the large batch I make in a LARGER glass bottle 🙂
So how do you make my Yogurt Drink Recipe?
It's so simple that it's funny!
Half Yogurt + Half Milk.
That's it! Put one part milk, one part yogurt, and maybe a bit of honey in a bowl. Mix it and then pour into containers. That's it!
Depending on what yogurt you choose and what milk you choose, you can control the nutritional make-up. I love using greek yogurt best, but any will work.
Just a note about yogurt though…
That yellow-ish liquid that you sometimes see in the yogurt container… Do you know what that is? Have you ever thrown it out? Don't! It's WHEY! Seriously. It's practically liquid protein. So make sure to stir it in and use it!
Benefits of Making Your Own Homemade Yogurt Drinks
This simple yogurt drink mixture consists of yogurt, milk, and maybe honey which can sit in a fridge until the ingredients expire WITHOUT separating!
Unlike a smoothie that you need to drink shortly after making it, this mixture is ready to drink right out of the fridge! Super simple healthy and easy to grab and go!
Other Benefits?
Simple…
It's cheaper.
It's healthier.
Seriously though… You can use any yogurt you like to make this drinkable yogurt, which means that you control the nutritional value.
Personally, I like to use Greek yogurt with a bit of honey because it packs it full of protein, but you could use just about any type
Well… Will you be trying this? Let me know how you like it!
You may also like these tips and hacks for raising picky eaters!
Pin for Later