Fun Indoor Snow Day Activities For Kids
Post may include affiliate links. We may earn a fee if you use them at no cost to you. Disclosure.
Are you looking for some super fun indoor snow day activities for kids? This list will keep the kids active and help everyone keep their sanity as the snowflakes are falling down.
When I was a kid, I totally loved snow days. The sleeping in, the book reading, the snacking all day long…seems like a million years ago, honestly. And now that I've got kiddos that love snow days the same way that I did, I realize that there has to be a little bit of planning in place or we all might just go bonkers.
While snow days are great, it does mean that everyone is cooped up in the house for several hours on end. This is why having a plan of action for indoor snow day activities needs to be on your radar!
Luckily, I've gathered them up for you so all you have to do is implement.
Fun Indoor Snow Day Activities For Kids
This is just a small sampling of fun things to do on a snow day inside. Have your kiddos use their imagination as well to add to this list!
1. DIY Dinosaur Dig Using Kinetic Sand
This DIY Dinosaur Dig is a really easy to set up snow day activity and is so easy to put together AND clean. It's also perfect for all ages! (You might even enjoy it too!)
Have you ever used kinetic sand? It feels, clumps and molds like (or better than) real wet sand but is actually dry. Best of all, it's relatively easy to clean up. Even from the carpet! Jump squish some into a clump and then press it against the sand you want to pick up and voila! It will stick to your clump for easy clean up!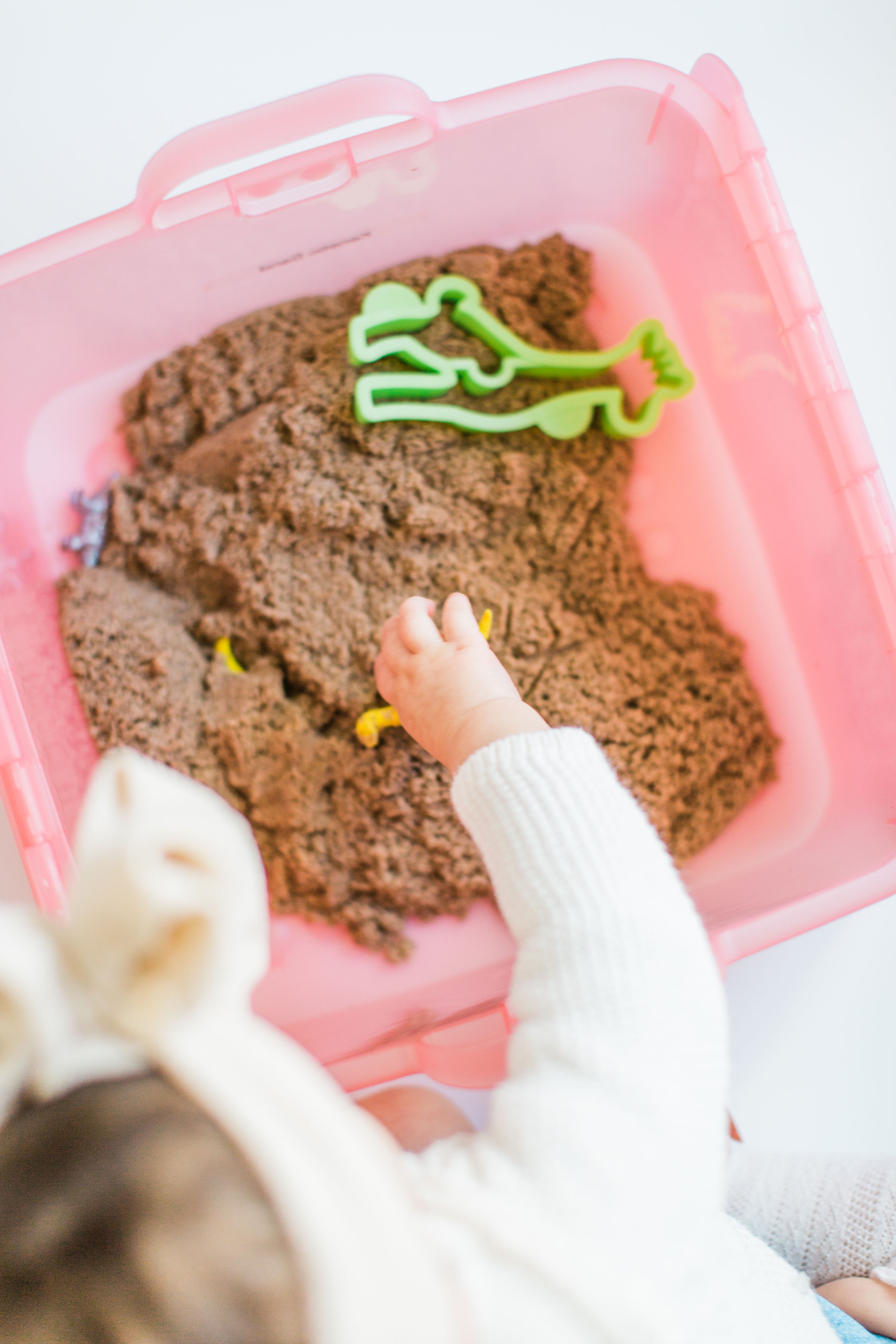 2. Water Beads Sensory Bin
I love activities that have little to no cleanup and this is a great option if you love low-mess and no-cleanup activities too!
If you're new to water beads, they are these tiny balls that expand into squishy water beads. A tablespoon of the dehydrated beads is enough for hours of fun! The problem is that when you search the internet for them, there are SO many options that it's hard to tell which are the best.
Luckily, Lexi from Glitter Inc has done the research for us and has some fun ideas for how to use them – Perfect snow day activity for your kids!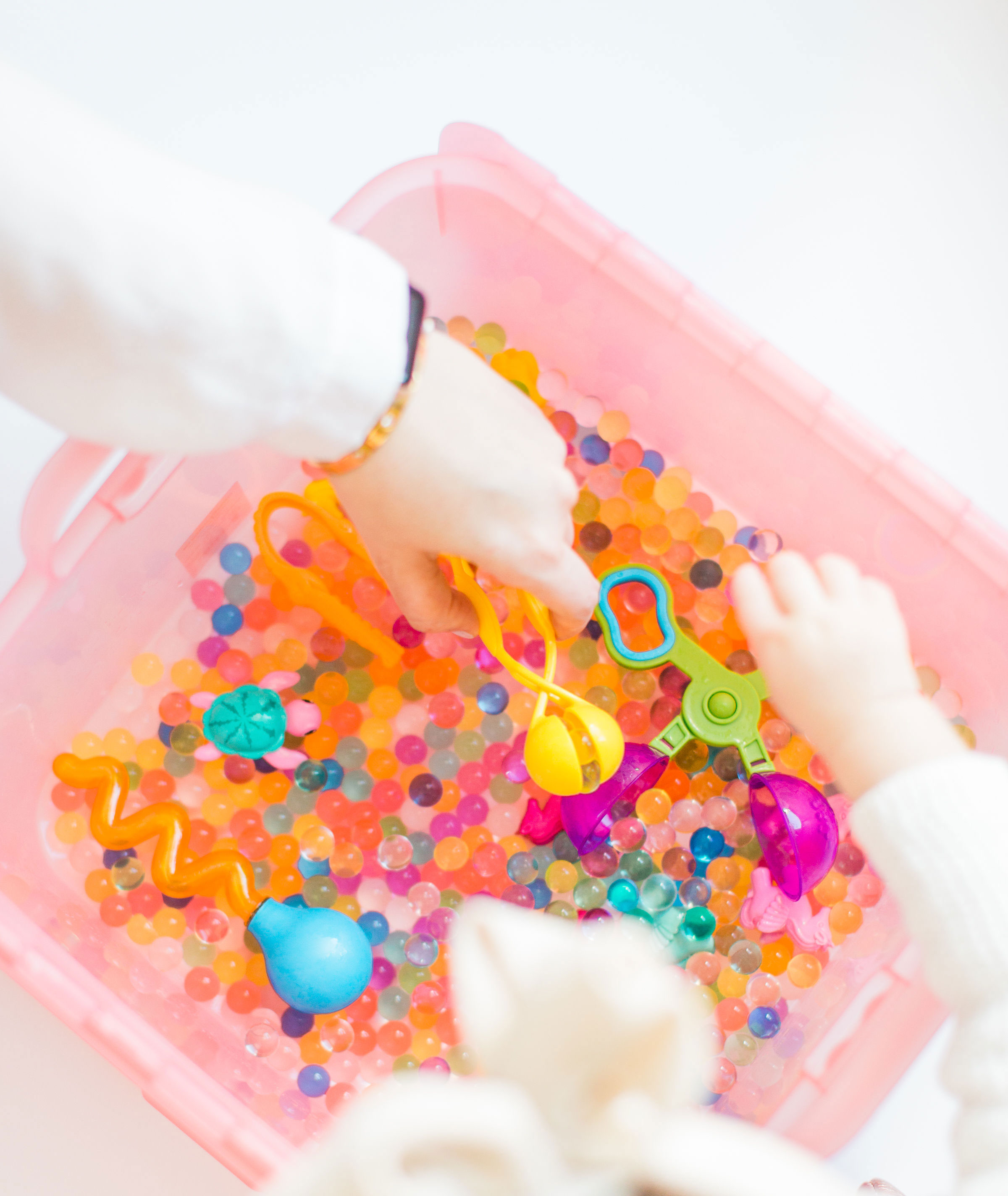 3. Fluffy Slime
Okay come on, admit it… You want to play with this too! Check out this blog post to learn about fluffy slime and how to make it at home!
Fluffy slime is totally different than regular slime so you have to make this one to compare!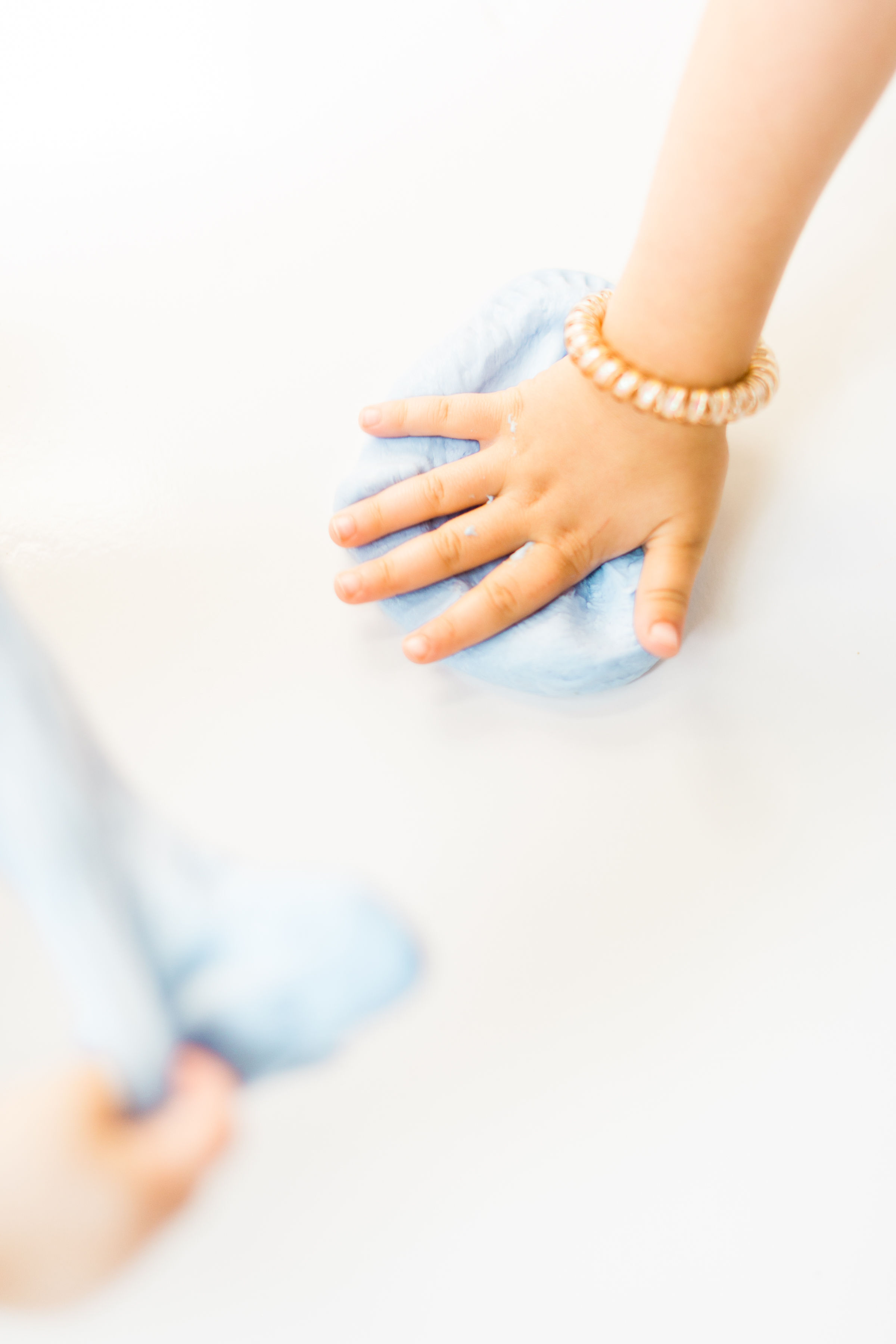 4. Elsa Themed Slime
You aren't going to want to "let it go" once you make it… and because all kids seem to LOVE slime AND Frozen, here's a great post that will help you make your own Frozen themed slime! Perfect for a snowy winter day!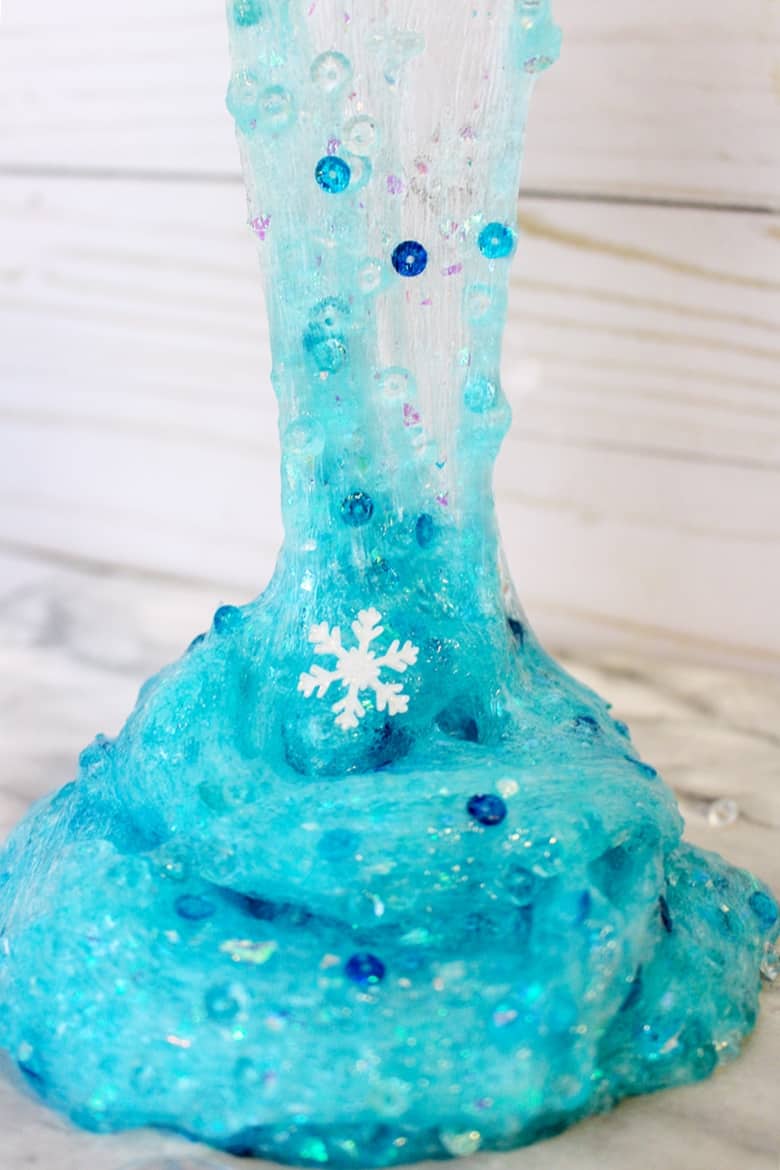 5. Play Dough Snowman
The snowman building fun doesn't need to stop once you're too cold to keep playing in the snow! You can create these fun play dough snowman kits and have fun building these cute snowmen with little to no notice!
Get the instructions here! You can even watch a video! (all snuggly and warm inside your house!)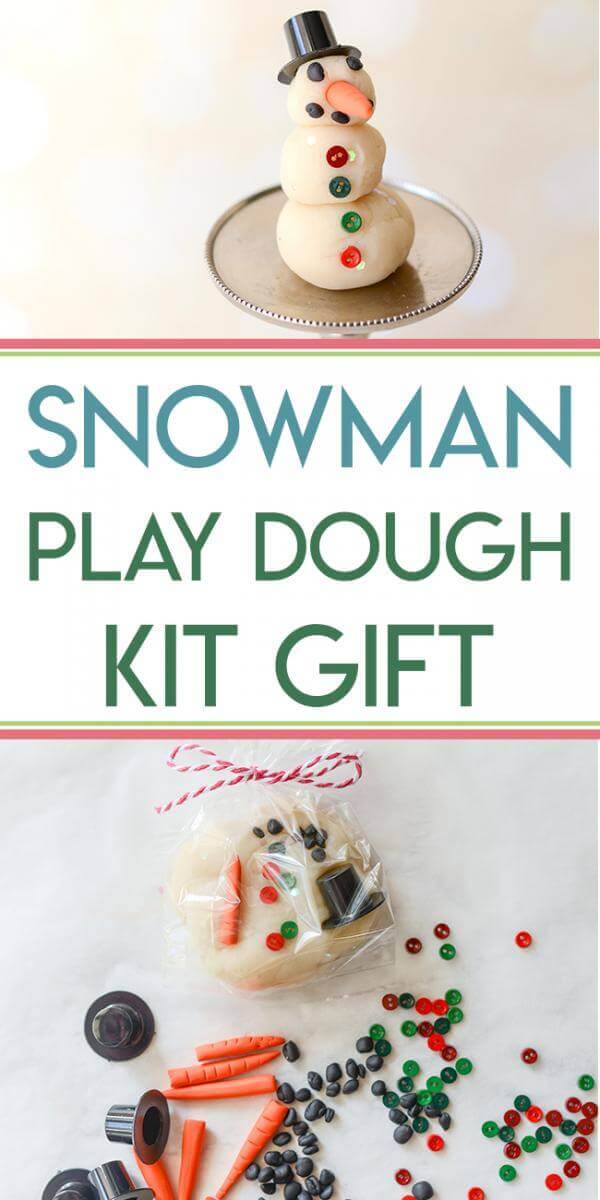 And the best part? Everyone gets to stay inside where it's warm! Not only is this fun for all but it's also a great indoor activity to work on their fine motor skills, too.
6. Icicle Painting
Just because you are staying inside on this snow day doesn't mean that you can't run out real quick and grab a few icicles to paint with!
Not only it is less messy than other paint methods but it's a really unique way to "paint" as well. Icicle Painting is going to be all the rage in your house, just wait and see.
And even if they do make a mess, just keep telling yourself that it's just water – because it is. Easy to clean up and certain to impress.
7. Swirling Milk Science Experiment
A snowy day means that there's always time for Science. The great part about this winter indoor activity is that there are very few supplies needed to get started.
Not only will the kids think that you're full of fun but they might also think that you have a bit of magic up your sleeves as well.
Have fun doing this Swirling Milk Science Experiment over and over again because there's no way you're going to be able to do it just once and stop.
8. Jello Sensory Play
Okay, let's just go ahead and address the elephant in the room. This jello sensory play is going to be messy. BUT – tons of fun and some pretty awesome picture-perfect moments, too.
While this snow day activity is geared mainly towards the littler kids, don't doubt for a moment that the bigger ones won't jump in on the fun.
9. Snowman Bowling
Who says that the kids have to go outside to build and play with a snowman? This Snowman Bowling game is as simple as printing out and getting it set up.
All you need is a rolled up sock to try to toss a strike. You just might find out who's the most competitive person in your family with this fun family-friendly indoor game.
Make certain to pick out a "cool" prize for the winner!
10. Rainbow Toast
As I mentioned earlier, every at-home snow day needs to start off with an amazing (and fun!) breakfast. This Rainbow Toast not only looks really cool but it tastes great as well.
And the best part? The kids can lend a hand in creating their very own breakfast, too. Not only are they making a snack but they're working on their fine motor skills as well.
One simple alteration that you can make to this is that you can add colored sprinkles or edible glitter to give your rainbow toast some real sparkle!
11. Salt Dough Ornaments
Finding ways to keep the kids entertained on no school snow days shouldn't be all that hard. One winning choice to whip up are these Salt Dough Ornaments.
They're really simple to create and the kids will have a blast taking over and making them, shaping them, and decorating them.
They really are versatile and fun!
12. Rainbow Rice Sensory Bin
All little hands love to play in rice. It's just the way it is. And if you have someone in your house obsessed with rainbows, this Rainbow Rice Sensory Bin is going to make their day!
Instead of staring outside at the cold weather, they can be spending their day playing around in the colors of a bright and beautiful rainbow!
Add in some simple toys and you've created a totally epic sensory bin.
13. Shower Curtain Boredom Buster
In our house, the word "bored" isn't really allowed. It's one of those words that slip out when the imagination has stopped for the day.
This is probably one of the most inexpensive and creative ways to break the cycle of boredom, ever. It's so simple, it's genius. Seriously.
While this Shower Curtain Boredom Buster is perfect for snowy day fun, this is one indoor activity that can literally be done all year long.
Who knew that there were so many fun and easy indoor snow day activities just waiting to be explored?! All you need are a few simple supplies and your snow day is going to be jam-packed full of fun, learning, and imagination!
Do you have any other fun indoor snow day activities that you'd add to the list?