Transformer Table Review & Coupon: Read This Before You Buy
Post may include affiliate links. We may earn a fee if you use them at no cost to you. Disclosure.
One of the biggest issues people have in their homes is insufficient functional space and seating around the table. A large table that fits several family and friends is great for entertaining. But it can leave your area cramped and cluttered.
Introducing the Transformer Table – the furniture accessory you've dreamed of your whole life. No longer worry about having enough room for entertaining with a transformable table. But you also don't have to sacrifice your living space when you have a transforming table.
Find out why the world is falling in love with a transformable table in this Transformer Table review.
Quick Links to Information in this Post
What is the Transformer Table?
So, you're wondering, what the heck is a Transformer Table? We're happy you asked because we're ready to rave about the endless possibilities of this expanding table and bench.
The Transformer Table is your all-in-one multipurpose table. To save space, you can set it to a compact dinette with room for two. But when you're entertaining or need extra room, you can extend the table into a banquet piece that can seat twelve.
What kind of witchcraft are we spewing, you're asking? First, there's no way a tiny, tight table can magically stretch to fit six times the original number of people. Ah, but you're mistaken because this extendable table and bench set makes it happen.
What is the Transformer Table
The Transformer Table comes assembled and sized for a minimalistic, slender table for two. It's ready for use, straight out of the box.
And at only 18″, you can push it out of the way into any corner and pull out at mealtimes. Or you can use it for an end table to hold your decor when you're not eating.
But when you need plenty of space to seat several people, you can expand the table. You don't need tools, construction experience, or hard work to make your Transformer Table larger.
So, how do you make it bigger, then? Your Transformer Table comes with extra pieces – panels or leaves – that you can add to make the table larger.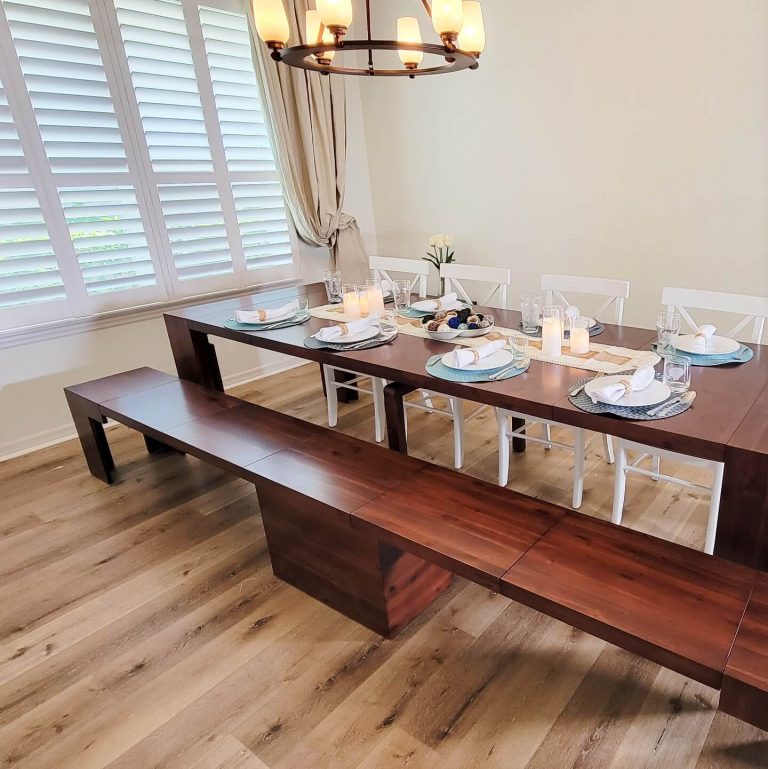 What is the Transformer Table Bench
The sturdy, slim backless bench provides the perfect solution for seating to go with your Transformer Table.
It neatly fits under your table when you're not using it, making it efficient and handsome. And when you pull it out, the wide surface is a spacious seat for one.
But inside the bench are panels extending the seat for additional room. Assembling the extension is as easy as pulling the two sides apart and fixing the panels into place over the braces.
What is the Transformer Table Coffee Table?
The Transformer Table coffee table is a useful and versatile furniture piece. You can use it for traditional uses of a coffee table.
But it cleverly serves a second function. Underneath the table, you can store the table leaves when they're not in use.
Delivery, Unboxing, and Assembly
Your Transformer Table will come in multiple boxes. One box will contain the assembled two-person table. Another box has additional leaves for extending your table.
The bench will come in a third box if you buy the dining set. And the same goes if you buy the coffee table.
Unboxing the different components is quick and tidy. There's not much mess to clean up. The wood pieces inside each box have plastic sheeting wrapped around it. Styrofoam helps keep the pieces sturdy during transport.
Assembly is also easy. The table and bench come assembled and ready to use right out of the box. If you want to make them bigger, there's no need for tools or extra hands to help.
The ease of assembly for extending the table gives it a point in favor of a Transformer Table vs. other extendable tables with leaves.
Pull apart the table (or bench) and place the leaves over the exposed brace. Then lock them into place with the latches on the bottom of the panels.
Transformer Table Design & Colors
The Transformer Table has several beautiful natural finishes that can go with any room interior. The sleek design and clean lines can enhance your mid-century modern minimalistic decor as much as boost your traditional, contemporary accents.
For a traditional look that you can work with any decor changes or upgrades through the years, go with American Mahogany. It can also achieve a classic mid-century or Americana vibe from the rich brown color and clean lines.
Siberian Birch is grayer for an earthy, rustic look. Scored distressing adds a lightly textured, comfortable elegance for a complementary look with any decor style.
Australian Acacia is a brighter, lighter shade of wood with honey and gold hues, accented with random darker brown streaks. You get a contemporary chic elegance that can hit mid-century modern, farmhouse fresh, or any design that calls for pale natural hardwood.
Or, for a charming, luxurious stroke of boldness, you can choose the beauty of the Canadian Black Oak. This dark table has steel-brushed detailing for texture and visual effect to give you a bold contemporary look.
Expanding the Transformer Table
Transforming the kitchen table from a compact two-person table can be done by one person. Check out this video to see it performed.
By pulling the table apart, you can extend the length of the table to accommodate twelve people and 750 pounds. The included leaves fit into the gap created by splitting the table.
Transformer Table
The Transformer Table can be the answer to all of your table needs. The adjustable size to accommodate different uses and seats makes the transformer dining table a functional choice for family homes, small apartments or condos, or large formal dining rooms or kitchens.
Leaves/Panels
You can extend the Transformer Table from two-person to twelve with the included leaves. There are five in total, but you can also use fewer if you want the table to be shorter.
Installing the leaves is as easy as placing them over the metal braces once you've extended the table. Underneath each panel are two latches that keep the leaves secured to the table.
The panels can store inside the transformer coffee table when they're not on your table. The bench also has leaves, which you can keep inside the seat base.
Transformer Table Dimensions, Configurations
When you have the Transformer Table in its compact form, the dimensions are 30″ tall, 38″ wide, and 18″ long. The bench collapsed is 17″ tall, 14″ wide, and 28″ long. This size makes the table big enough for two people to eat, with one sitting on the seat. In addition, it can double as a desk.
Adding one panel increases the Transformer Table dimensions to 38″ in length, while the bench stretches to 48″. You can use the space for two people at mealtime, a desk, or play games with four people. Two people can fit on the bench; three if you don't mind being a tight fit.
Two panels make the table 58″ long and 68″ for the bench. It's the perfect size for family meal time with four to six people. Three people can fit comfortably on the bench with enough space that you don't bump into each other. It's perfect for after-school snacks or homework time.
With three panels, you get a table length of 78″ and 88″ for the seat. Extend your table to this size for social gatherings, small parties for up to eight people, or having the immediate family together for dinner. Four people can spread out on the seat.
By the fourth panel, the table will be 98″ long with a 108″ bench. You'll appreciate the spaciousness if you're hosting frequent parties or have many family members to feed. It's also great for doing crafts when you need a large work surface to spread your materials.
And when you place the fifth leave in, your table reaches a length of 118″, which is the perfect size for a banquet table to seat the entire family or a group of 12 friends. The bench extends to 128″.
Ways to Use the Transformer Table
The ability to adjust the size of the Transformer Table makes it the most versatile piece of furniture in your home.
Keep it compact and unextended for a spacious and sturdy desk or workspace. It's also enough room for two people to share a meal.
And as you add the leaves to make the table longer, you get different uses. For example, if you want to use this as your dining table, you can keep one or two of the leaves installed. Then, when you're not using it for mealtimes, you can double it as your workspace, craft space, or a place for kids to snack and do homework or play games.
It can also go into your kitchen as the permanent table where your family has their meals. You can set the size with the ideal number of panels and leave them in place. Or you can assemble the kitchen table as needed, leaving it tucked away in its compact size the rest of the time.
Finally, turn it into a banquet table for large get-togethers or formal occasions when you put all the panels into place. If you have the space, you can leave your table in its extended form. But it will take up a lot of space.
Transformer Table Pros and Cons
Before you buy a product, you want to know the good and bad. So, check out these pros and cons of the Transformer Table. Although we have listed minor points in the cons list, we don't feel these slight issues should dissuade anyone from purchasing this super rad table. There are plenty of easy workarounds for the things we point out.
Advantages
Adjustable size
Compact design
Versatile uses
Compatible pieces for easy storage
Holds up to12 people when fully extended
Disadvantages
Costly – but the versatility and adjustability make it a good value for your buck
It only comes in a sleek, modular design that some people might not like (decorating with your favorite accents and chair styles can influence other styles)
Shows fingerprints and scratches easily (a tablecloth or table runner can eliminate this issue)
Other Transformer Table Reviews
A quick glance at the Transformer Table reviews will show you that it have an amazing average rating of 4.7 star across over a thousand reviews!
Some of the most recent Transformer Table reviews in 2022 include comments like:
"We ordered the table and benches site unseen and have never been so pleased. The dining set is solid and beautiful. Because of the quality of our purchase and the customer service we are ready to order sectional furniture from Trsnformer."
"Just bought my own place and bought my first piece of "adult" furniture, and this was it! The purchasing process was easy and the customer service people I spoke with were super helpful and kind. The delivery was a little overwhelming to be honest, but again people were very friendly to deal with.
Now that it's finally here, unboxed, and in my dining room…. I can't believe it! It looks amazing, is a great space-saver, and definitely a conversation starter when I have people over. I love everything about it. I got the Acacia finish, and the wood grain is gorgeous and luminous! Love love love it!"
"This table and bench is the perfect solution for my apartment. At its smallest with no leaves, it makes my apartment look more spacious yet I can have my meal there. I had my first dinner party with 2 friends and it was just the right size. I moved the bench from under the table to my living room and use it as a side table in front of a window."
"I really hesitated over the price of this table but after purchasing it I am quite glad I did. The sliding mechanism is supper strong and high quality. I love that this is solid birch and not cheap MDF board. Overall I see this table lasting my family generations."
I couldn't agree more with all of these reviews and so many more on their site! Go check them out!
How Much Does the Transformer Table Cost?
Okay, we're sure your fingers are itching to navigate to the buy button so you can get a fabulous Transformer table. But of course, you're wondering about the costs first.
You can get the 6-in-1 Transformer Table for around $2,200, which also includes your choice of a free coffee table or a bench. You're right if you think the price sounds higher than a table from Ikea.
But in reality, this kitchen table is more like several different tables combined into one. Whether you want a table that's small enough for a desk or a dinette for two people, you got it. But need a massive banquet-style table to host a party? Check. Can you put a price on that much versatility and creativity?
And when you compare the more conservative price of $2,200 to what you would spend on a premium solid-wood banquet table with seating and chairs for twelve, it's quite a steal.
If you want to also get the transformable, extendable bench to go along with the super-duper table, it's an additional six hundred dollars.
But you can get an even better deal when you purchase the transformer kitchen table, bench, and coffee table for $3,200. Remember that the coffee table is your convenient way to store the additional panels for the table when you don't have it fully extended.
How to Save on the Transformer Table
I'm such a fan of the Transformer table that I want to help others enjoy the versatile benefits. So, use my coupon code ANALYTICALMOMMY100 to save $100 on any purchase over $899 site-wide!
Click here to order and then use my code to save!
What Other Products Does Transformer Table Sell?
Besides the Transformer Table, you can get other modular products like expandable couches and outdoor furniture.
Is the Transformer Table Worth It?
With the versatility in use, size, and storage, there are many benefits to a Transformer Table vs. other options. My honest transform table review is that this single furniture piece solves most of your table problems.
Use my discount code ANALYTICALMOMMY100 to save $100 on anything purchased site-wide. This offer is only valid with a minimum purchase of $899.
Frequently Asked Questions about the Transformer Table
Check out these frequently asked questions about the Transformer Table to help you decide if it's a purchase you want to make.
Does the Transformer Table have a Return Policy?
There are several terms for returning a Transformer Table. First, you can get a refund but shipping the product back to the company is an expense you will have to pay.
Does the Transformer Table have a Warranty?
The Transformer Table comes with a one-year warranty that covers structural defects.
What is the Transformer Table Made of?
The Transformer Table is 100% solid hardwood.
Does the Transformer Table Include Extra Parts?
Perhaps one of the best things about a transformer table is that it doesn't come with a bunch of random parts that can get lost. Because your table and bench come completely assembled, the only additional item you'll find in your box is a small bottle of stain that can repair scratches.
Does the Middle Leg Get In the Way?
The middle leg is adjustable based on the people that sit near it. The leg isn't in place when the table is small.