how to make paper sunflowers with Your cricut (FREE sunflower Cricut SVG)
Post may include affiliate links. We may earn a fee if you use them at no cost to you. Disclosure.
LEARN HOW TO MAKE PAPER SUNFLOWERS – A STEP-BY-STEP TUTORIAL PLUS A FREE SUNFLOWER PAPER FLOWER SVG FOR USE WITH YOUR CRICUT, SILHOUETTE OR ANY CUTTING MMACHINE!
Paper flowers are so beautiful and thousands of crafts just like you have already followed my how to make paper flowers tutorial! Well, I'm excited to share that I have a NEW flower template that I think you'll love! It's a sunflower paper flower template!
Don't sunflowers just make you think of summer? The bright sun, iced tea, cookouts… such amazing memories! It's no wonder that sunflowers make me feel happy! I hope you feel the same way because if you do – you are going to love my new Sunflower Cricut project!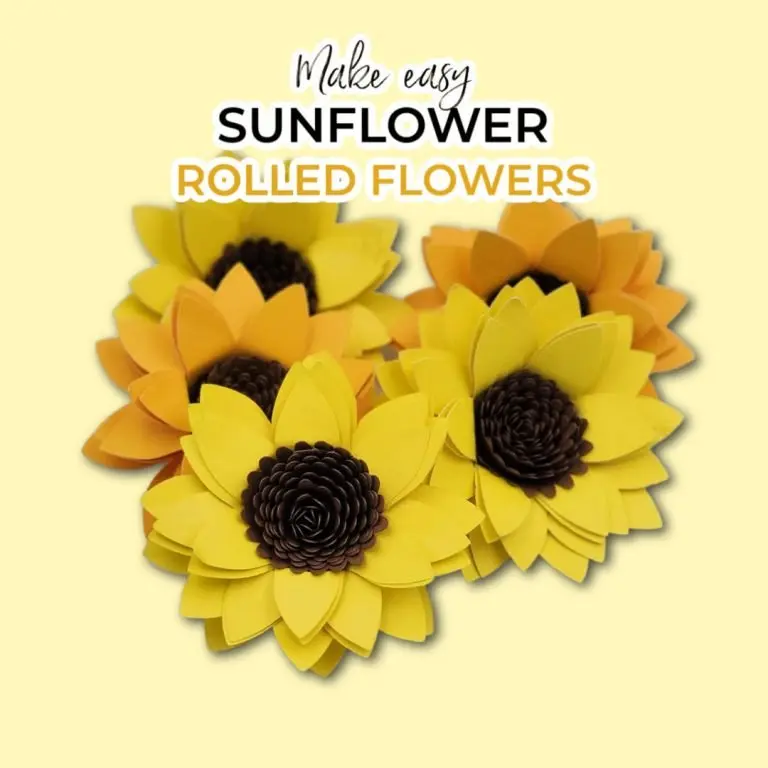 If you're new to making paper flowers, not to worry! Paper flowers were one of the first things I made with my Cricut so you do not need to be an expert Cricut maker to make them at all! I'm going to share everything you need to know to make these paper sunflowers in this post.
There is ONE unusual step to this project but it's an easy one so just be sure to read the tutorial carefully or watch my sunflower paper flower tutorial video so that your flowers will come out perfect from the start!
… and if you want to learn more about how to make paper flowers, be sure to read my full paper flower guide to learn more!
Alright – are you ready to get started making paper sunflowers with your Cricut? Let's go!
This step-by-step video tutorial shows you how to use my sunflower template for Cricut and how to assemble them so you can use them for all sorts of projects from shadow boxes, to picture frames, wreaths and so much more!
Quick Links to Information in this Post
MATERIALS FOR this SUNFLOWER Paper Flower
Get everything you need to make these sunflowers from my Amazon shopping list!
You really don't need much to make these flowers which is one of the many reasons I'm so obsessed with making paper flowers! With just some cardstock and glue, we can make flowers that will make heads turn and then the possibilities are endless!
If you're new to making these, be sre to read my FAQs at the bottom of this post!
If you're a fan of this sunflower paper flower and my other paper flowers, you will want to check out my projects that USE these flowers! Check out my American Flag Shadow Box, Floral Picture Frame, Paper Flower Bouquet, and Paw Print Shadow Box!
How To Make Paper Sunflowers – A Step By Step Tutorial
Yield:

1
how to make paper sunflowers with YOUR cricut (Free sunflower Cricut SVG)
Gorgeous and easy to make Paper Sunflowers! My new rolled paper flower template you can make with your Cricut!
Materials
Instructions
Step 1: Get access to and download my Sunflower Cricut Flower SVG
If you already have access to my Resource Library, then you're in luck! You can just click here to download the Sunflower Paper Flower Template!
If you don't have access yet, not to worry! You can get FREE access in seconds by clicking this link or filling out the form at the bottom of this post.
Once you're in my resource library, just search or scroll until you see the Sunflower Cricut Flower SVG.
Download the file and then unzip it.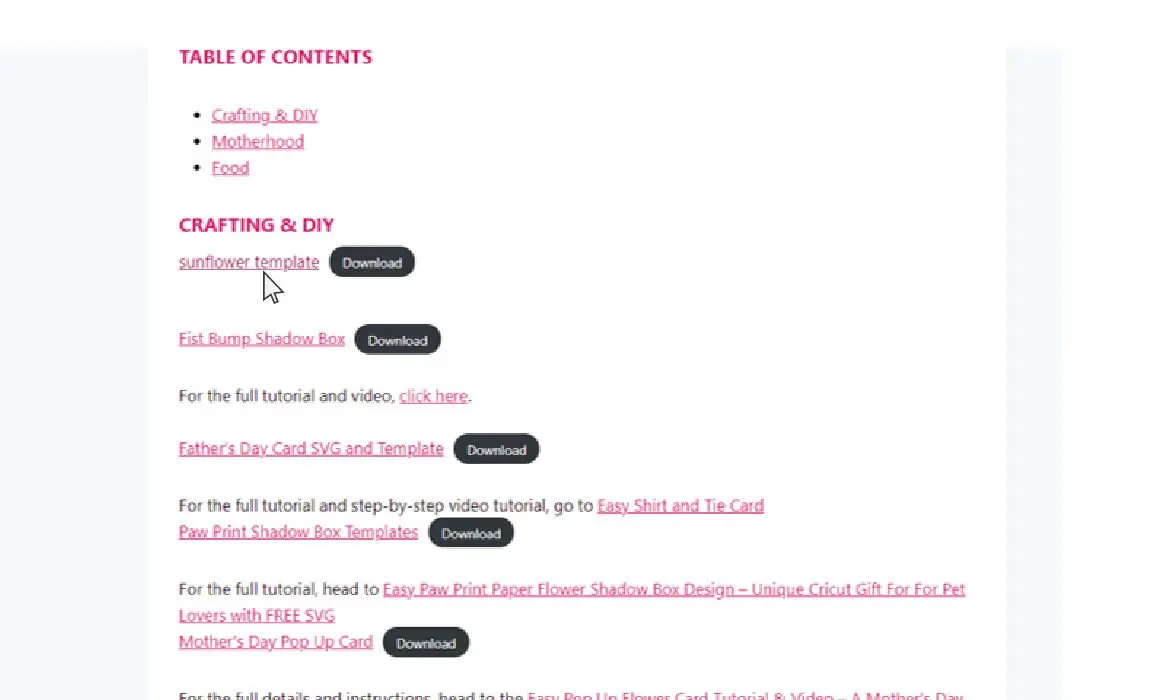 Step 2: Import my Sunflower Template For Cricut Into Design Space
Now you're going to import the SVG file you just downloaded into Design Space so that you can cut it. If you are new to using a Cricut Machine, Design Space is the software you use to tell your Cricut what and how to cut. If you don't have it yet, go to Cricut.com and download Design Space for free.
Once you open Design Space, import the SVG by following these steps:
2. Click "Upload"
3. Click "Upload Image"
4. Select the SVG file for this project.
5. Click "Upload"
6. Select the file you just uploaded from the library
7. Click "Insert Images"

Step 3: Resize the Sunflower Paper Flower Template

When you import the SVG you'll notice that the flower is in two parts. This is so that you can make the flower out of two colors. Brown for the center and yellow for the petals. Both pieces will be grouped so that when you resize it, both parts will resize together. This is important so that the flower parts have the right proportions.
If you are going to resize, I recomment resizing while the two parts are still grouped. (And there really isn't much of a reason to ungroup them - you can leave them this way)
The flowers you make using my file, if you don't resize them, will be about 3.5 to 3.75 inches wide. You can resize the grouped spirals as needed to make your end flowers bigger or smaller! Just don't ungroup the spirals.

Step 4: Cut Out Your Sunflower Spirals
Now we are ready to cut out the parts of your sunflower paper flower! Pick out your cardstock. You are going to need a color for your petals and a color for the disk (the very center of the sunflower). I used yellow for the petals and brown for the center.
Put your yellow cardstock (or whatever you chose for the petals) on your mat and press firmly everywhere along the paper. This will make sure that you get a nice clean cut and that the paper won't come up while cutting.
Next turn on your Cricut machine and click "Make it" in Design Space.
Now you want to check two things. Check that your machine is set to cut Cardstock (either on the Cricut Explore Air 2 dial or in Design space).
Then check the blade in your machine and make sure that you are using the fine tip blade. This is the standard blade so if you've never changed your blade, you are good to go!
Now slide your mat into the machine and click on the double sided arrows. It will pull the mat in and then the button with the Cricut C on it will start flashing. Press that button.
Your machine will begin cutting. When it's done, you will press the double sided arrow again to unload the mat.
Next repeat these same steps with the brown sheet of cardstock.

Step 5: Assemble Your Sunflower Cricut Flowers

Now we are ready to assemble our paper flowers and make your gorgeous sunflower cricut flwoers!

Normally when I explain how to assemble Cricut flowers, we start by rolling. Not this time! This time we are going to start by gluing.
When making a sunflower paper flower, we start by gluing the two pieces together. Grab your yellow piece and find the very end of the spiral. Add a drop of glue to that spot. Next find the center of the brown piece and press that into the glue. It should look like this: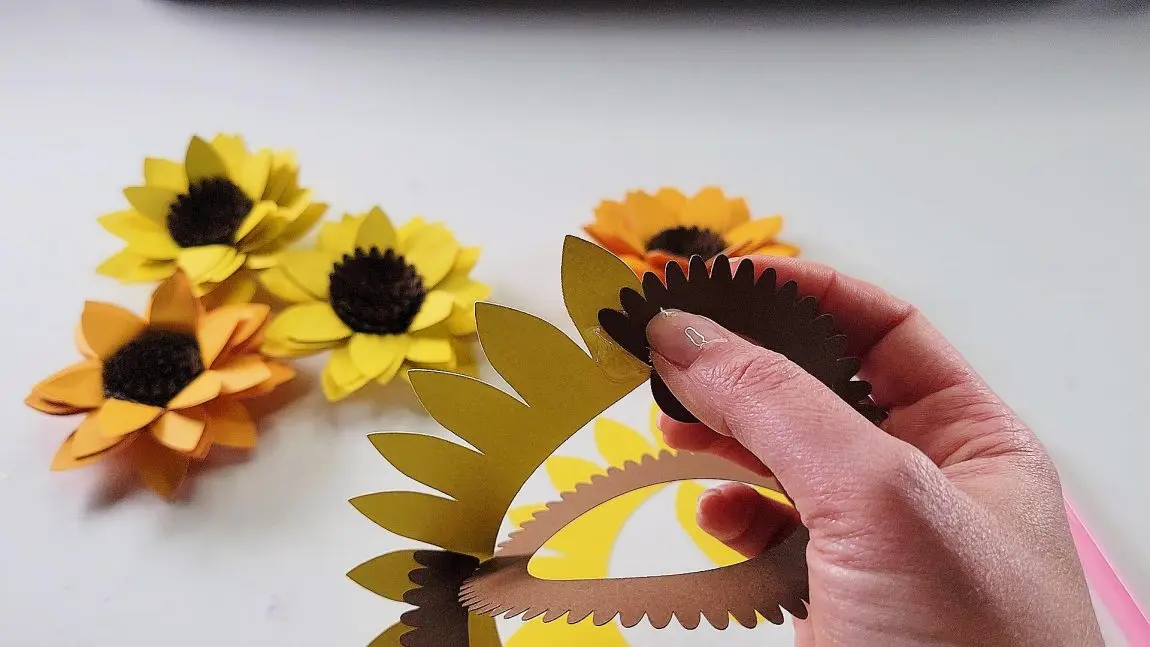 Note that the center of the brown spiral has a circle. You want the circle facing down and the ridges facing up just like the petals are facing up.
Hold the two pieces together for a few seconds to make sure they really stick. Once the glue has noticeably cooled you should be good to go.
Now we're going to start rolling!
Grab your quilling tool if you're using one. This makes the process quicker but it is not required.
Find the end of the brown end of your spiral, slide it into the quilling tool and begin rolling it towards you. Continue rolling until the entire brown and yellow parts are rolled together.
Now don't freak out but... we are going to let go a bit and let the flower unroll a little.
This will give us a better result. You don't want your flower to be completely stuck tougher in a roll. Watch my sunflower paper flower tutorial video to see what I mean.
Then add a drop of hot glue on the very center of the brown portion and fold the brown circle "flap" over and onto the glue. This will hold the center together! Hold the flap down until it cools a bit.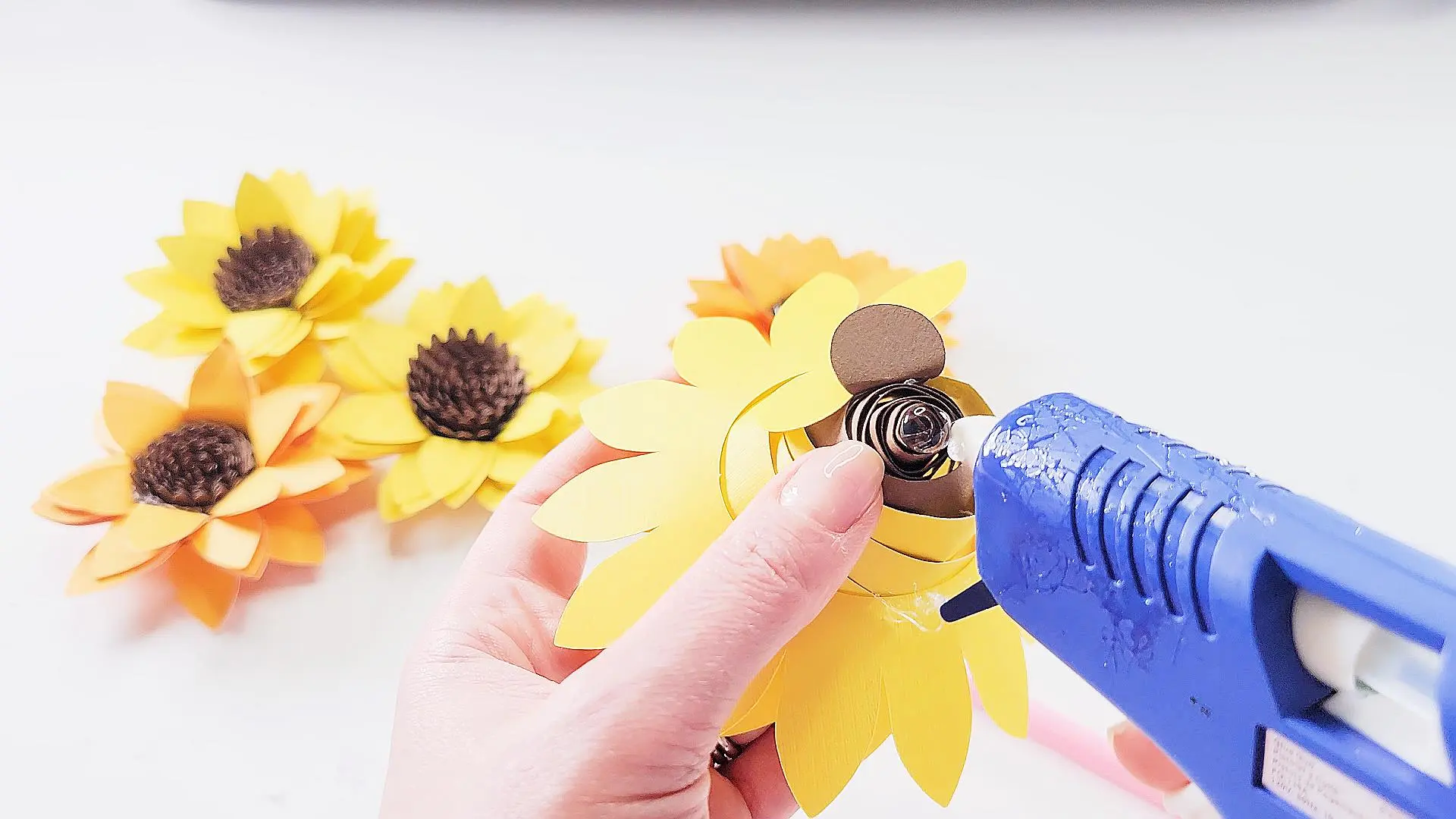 If you want - this is completely optional - you can score the center of each petal to make a slight fold and makes it look a bit more natural. I just use my nail to scratch a line along each petal.
At this point your yellow petals are likely very loose. With just your hands re-roll the yellow sunflower petals and put them back in place but still a bit loose. Now add a drop of hot glue on the bottom of the brown flap you just glued a moment ago and fold the yellow flap over to glue it against the brown flap.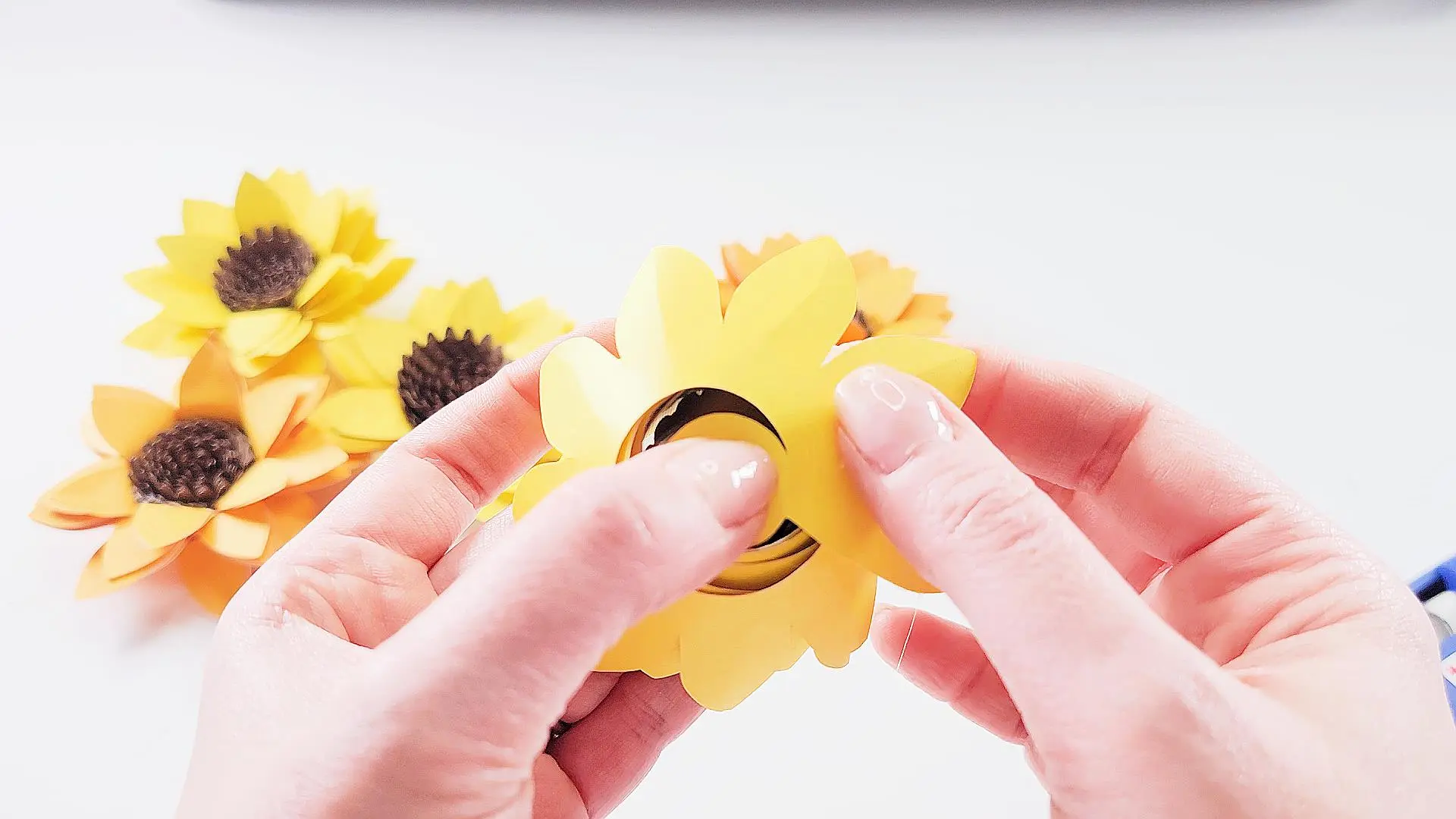 Again, how it in place for a few seconds to secure it.
You're almost done!
Step 6: Adjust the Sunflower Paper Flower Petals
All that's left is to arrange the petals. Just fold each petal outwards starting from the outside and going in. Since this is a sunflower, you can fold them back and don't need to roll them back like we do when making flowers bloom in my other flower tutorials.
When you get to the very center, you can put the flower down and just press the petals back but that's up to you!
All done! How do you like it?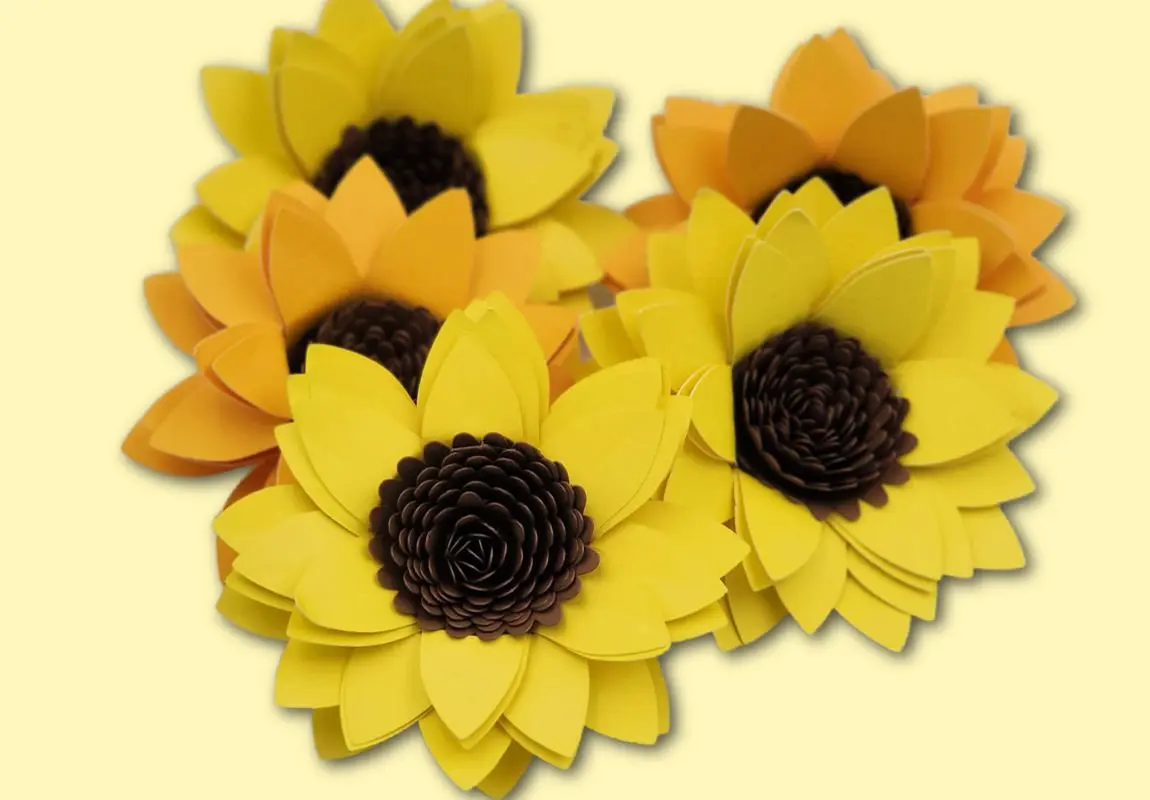 Notes
Take a look at the FAQ section is you have questions! Don't see your question there? Leave a comment and I'll reply back!
Recommended Products
As an Amazon Associate and member of other affiliate programs, I earn from qualifying purchases.
ANSWERS TO YOUR QUESTIONS ABOUT MAKING A Rolled Sunflower Paper Flower
Can you make these using a Cricut Joy?
Absolutely! You would just need to resize it accordingly.
How big do these flowers end up?
3.5-3.75″ if you cut them as they are and don't resize them.
What is the best paper for paper flowers?
I personally think that 65lb carstock is the perfect weight for rolled paper flowers like this. It's sturdy enough to hold it's shape really well but not so stiff that it bend awkwardly.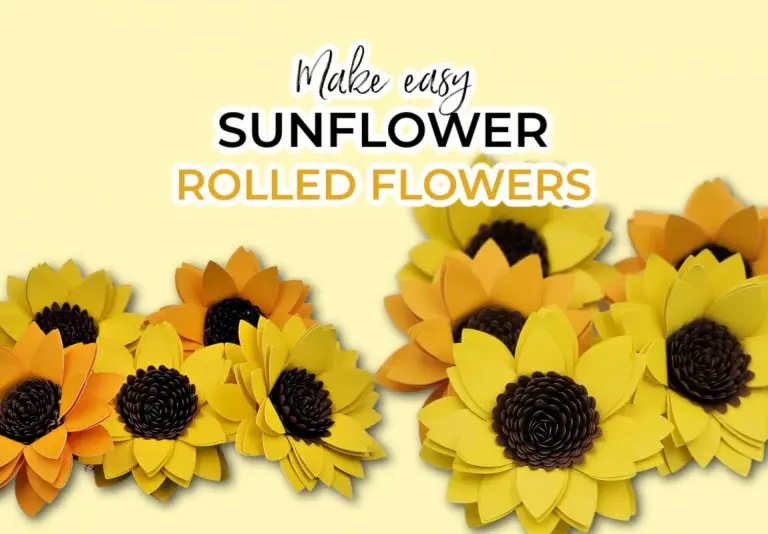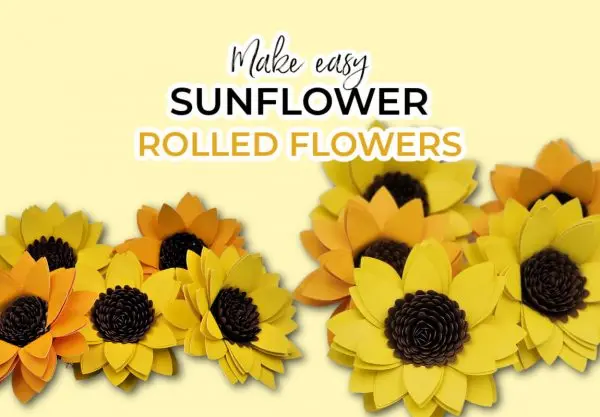 I'd love to see YOUR …l projects and how you ….! Please share a photo in our Facebook group or tag me on social media with #analyticalmommycrafts or @analyticalmommy! I can't wait to see how they turned out!
More of the Best Rolled Flower Cricut Projects
Save this project for later and pin it to your favorite Pinterest board!