19 of the best Road Trip Tips for families (And a FREE Road trip planner!)
Post may include affiliate links. We may earn a fee if you use them at no cost to you. Disclosure.
I've compiled the best road trip tips and tricks so you can take a fun road trip with kids. Whether you're specifically looking for tips for a road trip with a toddler or just want road trip tips for families, this post has what you need to make your road trip more enjoyable and smooth for everyone! Plus, at the end of this post you'll be able to download my road trip planning template!
It includes a road trip packing checklist, daily road trip schedule planner AND of course a road trip budget template because when you plan ahead everything always goes smoother! Especially when kids are involved!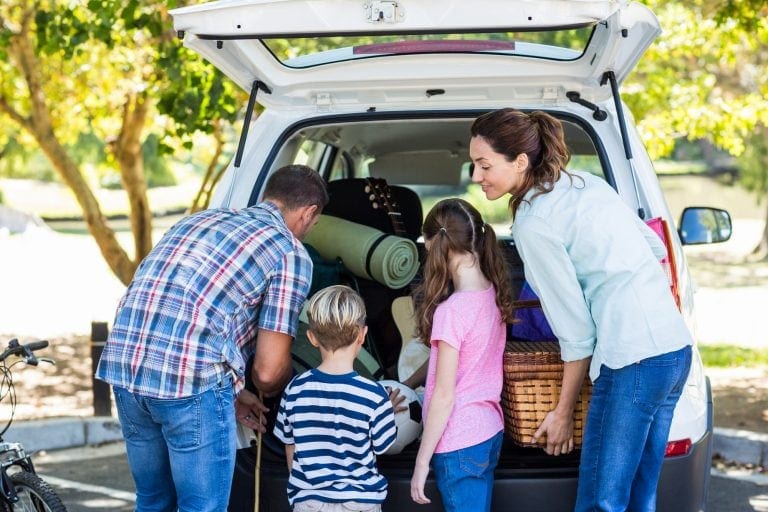 Anytime you're traveling anywhere outside your home base or bubble, it's a good idea to have a list of activities or ideas on hand to help occupy the kids. Make certain that you bookmark this page or pin for later when you're getting ready to launch and plan your family road trip!
All of these road trip tips are great for a wide variety of ages of kids. Some options involve a bit more noise than others but don't worry – all are suitable for making road-tripping with kids fun and enjoyable so you can change things up so you have periods of quiet too! Many of the items listed below are very lost cost and some are even free as well!
Okay let's dive right in…
BEST TIPS FOR ROAD TRIPS WITH KIDS
If you're stressing about your next road trip, these travel tips can help you have a bunch of simple ideas and activities to keep the kids calm during your travels.
19 Road Trip Tips For road-tripping with kids
These road trip tips are so much fun and the kids are certain to love them as well!
This road trip planner is free and exclusively for Analytical Mommy subscribers! It's the best road trip planner if you're looking for thorough but practical packing lists and checklists, want to plan out your daily schedule, and want to keep to a vacation budget! Download it now and save it for your next trip!
Plan to drive mostly at night and during naps if you can
Let's face it, road trips are most fun when kids aren't fussing and complaining. So it's great if you can plan to drive while they sleep! It's a great time to chat with a bond with your spouse too! Just make sure that you're both awake enough to drive and plan on keeping eachother alert.
Whenever the kids are snacking in the car I worry about choking. While it would be nice to say no food in the car for that reason, it's not very realistic. This is why I love having a LifeVac with us. This choking emergency device is small and includes everything you need if an adult or kid starts to choke during your trip! It's really easy to use too and has already saved over 100 people! I've partnered with them in the past and I'm a huge fan! We now have one at home and in our car!
Pack a variety of snacks
Pack lots of snacks! I like to pack stuff that kids are unlikely to choke on. Cheese puffs like Pirates Booty are a great option because they melt in your mouth but use your best judgement as you know what will be safest for your kids.
These are such HUGE lifesavers! They help your kids play with their toys (and not drop them every three seconds), give them a good sot to hold snacks, and put lots of activities within arms reach!
Photo Credit: www.partythroughtheusa.com
Playing games really helps to pass the time! Click the link to learn a snack-time game that combines snacks (yum) and games (fun!).
Reusable sticker books are a great option for toddlers! They are super easy to use and you can find lots of options with your toddler's favorite characters!
Play kid's music
Yea I know... after driving for hours, you probably don't want to listen to Baby Shark but if you play music your kids love, they will be happier in the car and get less antsy!
While you may want to limit screen time, at some point you will likely want to pull out a tablet for a few minutes. Check out this hack for an easy and FREE way to mount your tablet to the headrest so that your kids won't be holding it the whole time. Why is this a problem? If they hold it, they will likely be looking down while using it and get car sick.
Photo Credit: barleyandbirch.com
Kids can develop travel anxiety out of no where. It may not become noticeable until after the trip has started! So read this tips so that you can prepare for possible travel anxiety before it hits.
Keep a change of clothes and diapers within reach
Your kids may spill on themselves, throw up or just get very dirty. We have had to change our kids' clothes so many times while on car rides so we've learned to keep a change of clothes for ALL our kids on hand just in case. I'm speaking from experience when I say that you won't want to have to dig through suitcases while your kid is covered in spitup or throw up!
On that note - if your kid is recently potty trained, consider using pullups instead of underwear for the ride. Also make sure that you have something for them to pee in just in case you really can't stop somewhere!
You read that right! Motion sickness is never fun so pack these vomit bags so that you can respond quickly if your kid looks like they might vomit. They are so easy to use and you'll be happy you had them on hand if you ever need them! Whether it's motion sickness or your kid caught something during the trip - these are bound to come in handy at some point!
Keep the kids separate in the car as much as possible
After a few minutes, it's very likely that your kids will start to argue. It's hard for kids to be in a confined space for a while and this is just inevitable. If you have enough seats in your car, keeping the kids apart is best!
Additionally, if you are on a road trip with toddlers you want to be sure that one kid doesn't hand the toddler something dangerous - like a small toy. By keeping the kids apart you can low choking risks.
Photo Credit: thesoccermomblog.com
If I've learned anything from previous experiences, it's that there is no such thing as being too prepared! The more activities you have to keep the kids busy, the smoother things will be. This activity kit make suing an Altoid Tin is a great option!
Spend some time in the backseat
If you are on a road trip with a toddler, it's best to get in the backseat with them at some point to play with them. It can feel very foreign to them to be in the backseat by themselves facing away from you. This ill help them feel more comfortable.
Photo Credit: thesoccermomblog.com
Before any road trip, NHTSA recommends preventative maintenance, checking for vehicle safety recalls, going over your vehicle safety checklist, and packing a roadside emergency kit.
Plan on lots of stops during the day
If I've learned anything about how to road trip with a toddler it's that the main things making it challenging are that they can't communicate what they want or need clearly, their naps can get all messed up, and they can get motion-sickness without being able to tell you until it's too late. So, my #1 tip for road trips with a toddler is to take extra stops along the way. That way you can let your toddler get some fresh air, communicate with you more easily, and get some energy out so that you can manage when they take a nap better.
Photo Credit: emmaowl.com
The perfect take-along activity bag! Great for keeping the kids busy with imagination and play!
Photo Credit: cenduparam.com
Traveling with young kids? Road trips can be hard with little ones, especially when they get bored. DIY this travel busy bag to keep in the car when you're on the go. Lots of simple and fun activities to keep them occupied for long trips and save your sanity.
See how simple and fun it can be to be prepared for your next road trip? All you need are these ideas and tips to have no issues when traveling down the road!
Make certain that you go through the list and find the tips that will work best for you. There are a lot of great options to choose from here that can easily help you be prepared for your next road trip with ease!
Now it's your turn! Did we miss any great tips? Or do you have a favorite from this list? Comment below!
Like these fun road trip tips? Check out some other great tips as well!