Carved Pumpkin Shadow Box – Free Halloween Cricut Project (with Video Tutorial!)
Post may include affiliate links. We may earn a fee if you use them at no cost to you. Disclosure.
If you are looking for the perfect Halloween Cricut project this season, this Carved Pumpkin Shadow Box is a beautiful decor idea! With my FREE Pumpkin Face Mandala template and this Step-By-Step tutorial, I will walk you through how to make this fun and festive carved pumpkin with your Cricut machine.
Make this Halloween shadow box with your own flair by picking out a fun cardboard back piece for your project! You could choose ideas like glitter or even a glow in the dark piece of cardboard to make your Halloween Cricut design unique to your style or theme of decor.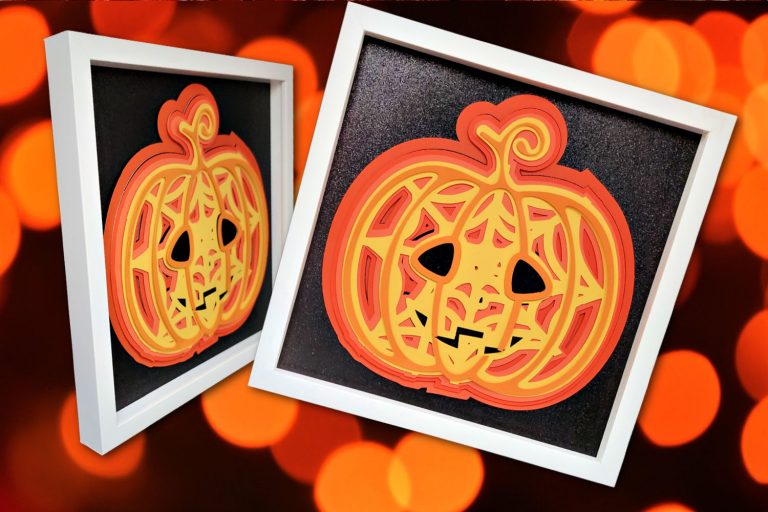 There are several fun, creative ways to create this Halloween mandala BUT there are also not-so-fun ways you could make mistakes along the way. This tutorial will guide you step-by-step so that they won't happen to you! I will guide you through all of it and give you my Halloween pumpkin SVG for FREE. In fact, I'll walk you through all the steps in writing here AND also give you a video tutorial so you can see it all in action.
Read on for my detailed Halloween Cricut project step-by-step tutorial!
Watch this video to see me perform the steps to make a Halloween pumpkin mandala. I also provide some helpful tips that are better to see in action.
HOW TO MAKE A 3D MANDALA – STEP-BY-STEP VIDEO TUTORIAL
If you are a fan of shadow box crafts or need some Fall decor ideas, check out my Pumpkin Mandala Shadowbox, Sunflower Mandala Shadowbox or this adorable DIY 3D Paper Pumpkin Craft!
MATERIALS FOR YOUR HALLOWEEN SHADOW BOX
DIY shadowbox crafts make great home decor and an even bigger plus is that they are customized just for your home! Making sure that you have the right materials to make your Cricut Halloween decor is a must. Here are my material recommendations.
Foam Dots (or glue)
Weeding tool (optional)
Scraper (optional)
Pumpkin Face Mandala SVG and PDF (Design C21 in my members-only resource library)
Don't have a Cricut but love this craft design? No worries! This design can also be made by hand! You may need a little more patience, but it turns out just as beautifully.
To get access to this FREE design in my members-only resource library, fill out this form:
HOW TO MAKE A HALLOWEEN SHADOW BOX
Gather together all of your materials from the list, and then the real fun begins! You can watch my video to see how you can make this Halloween shadow box using the free SVG I've provided in my resource library. Or you can follow along with these steps. Remember that you can customize your design any way you want.
I'll be making mine with a Cricut machine, but you can make this with other cutting machines or by hand too!
Layerd Paper Halloween Shadow Box
Fun halloween cricut project! You'll love this halloween shadow box with a layered carved pumpkin inside! Includes FREE SVG and PDF, video tutorial, step by step instructions and 3D Pumpkin frequently asked questions.
Tools
Instructions
Step 1 - Uploading Your Pumpkin Mandala Design

First, download the Pumpkin Mandala SVG (#C21) and extract the file. Then…

1. Open design space

2. Click "New Project"

3. Click "Upload"

4. Click "Upload Image"

5. Select the SVG file

6. Click "Upload"

7. Select the file you just uploaded from the library

8. Click "Insert Images"

Side Note: When it uploads into the Canvas, it is going to be grouped together, so you want to make sure that the lock for the aspect ratio is locked.

Step 2 - Resize Your Design

What size you need to make your SVG depends on your project plans. I'll put my mandala into a 12" x 12" shadow box for this craft.

So, I'll size my mandala to 11 ½" wide to allow for some space all around the mandala.

You'll want to measure the innermost portion of your shadow box and then decide how big you want to make yours.

If you're making this project by hand, you'll probably want to make it no bigger than 8" wide so that the largest pieces still fit on a piece of letter paper (You'll need to print it).

You can adjust the size by clicking and dragging but I prefer to type the exact size - 11.5 - for the height and width at the top of the toolbar.

Step 3 - Visualizing Your Pumpkin Face Mandala Edits Before Cutting (OPTIONAL)

This step is not necessary. You can leave the design as is and customize your colors as you feed your cardstock through the machine but if you want to visualize your color choices, right-click on the mandala and select ungroup.

Then, click on a layer and pick a color from the palette at the top of the toolbar. The Advanced tab gives more custom colors.

This would be the time to choose the type of cardstock for the very last layer which can be the glitter cardstock like I am using in this tutorial or something else like glow-in-the-dark cardstock. In this example picture, I have changed that layer to purple.

To reassemble the layers, click Control and A, navigate to Align at the top, and Center.

Step 4 - Set Up Your Cut Settings

Now you're ready to choose your cut settings. Click on "Make It" in the top right corner.

Next, you'll click Continue and begin choosing your material settings.

I usually choose Medium cardstock for 65-pound cardstock and leave the settings to default.

If you sized yours smaller than mine, it's better to choose "Intricate Cuts". To do this, click the Browse button and scroll - or search for - Intricate cut. This mode helps with cutting smaller, thinner designs without damaging the paper.

You might also have to tinker with the settings if you use a different type of cardstock to figure out what process is best without tearing. Choosing "more" or "less" pressure can help if you have trouble.

Step 5 - Cut Your Cardstock Pieces

Look at Design Space to see which layer is highlighted. This is the layer that will be cut next. Pick the cardstock color you want for that layer. Place that cardstock on a standard grip mat and press down firmly.

I recommend using Standard grip mats instead of light grip mats to make sure the cardstock doesn't lift while cutting.

Then feed your mat into your Cricut by lining it up with the markings on your machine and press the double-sided arrow.

Wait for the Cricut logo button to flash and then press the button to initiate the cutting process. After the cut is complete, press the double arrow to remove the mat.

TIP! Before taking the mat completely out of the machine, examine your cuts. For intricate layers, it's sometimes necessary to perform a second cut.

Here's how you'd do a second cut - Without releasing your mat, press the Cricut button again so it can send your paper through again. Removing the mat and then trying to do a second cut can result in unaligned cut lines.

Step 6 - Removing Your Cardstock from the Mat

When you're ready to take the cut cardstock off your cutting mat, the easiest method is to flip the mat over with the cardstock facing down.

Then peel the paper off the mat from the cardstock. This prevents your cardstock from curling.

Once your design is off the mat and the cardstock, you may have to weed any leftover pieces that didn't come out.

Sometimes a weeding tool can help you poke out the smallest pieces. A scraper will help you then remove any small pieces from your mat so you can prep it for the next cut.

Repeat steps 4 and 5 until you've cut all your layers.

Step 6 - Gather Your Cardstock Layers

Now you're ready to assemble your layers. First line everything up - put your thickest most solid layer down first and then put the next thickest on top etc until you get to the thinnest most intricate layer. You'll have two thick bottom pumpkin layers, followed by two thinner pumpkin layers, a spider web layer, and then your thinnest pumpkin layer.

Now you need to either glue these layers together (if you don't have foam dots) or put foam dots. Gluing them is fairly straight forward so I'll focus on the foam dot assembly.

Step 7 - Assemble your Pumpkin Mandala

I like to give my mandalas a dimensional look, so I add foam dots between each layer to create a raised overlay. But this design also looks just as striking if you leave it displayed flat and glue them together.

To add foam dots for extra dimension, I start by flipping my design over and working from the bottom sheet upwards. So, I start by separating my second layer from my base glitter cardstock layer.

Then I flip the second layer over and add foam dots around the edges of the sheet. I use a dot on each corner. For designs with intricate cuts, I also dot to the center and under thin pieces to avoid sagging.

Then peel the backing off each dot so it can stick to my base layer. After you center your design, press firmly around the sides to get a good seal. You have a few seconds to take the layers apart and readjust without damaging the paper.

Continue this with all layers. Watch my Carved Pumpkin Shadow Box Video Tutorial to see this step in action.

Step 8 - Displaying Your Mandala in a Shadow Box

Open your box and take out the backing.

Place foam dots on the back of your completed mandala. Then align your mandala onto your background - I chose a glitter cardstock - and press it into place. Next, adhere your cardstock background to the shadowbox backing with glue dots (or double back tape) to prevent your design from sagging or moving.

Finally, replace the backing and close the tabs to secure it into place.
ANSWERS TO YOUR QUESTIONS ABOUT MAKING A HALLOWEEN SHADOW BOX
Here are some answers to the most popular questions about making a Halloween Shadow Box like this one!
HOW DO YOU MAKE A SHADOW BOX LOOK 3D?
You can make your design look 3D by adding a barrier between each layer that adds spacing and height. I recommend foam glue dots, which also help hold your design together.
What Kind of Paper Do I Use for Shadowbox Mandalas?
65 lb cardstock gives you the best weight for stability without being so thick that it can be problematic to cut or too expensive.
HOW DO YOU SECURE YOUR DESIGNS IN A SHADOWBOX?
The foam glue dots you used to give your mandala dimension and space can also be used to keep your design fixed in place against your backing. Otherwise, you can use tape or glue.
LET'S SEE YOUR HALLOWEEN CRICUT PROJECT!
I've shown you how I like to make and display a Halloween Cricut Project. Now, it's your turn to show me yours! Do you have tips or ideas that I didn't include? Tell me about them in the comments. And if you make a pumpkin face mandala with my SVG, share your photo on social media and tag #analyticalmommy. And be sure to check out my other shadowbox ideas for great gifts and DIY crafts.
Save this post for later!