How To Make A Paper Flower Shadow Box With A FREE American Flag Design Template!
Post may include affiliate links. We may earn a fee if you use them at no cost to you. Disclosure.
USE MY FREE TEMPLATE TO EASILY MAKE A GORGEOUS PAPER FLOWER SHADOW BOX WITHOUT MEASURING, CALCULATING OR GUESS WORK!
Paper flower shadow boxes are so popular and it's easy to see why1 They are gorgeous and easy to customize! Whether you're making one to decorate your own home or give as a gift, they are sure to be a huge hit!
In this post, I'm going to show you how to make a very special shadow box! I'll show you how to make a paper flower shadow box that looks like an American Flag. Plus, I'll also show you how to add an extra special touch – We will add an image of a loved one on the front of it.
This makes a beautiful and heartfelt gift for a loved one and it's a great way to commemorate or honor a veteran. I've made two of these so far to honor and remember my Grandfather.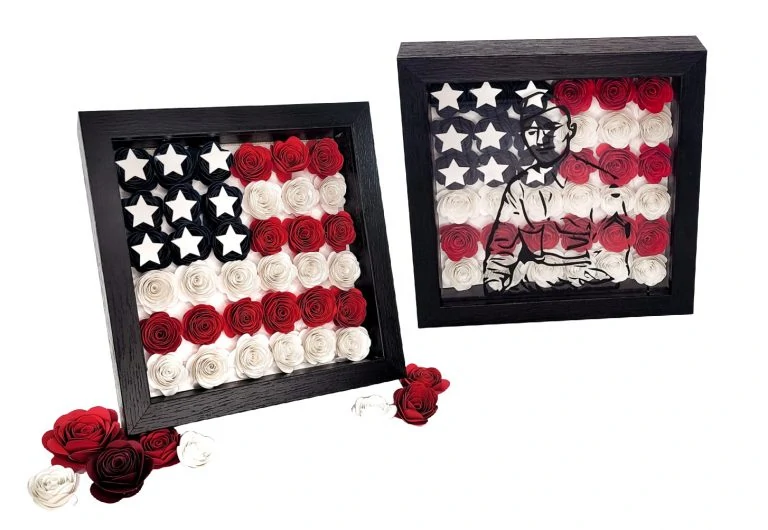 To make this project, all you will need is some cardstock, hot glue, a shadow box, a Cricut machine (optional), and vinyl (optional). I love projects that don't need a ton of materials! That said, finding out the right size of flower, how many flowers, and all that can be really confusing the first time you make a 3D flower shadow box.
Since I know making shadow boxes can be daunting, I've created an SVG file that will simplify this project for you! No need to worry about flower size, of how many flowers you need, or search for a flower template… With my FREE paper flower shadow box SVG, all you have to do is load it into Design Space, cut, and assemble! Read the rest of my post for all the tips and tricks you need to know to make the perfect 3D paper flower shadow box on your first try easily!
Alright… Let's dive right in! Read below for instructions, tips, and how to download my free Paper Flower Shadow Box cut file!
Quick Links to Information in this Post
American Flag Paper Flower Shadow Box Material List
The beauty of this project, is that you don't need a whole lot. It's a great example of how crafting can turn something so ordinary into something absolutely breathtaking! Here's what you'll need:
65lb Cardstock in White
Hot Glue Gun and glue
Optional Materials:
See? Not a very long list! Here are a few notes about these materials…
Cardstock
I like 65lb cardstock for my rolled flowers. While you could go with a lower weight cardstock, I tend to avoid going above 65lb otherwise it becomes difficult to roll the flowers.
Also, I suggest using solid cord cardstock. This means that the color of the cardstock goes all the way through the paper. If the cardstock isn't' solid core, your 3D paper flowers will end up having white at the top of the flowers. Sometimes this is a very pretty effect, but not one that I personally like for this project.
Shadow Box
I like to make my paper flower shadow boxes in 8×8 size. It's such a versatile size! Great for hanging on the wall, on a table top, or on a bookshelf!
The one I use is deep enough for the paper flowers and has a stand in case you want to keep it on a tabletop. If you don't go with the one I've linked above, I suggest making sure that you get one that has a similar depth or your flowers may be too deep.
i also love that this shadow box comes with a glass window AND a plastic one! That's incredibly helpful if you're making it as a gift. Some people may prefer glass, other's plastic… so it's nice to have the option. (Maybe don't use glass if you're making it for a parent of young kids…)
Quilling Tool
The quilling tool makes rolling paper flowers faster and easier on your fingers and it's very inexpensive. That said, you absolutely CAN make Cricut flowers without one! I describe how to roll paper flowers with or without a quilling tool in my How to make a cricut paper flowers post!
Cricut Machine
Similar to the quilling tool, there is a way to make beautiful paper flowers without a Cricut machine. So no need to go out and get a machine JUST for this project! Check out my How to make a cricut paper flowers post for instructions on making paper flowers by hand.
That said, if you don't have a Cricut machine, you will need to do a bit of extra work since you won't be able to use my FREE paper flower shadow box SVG.
If you've seen a bunch of Cricut projects like this one and you don't have a Cricut machine, take a look at my Cricut Explore Air 2 Review (2021 Edition) – A complete guide before you buy post! This post will help you decide if getting a Cricut machine is right for you.
Vinyl
This project is beautiful even without an image on the front of it. I chose to put an image of my grandfather on the front, but you could put whatever you prefer or nothing at all. Up to you.
You will need a Cricut machine to cut your Vinyl, or purchase some precut images or letters, if you decide to do this. I recommend using a permanent vinyl too so that it will last.
If you're a fan of Cricut paper flower projects, you'll love my Paper Flower Bouquet which is a great Mother's Day gift and my Floral Frame project which is a fun paper flower gift you can make with the kids!
How To Make an American Flag Paper Flower Shadow Box
Step 1: Download my FREE Paper Flower Shadow Box SVG
I see people ask so many questions when trying to learn how to make a shadow box with flowers. The most common questions are:
How many flowers do I need for my shadow box?
How big should my flowers be in my shadow box?
Well! I've created a free Cricut SVG file that you can download from my exclusive resource library that will simplify the process for you! This cut file is designed for a 8×8 shadow box which I think is ideal for this type of project.
Once you upload the file into design space, you can edit it if you want to make this project for a larger shadow box.
If you already have access to my resource library, just click here and enter the password. Look for the file called "American Flag Paper Flower Shadow Box". (The password to the resource library is at the bottom of my emails if you need it!)
If you don't yet have access to my exclusive resource library with lots of great craft patterns, tools, and templates, you can get access to it right now for FREE! Just sign up for access using this form:
Step 2: Upload the FREE Paper Flower Shadow Box SVG to design Space
Next you'll want to unzip the file you got from my resource library and upload the SVG file to Design Space. If you haven't done this before, here are the steps:
That's it'! You're done – congratulations! Here's how our Design #1 turned out! He can't wait to take a first day of school picture with this sign!
If you want to make this project as shown (as an American flag), you will load paper according to the color you see on the screen as it cuts. If you want to change up the design, you can use whatever color paper you want for your flowers!
Note about sizing:
The SVG file SHOULD import into Design Space with the right sizing to make a shadow box using the size and brand I linked to above. Sometimes Design Space updates can break things though and it could cause the sizing in my SVG to come through incorrectly. If this happens, please let me know! If you can't wait for a fix from me, here is the size each item SHOULD come in as so you can make the adjustments in Design Space:
Box for backing: 7.5″x7.5″
Stars: 1″x1″
Flower Spirals: 5.5″ width
Step 3: Cut Your 3D Paper Flowers and Stars
Next you'll want to cut everything! My SVG will cut all the white and red flowers you need. It will also cut a white square for the backing and some white stars.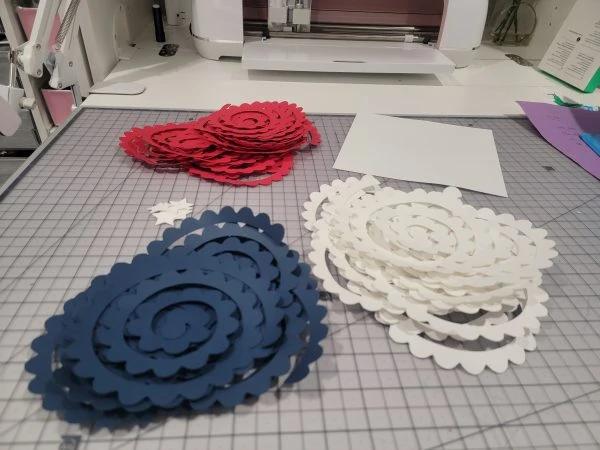 Note that you will actually end up with a few extra flowers. I find that when I'm assembling the 3D flower shadow box, I end up liking how some flowers turned out more than others. So I've set this to cut a few extras so you can choose your favorites for the box!
Cut all your parts at once. Don't try to roll your flowers as other flowers are being cut. It gets too hectic. Instead batch your project. Cut everything at once. Then roll your flowers. Then assemble your shadow box. You'll thank me later!
Do you have 12×24 mats for your Cricut? If so, you can lay 2 12×12 pieces of cardstock along a 12×24 size mat and cut 2 pages at once! Just make sure to adjust the mat size in Design Space.
Don't throw out your scraps! If this is a gift and you need to ship it to the recipient, you can stuff the scraps in the box to protect your work of art! It's a great way to reuse your scraps!
Step 4: Roll and Assemble Your Cricut Paper Flowers
If you've never rolled paper flowers before, you're in for a treat! It's so exciting to see them come together and it's something you can do while listening to the radio, watching TV, listening to an audio book…
I've got a full rolling paper flower tutorial that I highly recommend that you read. It will cover everything you need to know and more!
In short though, you're going to curl the paper flower spiral you just cut from the outside in and towards you. When you get to the very center, you'll add a drop of hot glue to the very center and then press the "flap" – that little circle at the center – onto the glue and hold it for a few seconds until it cools. That's it!
Here's a video from my other post that shows you how to do it:
Step 5: Assemble Your Paper Flower Shadow Box
If you purchased the shadow box I linked to above, you're going to have a frame, an inner box, backing, a foam board, a pane of glass and a pane made of plastic.
To assemble your 3D flower shadow box, you're going to do the following:
Take your shadow box out of the box. It should be mostly assembled with just the piece of plastic and glass separate. Leave it this way for now. Remove the little storage bag with pins and other stuff.
Glue your white square to the inside of the shadow box (this covers up the beige cloth and gives a nice white foundation to work from).
Glue your flowers to the white square according to the picture. I like to place each row by hand first to check the placement and then glue each down.
Once all the flowers are glued, glue your white stars to the blue flowers. Line them up first so they are in nice straight lines – this may not be 100% aligned with the flowers and that's ok. Then glue them into place.
You can stop at this point and then close your shadow box. I wanted to make mine a Memorial Shadow Box to commemorate my Grandfather, so I added a vinyl image of him to it. Here's how…
Step 5: Add an Image in Vinyl To Your Shadow Box (Optional)
I really love how personal added this image makes the shadow box. It's especially great as a gift. You don't need to use an image though. You can add a name or anything else you'd like!
To add an image you'll need to convert the picture of your choice to a SVG cut file. The easiest way to do this is with a free website like CuteCutter.com.
Then load your image into Design Space when you cut it to permanent vinyl.
For an 8×8 shadow box like I used, you'll want to cut your image to about 7″ tall.
Once it's cut, carefully apply it to either the pane of glass or pane made of plastic. The best way to do this is to put the transfer tape with the vinyl on it onto the transfer tape backing. Then peel back the backing as shown below so that only a fraction of an inch is exposed.
This this little bit of exposed transfer tape to line up your image and stick it to the pane. Then carefully peel back the rest of the transfer tape.
This helps because if you mess up when only a fraction of an inch is stuck to the glass, you can still remove it and readjust.
Once too much of the vinyl is stuck, you're unlikely to be able to readjust it.
Step 6: Put Your Shadow Box Together
This part can be a little tricky. I admit that the first time I put one of these together I was a bit puzzled.
Here's what you need to do…
Open the back of the shadow box and remove the foam board that you glued your flowers to. If you do this carefully, you can remove it with the inner wooden box still attached. This is ideal!
If not, remove the inner wood box after you've removed the foam board with the flowers. Then put the inner box back on. You'll want to carefully work it around the edge of your flowers so that it holds the flowers snug and doesn't push down on any of the petals. Luckily it's flexible, so you can stretch the box carefully and push the petals in to make it fit.
With CLEAN hands, place your glass or plastic pan into the shadow box through the back. Here's a tip! If your vinyl looks the same on box sides of the glass, you can face the vinyl inwards so that it can't get damaged from the outside of the shadow box! This will make cleaning easier!
Place the foam board with the wooden frame back into the box.
Put the back of the box back on (making sure that it's facing up) and you're done!
You did it!
Frequently asked questions about Paper Flower Shadow Box Projects
What is the best paper flower shadow box sizing?
My FREE SVG template has 6 flowers across and each flower is about 1.3-1.5″ wide. The flower spiral is about 5″ tall. I have found that this is ideal for an 8×8 shadow box like the one I liked to above. That said, if you have a larger box, you'll want to adjust the size of your flowers and possibly the number of your flowers to accommodate it.
Here's a great way to figure out how to size your flowers. Decide on how many rows and columns you want. Divide your shadow box size (the inner portion that you're working with) by that amount. This will tell you how big your finished flower needs to be. Now multiply that by 4. That's roughly the size of the spiral you need to cut.
So for example, our 8×8 shadow box really has a 7.5″ square on the inside. I want six flowers across so I divide 7.5 by 6 which equals 1.25. Now if you multiply that by 4 you get 5″. That's how tall our flower spirals should be for this box.
Next – and this is a personal choice – You can increase or decrease this a bit based on how full you want your box to look and how tight you plan to roll your flowers. My SVG template actually cuts them a bit bigger than 5″ tall to get a nice full look.
There you have it! that's how to figure out how to customerize this for your sized box! You can still use my template, just adjust the size of the parts.
Do you need a Cricut to make this project?
You don't! In fact, I have instructions for how to make paper flowers by hand without a Cricut as part of my How to make a cricut paper flower post, but this way will take you significantly longer.
Now let's see your shadow box!
I hope you found this helpful! Still have questions? Comment below and I'll answer ASAP and maybe even add your question to the FAQ section!
I'd love to see YOUR paper flower shadow box! Please share a photo on social media with #analyticalmommy or tag me @analyticalmommy so I can see your amazing creation! Each and every shadow box is unique and I'd love to see yours!
More of the Best Easy Cricut Paper Flower Projects
Also check out how I organize our craft space AND made the perfect spot for homework too!
I hope you enjoyed this gorgeous memorial paper flower shadow box tutorial!
Pin to Pinterest