Easy MINI HOT CHOCOLATE TRIFLE RECIPE (WITH PEPPERMINT AND OREO!)
Post may include affiliate links. We may earn a fee if you use them at no cost to you. Disclosure.
It's that time of year again! The time when we get excited about the holidays, and all the things they bring. Family, friends, presents…and chocolate trifles! This mini (single-serve) version is perfect for a holiday party or to make as an edible gift. It'll be gone in no time!
Once you add the taste of Oreo and peppermint, this little treat becomes an irresistible holiday dessert or treat!
In this post, I'm going to share everything you need to know to make these mini chocolate trifles. Enjoy!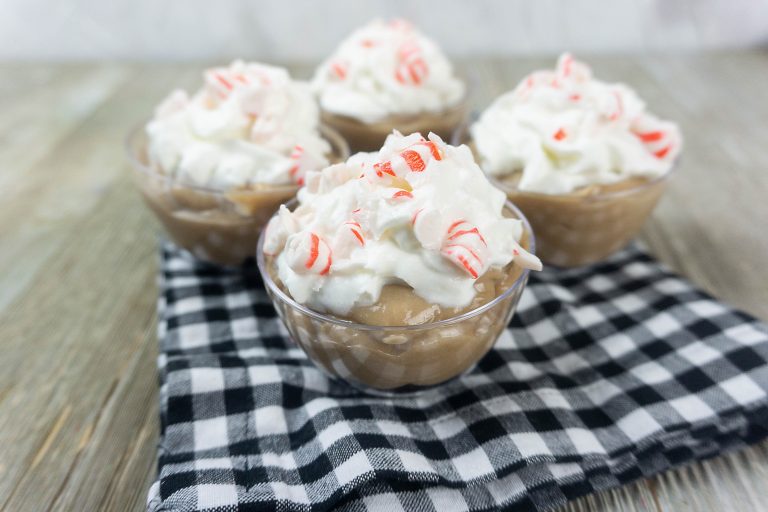 Quick Links to Information in this Post
What are Chocolate Trifles?
Chocolate trifles are a delicious, scrumptious dessert that is perfect for the holidays. They're easy to make and guests can take them home as a gift. Chocolate trifles are a really good alternative to pies or baked goods that require a lot of time, because they only need to be made ahead of time instead of being made the day of.
Mini trifles are my favorite because they can be personal-sized which is especially great for parties or as gifts!
But what is it?
What is a Trifle?
A chocolate trifle is a dessert made with layers of cake soaked in either coffee, cream, or liquor. It's often topped with whipped cream and fruit for garnish.
The first layer of the trifle can be either sponge cake or ladyfingers that have been soaked. The next layer is typically custard or pudding. The next layer is the whipped cream, which is topped with something like fruit or some other garnish.
That's a standard trifle… you can change it up though and that's what we're going to do in this recipe! This is going to be a super easy, creative, and delicious trifle that tastes like hot chocolates, Oreas, and has a hint of peppermint making it perfect for the holidays!
Let's get started!
Why make a Hot Chocolate Oreo Trifle with Peppermint?
When it comes to the holiday season and the winter, my favorite thing is hot chocolate. I'm not alone; there are a lot of people that can't get enough of this warm and cozy drink during these cold months. Hot cocoa becomes even more irresistible when you add some peppermint for a festive flavor. When we're talking about desserts for the holidays, one really good option is this hot chocolate peppermint trifle recipe! This dish has all the flavors you love in a traditional trifle but with an added twist: Oreos and peppermint topping. In this post, we've shared everything you need to know from ingredients to directions so have fun making your own mini trifles at home or as gifts for friends and family over the next few weeks!
Ingredients for the Hot Chocolate Trifle Recipe
A traditional trifle with homemade custard can get very complicated BUT my variation is so easy even kids can make it!
Wouldn't that be a fun family activity? Get all the kids and grandparents together, lay these ingredients out at the table, and make your own mini trifles!
Here's what you'll need to make 4-6 mini Trifles:
Instant vanilla pudding
Milk
Hot chocolate mix
Crushed Oreos (centers removed)
Whipped topping
Peppermint candies (crushed)
Doesn't that look super simple?!
Instant Vanilla Pudding
Instant vanilla pudding is an easy way to save time when making this dessert. Some people might not know that you can use instant pudding when making a Chocolate Trifle but you can! It will be faster, easy enough for a kid to use, and may end up being lower fat than using custard!
If you don't want to use Instant Vanilla pudding for your trifle, you can also use chocolate pudding, instant chocolate pudding or whatever pudding you have on hand! If it's not instant though, just make sure to lower the amount of milk you add by the amount of ready-made pudding you use.
For example, you could substitute the instant vanilla pudding when making your hot chocolate trifle and instead of using 6 cups of ready-made pudding. Then you would omit the milk altogether or add as needed based on the texture you get at the end.
Hot Chocolate Powder
I used Swiss Miss Hot Chocolate but you can really use whatever brand you like! You can also use different varieties of hot chocolate in this chocolate trifle!
Some options include Dark Chocolate Hot Chocolate, Peppermint Hot Chocolate or Milk Chocolate Hot Chocolate!
Oreos
Traditional trifles are often made with lady fingers which I love! But for this chocolate trifle, I really wanted it to be all about the chocolate! Oreo cookies were a great option. If you don't have or don't want to use Orea cookies, a few other great options are ginger snaps, gingersnaps, chocolate graham crackers or chocolate wafers.
Whipped Topping
We used store-bought whipped topping but you could also make homemade whipped cream if you'd like! You can also use Cool Whip or another non dairy alternative.
Crushed Peppermint Candies
A light sprinkling of peppermint candies on this chocolate trifle are what give this dessert a light but not overpowering peppermint flavor. This is also what gives this treat a nice little crunch to go with the other ingredients! You can either crush them yourself or buy crushed peppermint candies.
Don't like peppermint? Not a problem! You can top it with just about anything instead!
Cutest Cups for these Mini Chocolate Trifles
How to make this Mini Chocolate Trifle Recipe
Yield:

4
MINI HOT CHOCOLATE TRIFLE RECIPE (WITH PEPPERMINT AND OREOS FOR THE HOLIDAYS!)
A delicious and easy to make single-serve mini Hot Chocolate Trifle recipe with peppermint topping! Perfect for any holiday party, as a gift, or just becasue!
Ingredients
1 - 5 oz. instant vanilla pudding
3 cups milk
1 package hot chocolate mix (I used Swiss Miss)
20 Oreos (crushed cookies only, centers removed)
Whipped topping
10 Peppermint candies (crushed)
Instructions
In a bowl, whisk the cold milk with instant vanilla pudding. Whisk well for 2 minutes until it starts to thicken. Let sit five minutes.
Mix in the hot chocolate mix
Remove centers from the Oreo and then crush the cookies. My favorite way to do this is to place the Oreo in a Ziploc bag, remove as much air as possible, and then bang the bag with something like a mallet, back of a spoon or anything flat and heavy.
Crush some peppermint candies
Pick a cute cup or any container that you'd like to use. Then layer your pudding mixture, and cookie mixture until you nearly reach the top. Then, add some whipped topping and crushed peppermint!


Recommended Products
As an Amazon Associate and member of other affiliate programs, I earn from qualifying purchases.
How to store your mini chocolate trifle
This chocolate trifle is best eaten within one day of making it. If you'd like to make it ahead, you can skip the addition of whipped topping and crushed peppermint candies. Instead, just add those on top when serving. Then keep chilled until ready to serve.
A Few Helpful Tips & Variations
If you're making this Hot Chocolate Peppermint Trifle recipe as a make-it-yourself jarred gift, you can place the instant pudding, hot cocoa, Oreos, and peppermint candies in small baggies within the jar. Then just add a recipe tag and a cute label and a pretty ribbon! Ta-da! A fun and delicious gift!
Alternatively, you can make these in cute little jars and gift them ready-made! Just make sure that the lucky recipient will be able to eat it right away or refrigerate it.
You can also change up the types of cookies used in this chocolate trifle recipe! Some great options are gingersnaps, chocolate graham crackers, or chocolate wafers! You can even add a candy bar in this trifle in place of the cookie! Try adding a few chopped-up Snickers, Milky Way, Twix bars for an added layer of deliciousness.
This recipe makes four mini trifles but is easily doubled to make more! If you'd like to make more at once, you can easily scale this recipe up to make as many as you'd like!
This easy chocolate trifle recipe makes a great gift for teachers and neighbors. It's also perfect for holiday parties and showers! You can find inexpensive containers and jars on sale all year long so they won't cost you an arm & a leg!
You can also change up the flavors to make this trifle even more special. Add a layer of pistachio pudding, crushed pineapple, and peppermint candies for a delicious "Hawaiian" twist!
I'd love to see YOUR mini chocolate trifle! Please share a photo and tag me on social media with #analyticalmommyrecipes or @analyticalmommy! I can't wait to see how they turned out!
More Delicious desserts and sweet treats
Save this project for later and pin it to your favorite Pinterest board!