How to make shirts with Cricut 101 – HTV, Sublimation, and Infusible Ink
Post may include affiliate links. We may earn a fee if you use them at no cost to you. Disclosure.
LEARN HOW TO MAKE SHIRTS WITH A CRICUT. A STEP-BY-STEP TUTORIAL WITH WITH A BREAKDOWN OF HOW TO MAKE CRICUT SHIRTS WITH SUBLIMATION AND HTV.
Being able to use your Cricut to design and make shirts is awesome! This is probably one of the number one reasons that people get a Cricut machine! While one of the main reasons I purchased a Cricut was to make spice jar labels, I very quickly ventured into T-Shirt making and love it! In fact, my kids routinely bring me new ideas for T-Shirts and ask me to make them!
I'm excited to share how to make an HTV Cricut shirt so that you can start making your own T-shirts immediately!
Side note: If you've ever wanted to start a craft business, selling custom shirts is often a great seller!
Why spend your time looking for the perfect shirt when you can just use your Cricut machine to make it one your own? I love that I can design my own shirts and make them come to life easily by using my Cricut machine.
I also love that I can convert a drawing that one of my kids has made and apply it to any T-shirt! Stop putting your kids' best artwork on the fridge and wear it instead!
If you're new to using your Cricut or just making shirts with your Cricut, don't worry! Making shirts with a Cricut machine is great for beginners who are just learning the ropes.
There are a few different ways that you can make a shirt using your Cricut machine and I'll dive into both of them in more depth below.
… and if you want to learn even more about your Cricut machine options and which you should get if you don't have one yet, read my Cricut Explore Air 2 Review and Guide.
Alright – are you ready to learn how to make a shirt using a Cricut?
You're going to wonder why you haven't been creating your own clothing before this!
Quick Links to Information in this Post
How to use your cricut to make shirts
There are two main ways to add a custom design to a shirt. Those are sublimation and heat transfer vinyl (HTV). While there is some similarity in the process you'd use and the final look, the materials you'd need and the way in which the design stays on the shirt differ. Let's dive into them…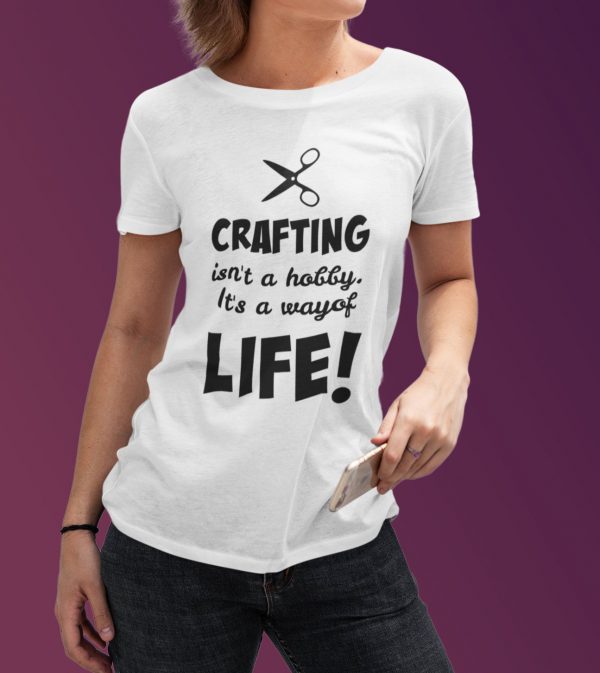 What is the difference between sublimation and HTV?
The main difference between the two is that sublimation infuses the color into the fabric and HTV applies a thin layer onto the fabric.
This means that in the case of HTV you will always feel the vinyl on the shirt if you touch it. Depending on the quality of the HTV you use, the vinyl that remains on the shirt can be very soft, smooth and super thin to rough, thick and crinkly. So definitely make sure to buy good quality HTV!
Sublimation on the other hand is infused into the shirt so there's no extra layer. That said, it only works on fabric with a high polyester content. So you can't pick your favorite 100% cotton shirt and apply a design to it using sublimation.
You also need special equipment to do true sublimation which means that there's an extra cost and the equipment will take up more space in your craft area – but there is a workaround!
If you're new to using your Cricut to make shirts, I recommend starting with HTV because it's easier, more flexible and cheaper.
Making a Shirt with Heat Transfer Vinyl (HTV)
What do i need to make a shirt with Cricut HTV?
With Heat Transfer Vinyl, it's a lot like applying regular vinyl to an object so if you're already familiar with that process – this will sound (mostly) familiar to you!
You've got two options – you can get sheets or rolls of HTV in different colors/patterns and either make a single layer or multi-layered design. You can also get printable HTV and print your design on to the printable HTV and then cut it out using the Print then Cut method.
Personally if I'm going to make a shirt design that using multiple colors, I prefer to use the printable HTV so that I only have one layer of HTV on my shirt. It's also much less complicated to apply.
With this method, you can use any printer you have – you don't need a special or dedicated printer. I use my Epson ET-2720 printer and love it!
Here's what you'll need to make a T-Shirt with HTV vinyl:
Using your Cricut to make shirts with HTV
Using heat transfer vinyl to make shirts is so much fun and so easy! Once you start, you're going to want to keep going and make all the things!
Step 1: Decide on your design
Have fun with this! Choose a design that you love or create your own in Design Space!
Import your image if you're using an existing design (vs. making your own) and then resize it according to the size you want.
If you find it helpful, you can click on "Template" and add a shirt template to help you determine the size you should cut your image to. The shirt template doesn't cut – it's just a visual to help you.
Step 2: Cut the HTV vinyl with your Cricut
Next you're going to click "Make it" and cut your vinyl.
If you have lots of colors, you can use Printable Vinyl so that you don't need to layer your vinyl. You'll need to follow the "Print then cut" method to cut this.
If you're just starting out, I recommend starting out with single layer vinyl rather than printable vinyl or multi-layer vinyl.
Click "Make it" and on the next screen toggle the "mirror it" toggle. This will make your vinyl when mirrored which is key for most single layer vinyl brands.
Then add your vinyl to a Standard Grip mat but make sure that the shiny side of your vinyl is facing down. This is because the shiny side is like "transfer tape" and you only want to cut the HTV. (This is also why we need to mirror it when cutting it! We're cutting it upside down!).
Now select Heat Transfer Vinyl from the material list in Design Space and put the Fine tip blade in your machine and cut like you normally do!
Step 3: Weed the extra vinyl
Now weed your HTV like you would weed any normal vinyl.
As a reminder, the clear plastic won't be cut, just the super thin HTV. You may find this a bit harder to weed than regular vinyl because the part you need to remove is essential already stuck to your transfer tape. This is actually "reverse weeding"! So there will be a bit more resistant. Take your time.
If you have trouble seeing the cut lines and finding what you need to week, you can use a light box which really helps! I like this one from Amazon. I use it for all my complex weeding projects!
Step 4: Place the weeded design directly onto your shirt
Have your iron or heat press warming up so that it's ready to apply the design quickly and easily.
Once your iron or heat press are ready, just place your Heat Transfer Vinyl shiny side up on your shirt where you'd like it. Then add a piece of parchment paper on top and then press it with your iron or heat press.
A few things to note:
You'll want to check your HTV instructions to see how long to heat it for and if you should remove the plastic when it's hot or cold. This can vary based on brand.
Make sure that when you apply the vinyl to your shirt, that you're putting your shirt on a surface that won't burn. If you do this directly on a table for example, the heat will go through the shirt and could burn the table.
See how simple it is? Making a shirt using HTV and your Cricut is one of the best, easiest, and cheapest methods!
What are the pros of making a Shirt with HTV?
It's very customizable
It's fast
It's affordable – you don't need any expensive machinery dedicated to just shirt making
What are the cons of making a Shirt with HTV?
The vinyl may crack over time
It adds an additional layer to the shirt. You can tell that it's there. (Note that many decorated shirts you buy in the store have this too so it's not "unprofessional" looking).
Making a Shirt with Sublimation
Materials needed to make a sublimation shirt
To make a shirt using traditional sublimation, you're going to need a Sublimation Printer. While you can use some standard printers like the Epson ET-2720 printer or Epson ET-4850. The thing is, you need to purchase one of these brand new and only put sublimation ink in it. You can't have ever used it for traditional ink before or it will not work for sublimation.
You'll also need sublimation paper, sublimation ink, sublimation blanks and a heat press. Here's my shopping list for Sublimation Supplies if you want to give it a go.
Sublimation blanks are basically blank things like shirts, mugs, and more that are designed for sublimation. in the case of shirts, you need a shirt with a high polyester percentage. In the case of mugs, they need to be pretreated to be able to accept the sublimation ink.
It's really not recommended to use an Iron for sublimation because it's much more sensitive to the heat. You have to apply the heat and then not move it at all.
Because Sublimation requires so much upfront cost, I don't personally recommend it for beginners however if you do want to try it out, here's a shopping list you can use!
What are the pros of making a shirt with sublimation?
You can print whatever you want on Sublimation Paper – there's no limit!
The coloring won't peel or crack
It's a fast and simple process
You can really be creative with the designs
What are the cons of making a shirt with sublimation?
The upfront cost to get started with this method is higher
More tools are needed to create the Cricut shirts which takes up a lot of space
You're limited in the types of shirts and products you can do sublimation on.
Making a shirt with Infusible Ink
Think of infusible ink as patterned or solid color sheets of sublimation ink. You apply it in a very similar fashion to HTV and you do not need your own sublimation printer or ink to use it!
Materials needed to make an Infusible Ink shirt
How to design a shirt with Infusible Ink
The process is similar but not identical to designing a shirt using HTV. Similar results and process but not identical.
How to apply your design with a sublimation printer
Step 1: Cut your design
Make a design in design space or upload my file shared above. Use the Infusible Ink sheets as your material and apply it to your cutting mat and then have the machine cut it to your liking. Make sure to pick the right material in design space when you cut it and place it on the mat with the infusible ink facing up.
Also, like HTV, you'll want to mirror your design!
Step 2: Weed your design
Once your machine is done cutting the Infusible Ink, you'll want to weed it. This will feel very different than weeding HTV but the process is the same.
Step 3: Apply your design to your shirt
A heat press works best to apply the design to your shirt but you can use an iron to start if you don't have one. You'll want to hold the heat on the design on the shirt for about 60 seconds at 400 degrees. The key is you're using an iron instead of a heat press like the HTVRONT Auto Heat Press is that if you move your iron around you will very very uneven color. Place your iron down and then don't move it for about a minute. Then if your iron didn't cover the whole design, move it to the next spot trying to avoid overlap and place it again for another minute without moving it. Do not spread the iron around.
This won't produce results that are as good but it will get you started!
To apply the Infusible Ink, place it on your shirt ink side down (leaving the plastic on). Then put a Teflon sheet or parchment paper on top of it and then your Easy Press or Iron.
When you're done, peel everything off and you'll be left with an image/design that's infused into the shirt!
The result? A look that won't peel, fade, crack, or flake off!
What are the pros of making shirts with Infusible Ink?
It's an easy to learn way to do "sublimation" style shirts without all the upfront cost
The coloring won't peel or crack
It's a fast and simple process
You can really be creative with the designs
What are the cons of making shirts with Infusible Ink?
You can only buy Infusible Ink at Michaels and you're limited to their patterns or layered designs. You can't print your own.

Like sublimation, you can only apply infusible ink to some shirts – not everything like HTV
ANSWERS TO YOUR QUESTIONS ABOUT MAKING A SHIRT WITH YOUR CRICUT
Is Cricut Design Space free?
You can have access to so many free things on Cricut Design Space. Take your time and go through all it has to offer.
Why is my vinyl cracking on my shirt?
This isn't uncommon if you're not carefully washing the shirts. Turning them inside out can help to keep them nicer longer. This often happens if the HTV isn't high quality too.
Alright! That's it for now… I hope this was helpful to give you a quick overview of how you can make shirts with your Cricut!
I'd love to see YOUR Cricut Shirts! Please share a photo in our Facebook group or tag me on social media with #analyticalmommycrafts or @analyticalmommy! I can't wait to see how they turned out!
More Cricut tutorials and resources!