The easiest way to label bottles for daycare!
Post may include affiliate links. We may earn a fee if you use them at no cost to you. Disclosure.
Most daycare centers require a name and date on every bottle and food item brought to daycare. Do you know the easiest way to label bottles for daycare?
You need a super easy way to label baby bottles for daycare and it can't be something that's high maintenance either!
Tell me if this sounds familiar… You're exhausted and have been up all night with a baby.
Now you need to somehow get yourself and the baby / kids dressed, need to get bottles and maybe even baby food ready, pack lunches, coordinate breakfast etc. It's a lot right to do – especially while exhausted! Right?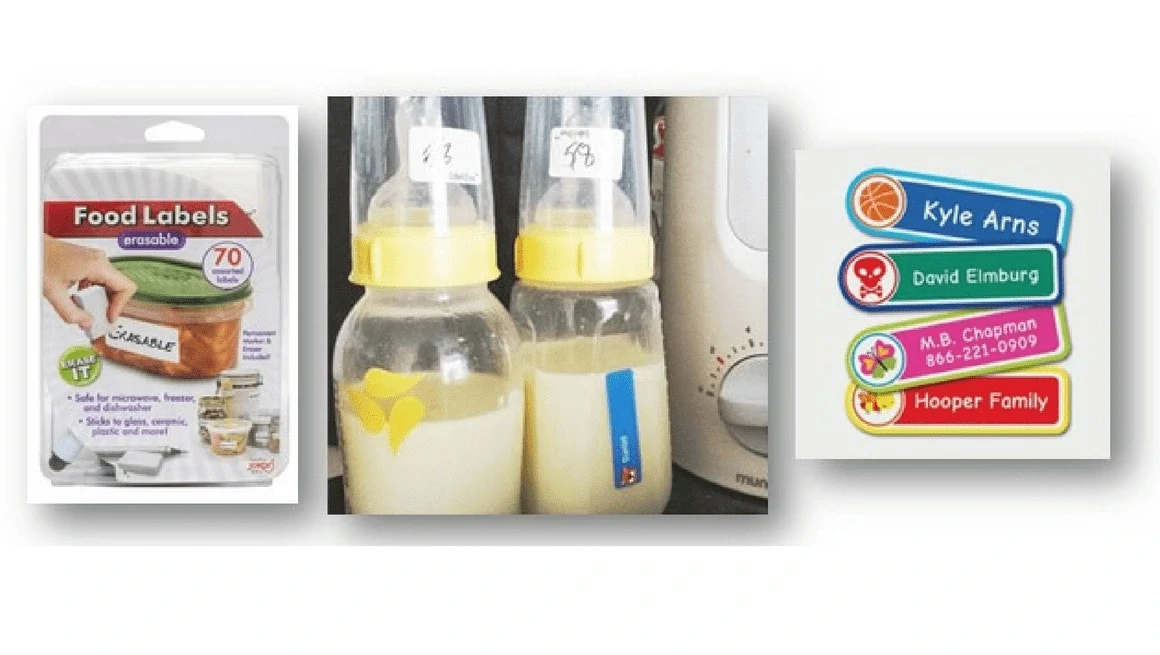 That's exactly how I felt – especially when I had my second kid! Luckily, I'm always looking for ways to make our morning routine easier.
For me, it's not always a question of how much time I'm saving, as much as how many steps I'm cutting out. I'm tired in the morning and there's a lot going on… the less I have to do and remember, the better! So…
What's the best way to label bottles for daycare with a date?
At my son's daycare, we have to put his name and the date on all bottles. At first, I would use masking tape, write on it, and put that on the bottle. Then at the end of the day, I'd have to peel it off, wash, and start over.
Overtime I found that my bottles were getting glue build up which isn't hygienic for the baby and annoying for me! I knew there had to be a better way. Here are the labels I picked out and used with my second and third baby!
Waterproof Name Labels for Daycare Bottles
I use these waterproof name labels from Label-Land. Not only are they cute and easily customizable, they are super strong and durable!
Once you put these name labels on a bottle you you can wash them many times in the dishwasher and they won't come off!
If you DO want to remove then, you just need to pull it off and it won't leave any sticky residue! It won't come off on its own though.
I picked the mini size so that the labels would fit nicely on the curved bottle.
Coupon for baby bottle labels
These labels are very affordable in general (trust me, I compared pricing!), but here's a coupon for 10% off! Use coupon code "LOYAL10" and get 10% off your order PLUS you can get free shipping on any order over $25!
At less than $20 for 66 of these, they are a great deal! Plus they ship really quickly! You'll get them within about a week even with free shipping! Click here to check these and many other labels out!
They've also got saving packs for school and camp that are awesome deals AND they include these name labels for your bottles!
With the savings pack you'll get my favorite labels for baby bottles or water bottles AND easy stick-on name labels for clothes that are washable! With their amazing clothing labels you won't need to iron or sew anything! Click here to check out their saving pack!
Dry Erase Stickers For Adding Dates to Bottles
Now on to my tip for putting dates on bottles for daycare! Most daycares are required to have all bottles dated and they ask parents to do this. It's required according to licensing and good practice. This can be annoying though! How are you supposed to date your bottles?
Well, I found the best option!
These erasable labels from Amazon come in a variety pack and the smallest ones are perfect for bottles. The other sizes are great for food storage containers which I never knew I needed until I started using them!
These labels come with an eraser and marker but I found that a permanent marker (yes, a SHARPIE) and a paper towel work just as well if not better!
While the date won't easily wipe off while you're holding and using the bottle, it does usually washe off in the dishwasher so you can wash and reuse easily!
I'm sure this seems so simple but these two stickers really made my mornings so much easier and cut out a couple steps during the day! I even used them with two kids four years apart! Get your baby bottle labels for names and erasable labels for dates here!
Do you have any other good tips for getting ready for daycare? Check out my 11+ tips for making mornings easier with more great ideas!
Other related articles you may like: