How To Make A Fun Ice Cream Cone Craft For Kids
Post may include affiliate links. We may earn a fee if you use them at no cost to you. Disclosure.
THIS ICE CREAM CONE ARTS and CRAFT IS SO MUCH FUN FOR THE KIDS. THEY DON'T EVEN NEED AN ICE CREAM CONE TEMPLATE TO MAKE IT. FREEHAND ART IS SO MUCH MORE FUN!
Ice Cream crafts are a lot of fun and it's easy to see why. Kids love to eat ice cream (adults, too!) so why wouldn't they love to create their very own ice cream craft creation as well?
In this post, I'm going to show you how to create one of the best ice cream activities for preschool and older-aged children. Just be certain to have some real ice cream on hand to follow up with a sweet treat!
This makes a super "cool" decoration for the fridge and a fun way to have the kids work on their fine motor skills and creative skills as well.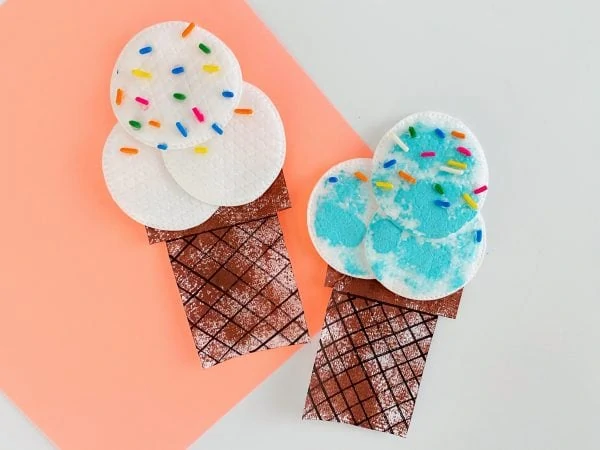 To make this fun ice cream project, all you need is some white card stock, cotton rounds, brown paint, black sharpie, sprinkles, and clear glue. Once you gather up those supplies, you're well on your way to getting started.
What I love about this simple ice cream activity is that it's easy enough for the kids to do it on their own. They can easily cut and glue, and color to create this fun ice cream cone!
Are you ready to get started? This is one fun craft that they'll want to make over and over again.
Quick Links to Information in this Post
Ice Cream Cone Arts and Craft Material List
The great thing about this fun craft for kids is that you need very few supplies to get started. Here's what you'll need:
White card stock
Cotton rounds
Brown paint
Black sharpie
Sprinkles
Elmer's clear glue
I told you that this list was short! Short and sweet (like the delicious taste of ice cream!) Here are a few notes about the materials listed above…
Cardstock
You can vary this but try to find cardstock that is thick enough that it doesn't tear while the kids are cutting it out.
Cotton Rounds
You'll find these are your beauty aisle or beauty store. They're really cheap and work great!
Sprinkles
If you don't have sprinkles, you can also use cut-out pieces of colored paper, too. Anything colorful and fun that looks like sprinkles will work.
Clear Glue
I love clear glue because it dries clear. For this reason, I always have it on hand for crafts. You can use white glue as well but just know that it might be visible when dry.
How To Make An Ice Cream Cone Craft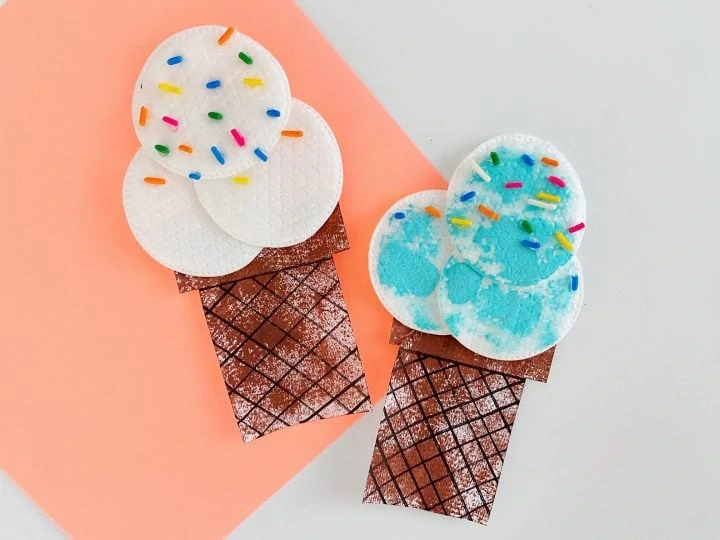 How To Make A Fun Ice Cream Cone Craft For Kids
This fun ice cream cone craft for kids is so simple and easy!
Materials
White card stock
Cotton rounds
Brown paint
Black sharpie
Sprinkles
Elmer's clear glue
Instructions
Step 1: Cut Out the Base of the Ice Cream Cone
Cut a cone shape from a piece of white card stock (think of a vertical rectangle with a horizontal rectangle on top).
Step 2: Dab on a bit of Paint
Dab a small amount of paint onto a piece of folded up paper towel, dab it on your paper cone and let dry.
Step 3: Create a Criss Cross Pattern on the Cone
Once the cone is dry, use a ruler or edge of a piece of paper to draw a criss cross pattern on your painted cone.
Step 4: Glue on the tops of the cone
Glue 3 cotton rounds on top of your cone. If you want a little color, dab a little colored paint onto the cotton rounds. I used blue on one to look like blue moon ice cream.
Step 5: Add Sprinkles
Carefully glue sprinkles onto your cotton rounds one by one (you don't need a lot).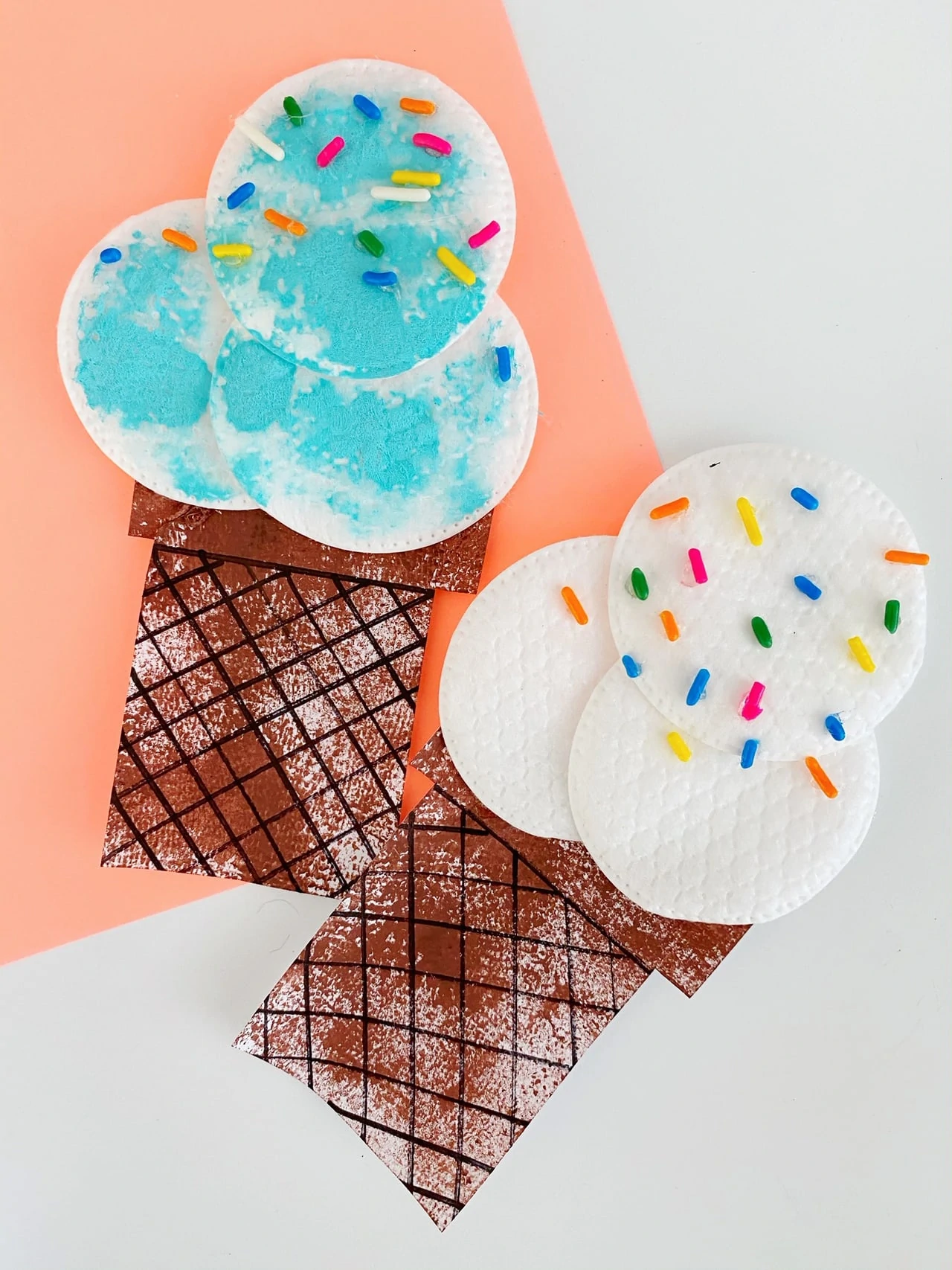 Step 6: Let Dry
Let dry overnight and you have the cutest ice cream cones.
Frequently asked questions about this Ice Cream Cone Craft
What do you do with this craft once done?
If you're like me, you like to keep all the crafts! But in all reality, some people just don't have the space.
This is why this would make a super cute gift for Mother's Day or a fun birthday surprise, too. Homemade crafts actually make really fun gift ideas for family members and friends.
Do you need a template for this project?
You don't! This is one of those crafts that you just kinda eyeball and cut out the shape of the cone. It doesn't have to be perfect. This is what makes each ice cream cone unique and different!
I'd love to see YOUR ice cream cone craft! Please share a photo on social media with #analyticalmommy or tag me @analyticalmommy so I can see your amazing creation! Each and every ice cream cone is unique and I'd love to see yours!
More Fun Craft Ideas for Kids
Make certain to take a peek at how I organize our craft space AND make a great space for the kids to do their homework at the same time!
I hope you enjoyed this fun ice cream cone craft!
Pin to Pinterest