How to get pee smell out of your couch once and for all!
Post may include affiliate links. We may earn a fee if you use them at no cost to you. Disclosure.
So you have a puppy or maybe a little kitten, and they've peed on your couch! What to do!
It can be tricky to figure out how to get the pee smell out of a couch. You can get rid of the urine scent in furniture with several household ingredients turned into a homemade recipe.
Or you can use commercial products like enzyme cleaners. The couch's material, urine age, and urine type can affect which urine removal method works for removing a pee smell from your sofa.
Urine contains acids and bacteria that give the signature stench. As the bacteria feed on urine stains, it releases ammonia odors, which combine for a stronger smell.
The issue with pee smells in sofas is that it doesn't go away if you wipe the surface or blot the stain dry. While the physical liquid may be gone, the microscopic bits that contain the foul odors are still present. And the longer it's there, the stronger the smell gets!
Quick Links to Information in this Post
Why is the Pee Smell So Hard to Get Rid Of?
The smell of urine can be challenging to remove because it contains proteins that make it a surfactant. In addition, urine has uric acid crystals and bacteria that release ammonia, which makes urine smell and causes the challenge of being difficult to eliminate.
Once urine comes into contact with a porous surface, the uric crystals penetrate deep down into the padding. As it gets into the inner parts of the couch, it becomes hard to reach with cleaning products.
Treating Urine Smells and Stains In Your Couch Explained
Getting rid of the smell can be tricky when you have urine stains on your couch. The material of your sofa will determine the best method of urine stain removal.
Understanding Couch Labels
Most upholstered furniture pieces have care tags with a cleaning code label that helps you know how to clean the material. Common letter codes you'll see are:
W – Spot clean with a water-based upholstery cleaner, sometimes agitated with a brush or carpet cleaner upholstery attachment
S – Requires cleaning with solvents – dry cleaning; sometimes spot clean with water-free solvents (do not use anything with carbon tetrachloride)
W/S – can use water-based cleaners and non-water-based solvents
X – cleaned by light brushing or vacuuming but no solvents or water cleansers
Make sure to check these before trying any methods for removing the pet stain! Ignoring these can result in replacing pee stains and smell with a giant stain or even a hole in your couch!
Products That Get Pee Smell Out of Your Couch
There are several commercially obtained products that you can use to treat and remove urine smells from your couch. And there are also some DIY mixtures you can create using staple ingredients in most pantries. Here are some great options to help you eliminate that pee smell and stain from your couch!
Vinegar
Baking soda
Hydrogen peroxide
Dawn dish soap
Spray bottle
Disposable clean rags or sponges
Vacuum cleaner
How to Remove Pee Smell Out of a Couch
Getting the pee smell out of a couch will be more successful if you can clean it up when it's fresh. Old crystallized urine can be a harder smell to remove.
Start the clean-up by removing as much wet urine as possible by blotting the spot with a thick fabric. Do not apply firm pressure, which could cause the urine to soak further into the material.
Next, clean the urine spot with a urine removal treatment, whether a commercial product or a DIY solution. You can use an enzymatic cleaner treatment if the scent stays after cleaning.
What Removes the Smell of Pee?
There are a few different ways to approach removing pee and pee smell from your sofa! Here are three of the most commonly used methods that work! Depending on your sofa or surface and how much pee you're dealing with, one of these methods may work best for you, so you may need to use trial and error to figure out which works best for you!
Don't forget to spot-test any method you try first to avoid damaging your sofa!
Enzyme Cleaner
A quick way to get rid of the pee smell is by using a commercially purchased enzyme cleaner. This odor removal method relies on advanced molecular odor controls to eliminate smells.
Soak the stain in the cleaner to the edges and random spots. Leave it for 15 minutes so it can soak down into the padding. Then blot with a clean rag until all the moisture is gone and allow to air-dry.
Soak the stain in the cleaner to the edges and random spots. Leave it for 15 minutes so it can soak down into the padding. Then blot with a clean rag until all the moisture is gone and allow to air-dry.
Here are some more great options!
Vinegar and Baking Soda
Vinegar is a widespread cleaning agent that can help treat difficult stains and smells. Mix one part distilled white vinegar with four parts water inside a spray bottle and soak the stain. The vinegar will neutralize the ammonia smells while re-wetting the stain to break it down. But you cannot use this method for microfiber sofas that might stain from water.
After you've soaked the stain, scrub the area with a disposable sponge, starting at the center of the mark and moving outwards. Persistent, heavily odored stains can require 100% vinegar but first, start with the 1:4 dilution mentioned above and then work your way up to avoid any damage from too much vinegar.
While the spot is still dry, cover it with baking soda; usually, around a cup is enough. Adding ten drops of essential oils is an excellent way to encourage a more pleasant aroma while also possibly adding antibacterial properties.
You'll get the best results by letting the baking soda rest overnight (12 hours), but four to six hours is the fastest you can expect the wet powder to dry. Once it feels dry, use a vacuum to lift the baking soda and the stain particles from the cushion.
DIY Solution of Baking Soda, Dish Soap, and Hydrogen Peroxide
This mixture combines 300 mL – 1 ¼ cup – of 3% peroxide with three tablespoons of baking soda and two to three drops of dish soap in a spray bottle. The peroxide will break down the uric acid, making removing the stain easier.
The solution needs one hour to fully saturate the stain without blotting. Then use a clean damp cloth to rinse the stain free of the soap solution. And use a dry, clean rag to blot the stain before letting it air dry completely.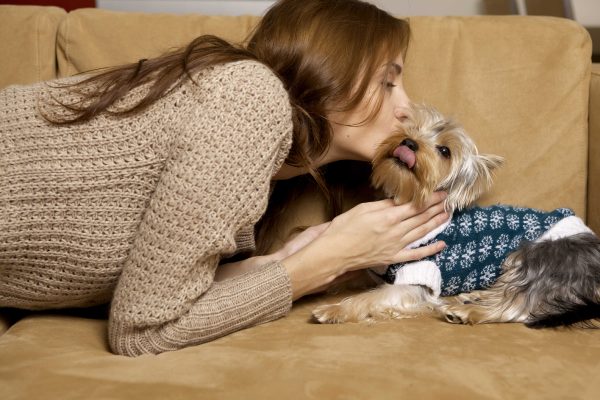 Frequently Asked Questions
Does Steam Remove Pee Stains From a Couch?
Steam does not remove pee stains or smells from a couch. In fact, steam could even SET the stain and make it even harder to remove, so avoid using steam.
Is Urine Toxic?
Urine is non-toxic but can contain bacteria that excrete ammonia.
How Long Does Urine Smell Last?
Urine can continue to smell bad for months if left to soak into the fabric and padding of a couch without cleaning.
Getting the Smell of Pee Out of a Couch Done Right
Getting rid of the urine smell in a couch is best done when it is fresh before it has time to soak down into the padding. Once urine goes too deep into a sofa, it can be problematic to self-clean. So pick one of the pee cleaning options I mentioned above, do a quick spot test, and get to work cleaning those stains ASAP!
Hang with Me Longer!
Now that you've learned how to eliminate a urine smell on a sofa, check out my favorite wet-dry vacuum and my favorite robot mop and vacuum combo for keeping your floors clean with pets and kids.
More Cleaning Posts