M&M Hot Chocolate Bombs Tutorial
Post may include affiliate links. We may earn a fee if you use them at no cost to you. Disclosure.
This M&M Hot Chocolate Bombs Tutorial and recipe is seriously one of my favorites! The chocolate and M&M's combined will make your cup of hot chocolate the perfect flavor sensation that will have you making this hot cocoa bombs recipe over and over again.
The really cool part about these DIY hot chocolate bombs is that they're really fast and simple to make. They only LOOK like they take a while but I can assure you that they don't! Plus they are so easy to customize but more on that later.
You'll be the star of the show if you make this chocolate bombs recipe for the kids! (or yourself!) They especially love seeing the M&Ms… To my kids it's like hot cocoa AND candy… Woohoo!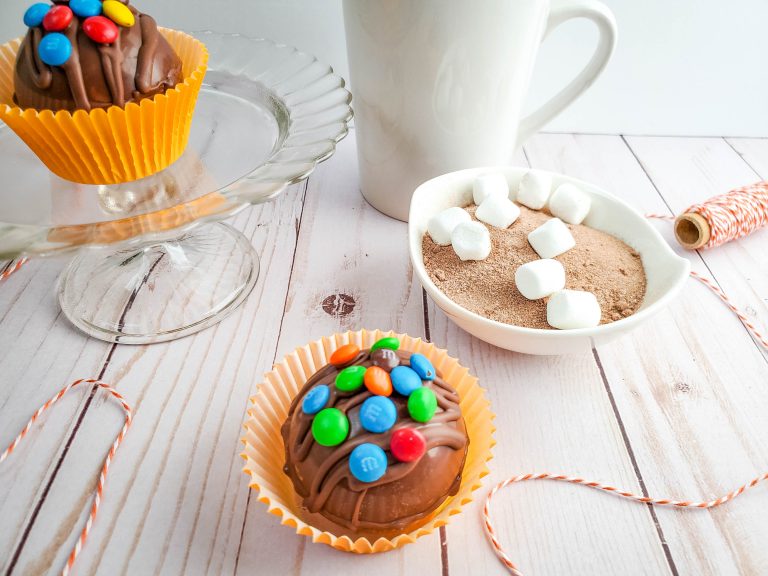 If you're a chocolate lover as I am, don't miss out on these Chocolate Glazed Donuts – Dunkin Donuts Copycat Recipe. They're one of my favorite homemade donut recipes to make and are amazing for breakfast too!
You can even pair up your cup of hot chocolate with these dessert donuts to have an overload of chocolate that just has to happen every once in a while, in my opinion.
I can't wait to hear what you think about these fun DIY cocoa bombs because they're a fun twist to try!
Quick Links to Information in this Post
Hot Chocolate Bomb Ingredients
You will need just a few ingredients and supplies to make your M&M hot cocoa bombs. I love that I can make up just a few or a ton – to be honest, I always regret not making more!
Just divide or multiple this recipe as you need to!
Here are the ingredients and supplies you will need:
7 ounces of milk chocolate melting wafers (you can use semi-sweet chocolate chips too if that's what you have on hand!)
6 tablespoons of hot cocoa mix
1⁄2 cup of mini marshmallows
1⁄4 cup of mini M&Ms candies
Semi sphere silicone mold (2 pack)
Piping bag
Chocolate Melting Wafers
These are key and you literally cannot make these hot cocoa bombs without them. You'll find that they melt well and are perfect for hardening quickly, too. You can also change out the flavoring and try white chocolate as well.
Hot Cocoa Mix
Any powder form will work so use what you have or you can even branch out and try to make up your own.
Mini Marshmallows & Mini M&Ms
Mini is key! The smaller they are, the more that you can fit inside your hot chocolate bombs!
What is a hot cocoa bomb?
It's literally a sealed chocolate globe full of hot chocolate ingredients that you add to a mug and watch melt as you pour over hot milk. The milk then melts away the chocolate, allowing the hot cocoa mix to pour into the cup. You then just stir, and enjoy!
It's so much fun to watch! The kids especially love it! There's something just so fun and satisfying about watching the chocolate globe break open and spill everything out!
How do you use hot chocolate bombs?
They're a super fun way to make your hot chocolate that much more interesting. Add them to your favorite mug for a fun surprise for the kids! Pour about 6-8 ounces of hot milk over the top and watch the magic happen right in front of your eyes. Then stir and you're ready to enjoy! But don't stir until the cocoa bomb breaks open!
How long do hot chocolate bombs last?
As long as you store them in an airtight container, you should be able to keep them for a few weeks without any issue. (but they're so good I really doubt they're going to last that long!)
Do hot chocolate bombs need to be refrigerated?
Nope, they don't have to be. You can but it's not required. As long as you're keeping them in an air tight container at room temperature and not too hot, they should be just fine.
Do you use milk or water for hot chocolate bombs?
This is ultimately up to you but the milk is going to give you a richer and better overall flavor. I do know that plenty of people use water though as well.
How do you warm milk for hot chocolate?
You're going to want to heat it up in the microwave or on the stove. The point is to get it hot enough that it's going to melt through the chocolate cocoa bombs easily. Be careful though – you definitely can overheat milk!
How to store hot cocoa bombs
The main thing to remember is that you need to store your cocoa bombs in an airtight container. This doesn't matter if they're in the fridge or out on the counter. Keeping the air out is key.
Tips For Making These M&M Hot Cocoa Bombs
The biggest thing to keep in mind when making this chocolate bombs recipe is that you need to make certain that the chocolate ball is sealed well. Some people melt it on a a pan and stick it together to dry while others just add already melted chocolate on the seal and stick them together that way to join the halves. I think melting it on a pan is much easier!
This is how you do it:
Remove your half spheres from the molds.
Warm a frying pan up on your stove
Fill one of the half-spheres according to the recipe below
swirl the edge of a second half-sphere on your pan until the edge begins to melt
Place the slightly melted piece on top of the filled one and hold for a moment until the melted chocolate edge begins to cool.
There you go!
What can you fill a hoto cocoa bomb with?
So many fun things! This is why there is literally a hot cocoa bomb recipe out there for everything! You just need to have a sweet treat that you love (and that won't be a choking hazard) and make it happen.
You will of course want to make sure that it's something you would want in your hot chocolate though – so there are limits! (I think…)
Some filling ideas could be:
Pieces of your favorite candy bar
Fudge
Mint oreos
Caramel bites
Shredded Coconut
Sprinkles
And the list could go on and on. You'll find that the more that you make these cocoa bombs, the more that you'll want to change up the ingredients as well.
I really think you're going to love this recipe for hot chocolate bombs!
Yield:

6
M&M Hot Chocolate bombs tutorial
Additional Time:
15 minutes
This hot cocoa bomb tutorial is the best! I'm sure that you have seen hot cocoa bombs all across the web, and even for sale in your neighborhood groups. They are the hottest treat this winter, and they are super easy to make yourself at home. You are going to just love these delicious M&Ms hot cocoa bombs! You will need just a few ingredients and supplies to make your M&Ms hot cocoa bombs, and the best part is that you can really make as many, or even as little, as you want. These are one of my favorite hot cocoa bombs recipes, and are made with milk chocolate, then
filled with hot cocoa mix, mini marshmallows, and mini M&Ms chocolate candies.
Ingredients
7 ounces of milk chocolate melting wafers
6 T of hot cocoa mix
1⁄2 cup of mini marshmallows
1⁄4 cup of Mini M&Ms candies
Instructions
Start by putting a regular plate in the freezer.
Next, grab the chocolate melting wafers and add them to a microwave-safe bowl, and heat in 30-second increments, stirring in between each time. Do this until melted.
Add a bit of melted chocolate to one-half of the silicone mold using a spoon and spread it out evenly, all around, and up the sides.
Repeat for all 12 molds.
Once done put the mold in the freezer for 5 minutes of time.
After the time has passed take out of freezer and repeat the above steps to add another layer of chocolate.
Freeze for another 5 minutes.
Take out the mold and the plate and take out the frozen chocolate from the mold carefully. Put them on the cold plate.
Add 1 T of cocoa mix and 6-8 mini marshmallows plus a few M&M's to 6 of the chocolate molds.
Grab a smaller plate and heat it in the microwave for 2 minutes.
Take an empty chocolate sphere and press it unside down on the plate to start to melt a bit. Once it starts to melt, take and place on the filled half of the chocolate mold and use your fingers to add more chocolate to seal the edges. Set on the cold plate.
Add some of the melted chocolate to a piping back and cut a hole in the end.
Drizzle the melted chocolate back and forth over the top of each cocoa bomb. Add on M&M's.
Recommended Products
As an Amazon Associate and member of other affiliate programs, I earn from qualifying purchases.
Nutrition Information
Yield
6
Serving Size
1
Amount Per Serving
Calories

371
Total Fat

14g
Saturated Fat

8g
Trans Fat

0g
Unsaturated Fat

4g
Cholesterol

9mg
Sodium

196mg
Carbohydrates

57g
Fiber

2g
Sugar

46g
Protein

5g
Nutritional information is an estimate only and is auto generated. Please consult the nutritional information on the ingredients you use for exact nutritional information.
Want more delicious recipes?
Pin to Pinterest