BEST GUIDE WHEN VISITING GREAT WOLF LODGE – FROM A MOM OF THREE KIDS
Post may include affiliate links. We may earn a fee if you use them at no cost to you. Disclosure.
I remember the first time I researched Great Wolf Lodge. I was so confused and unsure if it would be worth our precious time and vacation days. I remember thinking – Is it JUST a water park? I mean, what would we really do there?
Is it worth the money? Will it be clean? I was very overwhelmed by the website and options and was so afraid that we'd regret going.
We decided to give it a shot, and now 5 trips to Great Wolf Lodge later, here I am writing this guide for you! Needless to say, we LOVE Great Wolf Lodge and I'm so happy that we gave it a shot.
I hope this guide will answer all of your questions and help you decide if Great Wolf Lodge is the place for you. If you don't see one of your questions answered, don't hesitate to comment below and chances are that I'll answer it the same day!
To make it easy for you to find what you need… I'm going to break this into a few categories:
Why I Love Great Wolf Lodge – Why Great Wolf Lodge is a Family Favorite
The Water Park
Non-Water Park Activities
Food and Dining
The Room
So here goes… Remember, comment below if I've missed something! I'll answer right away AND probably add it to the post!
1. WHY GREAT WOLF LODGE A FAMILY FAVORITE?
Have you ever thought of what it must be like to be a kid?
"Go here" – "be quieter" – "do this" – "you did WHAT?!"
As parents we spend a lot of time teaching our kids what behavior is and isn't okay, get them where they need to go, and enforce rules. It's for their own good of course but it's exhausting for us and them!
We love going to Great Wolf Lodge because when we are there, we get to let the kids run a little extra wild, give them a little extra freedom, and never need to tell them to be quiet! It's a resort designed for families so a little craziness and a lot of fun is encouraged!
It's actually a relief to be able to let loose as a parent too – so it's a win-win!
If you embrace it, you'll make amazing memories with your kids AND you will tire them out enough that they will take the most amazing naps ever – which means you get a little relaxation (and quiet time) while there too.
My oldest son's (now 9) favorite thing to do at Great Wolf Lodge is play Magic Quest and literally sprint down the hallways with me while we play.
One of the first things he'll say when we announce an upcoming trip is "Will you be running with me?". That's a memory we will cherish forever. It's a chance for me to let loose and have fun with my kid on a level that I can't normally.
In fact, my oldest loves GWL so much, that he has asked us to go there twice for his birthday (instead of a birthday party) and my middle son has started to make this request too!
That's how much they love it! Best of all, if you sign up for the birthday package when you go, they'll get some goodies like a giant birthday sign on the door, balloons, a birthday cake, and ice cream!
2. THE WATER PARK GUIDE – WHAT'S IT REALLY LIKE?
The first time I researched Great Wolf Lodge, I felt overwhelmed by the website. After hours of looking at photos, I still didn't have a good idea of what the water park would be like. I worried that it would be too small or that we'd get bored easily. I mean, how much time could a four year old really spend at a pool – right?
I'm so thankful that we gave it a shot!
Here's what you can really expect at a Great Wolf Lodge Indoor Waterpark:
For starters, there really is something for every age group and mood. We've brought a baby with us and he had a blast, and my dad also joined us once and he had a great time too!
Though every location has a slightly different layout, there seems to be a few things in common. Here's what I've seen during my stays at multiple Great Wolf Lodge Locations:
A BABY/TODDLER POOL AREA – CUB PAW POOL
This is a pool that ranges from just a few inches so that even my baby could sit in the water! This section also has a few play structures and water sprayers that even my older boys enjoyed playing with and some toddler-sized slides! My kids absolutely LOVE this area!
A "BASKETBALL HOOP" SECTION AND MINI-ROPES COURSE – CHINOOK COVE & BIG FOOT PASS
This pool is another favorite because you get to "play ball" but also because they usually make friends in this pool!
A WAVE POOL – SLAP TAIL POND
Okay, we spend a LOT of time in the wave pool! It's so much fun! In this pool we usually play typical pool games like "Marco Polo" but we do it while riding the waves! If we're tired, we'll just sit in the shallow area and let the waves roll over us. The pool makes a distinct sound when the waves are about to start up again (they pause every few minutes), so we will sometimes rush over to the wave pool when they start!
THE LAZY RIVER – CROOKED CREEK
This is my personal favorite! What parent doesn't want to relax in a tube and take a quick break? Well, in the lazy river you can! Especially if you have a baby! I have spent literally hours cuddling one of my kids as we go in circles around the lazy river.
Sometimes we'll play and dodge the buckets that dump water, but other times, they will relax so much that they will fall asleep and take a nap in your arms as you take a break leisurely going around the lazy river!
If your kids aren't in the mood to relax, they will still likely love the lazy river! My oldest would have fun helping me "navigate" the river by pushing me around. Or if one of the kids was napping, the oldest would help us dodge the water buckets!
The lazy river is also where the rafts from the water slides feed into! So many kids (and parents) will woosh down the slide and then make a lap or two around the lazy river!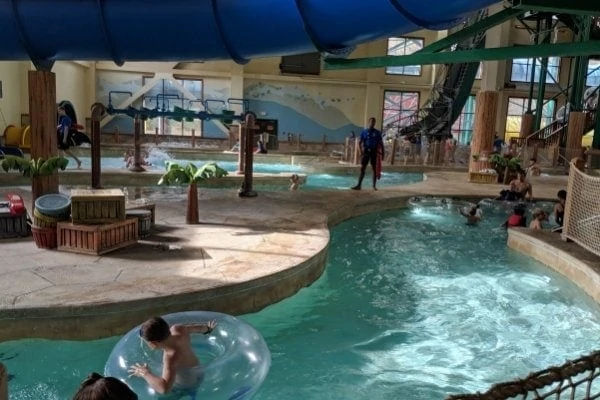 THE GREAT WOLF LODGE WATER SLIDES (OF COURSE!)
There are no shortage of water slides at Great Wolf Lodge! You can ride down some solo or on a two-person raft. Others are big enough for a whole family! Many people will take even their toddlers down the water slides!
Since we've gone to Great Wolf Lodge with really young babies, we would often split into two teams. One parent would go with the older kids down slides and the other would hang out with the baby in the other pools. Then we'd meet up (usually in the wave pool) and hang out together for a bit! That said, you can definitely send your kids down the slides alone if slides aren't your thing, but in our case we love to go down the slides with them so we didn't need to do that too often!
THE WATERPARK PLAYGROUND – FORT MACKENZIE
In the very center of the water park, you'll find a GIANT playground-like structure. Your kids could spend literally hours climbing all over it, playing with the water-sprayers and buckets, or trying to time it just right so that they get doused by the GIANT bucket at the very top! There are also two smaller slides that you can use that are part of the structure – in case you want something bigger than the toddler slides but smaller than the giant slides that wrap around parts of the resort building!
IS GREAT WOLF LODGE'S WATERPARK SAFE?
No guide to Great Wolf Lodge's water park would be complete without talking about safety. One of the first things you see when you walk in, is the lifeguard station. This is where you can go if you need help or have a question. (It's also where you grab your towels).
One of the first things you notice as you look around, is that there are signs about safety everywhere! If you pay close enough attention, you will even see them do drills often!
Someone will leave a baby-sized doll in the pool somewhere – and lifeguards will immediately jump in to rescue to the test dummy! It's really impressive to see them in action – I don't know how they spot it when they are also focusing on everyone in the pool!
The slide attendants also make sure that kids are going down age appropriate slides and that kids who can't swim have life vests.
… and, of course they check the slides often! If you provide the resort with a cell phone number, you'll even get text messages if a slide gets closed for repair!
… and, of course they check the slides often! If you provide the resort with a cell phone number, you'll even get text messages if a slide gets closed for repair!
3. WHAT ARE SOME OF THE OTHER ACTIVITIES YOU CAN DO AT GREAT WOLF LODGE?
I bet you're wondering what you can do at Great Wolf Lodge when you get tired of the water park – right? I mean, the water park is fun for sure, but there's a limit to how much time you can spend there!
Well… my biggest tip in this category is to get one of the passes during your first stay at GWL! They have three types – a Pups Pass, Paw Pass and Wolf Pass. These differ in price and what's included based on the age that they are geared to.
IF you do all the activities on the pass you buy, you will DEFINITELY save money! Plus, the passes will help you try out new things and explore the resort.
WHAT'S INCLUDED IN A Great wolf Lodge PAW PASS?
Though it changes a bit from location to location, it seems like some of the most common activities included are:
Choice of MagiQuest game: More on this to come!
Choice of classic or colored wand, standard topper or Magi belt: I love how flexible they are on this. You can get a wand but if you already have one (if you're a returning guest) you can get an accessory!
One Creation Station animal: This is where you can make a custom plushy. Your little one will get to pick from a bunch of characters, then help fill the plushy with stuffing, etc.
One Clubhouse Crew Adventure: This is an electronic scavenger hunt that uses the animal you create in the Creation Station as your "key". You put the plushy near eat "station" and play a quick game and get your next clue! The younger kids especially love this!
One Paw Points arcade / attractions card (20 points): Each GWL has an AMAZING arcade that we have spent hours in! You get a few "credits" to use in the arcade with your pass.
One 12 oz. candy cup: Who doesn't love candy?! You get to go to the candy "store" and fill up a 12 oz cup!
One pair of Great Wolf Lodge goggles from Bear Essentials Swim Shop: As you can imagine, your kids are going to want to get something from the gift shop – now they can! And … who doesn't need another pair of goggles, right?
One Glitz Glitter Tattoo: You'll want to get this on your last day of your stay so that it will last as long as possible! My kids always look forward to this (though is does signal the end of our trip so it's also bitter sweet!)
One Leather Treaty name bracelet from Buckhorn Exchange Gift Shop: Your little one will get to pick out a bracelet and get their name (or anything really) engraved on it!
Each location is slightly different so what's included in the Paw Passes could change from location to location.
Some of the other activities you can do at Great Wolf Lodge include:
Oliver's Time Challenge: We are OBSESSED with this game! You walk into a room that has two sides and you split into two teams. Then lights light up randomly on each side and you have to tap on the lights when they light up. The team to get the most when it ends wins! We ALL love this game including the baby! He loves to watch his older siblings and parents run around giggling!
Howl In One Mini Golf: Who doesn't love mini golf? If you go to the resort when it's warm out, you can spend plenty of time playing mini-golf!
Ten Paw Alley: This is like a mini bowling alley! You can use your arcade credits here if you prefer!
Howly Wood XD Theater: This is so much fun! Here you can watch shirt "videos" in these cool chairs that move and vibrate in-sync with the video so that you feel like you're IN the video! My kids' favorite one is the roller coaster one!
Howlers Peak Ropes Course: This is another huge favorite! To do this you'll need sneakers so don't forget to pack them! This is a really high ropes course that you can spend more than an hour doing! Some locations, like the one in NY, has a mini version for kids who are too small to do the full one!
TONS of scheduled FREE activities throughout the lodge including story time, dance parties, face painting, balloon animals and so much more! Definitely check the schedule when you arrive and plan your stay around these activities so that you don't miss out on what's already included in your stay! My kids especially love the dance parties!
(Use the slide below to see photos of some of these activities!)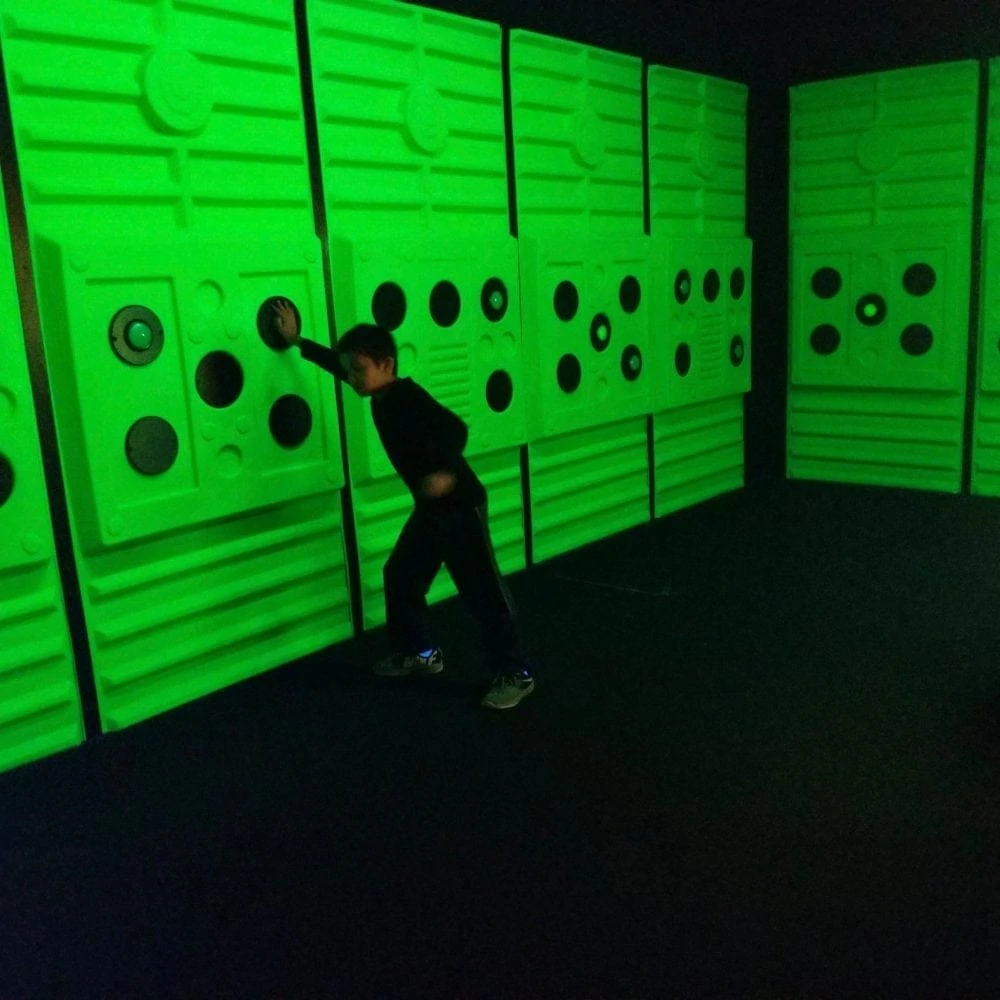 MAGIC QUEST
This could be it's own post and maybe one day I'll do a whole post just about Magic Quest!
Let me start by saying that my oldest and I are HUGE fans of Magic Quest. The first time I heard about it, I had a really hard time understanding Magic Quest so hopefully I can do a better job of explaining it than my friends did!
Here's how it works…
Magic Quest is a like a scavenger hunt video game. Each player gets a wand which is basically their video game controller. When the players point the wand at different objects or stations called "Portals" they get clues and instructions that they then follow.
The players then hunt these clues down during "Adventures" and they get points. Sometimes they need to battle in order to get objects so that they can finish their adventure.
Magic Quest is played throughout the lodge on every floor! Basically, the game is integrated with the resort!
We absolutely LOVE playing this game and have a blast running around the lodge while we play! The younger kids, who don't really understand the game, still love to play because objects move and make sounds when you point your wand at them! My kids have also made friends while playing the game!
Bring walkie-talkies with you to Great Wolf Lodge so you can give you kids a little extra freedom to run around while they play but still stay in touch with them! Buy some now!
4. DINING AT WOLF LODGE
I'm not going to lie – Eating out is expensive no matter where you go! That's why I always bring some food with us when we travel and Great Wolf Lodge is no exception!
EATING IN YOUR THE ROOM
Every room at Great Wolf Lodge has a microwave, empty fridge, and a coffee maker. The rooms also have a couch and coffee table that you can eat at – and some even have full tables or bar tops! Depending on how many you have in a room, you may feel a bit like you're having a picnic but most kids love that!
If you're going to bring food with you, and I recommend that you, don't forget to bring disposable cups, utensils and plates. You won't have enough room to wash stuff.
Typically we plan on doing 1-2 meals in the room and breakfast is an easy one! A couple boxes of cereal, some milk and you're good to go!
You can also bring packs of oatmeal or oatmeal cups! For other meals you can do simple meals like crackers and cheese, PB&J, or even bring food that you'd heat up like homemade lasagna or cG AT GREhili! There are SO many options! Just make sure to plan your meals ahead of time so that you bring exactly what you need!
Don't forget to bring some pre-cut fruits and veggies and a cooler! A pack of grapes or some pre-cut carrots are easy to bring and make a great snack while at the waterpark! A backpack cooler is especially great because it keeps you hands-free when walking around the lodge! Get this Backpack Cooler!
BUYING FOOD AT THE GREAT WOLF LODGE WATER PARK
There is usually fast food available inside the Water Park that is fairly well priced! This includes stuff like hot dogs and french fries!
They also have refillable cups that you can use for juice, soda, and slushies! These cups cost about $10 each which is pricey BUT you can refill them for free as often as you'd like during your entire stay! We usually pick up a few of these at the very beginning of our stay so we can get the most use out of it!
Oh… and you can also get adult drinks if you like that are surprisingly good!
Just outside of the water park you'll find a pizza and ice cream shop which is another great option! We will usually get Pizza at least once during our trip because it's a chance to "eat out" on a budget! The one thing to know is that this isn't "dine in".
While there are two tables close by, the tables are ALWAYS in use so you can't depend on sitting there. You will either want to take the pizza into the water park if you have seats there, or to your room.
THE LOOSE MOOSE BAR AND GRILL
This is a sit down restaurant on the main floor. Full disclosure – it's a bit pricey for a large family! We usually limit how often we eat here because of that. The food is very good though for a buffet! Our kids absolutely LOVE eating here!
The buffet has tons of options for almost everyone – lots of meat, fish, and veggie options. Lots of salads and vegetables… and of course plenty of desserts!
DINING PACKAGES
If you're going for ease, they do have dining packages! One includes breakfast and dinner at the Loose Moose Bar and Grill plus a $10 credit for lunch. The second option just includes Breakfast at the Loose Moose Bar and Grill. If you're going to eat at the Bar and Grill on more than once a day anyway, this is a great option!
If you're going to eat food you bring with you on 1-2 times a day, though, you are likely going to spend less if you don't get the package. It's you to you though!
OTHER DINING OPTIONS?
Most, if not all, locations have an additional food option. At the Great Wolf Lodge in Williamsburg, VA location for example they have a Dunkin' Donuts in Great Wolf Lodge!
I highly recommend checking to see what venue they have at the location you are going to because this may be another great food option! We definitely got breakfast there quite a few times during our trips!
Another location we've been to though had a Starbucks. While that's great for some coffee drinks, it didn't provide good food options. So this does change from location to location.
Some locations also have great options close to the lodge. Again, in Williamsburg we could get to a Tropical Smoothie Cafe pretty easily and would go there occasionally for a quite change of pace. Other Lodge locations didn't have anything good close by.
Consider whether you want a short walk to the Water Park or want minimal noise at night (have a sleeping baby?) when making your reservation! You can make a special request!
Want the best of both worlds? Get an awesome white noise machine to use at night and request a room by the Water Park!Get This On-The-Go White Noise Machine!
5. ROOM ACCOMMODATIONS AT GREAT WOLF LODGE
Hmm… Where to start?
STANDARD ROOM
Great Wolf Lodge is HUGE. End to end, it's massive and there are tons of room options! If you're on a tight budget and have only 6 or fewer people in your family, you'll want to sign up for the standard room.
This will usually include some combination of queen sized beds and a pull out couch. You can also request a crib if you need one!
This is a basic "good enough" room.
You can then ask if an upgrade is available when you check-in and sometimes get upgraded for free or a discount if an upgrade room is available.
THEMED ROOMS
If you have a few extra dollars in your budget, there are lots of other really great room options! The "Themed" rooms include a special section of the room that looks like a tent or a log cabin for example.
In this area you'll find a bunk bed for the kids to sleep in! The kids absolutely love it! Imagine a log cabin JUST for the kids? Every time we go, my kids ask if we're going to get one of these room.
PREMIUM ROOMS
Then there are the Premium Rooms. These includes the suites and lofts! This is an especially great option if you have guests with you like Grandparents! During our last stay, my Dad joined us which my kids absolutely LOVED!
We had a room that included two bedrooms. One bedroom had two queen sized beds, the other had a single queen sized bed and then there was a pull out couch! My dad had his own room and we took the other room.
It was great to have him with us but still have some privacy! This is way more cost effective than getting two separate rooms and it lets you have some really great quality time with other family members!
Have cousins or family friends that you'd like to travel with? Why not share one of these premium rooms with them?
6. A FEW WORDS ABOUT GREAT WOLF LODGE PRICING
Pricing and Great Wolf Lodge changes nearly by the day! Luckily, they are transparent about this! If you are flexible about your arrival and departure date, you can save quite a bit! Here's how:
Put the dates you're looking for in and click "Book Now"
Then identify a room that you'd like and click "Check Rate Calendar".
Find the most cost effective dates within the time frame you're looking at and select those dates.
Proceed through checkout!
Check out this post! How to Save Money At Great Wolf Lodge!
On that note…
7. HOW LONG SHOULD YOU STAY AT GREAT WOLF LODGE
If you're going to Great Wolf Lodge and will be driving a few hours or more to get there, you're going to want to be sure that you spend enough time there right? On the flip side, there'such a thing as staying too long! So what's the right amount of time?
Everyone probably has a different answer to this! Here's our opinion…
2-3 nights is perfect!
One night is definitely too short in my opinion given that you'll need to spend time driving there and back and check-in is at 4 and check-out at 11. While you can pay a bit extra to check-in early or check-out late,
Much more than that and you're going to find yourself with a LOT of laundry! (Though they do have laundry machines there – I just don't personally like to do laundry while on vacation!)
8. CONCLUSION
I hope this post has been really helpful! As you can tell… we've learned a lot in our five trips (at the time I wrote this post) to Great Wolf Lodge and we STILL love it! I highly recommend getting one of the passes (and only doing what's included in the pass) and bringing your own food if you're trying to control costs.
Did I miss anything?
Please post any additional questions you might have in the comments below and I'll come back and answer them to the best I can right away!
You may also like these other great travel articles:
Don't forget to pin this post to save it for later!