Frequently Asked Questions about the Createroom Dreambox Answered
Post may include affiliate links. We may earn a fee if you use them at no cost to you. Disclosure.
The Createroom DreamBox is an amazing product, but there are a lot of questions about it! I totally get the feeling of wanting to know everything about it before making a purchase and it may be hard to find all the information you need on the Createroom website. Don't worry! I've got you covered and will answer all your Dreambox frequently asked questions in this post.
I've owned my DreamBox for over a year now and I STILL get giddy thinking that I have one. I have been so much more productive this year and it's been less chaotic in the house for sure. Now I never waste time searching for scissors, tape, or markers because literally all of my crafting supplies have a special place and storage.
Below are some common questions that people have when they're thinking about buying their own DreamBox. If you're still on the fence and want more information, these answers can help you make your decision.
FREE GIFT! When you use my code to buy a Dreambox, you'll get my Dreambox Organization Hacks & Guide, Dreambox Planning Workbook for FREE! To get these gifts just use code CREATEMOM and then email me your Create Room order number!
TOP DREAMBOX QUESTIONS
Read through the questions and answers and feel free to reach out and ask me anything else that you might want to know. I'm always available to answer anything that I can and will be more than happy to!
What is a Dreambox?
A Dreambox is a storage system made by Createroom. Sometimes it's called a Createroom Dreambox or a Workbox which was it's original name. A Dreambox is most often used as a craft storage unit but it can be used for many other things too. It saves room and keeps your supplies organized and has modular shelves, which are adjustable to accommodate any size of supply or collectible item. It's also a workspace and a decorate piece of furniture! Read on to learn a lot more.
Does the Dreambox ever go on sale? When are best sales?
Yes! It absolutely does! Since I'm a huge fan of the Dreambox, I've partnered with Createroom to get you exclusive coupon codes for the Dreambox, Dreamcart and many other awesome products!

I get new codes every month, so if you're looking for a great deal, be sure to check my newsletters!

These will be the very best coupon codes you can get!

Click here to sign up for my newsletter and never miss a sale on the Createroom Dreambox, the accessories, or any of the other amazing Createroom products!

How does the DreamBox make your craft room better?
A craft room can quickly become cluttered and disorganized. The Createroom Dreambox is a storage unit that helps you organize your craft supplies so they are easy to find and use. With the Createroom Dreambox, you'll never have to worry about digging through piles of boxes or searching for hours for the perfect color paint again!

This storage system has been designed by crafters, for crafters, with all of our needs in mind. It's sturdy enough to hold up under heavy crafting materials like tons of cardstock, clay and fabric but also has plenty of space for smaller items like beads and buttons.

It comes in an array of colors and styles so you can customize it to fit your personality.

It's also extremely modular! You can move totes and shelves around, decorate it, and add on tons of accessories to create the perfect storage system for your needs.

The best part though might be that the Dreambox closes back up to take up a really small footprint! This means that you can easily close it up and hide your supplies when you need to. For example, we use our guest room as a craft room when we don't have guests over. It's usually open and used daily but when we have company, we can close it and push it into a corner so that our guests have lots of space in the room!
How does the Dreambox get delivered?
Since the Dreambox is a large item, it gets delivered by freight (usually Old Dominion). Once your Dreambox is close, you will get a call from the freight company to arrange a date and time for delivery. You will need to be home when it gets there to sign for it. The truck driver will not be able to put the box in your home so be ready with help on hand to move it once it arrives. It's heavy!

If you purchase the Dreambox prebuilt, most of the work will be done for you. When you open the box (which may require a drill, screw driver and/or crowbar) you will see three main pieces. The two swing doors and the center piece. Note that the table is usually folded in the upright position and it may swing out when you first take the piece out of the box. I recommend immediately folding it into the down position when you get it out of the box. This is safer and more secure. You will then need to move all three pieces to your desired location and connect them.

Also, your totes will likely be stored in one of the swing doors – so you can remove them to lessen the weight if needed!

If you order the Dreambox unassembled, your wooden box will be much smaller and your pieces will be flat packed. Make sure you don't lose any pieces!

How big is the crate the Dreambox arrives in?
If you purchase the Dreambox prebuilt, the crate size will be 74.5″x42″x47″.
If you purchase the DIY Build Dreambox, the crate will be 74.5″x42″x26.75″.
How big is the Createroom Dreambox?
I have seem people fit a Dreambox into some really tiny spaces! Did you know that you can angle the Dreambox in a corner? You don't have to open it on one single wall!

When open completely, the Dreambox is 9′ wide, 6′ high and 34″ deep. When it's closed, it's 37″ wide by 34″ deep.

Here's a thumbnail of a very detailed diagram on Createroom's website that will have every dimension you could need! To get the full PDF, just click here.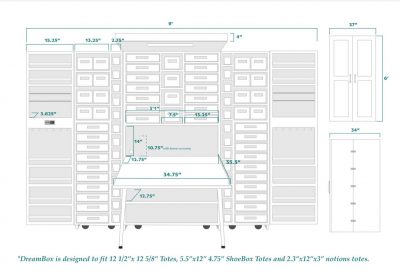 I really want a Dreambox but it's expensive. can I finance a Dreambox?
Absolutely! There's no doubt that the Dreambox is an investment and Createroom has some great financing options. This includes 0% APR if you qualify!
Is a Dreambox worth the cost?
That's a very personal question and will be different for everyone. A lot of the benefits of a Dreambox can't be defined by numbers or a dollar value – so how much they are worth to you will depend on how valuable the benefit is to you. For example, based on my experience, the key benefits of a Dreambox are that it
(1) helps me organize all my supplies in one easy to access place (which reduces clutter, keeps me from buying more of something I already have, and always keeps things within reach when inspiration strikes)
(2) keeps all my supplies within view which helps inspire me and my kids to create
(3) it's a workspace for my 3 kids and I to bond and spend time together while we do the things we love, do homework, or just pay bills
(4) It's a beautiful piece of furniture and looks great in our guest room when closed
(5) It holds a TON but still closes up into something that takes only a small footprint which means that you could even put it in a guest room like I did and close it up when guest come over!

There are many other benefits of course but those were the key ones for me and helped drive my decision to get one!

A great way to determine if a Dreambox is a fit for you and if it will be worth the cost is to go through the Createroom Journey! Try it out and see if it's a good fit for you!
How much does the Dreambox weigh?
Each side of the DreamBox weighs 140lbs and the center of the box weighs 250lbs. That's empty! But don't worry – it sits on caster wheels so it's really easy to move even once full of all your supplies! Mine sits on very thick carpet which isn't ideal and even I can move mine!
How long does it take to assemble a Dreambox?
This all just depends on the speed of the person assembling it and how it was purchased.

If you purchased your Dreambox, there is still some assembly to do. You'll need to connect the three pieces, decide where you want to put your shelves and totes, and then put those pieces in place. The new tote racks make this much easier than it used to be but it still takes a bit of time. Expect to spend between 1 and 3 hours putting your pre-build Dreambox together.

If you buy the DIY build dreambox, it's going to take you quiet a bit longer but it will also cost less. Additionally, you'll have an easier time getting the individual pieces into your desired room yourself – moving the pre-build pieces is definitely a two person job.

For the DIY-build Dreambox, expect to spend 6-8 hours from start to finish for the entire assembly.
And while that sounds like a lot of time, just know that it's not overly difficult to do. The directions are easy to follow so that makes it simple.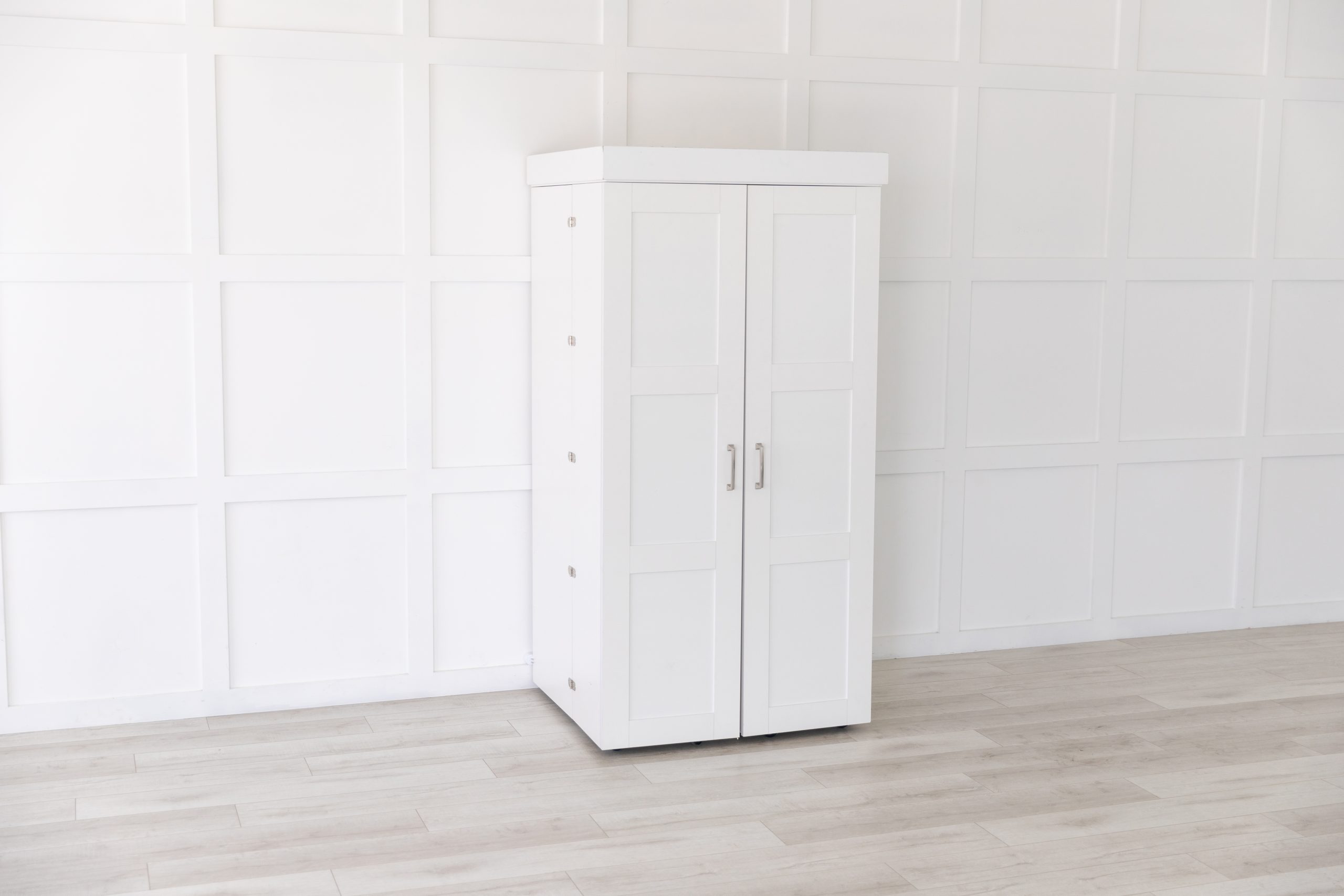 Can you order the DreamBox already assembled?
You sure can! When you order the Dreambox you will want to pick the "prebuilt" assembly. Just know that this is "almost 100% built". Your Dreambox will arrive in three parts. The center piece and the 2 swing doors. You will then need to connect the three pieces and then add your modular shelves.
What are the best Dreambox accessories?
If I had to pick just 3 Dreambox accessories, I'd have to say the cutting mat, side tables and crown/light.

It's hard to pick just a few because they all look and sound amazing and I'd love to have them all but I had to limit myself!

I love the cutting mat because it's a great protective layer. I use the Dreambox with my kids a lot and I love knowing that the mat will help protect the Dreambox so that it will be in amazing shape for many many years to come!

The side tables are great because they provide a ton of additional workspace! I got two side tables which lets me and my 3 kids comfortably do homework, craft, and work at the Dreambox together at the same time! Additionally, when I have guests over, I often ask them if they'd like to keep the box open and the tables connected to give them a workspace too! Sometimes they prefer to close the box and have extra floorspace but my Dad often works a the Dreambox when he visits and likes it open!

Last but not least, I think that the crown looks beautiful on the Dreambox. It's a piece of furniture afer all and part of our home decor so I love that extra touch! It also includes a built in light which is really great when crafting and drawing! It's just the right amount of light!
Can you customize your Dreambox?
Yes! A Dreambox is SO modular and customizable! So much more than I ever realized before I had my own. For starters, you can choose between a few models, to get it with or without a crown and light, with or without fixed drawers etc.

You can also add things like the tool cubby which is great for pens, the paper organizer which is great for anyone like me who has way too much cardstock, side tables, and so much more!

Then of course you can decorate it! I changed up how I decorated my totes multiple times (bascially changed it by the season!) and also decorated the inside of the Dreambox to give it a more custom look! I share how I decorate my Dreambox in this post.
Does the Dreambox come in different colors?
It does! You'll have the option to order your DreamBox in the colors of:
Farmhouse Gray
White Ergo
Modern White Shaker
This way you can have it flow easily with the rest of your home decor!

Note that your Dreambox will always be white on the inside even if it's gray on the ouside. So, if you don't plan on closing your Dreambox often and are looking to save a few extra dollars, you should stick with the White Ergo.
How many storage totes come with the Dreambox?
Your Dreambox will automatically come with 40 totes to start with. For many people this is enough but a lot of people order the 80 tote option. According to the Createroom messenger bot, 71% of customer purchase the 80 tote option.

I personally have the 80 totes and I LOVE them! I do have a few extra which I use around the house because the totes are such great quality!
Is the Dreambox craft storage unit big enough to hold a Cricut Machine?
Yes! In fact, I've seen many people put more than one Cricut machine in it! I like to put mine in the little alcove so it's always easily accessible but I could easily fit two if I added a little riser shelf!
Can you store a sewing machine in a Dreambox?
If you're an avid sewer, Createroom also makes a Sew Station which is AMAZING for holding sewing machines! That said, it doesn't have nearly as much storage capacity so if storage is what you're after, then the Dreambox is still going to be your best bet! Luckily, the Dreambox can hold many sewing machines in the alcove! Just measure your machine and make sure that it's smaller than 14″H x 12.75″D x34.75″W.


Is the Dreambox table adjustable?
Yes! I actually didn't know this until I got my own Dreambox but the table can alternate between sitting and standing height! The feet of the table are also adjustable to help with minor adjustments for your particular flooring! I absolutely love this because there are many times when I'm just more comfortable working while standing up and moving around and it's so easy to switch between the two heights!
Can you easily move your Dreambox?
Yes! It's on wheels so even though it gets very heavy (especially when full), it does slide around fairly easily! If you're on carpeting it will be harder to move but still doable. Moving it between floors though, is another story! It's definitely a multiple person job.
I'm going to be moving soon. Can I move with my Dreambox?
Yes! I have heard of many people who have moved homes and taken their Dreambox with them. I would definitely enlist the help of a moving company though and work with them to see the best way to do it. It seems that many moving companies can transport it without removing the contents but that may be company specific.
How long does it take to get a Dreambox after your order it?
This can depend on the model you pick as well as the time of year. For example, if you purchase a Dreambox during their Black Friday sale, chances are you will have to wait a little extra longer. As of the time I'm writing this, a white Dreambox will ship in 3-8 weeks and a gray one will ship in 8-12 weeks.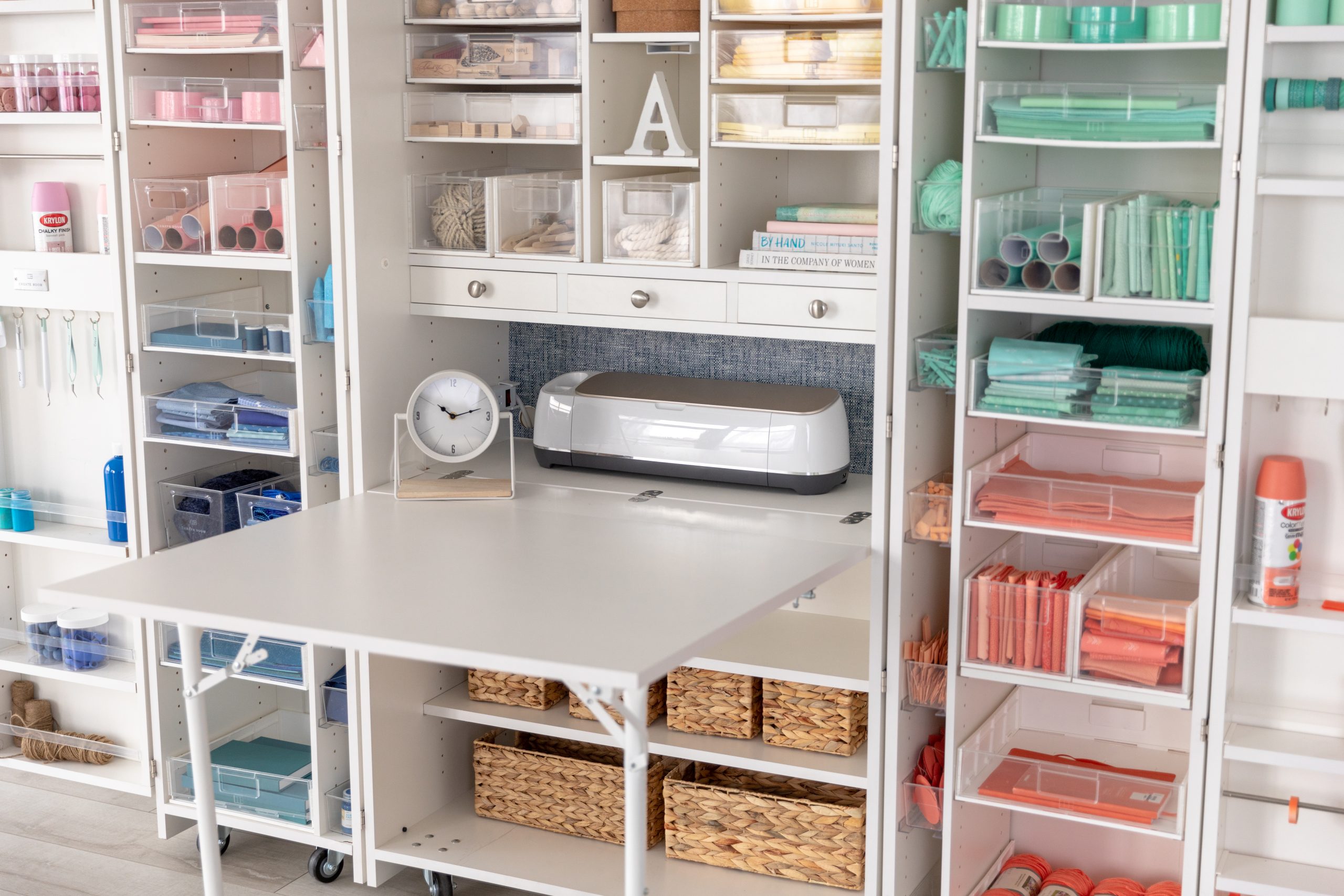 So… Is a Dreambox right for you?
The Createroom Dreambox is perfect for crafters, small business owners, and parents. The Dreamboxei is modular, customizable, and a beautiful piece of decor in any room of the house. These craft storage solutions are amazing because they help you know where everything is and it's all organized into one simple place—that takes only a small footprint! Dreambox offer many benefits including: reducing clutter; keeping supplies within reach; inspiring creativity; providing space for children and adults to work on homework or create projects together while bonding over something they both love doing; being able to store more than you think as well as still closing up into something that takes up so little space. It fits into any room in the house and even in a guest room! Be sure to keep an eye out my coupon codes for a Createroom Dreambox to help bring the price down.
A Dreambox is not only functional but can be used as decor. They come in Gray and White to match any home's style, and they're customizable for your needs! I've changed my Dreambox up many times already by moving shelves and accessories around and redecorated it too! It's perfect for any home decor enthusiast or crafter!
If you're still unsure if a Dreambox is a good fit for you, go through Createroom's journey.
Do you have any other DreamBox questions? Ask away and I'll update this post for others to know the answers, too!
FREE GIFT! When you use my code to buy a Dreambox, you'll get my Dreambox Organization Hacks & Guide, Dreambox Planning Workbook for FREE! To get these gifts just use code CREATEMOM and then email me your Create Room order number!