FREE 3D Pumpkin SVG File: Laser Cut Fall Home Decor!
Post may include affiliate links. We may earn a fee if you use them at no cost to you. Disclosure.
​Fall crafts are the best! Are you ready to learn how to use this FREE pumpkin SVG and make the cutest layered pumpkin craft for fall? Now that pumpkin season is here, the time is now to make all the fall projects possible. These free pumpkin SVG files were designed for the Glowforge Aura but can be used with any laser machine! Have a Cricut? You can make these too or make the version of these pumpkins with even more layers here.
If you're looking for one of the best projects for making cute pumpkins, this is it. Gather the simple craft supplies to get started, and you'll be hooked. You can use the free SVG files to make so many things – which is always part of the fun.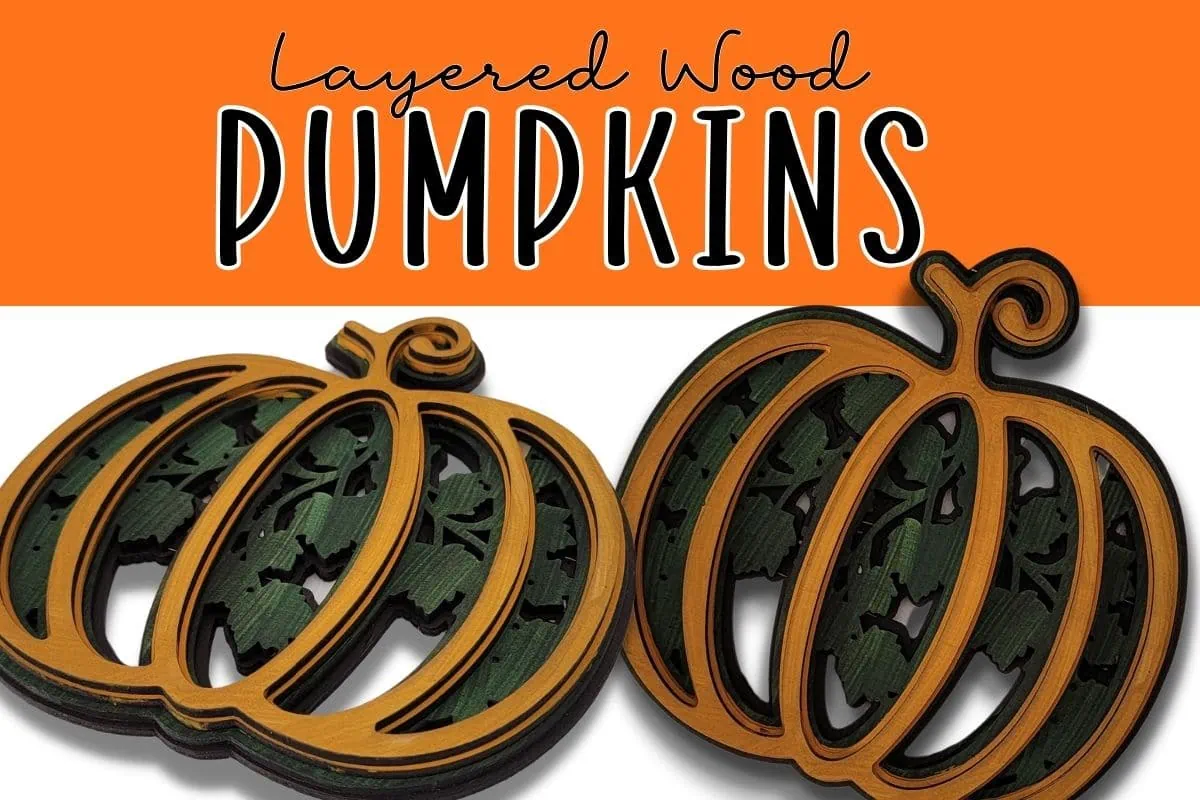 All you need is the digital download and a little bit of time, and you'll have created the perfect fall pumpkin craft that all your crafty friends will love. Are you ready to add a little pumpkin spice to your life? Follow the steps and tips below to get started.
Before using this cute pumpkin SVG, be sure that you have all the supplies on hand that you need. The pumpkins SVG is a big piece of the "pie", but for a new project like this, you need to check your inventory first before starting.
And be sure to keep the pumpkin carving template and file that I send to you in your craft files so that you can use it again next year! This is such a versatile file because by changing up the colors or materials, or what you glue this to, you can make so many different things! You could even turn these into earrings!
Want to see these being made? This step-by-step video walks you through the entire process of creating a wooden craft that looks like real pumpkins.
Quick Links to Information in this Post
WHY MAKE A LAYERED WOODED PUMPKIN?
​Making a physical product like this is fun for so many reasons! Not only do you get to use your Glowforge Aura, but you also get to create something unique that you can keep and show off every year.
Forget paper pumpkins – those can rip and break and just don't look nearly as much like real decor! There are so many reasons that you will love having these pumpkin cut files.
Here are some thoughts on fun ways to use this free SVG cut file:
Home decor to put on your fireplace mantle
Center piece or mini place settings Thanksgiving Dinner
Attach to a wooden round to make a door hanger
Add to a circle to make an ornament to remember a special event that took place during the fall
Glue to a wooden box
You can use this free pumpkin SVG cut files for personal use and make anything that you want. I'm all about having people be creative and fun. Please just don't share the SVG file itself!
MATERIALS FOR MAKING A LAYERED PUMPKIN
Any 1/8″ inch wood (I love this Baltic Birch from Amazon)
Acrylic Paint
Wood
I like 1/8″ wood. The thickness of this wood does a great job of standing up to the machine use without feeling flimsy or breaking but you could really use anything you want! You could even make this out of Acrylic!
Paint
You can use whatever type of paint that you want, but I would recommend that you use this paint.
Glue
After you download the single zip file and get ready to create, you'll want to have a strong glue so that you can make everything work well together and hold. Krazy Glue never lets me down. Any strong glue can work though! I've even had success with my favorite cardstock glue!
Clamps
Clamps are a must for me when I'm using my Glowforge Aura. They help to hold together the pieces as they're gluing so there is no issue with them slipping! It's key if precision is important to you! Once your layers are glued with something as strong as Krazy Glue, there's no readjusting them!
Glowforge Aura
You need to use a Glowforge Aura (or any Glowforge) to make the pumpkin. Yes, you can design these pumpkins using a Cricut machine or a different cutting machine, but nothing works like the Aura! It's worth the extra cost and upgrades, hands down.
To learn more about the Glowforge Aura, check out my full Glowforge Aura Guide!
Free Pumpkin SVG
You'll of course need my free SVG too! Fill out this form to grab a copy!
MATERIAL SETTINGS
Knowing what materials work with the Glowforge Aura and what settings to use for them can be tricky! That's why I put together a list of over 100 materials and gifts that I've tested, the settings for each of them if they worked, and even gathered coupon codes for you from my favorite vendors!
To get access to that and much more, fill out this form! Then you can decide which materials you want to make this project out of and the right settings for them! If you use the Baltic Birch I linked to above for example, those settings will be in the list!
If you love this project, be sure to check out my other Glowforge Projects and posts!
HOW TO MAKE A LAYERED WOODEN PUMPKIN
Yield:

1
Wooden Pumpkin DIY
This simple Layered Wooden Pumpkin Craft is perfect for fall fun!
Materials
Any 1/8″ inch wood or Acrylic
Krazy Glue or Loctite
Clamps
Instructions
Step 1: Download the file
Download my PUMPKIN FREE SVG by filling out the form and downloading it from the email or by going to my resource library.
Extract the file you download (this is a must!) so that you have the SVG files and also the rights to use the files.
Step 2: Prepare the material
Select the material you want to use for this project. I gave my list of supplies in the post and above.
Measure the thickness of your material using calipers and then place it in the Glowforge Aura machine.
Open the Glowforge app at app.glowforge.com. Click on "Create New Design". Once you've clicked that, click "Create a blank design".
Then click on "Unknown Material" in the top right corner, followed by "Uncertified Material". Type in the thickness of the material determined in step 2 or choose "Auto Focus"
Now click on the Plus sign at the top and choose "Upload". Find the SVG you just extracted and select it. A few moments later, you'll see the file in the app. Then spread the sieces out and stretch them to whatever size you want.
Add the cut settings for each project piece. Do this by clicking on the piece on the left, then select "cut" and enter the setting. If you're new to this, make sure to find the settings you need in my Material Settings list.
Step 3: Print your pieces
Now click "Print" and then press the flashing teal button on the Auro when you see it.
Step 4: Decorate and assemble your Pumpkin
After all the pieces are cut and created, it's time to decorate.
Paint, glue down any pieces, and use clamps if needed, after the paint has dried.
ANSWERS TO YOUR QUESTIONS ABOUT MAKING A 3D WOODEN pumpkin
Can I use this idea to make other pumpkin crafts?
Absolutely. I'm sending you the free file so you can do whatever you want with it. I just ask that you use it for personal use only, as this isn't a commercial license. Other than that, you're free to use this for all the fun and creative design elements that you want.

Am I limited on the size when it comes to this pumpkin?
Since you get to use the Passthrough function, you can make these different sizes! Just stretch or modify this however you need to get the size you want! Want to make it more than 12″ long? Watch my video on how to prepare a file for using the Passthrough function!

Does this pumpkin need to be painted?
It doesn't have to, but it I sure love how it looks painted! Pick your favorite paint color, and get creative. You can also use Acrylic though if you want!

Who would love these pumpkins?
I think that these would be the perfect gift for anyone who doesn't like to carve pumpkin faces and still wants some fun fall decor.
I'd love to see YOUR completed pumpkins and projects and how you created it! Please share a photo in our Glowforge Aura Facebook group or tag me on social media with #analyticalmommycrafts or @analyticalmommy! I love seeing how people use the craft files!
MORE OF THE BEST GLOWFORGE CRAFTS AND TIPS
SAVE THIS PROJECT FOR LATER AND PIN IT TO YOUR FAVORITE PINTEREST BOARD!