Easy STEM Projects For Kids of All Ages
Post may include affiliate links. We may earn a fee if you use them at no cost to you. Disclosure.
ESo your preschooler or school-aged kid is at home and getting restless. Or maybe they've spent too much time in front of the TV… You need to find them something constructive to do. But what?! I feel like this is such a common challenge! Especially on days when the kids are stuck at home because the weather is bad. Well… My go-to in this situation is always easy STEM projects! Did you know that there are STEM activities for preschoolers even? You can teach your kids about STEM, or STEAM, at any age really!

Quick Links to Information in this Post
So WHAT is STEM?
S.T.E.M. stands for Science, Technology, Engineering and Math. A STEM project is anything that teaches your kid something about one of these topics. The good news is that thanks to the internet, easy STEM activities are really simple to find and you, as a parent, don't need to be an expert in any of the STEM areas to help your child enjoy and learn from these fun activities!

Okay… What's the best site to find STEM lessons for Preschoolers or School-Aged Kids?
Well… 4-H.org of course! I recently decided to partner with HughesNet, the nation's #1 satellite internet provider, which is a proud sponsor of 4-H. I was excited to learn about 4-H's 100 years of experience helping kids learn about STEM – before STEM and STEAM were "cool"!

HughesNet is passionate about STEM education and empowering the next generation of leaders, which is why they're working with America's largest youth development organization. 4-H is a community that provides incredible hands-on learning opportunities and mentoring for children of any background and has been helping children learn through hands-on educational experiences for over 100 years!

If you've found yourself on this page, chances are you already know the benefits of STEM activities for children so I don't think that we need to go into that here. Why don't we jump right into some of the great STEM projects you might like!

On the 4-H.org website they have an entire "STEM Lab", sponsored by HughesNet, where you can pick STEM activities for kids by age and by topic. Personally, I like the "by age" option best because my boys span a wide range of ages.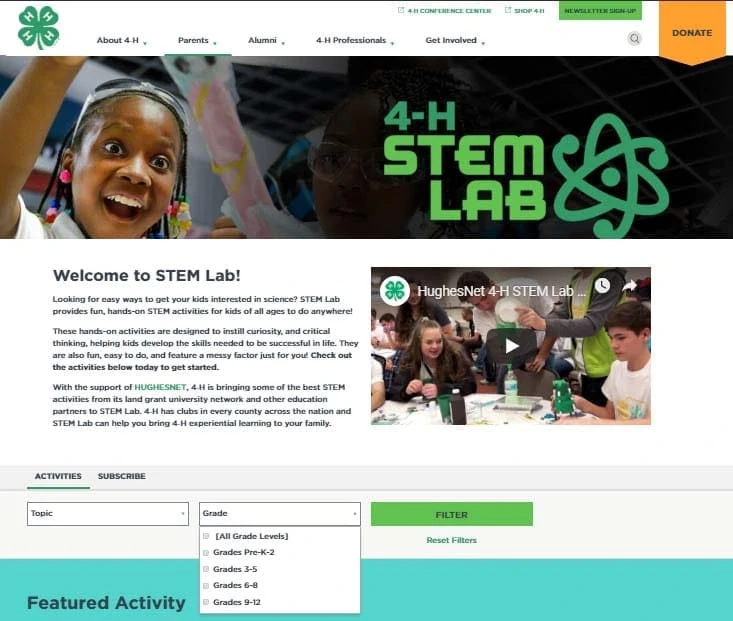 STEM Activities For Kindergarten and Preschool
If you've got a preschooler through a 2nd grader, you can choose "Pre-K-2" from the dropdown box. Scroll past the "Featured Activity" and you'll find four really cute STEM projects for kindergarteners but also kids who are a bit older or younger. This is a great category if you have some younger kids that you'd like to include in the activity – even if you have, say, a 5th grader.

Here are some of the activities you'll find:
I find that most of the chemistry and engineering activities can be done with stuff you already have around the house. The electricity ones sometimes take a bit of pre-planning so that you can have the right materials. The materials you'd need to get aren't hard to find at all, just most might not have them.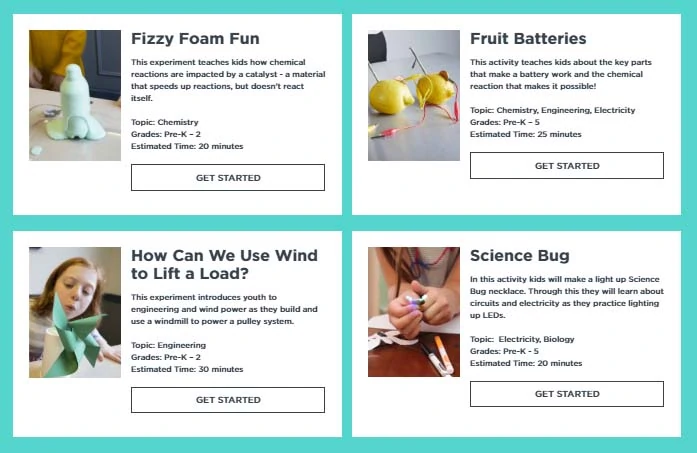 For example, the Science Bug project looks like a blast but you'd need a watch battery and LED lights. These are easy to buy on Amazon without even leaving your house! I plan to actually go a step further as soon as I get a second. I'm going to buy these tubs and fill each with the supplies needed for an activity and the instructions! That way, the next time we have a rainy day, we can pull a tub down and get started! Easy peasy!

Want Easy STEM Activities For Elementary School Kids?
You're in luck! There are even MORE activities if your kids are between 3rd and 5th grade! These are a bit more involved and take a bit longer to complete, but that's to be expected since your older kids will have a better attention span! A STEM project for a 5th grader will definitely be more complex than a project for a 1st grader.

BUT don't worry! All of these activities come with downloadable "instructions and a notebook" that can help guide any parent through the activity. You can give the print out to your kid so they can try it out on their own and step in when they need help, or do the activity together as a bonding experience. With the resources 4-H and HughesNet provide for each activity, you won't need to worry about being able to help your kid with the activity as needed!

Here are some of the STEM projects for 3rd grade through 5th grade:
And many more!

How about STEM Projects For Older Kids?
They've got plenty more projects for kids all the way through 12th grade on the site! In fact, the current "Featured Activity" – Building Bridges – is meant for kids between 6th and 12th grade! But don't' worry, if it interests you, even your younger kids will love it!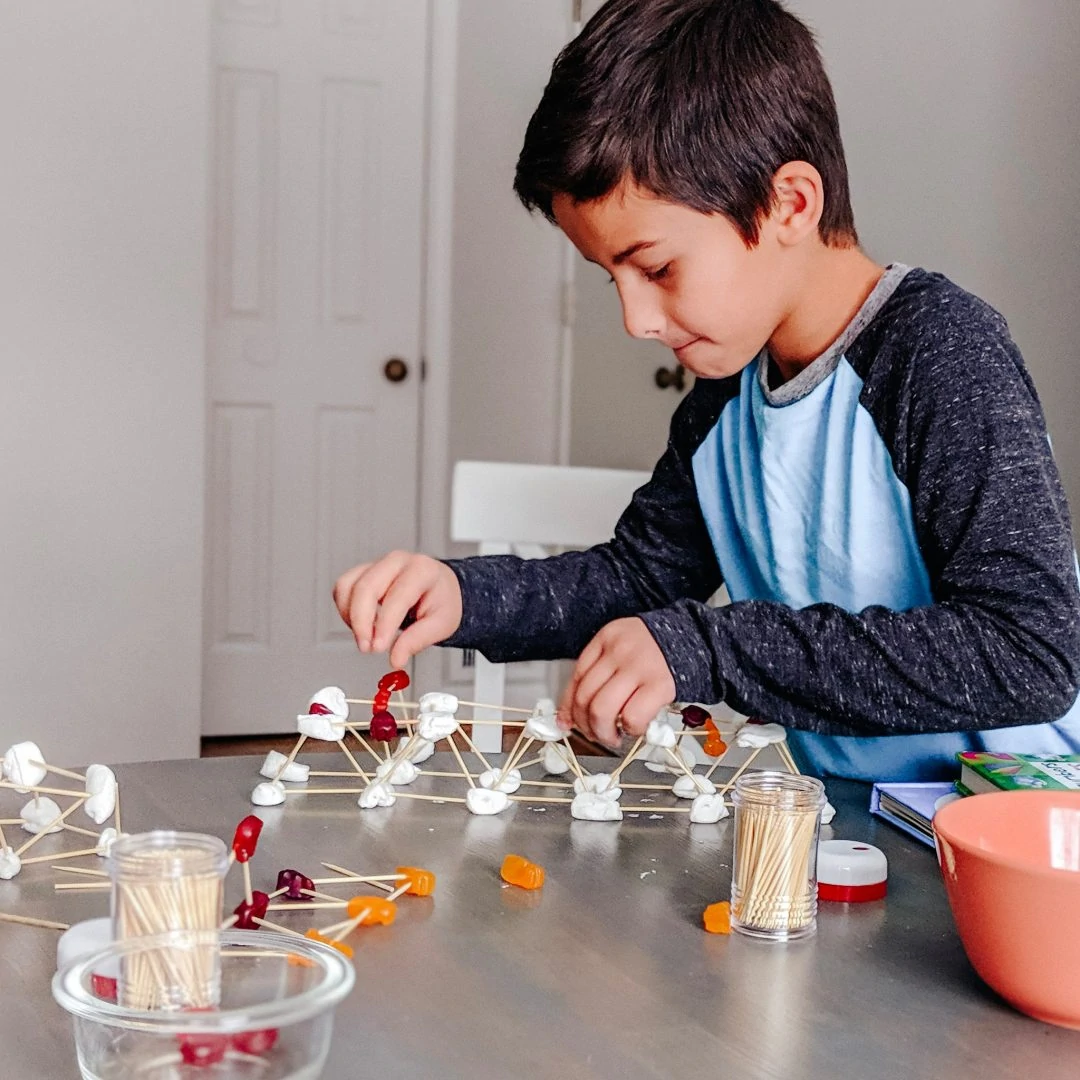 Our Favorite STEM Project – Building Bridges
During a recent snow day, my 5-year-old and 9-year-old became very stir crazy! They'd had snow days on and off but we never got enough snow that they could really play in it! They NEEDED something to do so… being that I LOVE all things STEM, I pulled up the 4-H project list and we got started on the Building Bridges project!

Let me tell you… The project includes using candy pieces and my kids had so much fun doing the project that they didn't eat any of the candy until they were completely done! That tells me they really enjoyed it!

Watch this video to see us working on the Building Bridges project:

You can see how at the end, my oldest was still having fun even though he ended up breaking his bridge in the process! I held my breath at the end because I was worried that he'd be really upset when the bridge failed – but nope!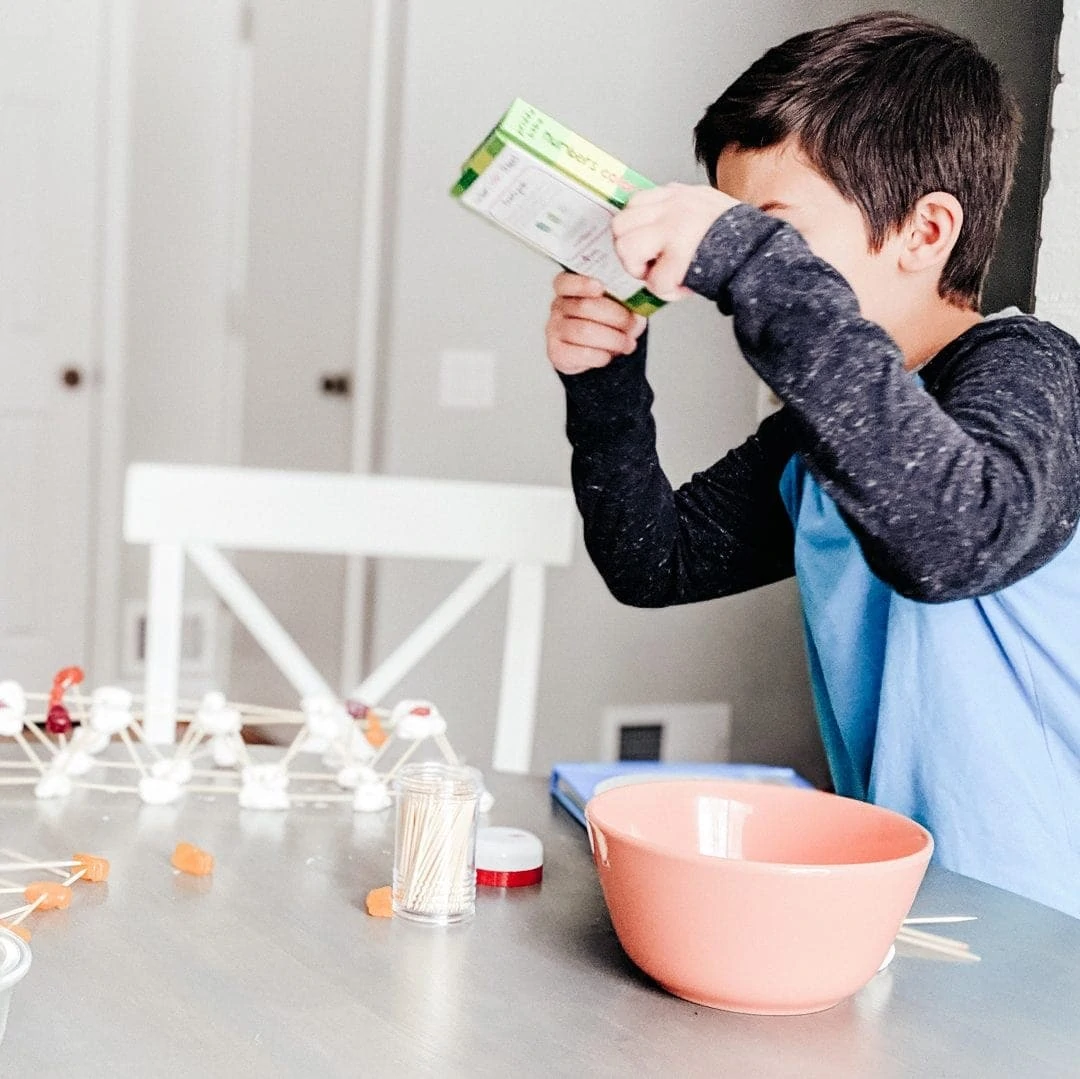 If you're looking for a good "starter", easy, no-prep STEM activity for a kid of almost any age, I highly recommend the Building Bridges project! The younger kids just might need a bit more help from you than an older kid would, but everyone will have a blast! You can even test your bridges with different fun objects for the younger kids – like teddy bears or paw patrol cars! Use your imagination and have f

So what do you think? Did one of these activities really catch your eye? Head over to 4-H STEM Lab, pull up a chair, and look through the list with your kids! I'm sure you'll find something you can all have fun doing and you will likely already have what you need to do the project in your home!