How to Cut Vinyl on a Cricut (with Video Tutoria) – make your own labels for jars & more!
Post may include affiliate links. We may earn a fee if you use them at no cost to you. Disclosure.
LEARN HOW TO CUT VINYL WITH A CRICUT. A STEP-BY-STEP TUTORIAL THAT SHOWS HOW TO MAKE YOUR VERY OWN LABELS FOR JARS.
Learning how to make your own labels is easy. If you're looking for a simple way to organize your pantry or find a way to add clean-looking labels to your jars, your Cricut is more than capable to do the job. This simple DIY project is fast and simple and can create a whole new look to your space, fast.
I'm excited to share how to cut vinyl on Cricut so that you can start making your own labels asap!
I personally love to organize and feel that a well organized and "pretty" environment goes a long way for helping to reduce stress and make a house more of a home. Labels are a key part of that because they make it very easy to find what you're looking, can be very pretty looking (whatever you're personal style), and help others know where to find things which means they will ask you for help less!
As a mom of three kids, that last part is really key – they don't know how I've organized the kitchen for example even though I think it's "logical". So by labeling things it's easier for them to find what they need!
The best part about making labels with your Cricut machine is that it's 100% customizable! You can make it fit your style perfectly! You can also be very specific with what the label says. For example, my label for hot chocolate, also includes the instructions. My spice labels include some spice mixes that are never included in the premade label packs. And in the project I show you today, I'm going to make a label that says "Out White" which is a product name. That would never be included as a premade label.
There are a few easy tips on how to make your own labels for jars and I'm going to be diving into those below.
Alright – are you ready to learn how to make labels using your Cricut?
This is about to be a game-changer in the way that you organize your jars!
Quick Links to Information in this Post
How to make your own labels for jars
Making pantry labels will be such a game changer! I've used this simple label tutorial and created labels for my pantry, my spices, and even things that I have in the medicine cabinet.
I've found that the more that I label jars and containers, the less confusion I have later on down the road. We buy a lot in bulk and then decant into reusable jars and containers to cut down on waste and save money. If I didn't label, no one else would know what's in any of the jars! And then they wouldn't be able to give me a heads up when we're running low on something!
You can even use this to label items such as storage containers, cabinets, and more. I use this as a fast and easy way to get organized while keeping a nice, clean look about it, too.
Materials for making custom labels
If you're a fan of Cricut projects, you will want to check out my How to make shirts with Cricut 101 – HTV, Sublimation, and Infusible Ink tutorial. You'll use much of what we cover in this post to make shirts!
How To Make your own vinyl labels
Yield:

1
How to Cut Vinyl Labels with a Cricut Machine
Making your own labels for jars is a fast and easy process when using your Cricut machine!
Materials
Tools
Instructions
Watch my video for more detailed instructions and to see exactly how to perform each step.

Step 1: Create the text for your first label in Design Space
1. Open design space and create a new canvas which is where going to be creating and designing our vinyl label.
2. Click on the T on the left hand side which is our "text" tool to create text.
3. Type whatever text you want on your label.
4. Click align center if you want your text centered. it will automatically adjust left.

5. Next, Pick your font. I suggest picking your font before you start working on spacing or sizing, because the font will impact the size and the shape of your text.
(If you've got Cricut access, you'll have access to a lot of the fonts here for free.)

When you're creating a vinyl label, you probably want a font that's fairly thick so that it won't be too delicate and it cuts cleanly.

6. Next adjust the height and width of your text so that it fits the object you plan to put it on. You do this by changing the numbers next to the W and H on the top row (roughly in the middle). Watch my video to see how to use the aspect ratio lock to your advantage to get exactly the look you are looking for and still fit within the size constraints.
Step 2: Create a Frame for your Vinyl Label (Optional)

Now this next step is definitely optional but I like to add a frame when I'm working with a larger container or bottle. It helps me make the label bigger and more substaintail without making the text overly bid.
You can add a frame by clicking on Images, searching for "frame" and picking something from that list.
I'll show you how to make a basic but custom one though. Once you know the basics the sky is the limit!
1. Click on "Shapes" on the left hand side and select square
2. Click on the lock icon at the top to unlock the aspect ratio. This will let you stretch your square into a rectangle.
3. You can now change the color of the square to something else to help you see it better when it's with the text but that's optional.
4. Now right click on the square and choose "Send backwards". Then slide it behind your text and roughly center it.
5. Now you're going to want to stretch your square/rectangle so that it's the shape you want and so that the edge of it is where you want the outer edge of your frame to be size wise. You stretch it by clicking the lock icon to unlock it and then stretch the four-way arrows on the bottom right of your image.
6. Now right click on the rectangle and copy. Then right click again and click paste.
7. Center your second shape with the other rectangle and stretch it again so that it's smaller and proportioned the same as the bigger shape. The outer edge of your second shape should line up with where you want the inner edge of your frame to be. Doesn't need to be perfectly centered but close. Watch my video for a visual on this step...
8. The next step here is going to be to slice it. Separate all the pieces and move the text out of the way. We do this because (1) we don't want to slice the text out of anything and (2) the slicing tool only works on two layers at a time!
Once you move the texts out of the way, you can line up your boxes and select both squares. Align the to be centered and click slice on the bottom right. This will slice the small shape out of the bigger one.
9. Now your two shapes will actually turn into three. Seperate all three pieces and delete the two identical smaller shapes. You'll be left with your frame!
10. Now center your text and the frame. Select both items and click on align and then center.
11. Attach the two pieces by selecting both and then clicking attach on the bottom right. This makes sure that your Cricut cuts it out as one label rather than treating the text as one cut, and the label as another.
Note: The reason we do attach instead of weld is because weld is permanent. You can't undo it later. With attach we can do detach later if we want or need to. This is especially useful if you plan on making multiple labels and you need to detach and edit the text for the next label.
Make certain to watch my video tutorial that shows this entire process step by step! The visual is very helpful and I go into a bit more detail on some of the steps if you're new to this.
Step 3: Prepare for cutting


1. Before you start cutting, you need to be certain that it fits to how you want it cut. Double check the item you want to put your label on and make sure you have the rigth label size in mind.
2. Select your label in design space and adjust your label size by changing the value at the top for either width or height. I recommend keeping the aspect ratio locked at first to see how it turns out. For for example, you need your label to be 2" by 4" but when you change the width to 2" your hight is 5" you can either unlock aspect ratio and see if you like how it looks when you squish it to 2x4. Alternatively, you can leave the aspect ratio locked and change your height to 4" and your width will just be a bit more narrow than 2". In my case I stretched mine and liked it.
Step 4: set your material and tools
1. Click make it and check that everything looks right. Your frame should be connected to your text like it did on your canvas..
2. Click continue.
3. On the next screen, you'll need to select your material. Click on browse all material, and then you're going to search for vinyl and then select your vinyl of choice. Make sure you choose a type of vinyl that best matches the vinyl you're using. I used "premium vinyl". If you're using an Explore Air 2, you can either select vinyl using your dial, or turn your dial to "custom" and then select the vinyl type from within Design Space.
Note: I prefer to leave my Explore Air 2 dial to "custom" so that Design Space will always prompt me to select the material. Otherwise, I sometimes forge to change the dial.
Note: If you accidentally set your dial to the wrong material, like say "cardstock" it will cut your vinyl all the way through. When that happens, it's usually unusable and you'll need to throw that out and cut more vinyl which can waste time and money - so always check your material settings1
4. Then check the tools it says you'll need. Chances are it will tell you that you need your fine tip blade. This is the standard blade that comes with your machine. If you've never changed your blade, then you likely already have that blade in place! It's good to get used to checking which blade Design Space says you need.

Step 5: Load and cut your vinyl
1. Grab the vinyl you want to use. This can be a vinyl roll or sheets. Either is fine. I like to use permanent vinyl usually but sometimes I'll use removable vinyl if it's a label I know i'll want to remove and replace later.
2. Cut your vinyl to a size that's a bit bigger than your label. I like to cut about one inch bigger all around. So for a 3x4 label, i'll cut a 4x5 piece of vinyl.
3. Place your vinyl on your standard grip cutting mat. Make sure that you put your vinyl in the same place the label shows on the mat in Design Space. It's likely the top left corner. Press down on the mat well to make sure it's really sticking to the mat.
Note: Do not remove the backing from your vinyl. You want to place your vinyl on the mat with the vinyl backing sticking to the mat and the vinyl layer itself facing up.
4. Feed your mat into the machine by lining it up and clicking on the double flashing arrows. If the arrows aren't flashing then Design Space may not be ready and you'll need to check Design Space.
5. Next click on the flashing Cricut icon button. That's the big "C". It could take a second or two to start flashing so just wait until it does. If it doesn't start flashing, check Design Space.
Your Cricut machine will start cutting your vinyl!
6. When it stops cutting, click the double flashing arrows again to unload your mat.
Once the vinyl is done cutting, it's time to start weeding.
Step 6. Weed and apply your vinyl
1. Peel the excess vinyl off the outside of your label carefully.
You'll want to be very careful as you go around each letter.
2. Take your weeding tool and careful pull the extra vinyl off in those harder areas. You'll poke the weeding tool into a spot you want to remove and then carefully pull back to remove it.
3. Now cut a piece of transfer tape that's a bit bigger than your label. Remove the transfer tape from the backing and place it carefully over your weeded vinyl label.
4. Use your scraper to make sure that your transfer tape is really sticking to your transfer tape. Sometimes you need to scrape across both sides.
5. Now fold back about a half inch of your vinyl backing to expose a little of your label but not all of it.
6. Align your label with the object you want to stick it too. Since only a small part of the trasnfer tape and vinyl is exposed it will be easy to reposition if you need to. When you're satisfied with the placement, press it down and scrape on the exposed area.
7. Now using your scraper, scrape across your label while pulling back the backing slowly. This should press the vinyl into place without any (or few) bubbles. You can then scrape across it some more to be sure it's on well. Watch my video tutorial for more tips or to see this in action!
8. Carefully peel back your transfer tape and admire your work!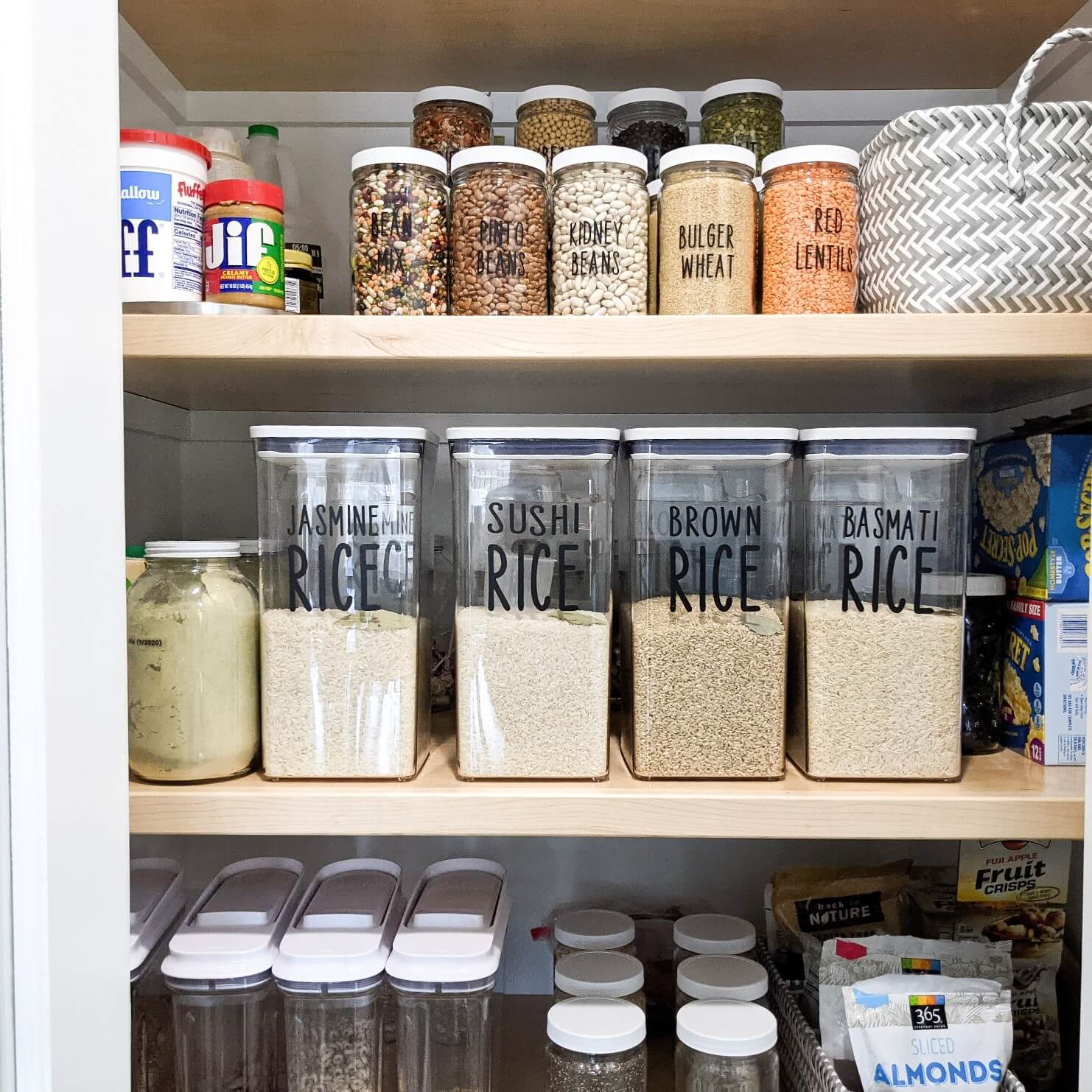 Tip! To make sure your label sticks especailly well, clean the object you want to put the label on with a little rubbing alcohol first!
Recommended Products
As an Amazon Associate and member of other affiliate programs, I earn from qualifying purchases.
Answers to your questions about making Labels with your Cricut
Can you cut vinyl labels using a Cricut Joy?
Absolutely! Just use the method shown following the prompts and methods you'd use with a Joy.
Do you remove the backing from vinyl when placing on the mat?
No. Leave your vinyl backing on the vinyl when you apply it to your Cricut mat. This piece is important when removing it from the Cricut mat and helps hold everything together when weeding. If you don't do this, you'll be left with lots of individual letters and pieces and it will be very hard to remove from the mat.
My vinyl isn't cutting all the way through – what's wrong?
You actually don't want it to cut all the way through. If it does, you likely have your machine or Design Space set to the wrong material setting. Only your vinyl should get cut. The backing should stay in one piece.
I need to apply labels to lots of jars. What's the best way to line them up the same?
Cut your transfer tape so that the bottom of the transfer tape touches the bottom of the object you're applying labels to – in this case your spice jar – and so that the top of the transfer tape would touch the spot where you want all your labels to start. This way you always know to line the top of the transfer tape with your label when you add the transfer tape to it. Then when you apply the transfer tape to your object, you always line the bottom of it up with the bottom of your object. You can use the shape of your transfer tape as a guide.
My vinyl won't stick to the transfer tape?
If you've pressed down and scraped the transfer tape into the vinyl really well and it still won't stick to the transfer tape just flip the vinyl over and scrape against the vinyl backing too. This often does the trick! If it doesn't, it's often because eitehr your transfer tape has lost it's stick (if you're reusing trasnfer tape), or maybe you need a different brand. It could also be because you transfered oil to your vinyl from your fingers when you were weeding. Rubbing alcohol across the vinyl could help.
I'm making really small letters and the letters keep coming up as I'm weeding, what do I do?
This happened to me in the beginning when I made spice labels for the first time. Sometimes cleaning off your blade or changing the pressure will fix it. If you don't want to abandon the cut you've already made you can use a second weeding tool to hold the letter down while you use your other weeding tool to lift up the extra vinyl. It could also happen becasue your vinyl letters aren't sticking to the backing well which can happen so holding it down with the second tool can help.
See how simple it can be to make labels at home with your Cricut? I hope that this quick overview gave you all the information needed to be able to make your own labels for your spice jars.
I'd love to see YOUR vinyl labels projects, how you designed them and what you put them on! Please share a photo in our Facebook group or tag me on social media with #analyticalmommycrafts or @analyticalmommy! I can't wait to see how they turned out!
More of the Best cricut tips
Save this project for later and pin it to your favorite Pinterest board!